75th Annual Golden Globes Awards–Gary Oldman Wins for Best Performance in 'Darkest Hour!'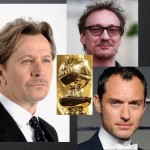 Jan 08, 2018
The Golden Globes is a magical event for the television and film industries, but this year there was magic in the air for more reasons than prospective awards. As stars began to arrive, it was clear the night would embrace the momentum of many recent social movements, powerfully emphasizing activism in much the same way Harry Potter and J.K. Rowling have always done.
Many actresses announced their intention to make personal statements of support by inviting prominent activists as guests for the evening. Variety reported that Emma Watson was, unsurprisingly, among them. She brought Marai Larasi, executive director of Imkaan (UK), a Black-feminist organization comprised of members from England, Wales, and Scotland. Larasi also co-chairs the End Violence Against Women Coalition, the UKs foremost collaborating organization aiming to eliminate violence toward women and girls.
Excited to be at the Golden Globes with you tonight Marai! @MaraiLarasi@Imkaan@TIMESUPNOW

— Emma Watson (@EmmaWatson) January 7, 2018
.@EmmaWatson and @SusanSarandon brought gender activists as dates tonight. #GoldenGlobespic.twitter.com/EMLoxH6H4V

— Hollywood Reporter (@THR) January 7, 2018
"It really makes me emotional!" @EmmaWatson on the #WhyWeWearBlack movement at tonight's #GoldenGlobes pic.twitter.com/5uZR1GEPTV

— Variety (@Variety) January 7, 2018
Others participated in the #whywewearblack campaign to protest gender inequality and show support for the brave individuals drawing attention to rampant sexual harassment. In particular, Fantastic Beasts stars Alison Sudol (Queenie Goldstein) and Zoe Kravitz (Leta Lestrange) were breathtaking in strong black statement pieces.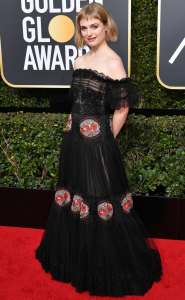 Fantastic Beasts star Jude Law (young Albus Dumbledore) also looked dashing on the red carpet, and we spied Harry Potter alums David Thewlis (Remus Lupin) and Gary Oldman (Sirius Black) as well!
.@edgarramirez25, Joseph Fiennes, & Jude Law sport their best beards on the #GoldenGlobes Red Carpet! #Globes75 pic.twitter.com/8UM3mcn6RD

— Golden Globe Awards (@goldenglobes) January 8, 2018
The Red Carpet is starting to get some familiar faces… David Thewlis, @WilliamHMacy, @RachelBros have arrived! #GoldenGlobespic.twitter.com/loRX5g7unP

— Golden Globe Awards (@goldenglobes) January 7, 2018
Gary Oldman, Willem Dafoe, & @Kyle_MacLachlan looking dapper on the #GoldenGlobes Red Carpet! pic.twitter.com/ecHfQmgZk5

— Golden Globe Awards (@goldenglobes) January 8, 2018
Before showing up for the event, nominated actors, including Gary Oldman, attended a dinner hosted by fellow nominee James Franco.
James Franco hosted a dinner for his fellow actors nominated at the #GoldenGlobes: https://t.co/UILyw4m5C3 pic.twitter.com/n1x14ESWIx

— E! News (@enews) January 7, 2018
Best Supporting Actor nominee, Armie Hammer, later told the press it was a very intimate dinner, which humanized the whole event. The actors had the chance to relax and get to know one another, going around the room to share stories by year.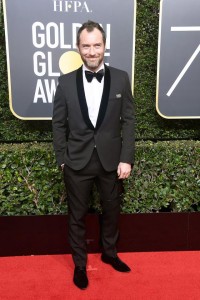 Law spoke to ET on the red carpet, and entertainment reporter Carly Steel brought up his upcoming turn in The Crimes of Grindelwald. To the delight of watching Potter fans, he shared some insight into his preparation for the role, saying:
"Do you know what I did? I sat in a room for an afternoon with J.K. Rowling, and I listened to her extraordinary words of wisdom…She was kind enough to share with me the whole backstory and her future hopes for this young character of Dumbledore and really that set me on the path. I just did what the writer said."
Oldman was also sought out for red-carpet interviews and discussed his portrayal of Winston Churchill in Darkest Hour. He revealed that while preparing for the role he learned Churchill wrote 50 books and smoked 165,000 cigars in his lifetime. Oldman also said he woke up at 2 a.m. every day in order to be fitted with the prosthetics and make-up that transformed him into the iconic British prime minister.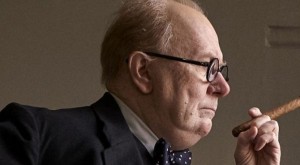 In fact, the intricate work necessary to make him believable in the part required such a specific skill set, Oldman knew only one man fit the criteria–Kazuhiro Tsuji, who he met on the set of Planet of the Apes in 2001. When Oldman agreed to consider playing the part of Churchill (a role he'd originally declined), he needed to induce Tsuji out of his retirement from the film industry. According to Deadline, Oldman said:
"You needed not only a makeup artist, but an artist as well…Because of those huge, realistic sculptures Kazu does, he looks at bone structure and anatomy. In my mind, Kazuhiro Tsuji was the only makeup artist who could pull it off."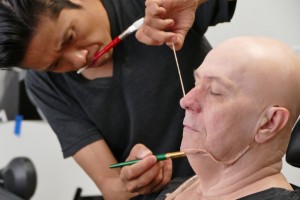 Tsuji confirmed Oldman's account of the make-up process, describing the grueling procedure to Deadline–and high-lighting why he also picked up a nomination for his work on the film. He commented:
"[His] makeup took about 3 hours and 15 minutes, plus or minus. That's quite a good time, because it's a complex makeup, and it had to be done really nicely, because we had so many close-ups and nowhere to hide. The wig shows a full hairline, and appliances had to blend into Gary's skin really well, so he would move right. We knew that there was no way to do post-production touch-up, because we didn't have enough budget to do that. Application had to be perfect so they wouldn't have to do anything afterwards. That's a really difficult makeup."
And before the night was out, Oldman was rewarded for his exceptional talent and dedication with the well-deserved win for Best Performance by an Actor in a Motion Picture Drama!
Congratulations to Gary Oldman – Best Performance by an Actor in a Motion Picture – Drama – Darkest Hour (@DarkestHour) – #GoldenGlobespic.twitter.com/AmGR8mynUL

— Golden Globe Awards (@goldenglobes) January 8, 2018
Finally, to recognize the ongoing stellar work of Oldman over the years, tune in to Film 4 today to view some of his best work leading up to this outstanding film.
From Monday 8th, we're celebrating the work of Gary Oldman with a four-film season introduced by the man himself, taking us from his screen debut Remembrance to his Oscar-nominated performance in Tinker Tailor Soldier Spy, in anticipation of his latest film, @DarkestHour. pic.twitter.com/DkmlVfHyCB

— Film4 (@Film4) January 2, 2018
He wasn't the only one to come away with award gold–composer of the score for Harry Potter and the Deathly Hallows Parts I and II, Alexandre Desplat, won for his exquisite work on The Shape of Water. He was awarded the win for Best Original Score!
Congratulations to Alexandre Desplat – Best Original Score – Motion Picture – The Shape of Water (@shapeofwater) – #GoldenGlobespic.twitter.com/xdEswKciOO

— Golden Globe Awards (@goldenglobes) January 8, 2018
Overall, it was a wonderful night recognizing many gifted individuals, and though David Thewlis (Fargo), Helen McCrory (Loving Vincent), David Tennant (Ferdinand), and Jude Law (The Young Pope) were not among the winners, we would be remiss if we failed to note the great honor in being nominated.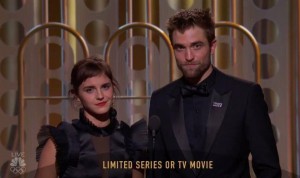 Harry Potter alums Emma Watson and Robert Pattinson also lit up the stage as presenters, proving these talented young actors have established themselves and earned a respected place among their acting peers. We look forward to the day they, too, will be listed among the nominees. Given their performances over the last few years, it's only a matter of time!
Congratulations to Gary Oldman and to all the Harry Potter and Fantastic Beasts cast members–we have seen them conjure pure screen magic, and we expect they will do so again!