'Cursed Child' News: Costume Designer Katrina Lindsay, Messages From London and New York, and Rakie Ayola's #WhyIGoBackToCC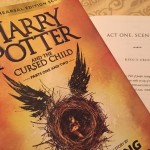 Feb 01, 2018
It's been a big week for Harry Potter and the Cursed Child! Pottermore released a behind-the-scenes video featuring costume designer Katrina Lindsay and Cursed Child cast members.
A Celebration of Harry Potter event at Universal Orlando Resort unveiled video messages from the London cast, still enjoying a successful run in the West End; the Broadway cast, still preparing for March 16 previews in advance of the April 22 opening; and John Tiffany, discussing the audition process currently underway in Melbourne, Australia.
Finally, fans returned the favor, so the speak, and flooded twitter with messages prompted by Rakie Ayola's timely question to a group of returning fans–why? Why come back? Read on and find out why this magical production continues to have such a lasting impact in the world of theater!
Cursed Child Costume Designer Katrina Lindsay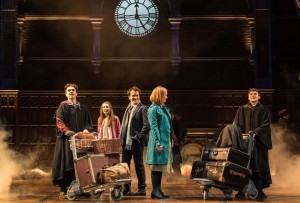 Getting the characters and dialogue right in Harry Potter and the Cursed Child–an assertion we acknowledge is still up for debate within the fandom–was only part of recreating the magic of the story for the stage. The world itself needed to come alive, so all contributors worked tirelessly to perfect the smallest details down to every last special effect–including costume design.
The best costumes often fade into the background, becoming a part of the character. They don't attract needless attention but fit the mood and development, serving the story rather than distracting from it. As the old aphorism says, "Clothes make the man."
Costume Designer Katrina Lindsay has certainly found her niche in the wizarding world, intuitively understanding what the costumes needed to accomplish and signify in order to make these grown-up versions of our bookish friends believable.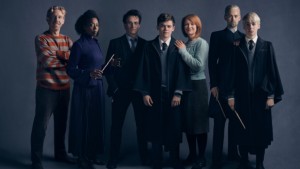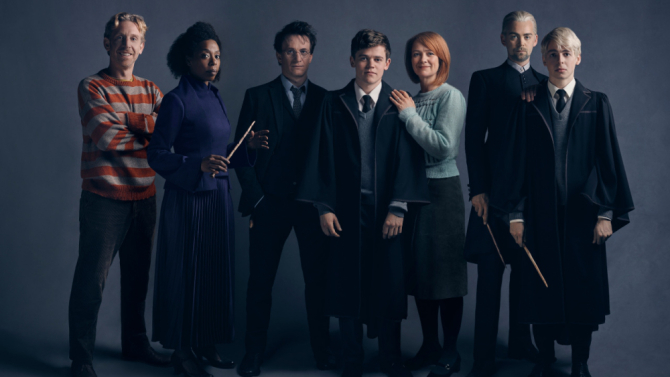 According to Pottermore, Lindsay sensed that Harry Potter would need a look which balanced our sentimental memories of his haphazard, makeshift apparel as a youth with the adult responsibilities he had assumed. She opted for a casual suit combined with pants and boots that looked "ready for action and adventure."
A simper treatment was suitable for Ron Weasley–less outward maturing, more adapting his familiar wardrobe for adulthood. Lindsay observed:
"I thought he should just look really comfy in everything…He's so relaxed and at home in himself, and in the environments he finds himself in. So we went for soft textures – cords and knitwear. And I wanted to keep that Weasley family theme with the knitwear. I don't think this jumper was homemade by his mum, but I think it has the feeling of something he would go for, having lived in a lot of homemade knitwear in his life."
As for Hermione, Lindsay wanted clothes that communicated her enduring readiness for adventure as well as her position of authority within the Ministry. Having read that purple is significant in the Ministry of Magic, Lindsay easily chose it as the statement color for Hermione's costumes.
All these factors serve to create a connection between the actors and the viewing audience, and Jamie Parker (Harry Potter) observes in a new video from Pottermore that this familiarity helps the theater-goers "feel like the story's safe in our hands." View the video, also featuring Katrina Lindsay, below!
#CursedChild's Katrina Lindsay takes us inside the costume studio to tell us how she created the now iconic looks in Cursed Child. Registration for the #CursedChildNYC Ticketmaster Verified Fan pre-sale on Feb 7 closes tomorrow! To register visit https://t.co/SFH6gqq5D3pic.twitter.com/TnzKhW8QJK

— Cursed Child NYC (@HPPlayNYC) January 30, 2018
 Harry Potter and the Cursed Child Around the World 
Universal Orlando Resort hosted another epic event for wizarding folk this past weekend, bringing fans from around the globe together for A Celebration of Harry Potter. As part of the Evening Tribute, which also included an incredible sneak peek of Fantastic Beasts: The Crimes of Grindelwald, fans got an exclusive look at the current goings-on in the world of Cursed Child.
This evening #HPCelebration got an exclusive peek at what is happening in the world of #CursedChild. But we didn't want you to miss out… Don't forget registration is now open through Jan 31 for #CursedChildNYC Ticketmaster Verified Fan pre-sale on Feb 7. https://t.co/PxgSMjPKhUpic.twitter.com/lH9CAAV7m7

— Cursed Child Play (@HPPlayLDN) January 28, 2018
The video message ends with John Tiffany's exciting announcement that final auditions for the Melbourne cast have commenced, but the upcoming premiere of Cursed Child NYC, and all related preparations, looms largest on the horizon. For one, the iconic wing over the Lyric Theater nears completion!
Progress on the giant @HPPlayNYC wing outside @ATGTICKETS's Lyric Theatre continues. (I think it lights up, FYI.) pic.twitter.com/Vq77ZXux39

— Howard Sherman (@HESherman) January 30, 2018
And the cast members are as tightly knit as ever!
We can't wait to see them on the Broadway stage–and we hope everyone who was granted an access code can snag tickets in the next round released Feb. 7!
Rakie Ayola's #WhyIGoBackToCC
After last Saturday's London performance of Harry Potter and the Cursed Child, Rakie Ayola stood at the stage door engaging with fans as usual. Little did she know when she asked an off-hand question–Why do you keep coming back?–that she would inspire a fandom and start a trending hashtag on twitter.
When @RakieAyola asked us at stage door on Saturday why we keep coming back to the show I think we all realised it wasn't a question that would have a short answer! I am in the process of writing a letter about this but thought I'd share a few thoughts here. #WhyIGoBacktoCC — Amelia ? (@alohomora_book) January 29, 2018
#CursedChild London's @RakieAyola inspired a hashtag — #WhyIGoBackToCC — here she talks about what it means to fans and the play's actors… pic.twitter.com/bYs5L7r3Jf

— Cursed Child Play (@HPPlayLDN) January 31, 2018
Fans quickly accommodated, tweeting dozens of experiences, many in full essays, and shared love for the Harry Potter story. (We wish we could include them all!)
Okay, I wrote one. 5 times is enough to try and explain #whyigobacktocc but for me that question is inextricably linked with why I love Harry Potter and I could write an essay on that. So, it's not as beautifully or articulately written as I would love it to be, but I tried: pic.twitter.com/6ekFZWjM8O

— ellie smith (@EllieRose_Smith) January 30, 2018
My Response to #WhyIGoBackToCC@RakieAyola@Theo_Ancient@BlenkinSamuel@MartinJohnston7@Thomas_Aldridge@JHowardActor@JamesPhoon_@jk_rowling@jackthorne
—————————–https://t.co/kmQPYaWrbM

— Jordan (@jordiedf) January 30, 2018
Tom Aldridge, currently playing Ron Weasley in the London production, even joined in the exchange!
I'm LOVING reading all the #whyigobacktoCC tweets!! @RakieAyola what have you started!!? This show has literally bought together the most special beautiful group of people & we are so lucky to have you & your friendship, bravery & honesty is an example to us all!

— Tom Aldridge (@Thomas_Aldridge) January 30, 2018
Ayola responded to the outpouring of support, assuring fans that she was, indeed, taking their thoughts on Cursed Child to heart.
Wow! I'm reading and rereading everything. Thank you ??? #whyigobacktoCC

— Rakie Ayola (@RakieAyola) January 29, 2018
And to all the hopeful fans out there still waiting for a first viewing, rest assured, it sounds like this magical production is well worth the wait–and will be running in theaters around the world for many years to come!