AsSorted Chocolates: Hogwarts House Easter Eggs from Slattery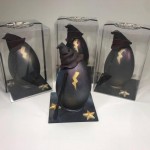 Feb 26, 2018
Throughout the Harry Potter series we see our share of sweets, often in the form of wizard candy Chocolate Frogs, and the Easter holidays are mentioned during each spring at Hogwarts. We've even spent much of one installment pondering a Golden Egg, but not until this year do the three converge into one delectable magic treat.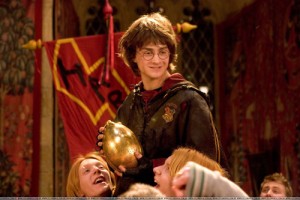 Perfect for any Potter fan's Easter basket, UK Patissier and Chocolatier Slattery has hatched The Sorting Egg; a intricately designed milk chocolate egg topped with a sugar paste Sorting Hat and chocolate dipped pretzel wand. But the most magical aspect of this holiday confection is the tiny scroll hidden inside a cache of chocolate callets revealing your Hogwarts House.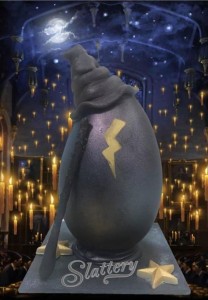 It takes approximately two hours to make a batch of eighteen of the handmade treats and due to their delicate nature"The Sorting Egg" which costs £14.95/ each can only be purchased at the North Manchester Slattery Store.
Let us know if the Easter Bunny brings you a Sorting Egg this year and if he had a direct line to the Sorting Hat to know your House. If not, you may need to go back for more!
Get further information on the Sorting Egg and how to preorder them on Slattery's website here.