Tickets To An Exclusive Quidditch Listening Event Up For Grabs!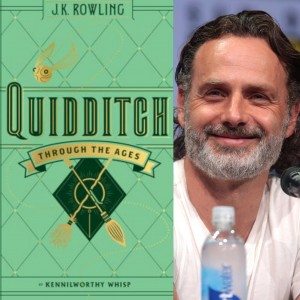 Mar 07, 2018
In celebration of J.K. Rowling's new audiobook Quidditch Through The Ages launch, Standard and Stylist announced earlier today that they have teamed up with Pottermore and Audible to offer readers and fans the chance to win tickets to an exclusive listening event!
According to The Evening Standard, the event will take place at LSO St. Luke's in London at 7pm on the 15th of March, where listeners will hear excerpts from the Quidditch World Cup Final originally written for Pottermore.com in 2014! To heighten the quality of the experience, listeners will be treated to a 3D soundscape with state-of-the-art sound design created by Pinewood Studios.
For those of us who've been waiting for this audiobook, which is narrated by Andrew Lincoln of The Walking Dead, an event like this provides for the perfect opportunity to be introduced to Quidditch Through The Ages in style – certainly a pretty neat way to spend a Thursday evening!
To enter the competition – fill in the forms on either the Evening Standard or Stylist (or both!). The exclusive event has not yet been reported on Pottermore or by Audible, but we'll keep you posted. All the best in your entries from us at Leaky!