First Look at LEGO for Crimes of Grindelwald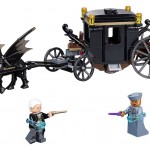 Mar 13, 2018
It's been a pretty magical couple of days in the Wizarding World. Yesterday word came on the re-branding of the franchise and the #WandsReady social media campaign leading up to today's release of a new Crimes of Grindelwald poster and the long awaited first trailer for the film. As if that wasn't enough excitement, on the heels of the teaser LEGO has revealed a first look at their tie-in bricks for the movie:
The new @FantasticBeasts trailer has arrived! Did you spot Dark wizard Grindelwald in a Thestral-drawn carriage? #FantasticBeasts #LEGOFantasticBeasts pic.twitter.com/Yc2m8j8wLR

— LEGO (@LEGO_Group) March 13, 2018
The new set, deemed LEGO Fantastic Beasts' Grindelwald's Escape, appears to feature dark wizard-on-the-run Gellert Grindelwald dueling MACUSA President Seraphina Picquery. Hmmm–will the sequel find these two battling it out again on the other side of the pond? The two mini figures come along with the thestral-drawn carriage that elicited a collective gasp from the fandom when it appeared on our screens today. Catch Leaky's breakdown of the trailer and all of the other Harry Potter connections and plot speculation here.
According to The Brick Fan, another Crimes of Grindelwald LEGO set may also appear on a shelf near you soon,
"There's also reported to be another set for the movie tentatively named Newt Scamander's Suitcase where it features a brick-built suitcase which can open up to show a scene from the movie."
Here are the specs for the new set which will be available in August:
132 pieces | Ages 7+ $19.99 USD
Includes Gellert Grindelwald and Seraphina Picquery™ minifigures, plus a Thestral figure with posable wings.

Features a buildable articulated carriage with opening doors and a removable roof.

Flap the Thestral's wings to make a flying escape!

Also includes shooting spell accessories on the hands of Seraphina and Grindelwald.
How did you feel about the first trailer for Crimes of Grindelwald? Are you excited about the new bricks?? Let us know if your day's been as magical as ours has been!