'Fantastic Beasts: Crimes of Grindelwald' Trailer Released!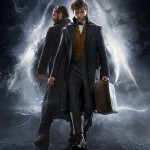 Mar 13, 2018
IT'S FINALLY HERE! The trailer for Fantastic Beasts: The Crimes of Grindelwald released today, and we could not be more excited!
It started with a brand new poster image of Newt and Dumbledore:
#FantasticBeasts: The Crimes of Grindelwald arrives in theaters November 16. pic.twitter.com/F3OpkjD2fV

— Fantastic Beasts (@FantasticBeasts) March 13, 2018
Then the trailer finally arrived – we were on the edge of our seats!
The trailer begins by swooping in on Hogwarts:

And Dumbledore is being questioned by none other than Torquil Travers and other members of the ministry, including Theseus Scamander (who APPARATE INTO HOGWARTS???):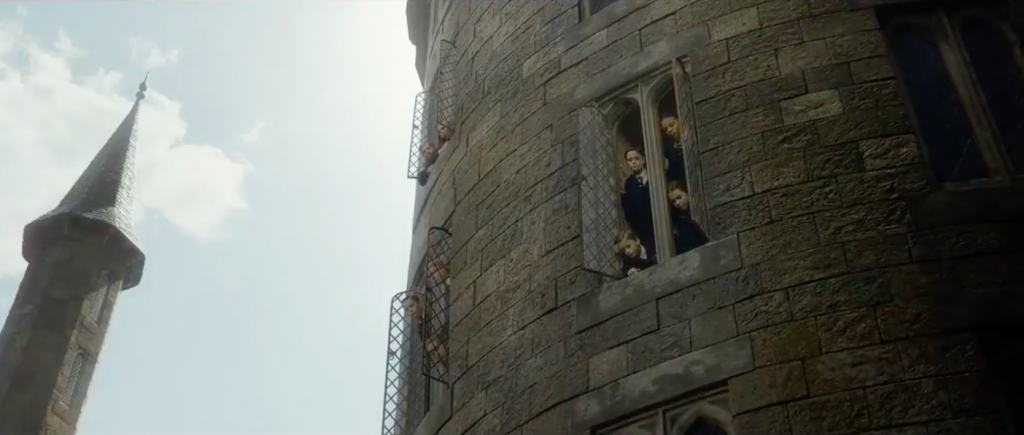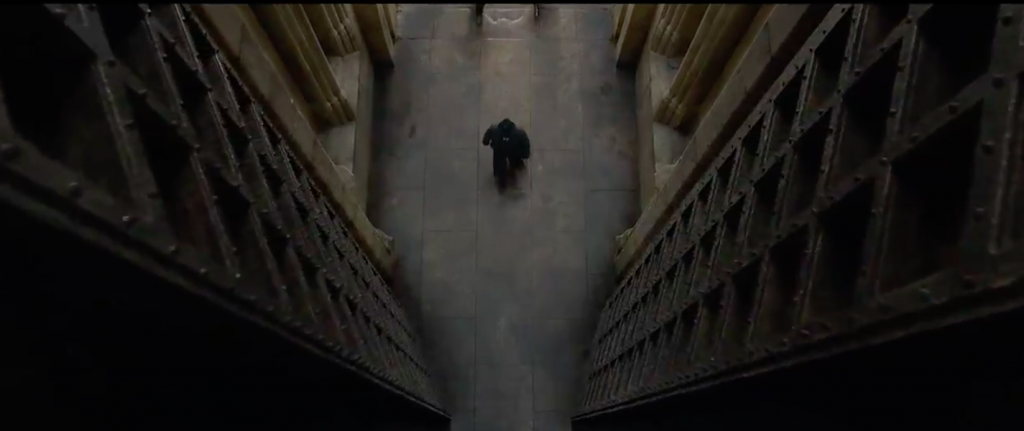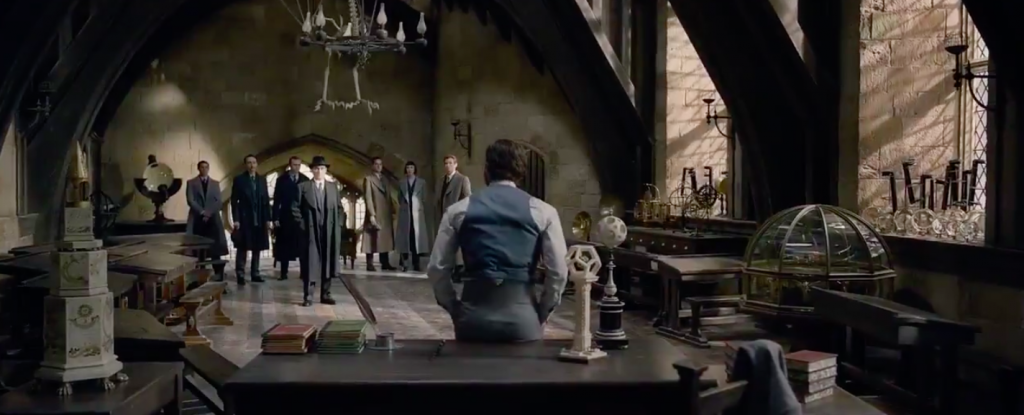 "There's a rumour that Newt Scamander is headed to Paris" 
Newt puts a postcard back together, standing in what looks like the Goldstein's apartment: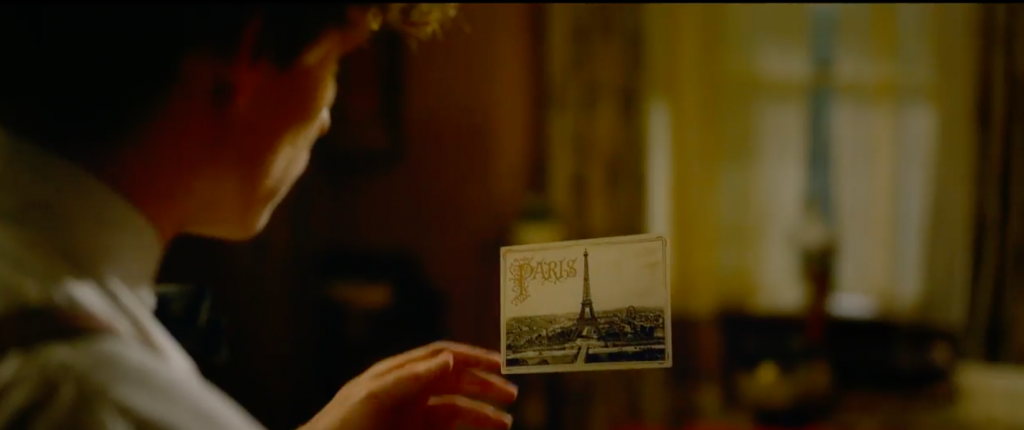 "I know he's working under your orders…"
Dumbledore uses the Deluminator on what looks like a London street, and Newt walking around London looking suspicious: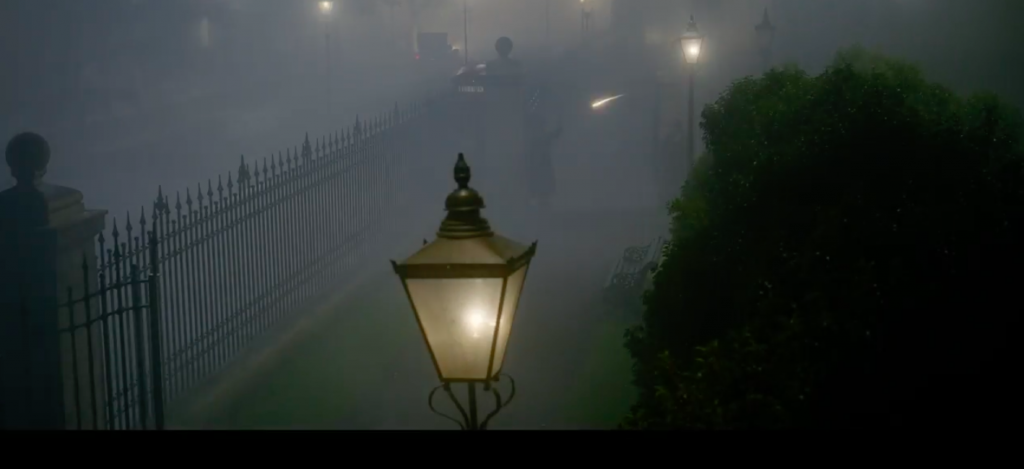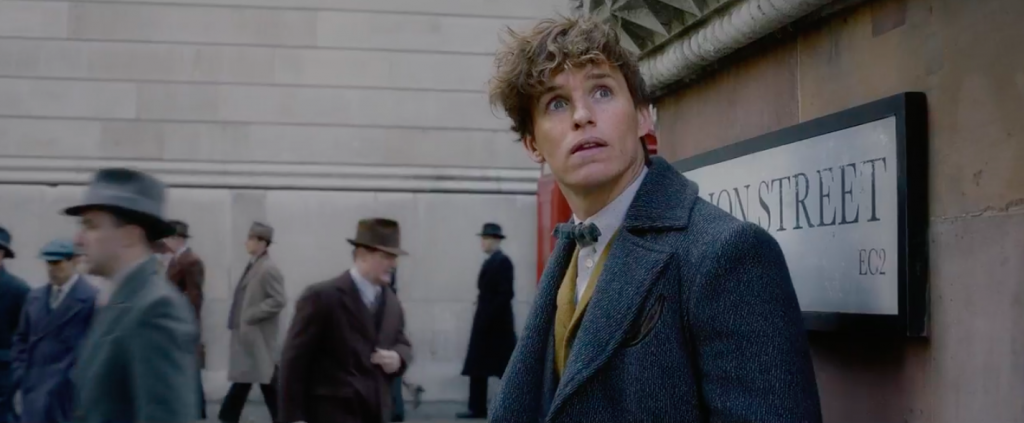 "What do you have to say for yourself, Dumbledore?"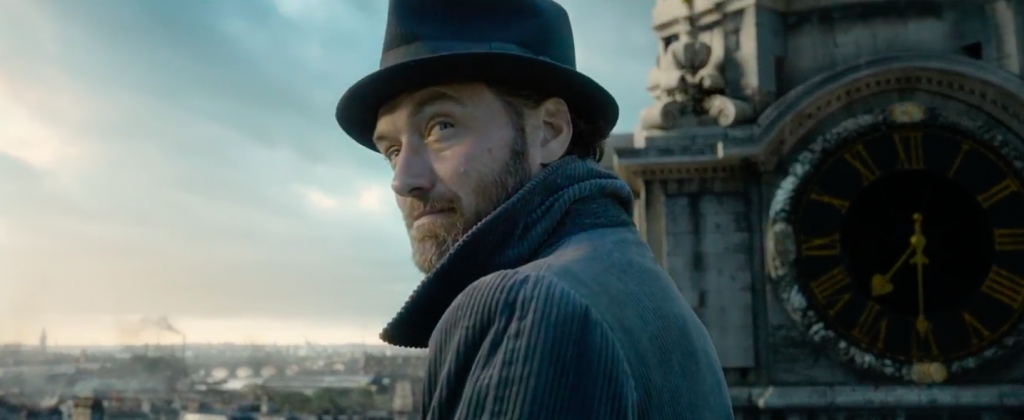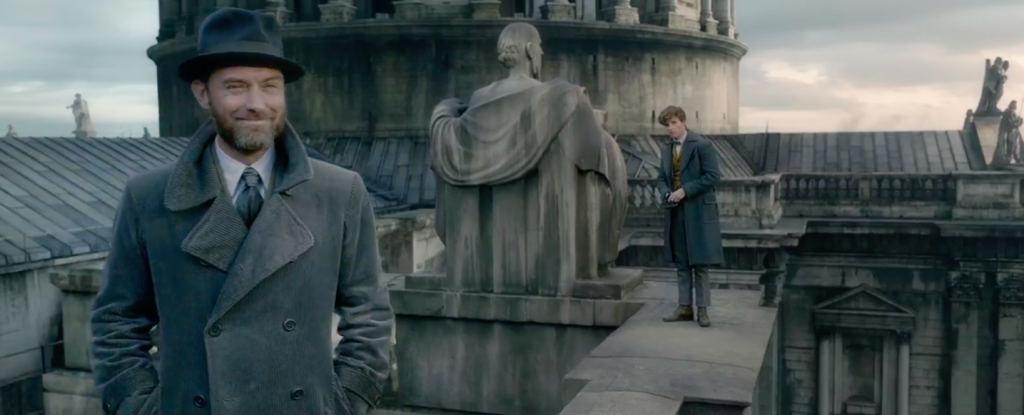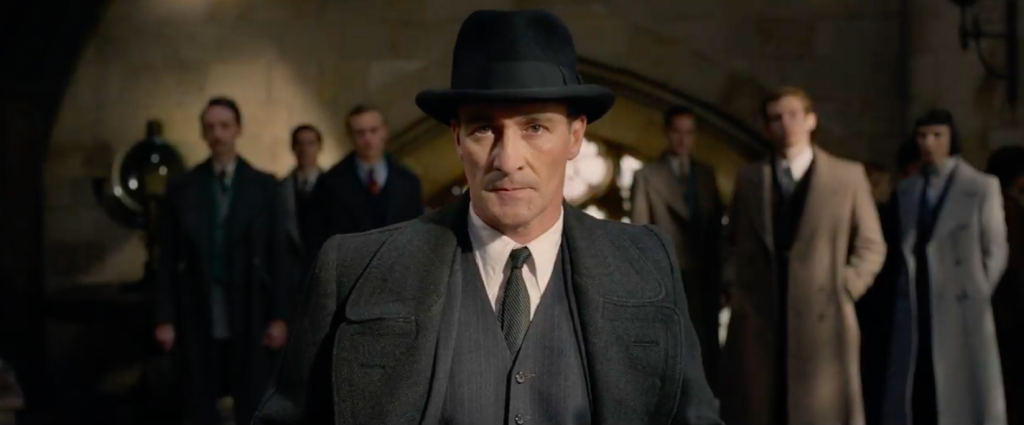 "If you had ever had the pleasure to teach him, you'd know Newt is not a great follower of orders", says Dumbledore, with a grin. The mischievous twinkle in his eye is definitely coming through thanks to Jude Law!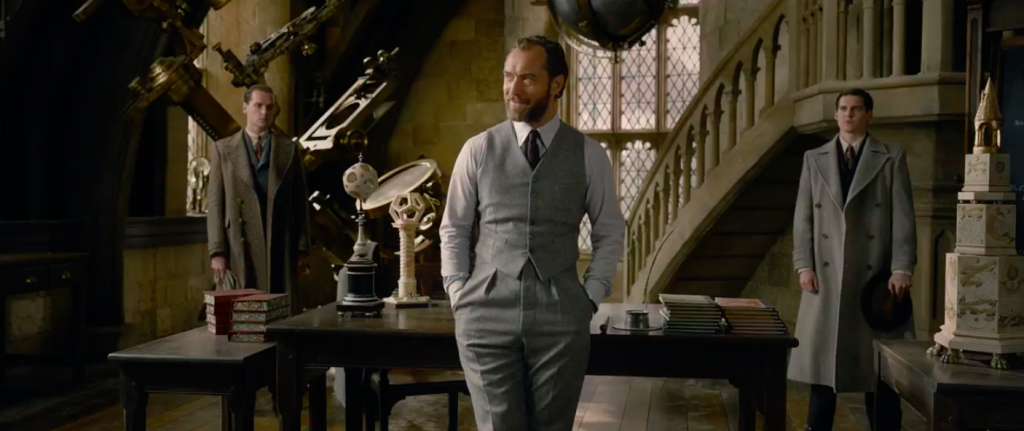 It appears Grindelwald has already grown a following, and he's shown speaking to an audience with Vinda Rosier (is she holding a prophecy, or is that too big to be a prophecy?) as Dumbledore says "The time is coming, Newt":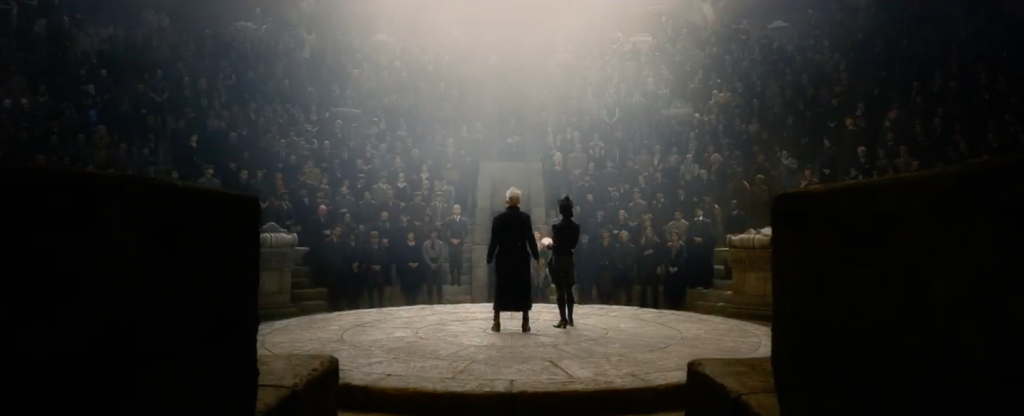 "… When you're going to have to pick a side"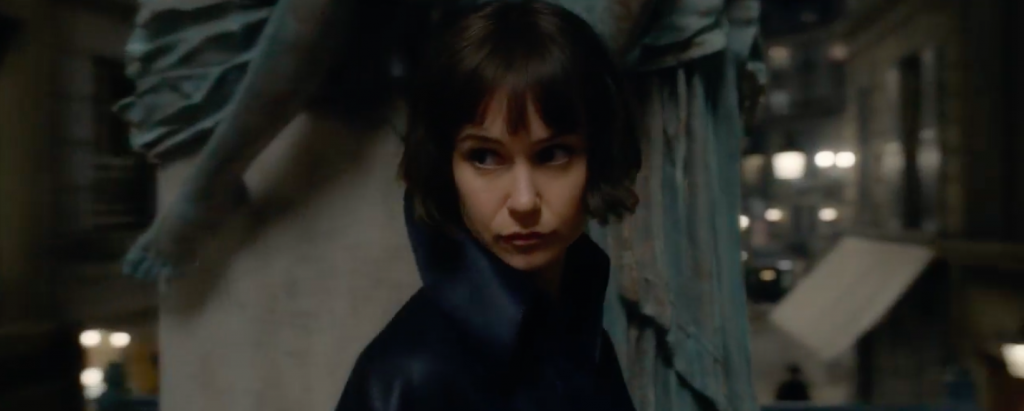 The no-maj is back! Newt and Jacob walk down some railed stairs, Jacob encounters a new bird creature which is yet to be identified (though some readers suspect it might be an early version of Fawkes). It appears we're not in Newt's briefcase (it's on the table), but another of his workrooms! Is this where Newt's assistant, Bunty (as revealed by Victoria Yeates in a recent interview) resides?
"Are you goin' somewhere?" Jacob asks Newt.
"No. We're going somewhere." He replies: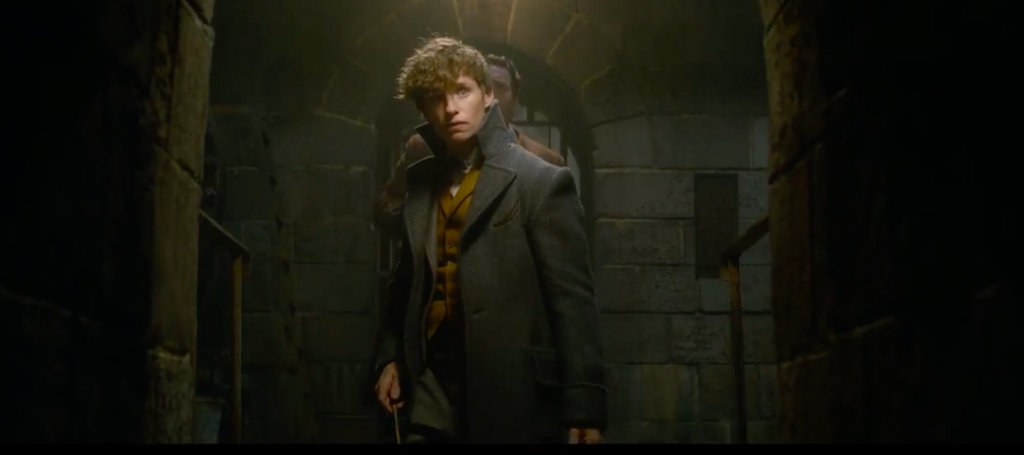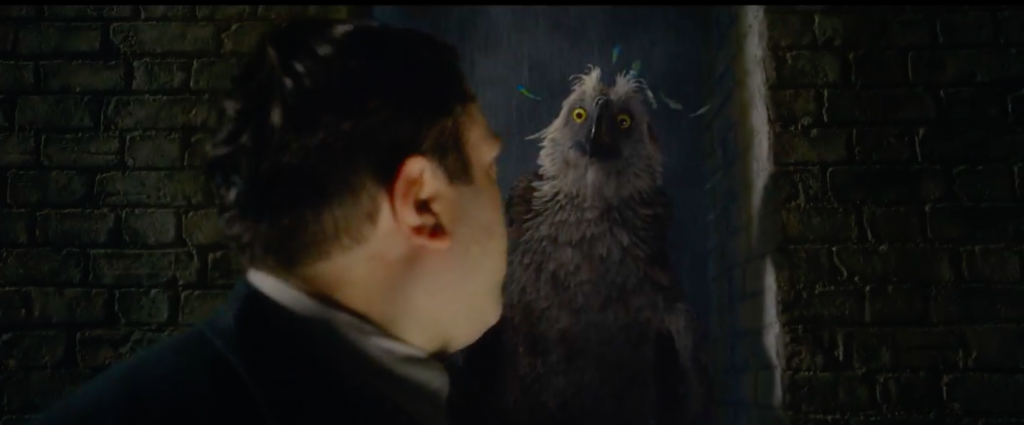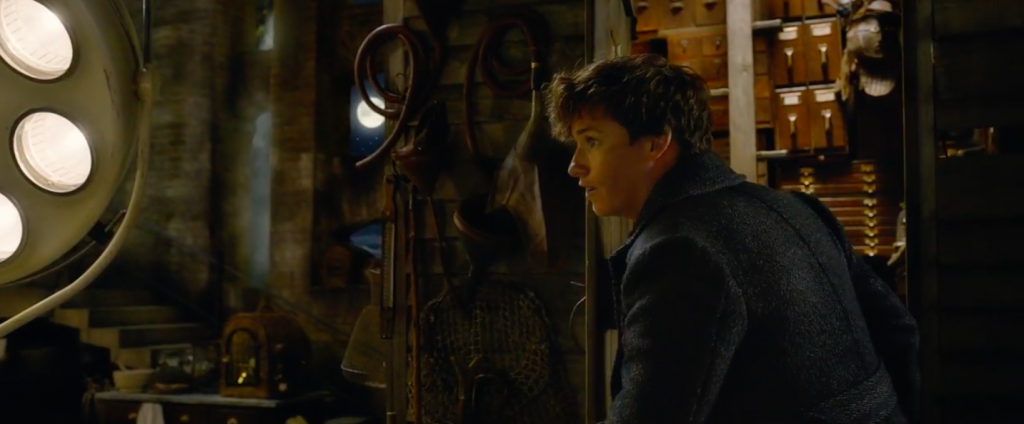 "YUS"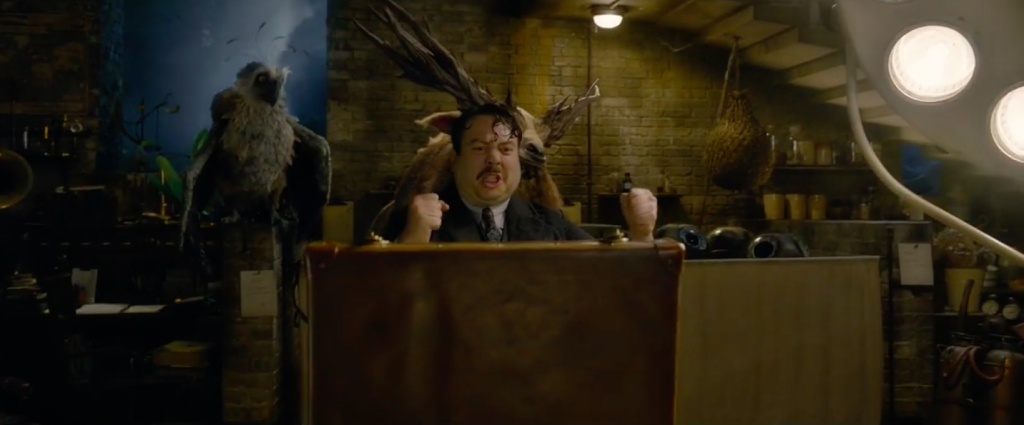 Claudia Kim on a rooftop with Credence, who appears to have learnt to control his Obscurus: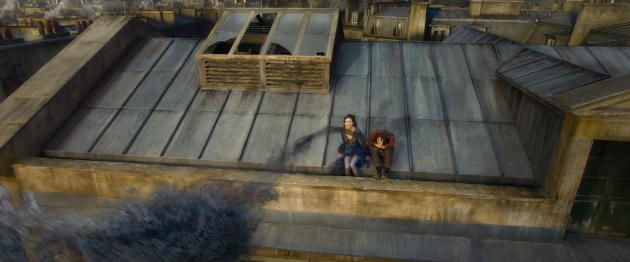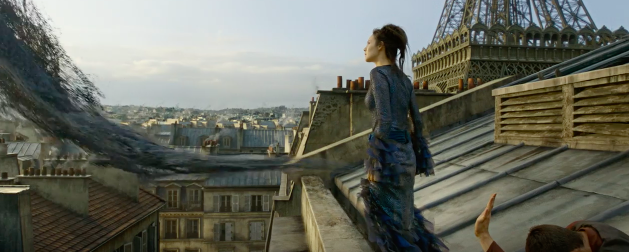 The inside of an immaculate – and definitely magical – building, showing statues of women surrounding the room (much like MACUSA) and drawings of magical creatures (including "Le Niffleur") on the glassy ceiling. Could this be the Ministry in France?: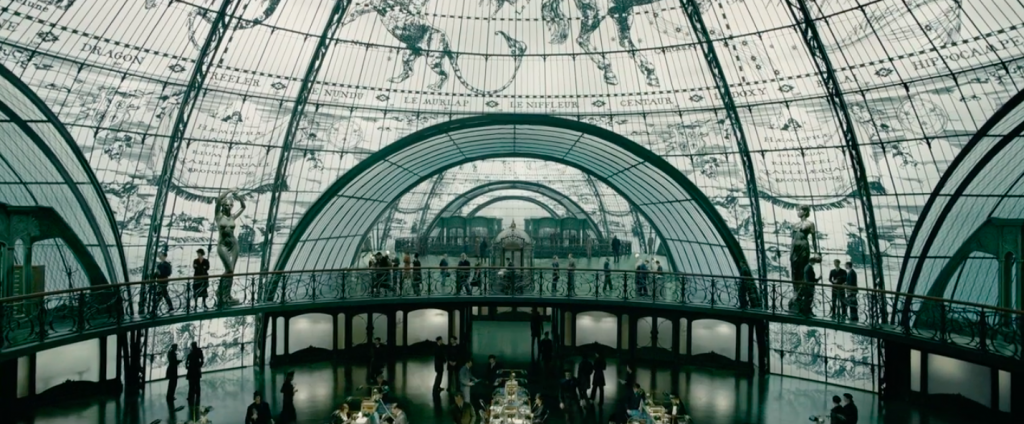 Queenie looking concerned in the French ministry: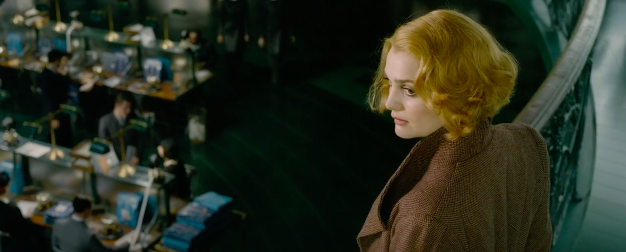 A very Beauxbaton-esque dance, and LETA LESTRANGE (could this be an engagement party for her and Theseus? Maybe that's how she and Newt reconnect!):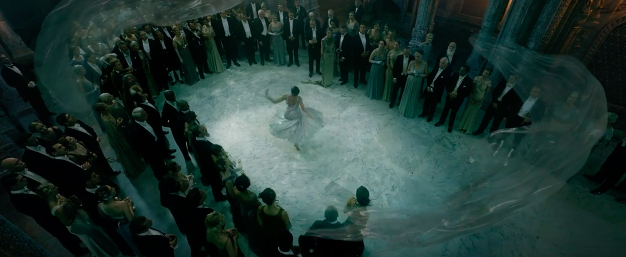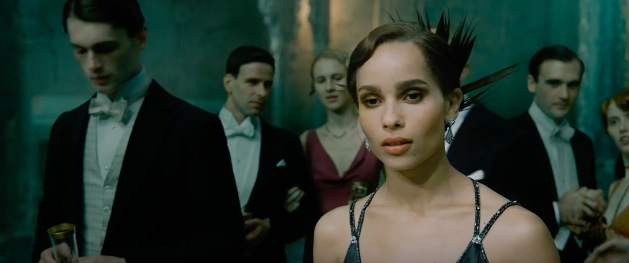 People standing on the White Cliffs of Dover: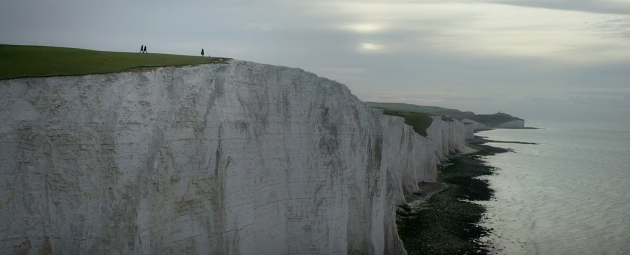 Is Newt swimming to France via Kelpie, perhaps?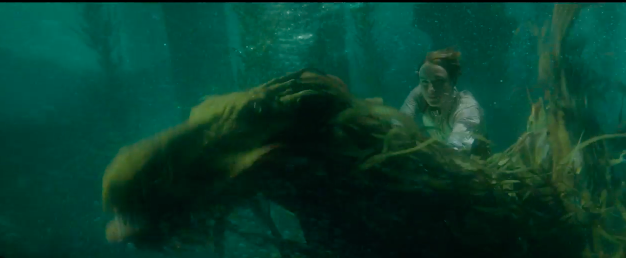 What could these inscriptions mean? It appears to be a Lestrange family tree, which relates Leta and Credence as half-siblings – we wish we could read the extra-tiny inscriptions around the names! In any case, this seems to support our earlier theorising that Credence might be related to pureblood wizarding families: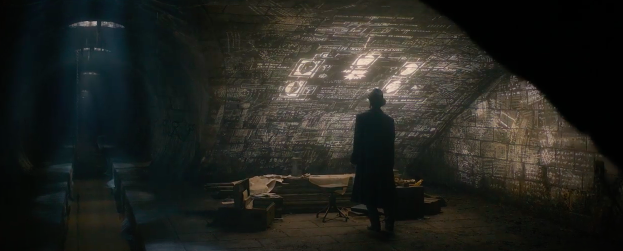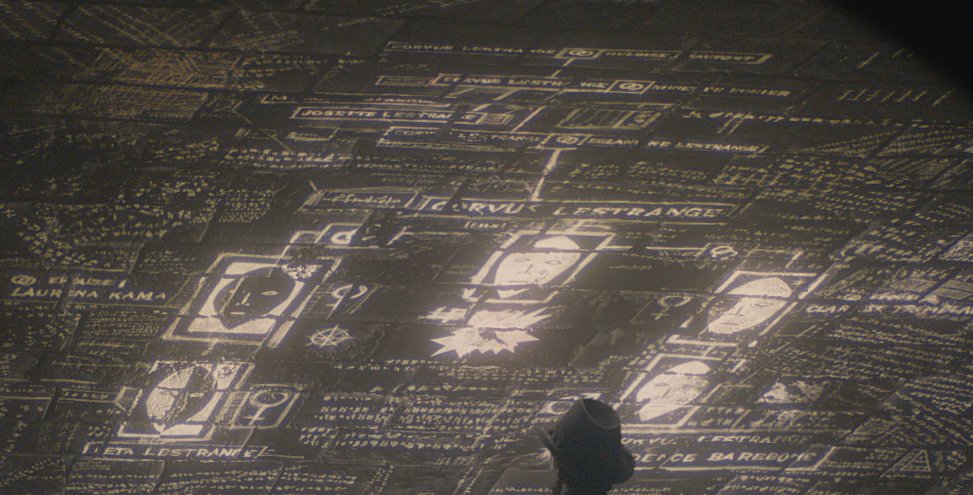 One graffiti says "Leta Lestrange", the other "Corvus Lestrange", and one says "Credence Barebone" ! And the last one I can make out is Laurina (?) Kama, but we dont know her… Maybe that's Maledictus's name?

— Livael, вы здесь?! (@Livael23) March 13, 2018
UPDATE: Credence Barebone & Leta Lestrange are half-siblings.
They both share Corvus Lestrange as a father – Leta's mother is Laurena & Credence's is Clarisse#WandsReady #FantasticBeasts

— Fantastic Beasts Fan (@FBAWTFTmovie) March 13, 2018
Our first glimpse at the wizarding circus, Cirque Arcanus, owned by a character called Skender (portrayed by Ólafur Darri Ólafsson):
: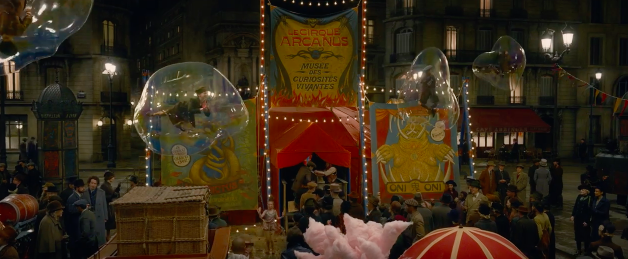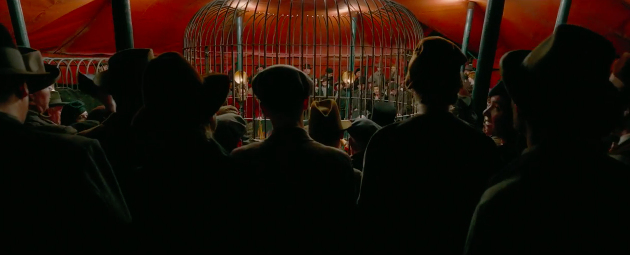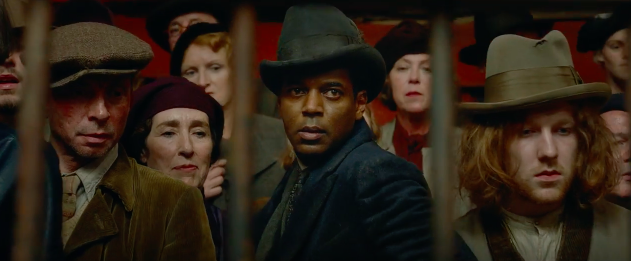 Picket creating mischief: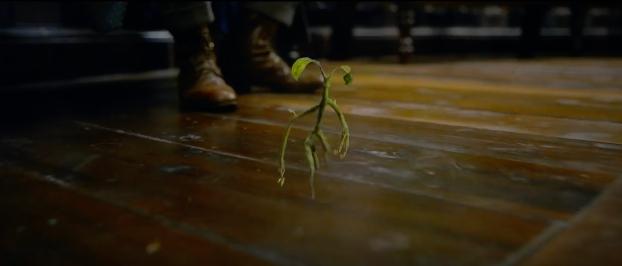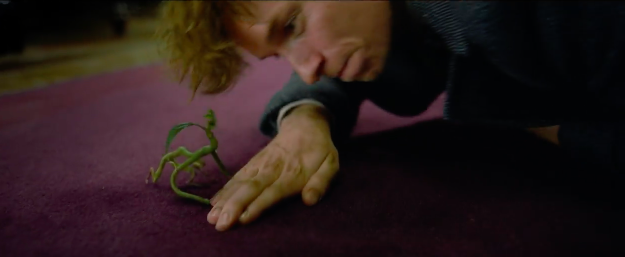 Credence (sporting a new 'do) appears to be part of the wizarding circus as suspected, and is not happy about it – can Credence now call upon his Obscurus powers on-demand?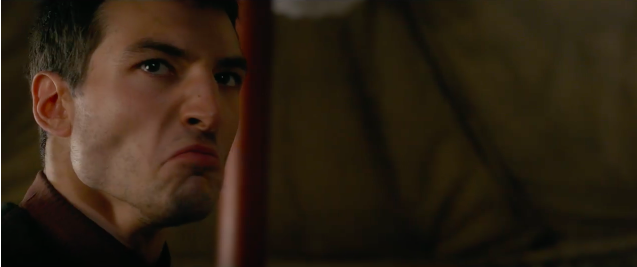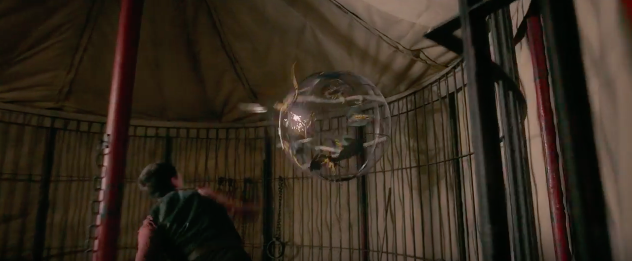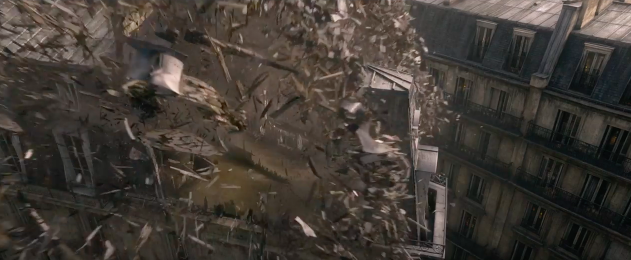 Another scene in a green tunnel – in the same place as the glassy French Ministry building from before? The railings certainly look Parisian: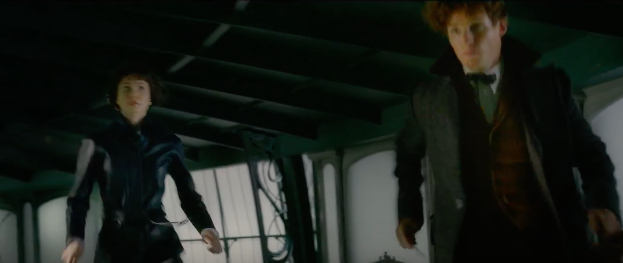 It appears MACUSA (pictured below) are using Thestrals to transport a carriage:
I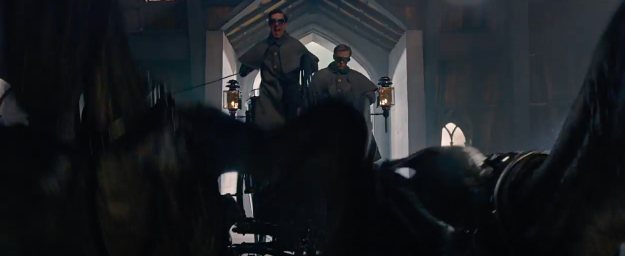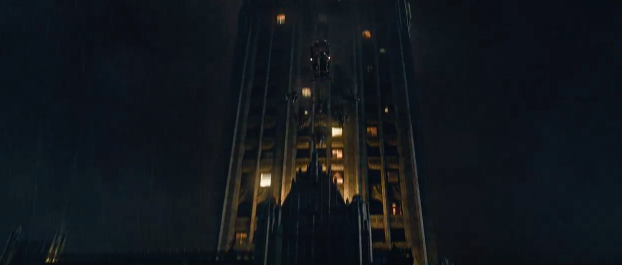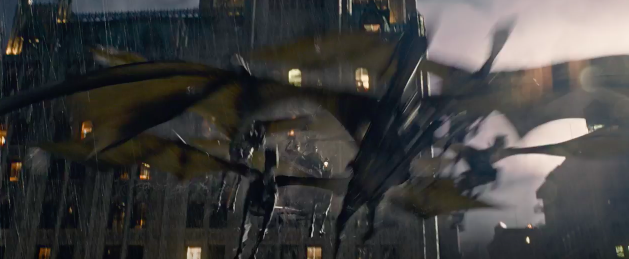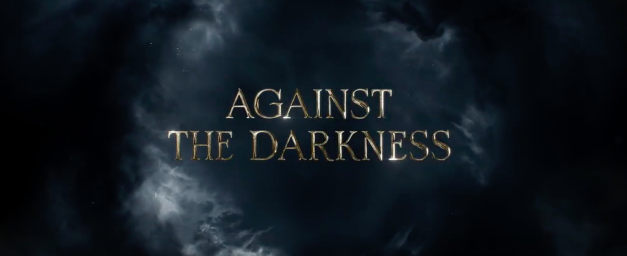 We know Grindelwald is being transported by MACUSA (as shown in the new Crimes LEGO set), escapes and heads to Europe, but it seems some time has passed, given his bearded look: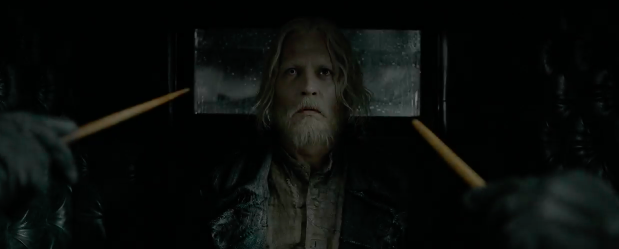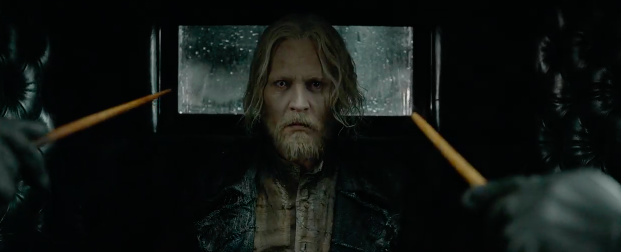 "I can't move against Grindelwald… It has to be you" Dumbledore tells Newt: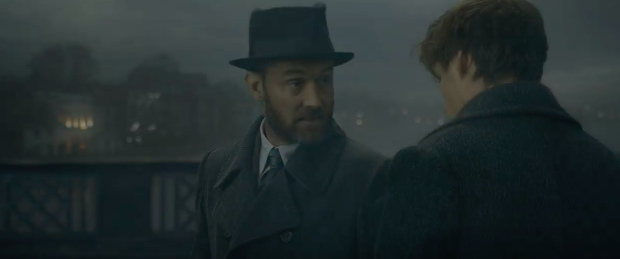 Why does it have to be Newt? Is Dumbledore struggling with his history with Grindelwald? Is this another situation where Newt, like Harry, has a connection or ability that makes him uniquely necessary? Is Dumbledore showing his chess-master tendencies again?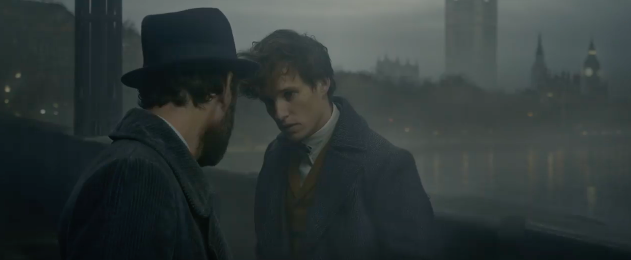 Brothers Newt and Theseus taking something on together in a graveyard (filming crew under "Voltaire" spotted in a graveyard previously) – are they tracing lineage to track the Hallows, or Credence's family?: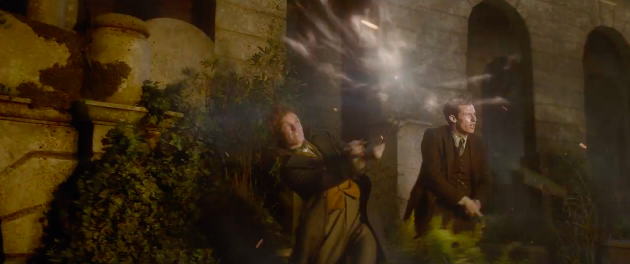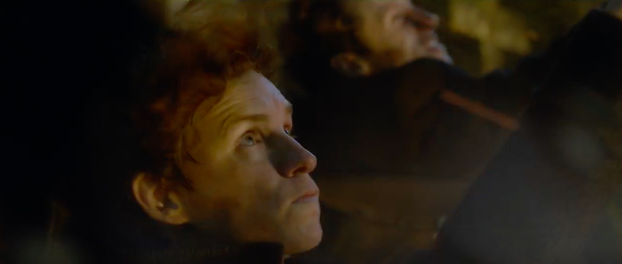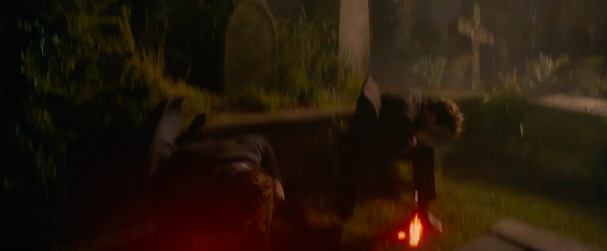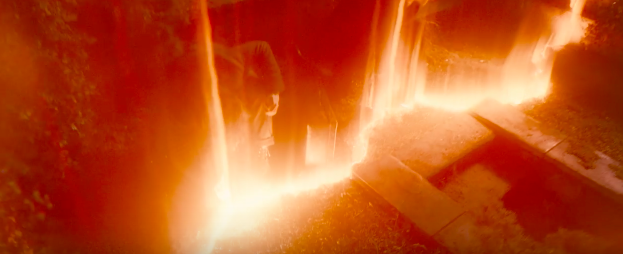 And finally, The Deathly Hallows symbol:
WHAT WAS THAT?!
In new footage from A Celebration of Harry Potter, we were shown rapid-fire clips of Newt, appearing to be emerging from his case, Tina looking through bars (the wizarding circus?), Queenie at a desk (travelling to Paris the No-Maj way, perhaps?),  Jacob smiling broadly, Grindelwald in a decorative room (the Goldstein's?) and a man in a black cloak and hat with a wand, speaking on a raised platform (the start of Grindelwald's rise to power?):
So what else do we know so far?
A brief summary of the film is as follows:
"Grindelwald has made a dramatic escape and has been gathering more followers to his cause – elevating wizards above all non-magical beings. The only one who might be able to stop him is the wizard he once called his dearest friend, Albus Dumbledore. But Dumbledore will need help from the wizard who had thwarted Grindelwald once before, his former student Newt Scamander. The adventure reunites Newt with Tina, Queenie and Jacob, but his mission will also test their loyalties as they face new perils in an increasingly dangerous and divided wizarding world."
As confirmed by David Heyman and David Yates, this film will return to the U.K. and head to Paris (as seen in the trailer):
"We do go back to the U.K. in the second film as well–it's U.K. and Paris. I'm not sure where Jo is setting the rest of the movies, but they'll be European-centric. I think it will be difficult to ignore America, but the next one is predominately Europe."
With all this globetrotting planned, it's curious that Newt Scamander's application to travel appears to have been denied by the Ministry of Magic, which not only suggests that we could see the Ministry of Magic again (supported by Pottermore's tweet on first seeing MACUSA), but also that he's going to have to fight to get somewhere (Paris? Back to the U.S. to give Tina a copy of his published book?):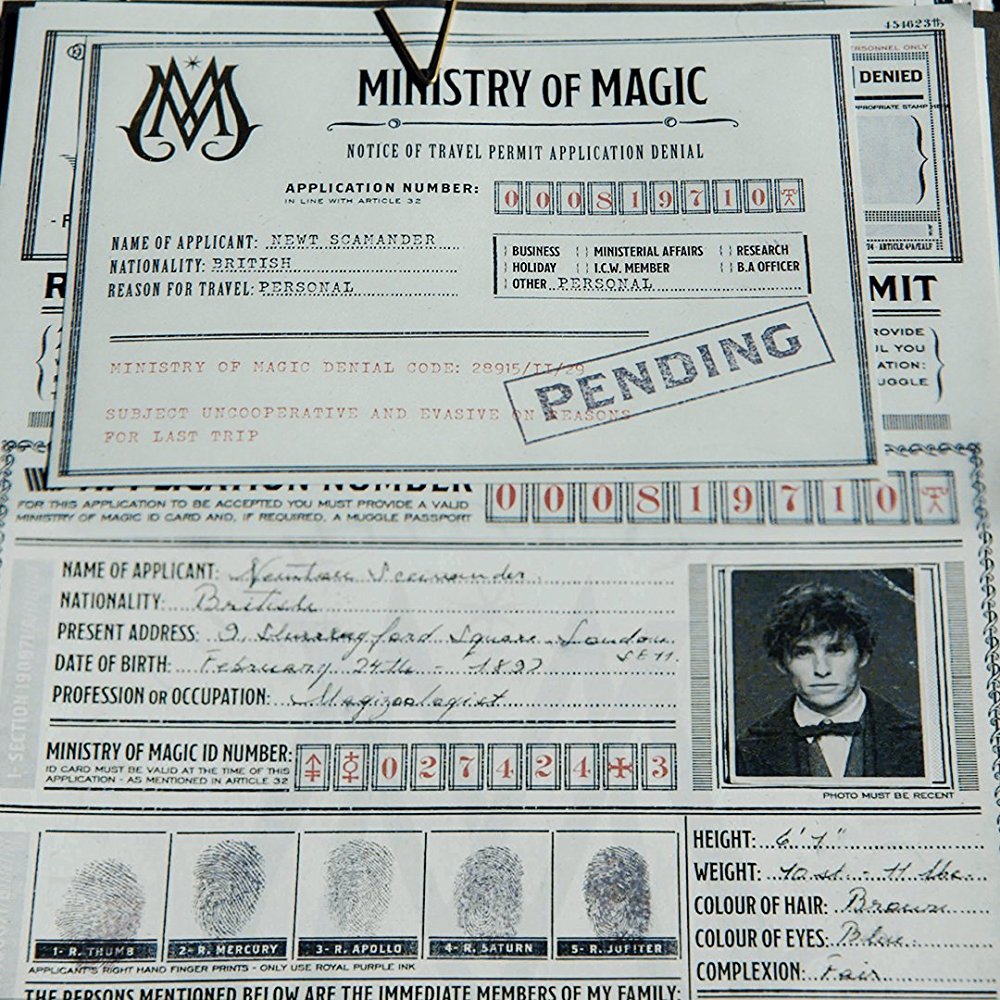 A newly published author must have a book launch party. Newt Scamander has been busy. #MagicInProgress #FantasticBeasts #WizardingWednesdays pic.twitter.com/lvS4TiZXpJ

— Fantastic Beasts (@FantasticBeasts) November 1, 2017
We also now 100% know that the film returns to Hogwarts (after multiple sightings of film crews at Lacock Abbey), now we know Dumbledore is being questioned in this scene: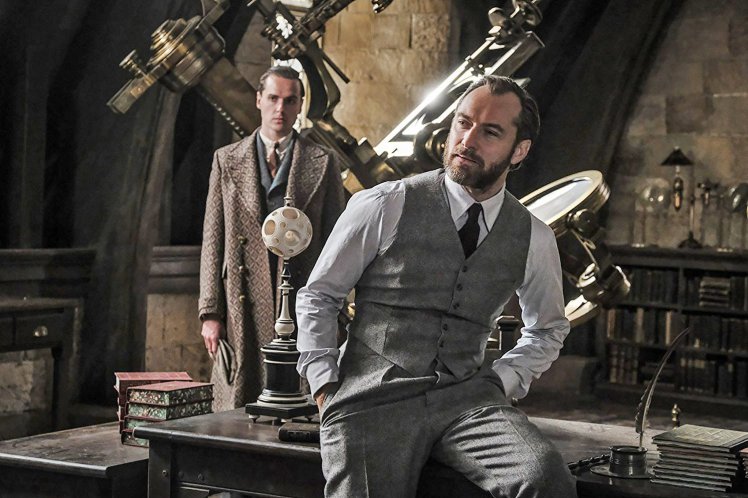 Dumbledore and Grindelwald's history will be unpacked further in Crimes, revealing "how Dumbledore becomes Dumbledore". As the final Dumbledore-Grindelwald duel doesn't take place until 1945, we've got a while to wait until the tension peaks, however, we do know that a teen version of Grindelwald and Dumbledore (and Newt and Leta) were cast earlier last year, so it's fair to assume that we'll get to see more of the complicated relationship between the two seekers of 'The Greater Good'. Dumbledore's insistence that Newt must be the one to make a move against Grindelwald is curious – much like he did with Harry, he's playing the chess master.
We've also been introduced to Grindelwald's pre-Elder Wand wand, and what we suspected was Dumbledore's, however, the new poster sheds light on his actual pre-Elder wand wand: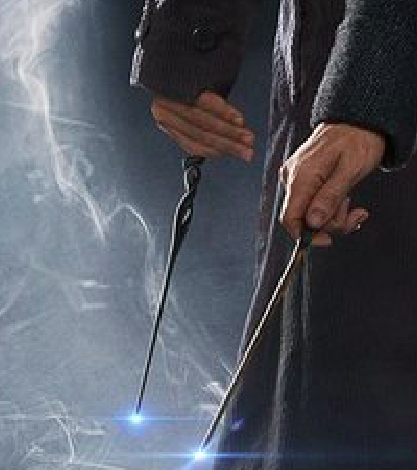 Dumbledore tells Newt in the new trailer that he can't move against Grindelwald, and it's Newt that must be the one to make a move. It's interesting that Rosier is seen with what looks like a prophecy, and Dumbledore is hesitant to act even though we know he takes Grindelwald on in 1945. This could be lingering guilt about Ariana's death, but why insist on involving Newt so much? Dumbledore in the Harry Potter series said he'd been foolish and proud in his younger days, but following Ariana's death he realised the horrors of Grindelwald's rise to power, and sought to thwart him, as we're seeing in Fantastic Beasts.
Could it be that a prophecy brings Grindelwald to Credence, and Newt's connection to Credence means he has to intercept? Perhaps Dumbledore is hesitant to move against Grindelwald because he himself is part of a prophecy, and much like how Voldemort enacted the prophecy by marking Harry as his equal, Dumbledore wants to hold off his involvement to prevent a prophecy coming to light? What are your thoughts on his instructions to Newt? 
Leta Lestrange can also be spotted in the trailer – as the first image of the central cast was revealed, we learned that she's engaged to Newt Scamander's brother, Theseus Scamander, who will also feature in Crimes: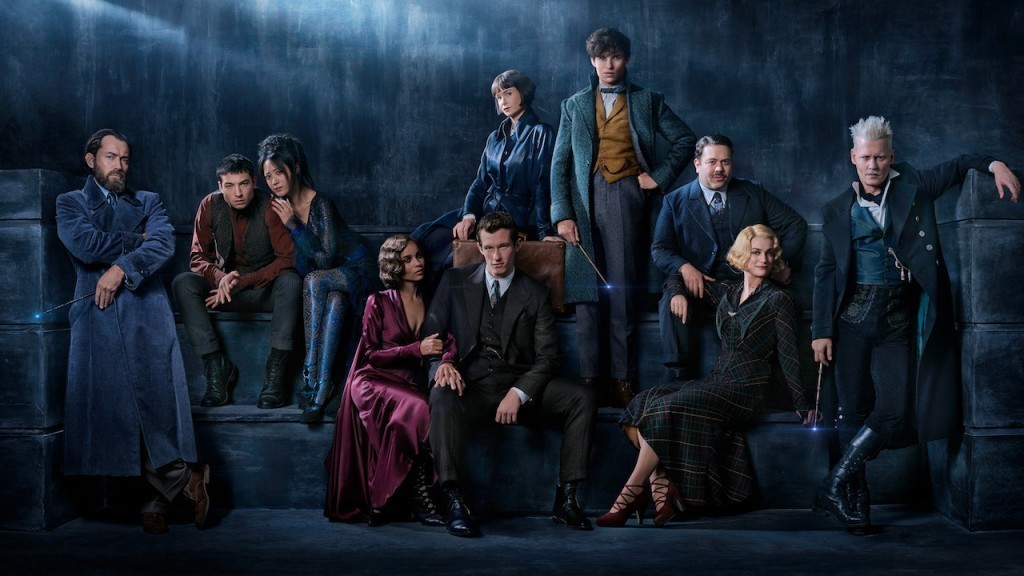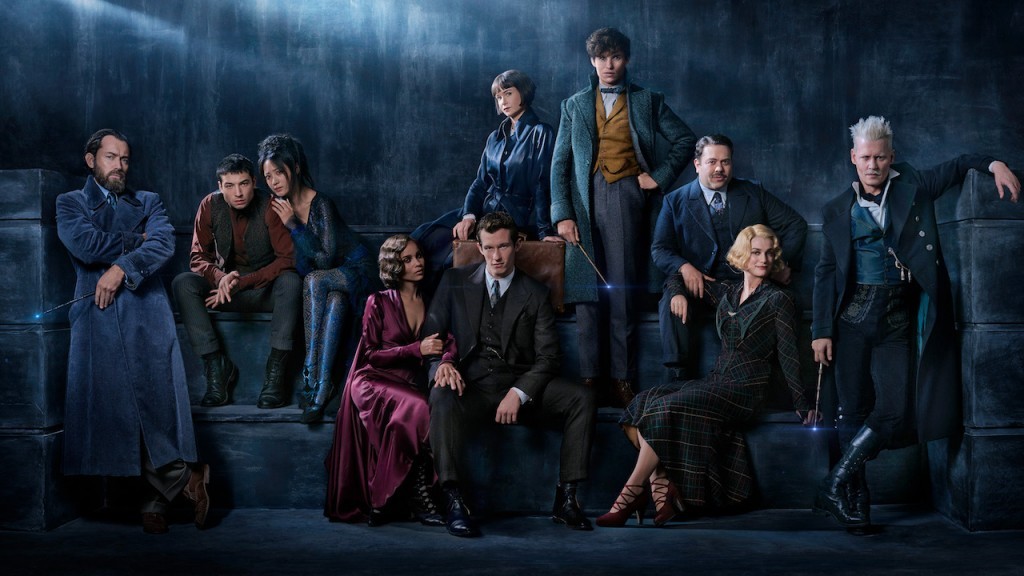 Credence Barebone will make a mysterious return, appearing to be tied to Claudia Kim's character, a 'Maledictus':
"Claudia Kim's character is a 'Maledictus' – a carrier of a blood curse that makes her transform into a beast. This appears to be different to being an Animagus, as an Animagus can transform into an animal by choice. If we break up the etymology of the word, 'Mal', means 'wrongful' or 'ill' – and 'dictus' in Latin means 'to speak'."
He appears to be a part of the wizarding circus, which is confirmed in the trailer to be Circus (or "Cirque") Arcanus, from MinaLima's work on the first movie:

Nicolas Flamel, who we discovered to be a long-time friend of Albus Dumbledore in Harry Potter and the Philosopher's Stone, will feature in this film (though isn't seen in the trailer), and as Pottermore and actor Brontis Jodoroswsky have teased his importance to the mysteries of this film, we can't wait to see how he ties in! Could his talents in alchemy or perhaps even the Philosopher's Stone itself have something to do with Grindelwald's move to Europe? Why might Dumbledore need to reconnect with his old friend? We'll have to wait and see!
Victoria Yeates, who will portray Bunty in Crimes, posted a photo captioned #NewtAndBunty as production wrapped on the film, and after theorising that there could be a connection between the two characters, Yeates revealed in a recent article that Bunty will, in fact, be Newt's assistant!
It'll be interesting to discover how Newt (& co), Credence, Leta, Theseus a wizarding circus and Nicolas Flamel come together in the hunt for Gellert Grindelwald, and how this story might "test loyalties"!  Read up on our theories here, plot rumors based on a rumored cast list here, see new footage recorded by us from A Celebration of Harry Potter here,  photos from the film here, and beasties returning to the sequel here!
Crimes of Grindelwald releases in cinemas on November 16th. Let us know your theories and thoughts on the trailer in the comments! Read Pottermore's breakdown here.