UPDATE: That's A Wrap! 'Fantastic Beasts' Actors Finish Filming on 'Crimes Of Grindelwald'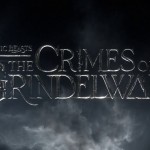 Dec 09, 2017
***UPDATE: Fantastic Beasts has now fully wrapped – we can't wait!***
That's a wrap on #FantasticBeasts: The Crimes of Grindelwald production! See you in 2018. #MagicInProgress #FantasticBeasts #WizardingWednesdays pic.twitter.com/aWn0TV36bt

— Fantastic Beasts (@FantasticBeasts) December 20, 2017
Various Fantastic Beasts actors have been posting on social media to say they've finished filming on the latest film, meaning Crimes of Grindelwald will soon be going into post-production! We're bringing you the latest news on filming, along with a few cast updates.
Since the title of the film was announced (and along with it a cast photo), we've had first-look photos of Newt and Dumbledore, statements on concerns regarding Depp's major role as Grindelwald in the series and even news that Harry Potter Book Night's theme for 2018 is 'Fantastic Beasts'! Given the snippets of information we've had about the film so far, and the implications of this film being centred around Dumbledore and Grindelwald, we're sure they're wrapping on a pretty epic movie!
Victoria Yeates started the wrap posts via her instagram page, posting a photo of her with costars Eddie Redmayne (Newt Scamander) and Claudia Kim (Maledictus, a new character with a blood curse which turns her into a beast).
Her #NewtAndBunty could imply something about their characters, as Yeates will be portraying a character called bunty in the films. Could the two characters be close, or is this just throwing us off the scent?
Yeates can be seen sooner than next November in Call The Midwife, coming to BBC One for a Christmas Special at 7:40pm in the UK.
Eddie Redmayne is also set to appear on TV screens this Christmas, reading a bedtime story for children on CBeebies on Christmas Day (read more here). He'll also be coming to the big screen on January 26th for Early Man (also featuring a host of Potter actors), which you can see new posters for here.
Dan Fogler was the next to post, wishing a fond farewell to London after wrapping filming on Jacob Kowalski at Leavesden: 
Alison Sudol (Queenie Goldstein) posted a tweet brimming with gratitude at being a part of the Fantastic Beasts family: 
very pleased to announce that Queenie is wrapped on #fantasticbeaststhecrimesofgrindelwald – has been a v. powerful experience. can't wait for a little under a year from now, when we can finally talk about it! so grateful to be a part of the FB family, thank you @jk_rowling 🙏🏻

— Alison Sudol (@AlisonSudol) December 1, 2017
Alison's new holiday single Christmas Will Be Waiting is dedicating proceeds to Lumos, which you can read more about here.
Another newcomer, Brontis Jodorowsky, posted his thanks at being able to portray Nicolas Flamel, who appears to have a large part in Crimes of Grindelwald!
We know Dumbledore and Flamel were close friends from Dumbledore's comments in Philosopher's Stone – perhaps his alchemy, or even the Philosopher's Stone itself – will be key to Dumbledore's plots to thwart Grindelwald, or maybe something to do with Credence? Take a look at a few theories here, and here.
And it's a wrapp for Nicolas Flamel on #FantasticBeastsTheCrimesOfGrindelwald ! It has been such… https://t.co/ojHrKQM3Bf

— Brontis Jodorowsky (@Brontis_J) December 8, 2017
Zoe Kravitz spoke about her character Leta Lestrange's connections to Bellatrix in an interview with the Independent recently:
"I play Helena Bonham Carter's great-great aunt. She's an icon of mine so it's a real pinch-me feeling to even be associated with her. I think her performance in Fight Club is one of the best by a woman in a film."
Kravitz is currently the cover of Elle magazine, and you can read an interview with her here, and confirmation of Big Little Lies Season 2 here.  Given that we've discovered not only were Newt and Leta close childhood friends (and suggested childhood sweethearts), but Newt's brother Theseus is now engaged to the Lestrange enigma we've yet to meet, we're sure Kravitz will make a bold entrance to the series, and tensions are sure to be high in the next film!
We've been closely following hints at where we might be heading in Crimes, from supposed filming of Hogwarts scenes to Eddie Redmayne being spotted filming in London, the movie will move from the U.S. to Europe, in what we believe will be a riveting move to tie the Potter story to Newt's adventures in the 1920s and onwards.
Crimes is summarised by Warner Bros as follows:
"Grindelwald has made a dramatic escape and has been gathering more followers to his cause – elevating wizards above all non-magical beings. The only one who might be able to stop him is the wizard he once called his dearest friend, Albus Dumbledore. But Dumbledore will need help from the wizard who had thwarted Grindelwald once before, his former student Newt Scamander. The adventure reunites Newt with Tina, Queenie and Jacob, but his mission will also test their loyalties as they face new perils in an increasingly dangerous and divided wizarding world."
The film is directed by David Yates, written by J.K. Rowling, and produced by David Heyman, J.K. Rowling, Steve Kloves and Lionel Wigram. It will release on November 16th 2018.
For now, take a look at our breakdown of the title and cast photo here!