REVIEW: 'The Ties That Bind' Wizarding World Loot Crate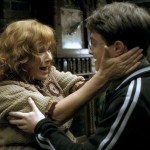 Mar 13, 2018
The latest Loot Crate box had plenty of brilliant surprises for Harry Potter fans, bringing together a collection of items which explore ties to family in the wizarding world.
The Ties That Bind box – true to its name – offered a glimpse into the world of tradition and family, through heirlooms, house pride, the Black family tapestry, and even wands:
"No matter the bloodline, family ties run deep in the wizarding world. With this crate, explore some of the heirlooms and traditions passed through generations, connecting people together… Or, sometimes, driving them apart."
The box itself brought together moments from the series which represent family ties, including a graphic combining James Potter's words of reassurance to Harry: "Until the very end", with Harry, Ron and Hermione's wand: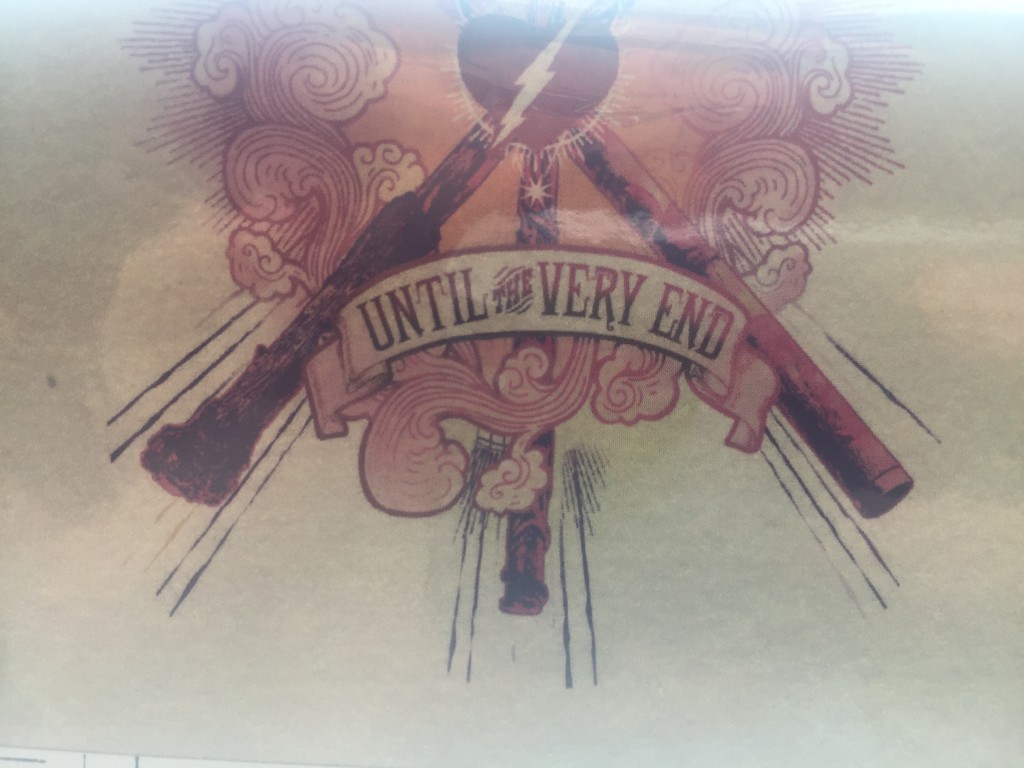 The inside of the box pays homage to the Weasleys, with a graphic of Mrs Weasley's clock (who wouldn't want to own one of those!):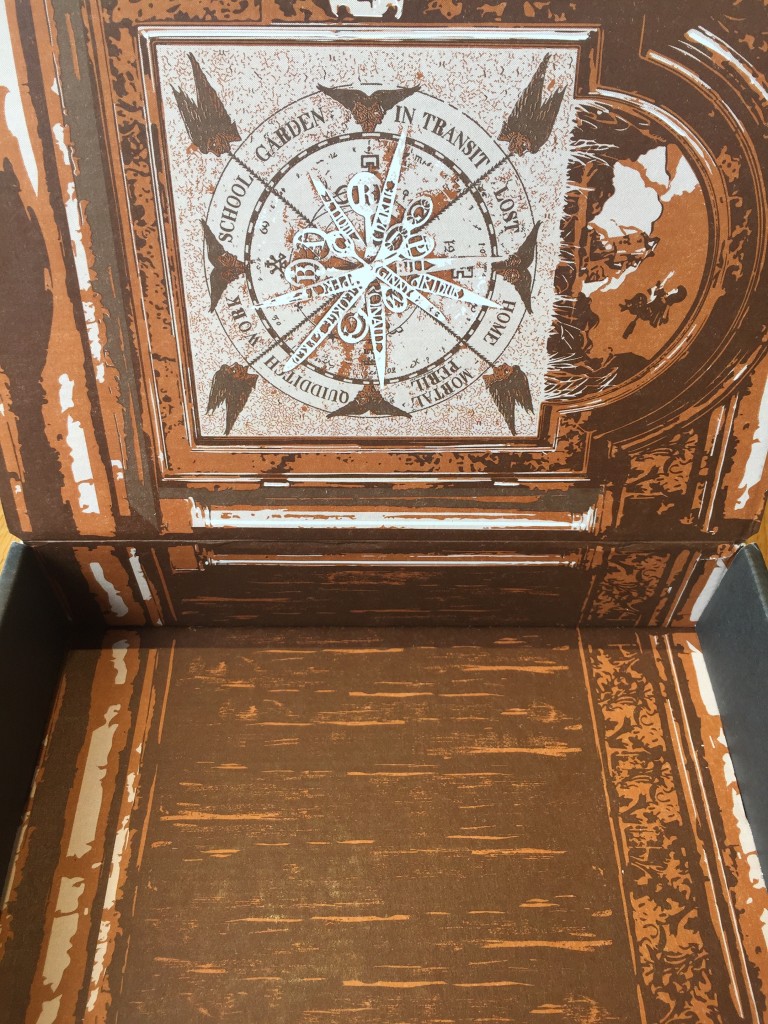 Being a huge fan of MinaLima's work on the series, this box was a delight. My absolute favourite item in this box was the Black Family Tree Tapestry shawl / scarf. I had to pin this to my wall to show just how big and detailed this thing is! I'm in half a mind just to keep this pinned proudly to the wall: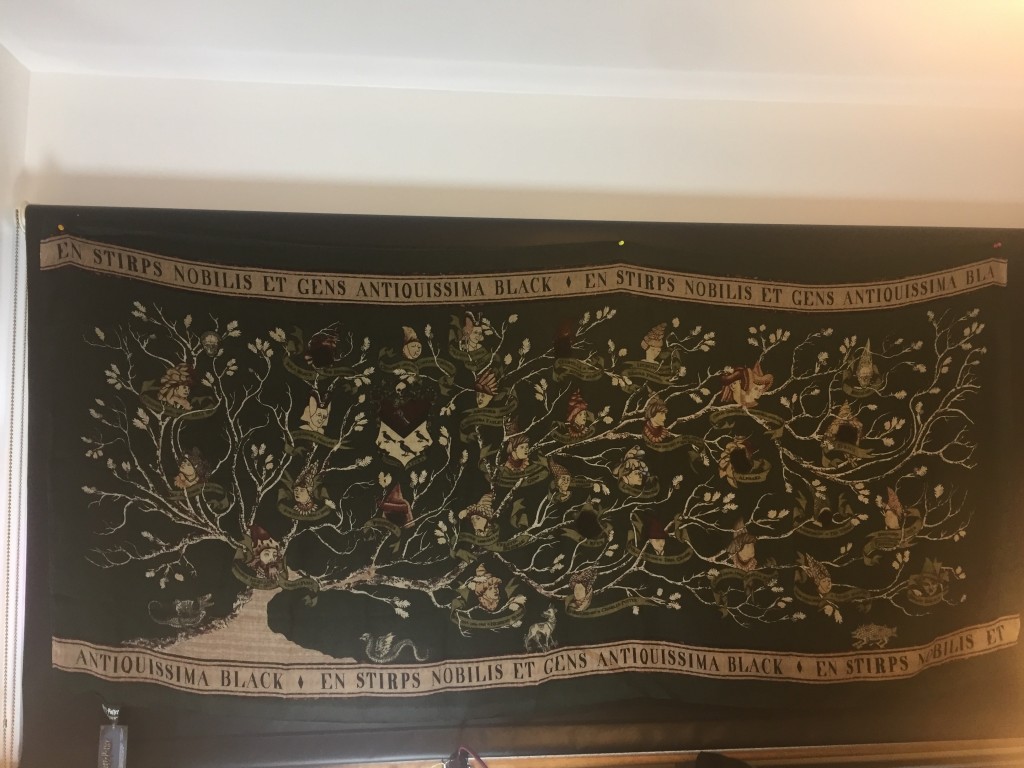 I had fun spotting a few familiar faces (and sadly remembering the scene in which Sirius explains why many faces have been burned away):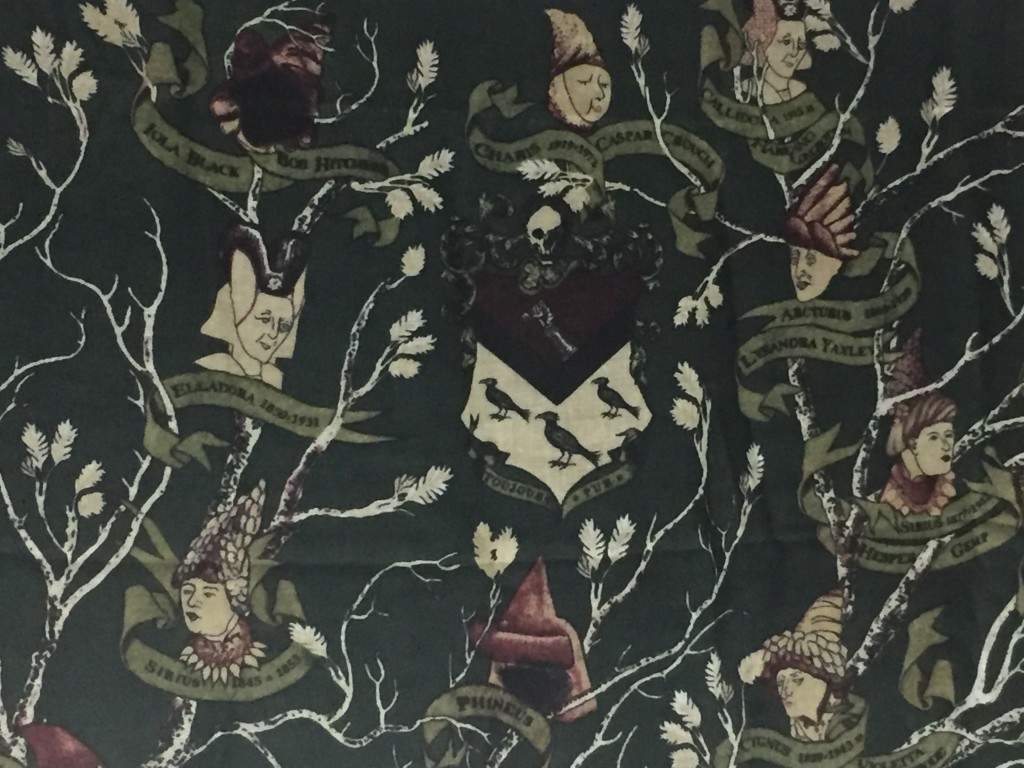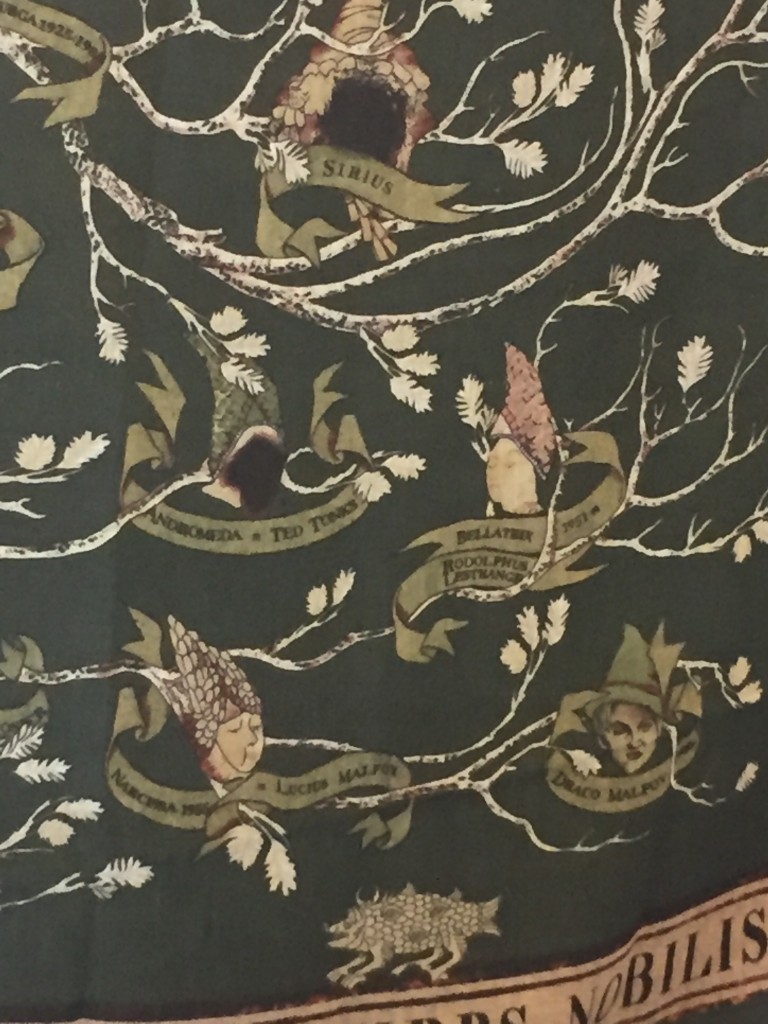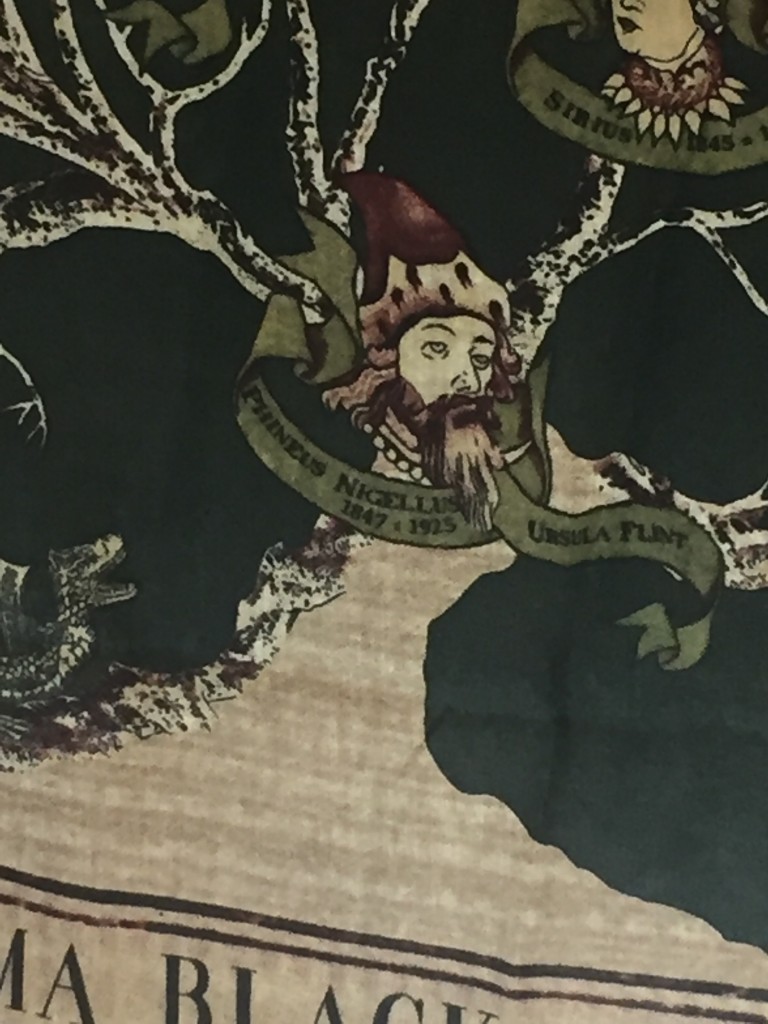 This scarf / shawl is actually very versatile and subtle, thanks to its size, and goes perfectly with MinaLima's Black family tapestry cardholder, as pictured below: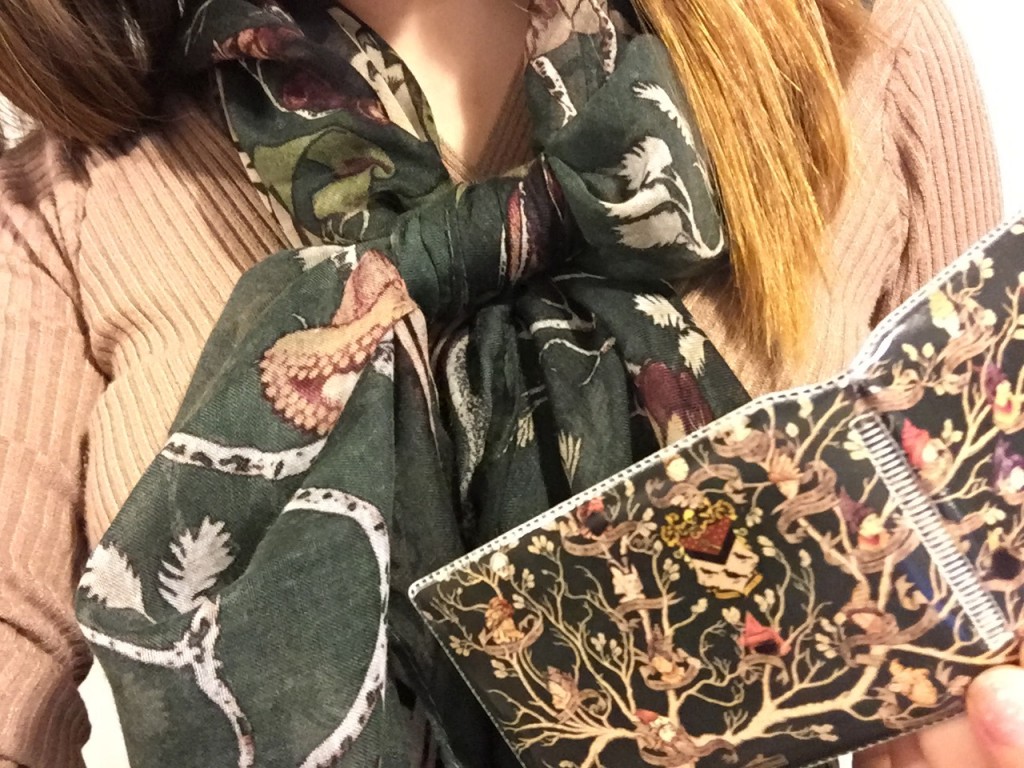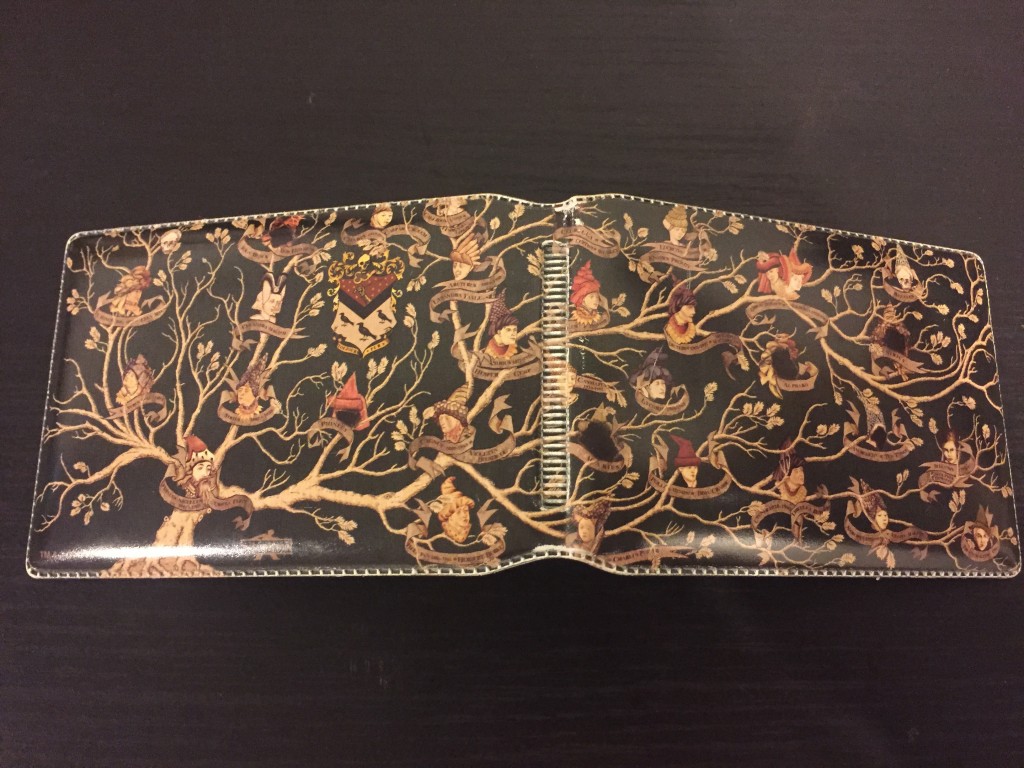 Get the matching tapestry cardholder by MinaLima here, or drop by the House of MinaLina in London!
Next up, an incredibly silky house tie, with a decorative house mascot: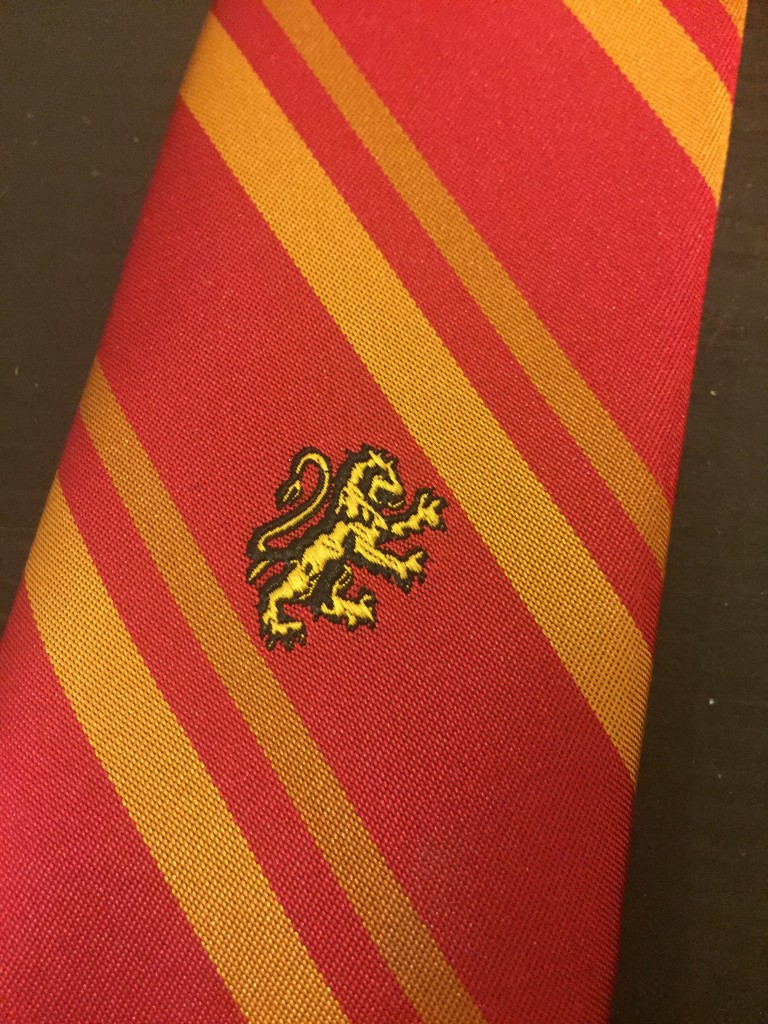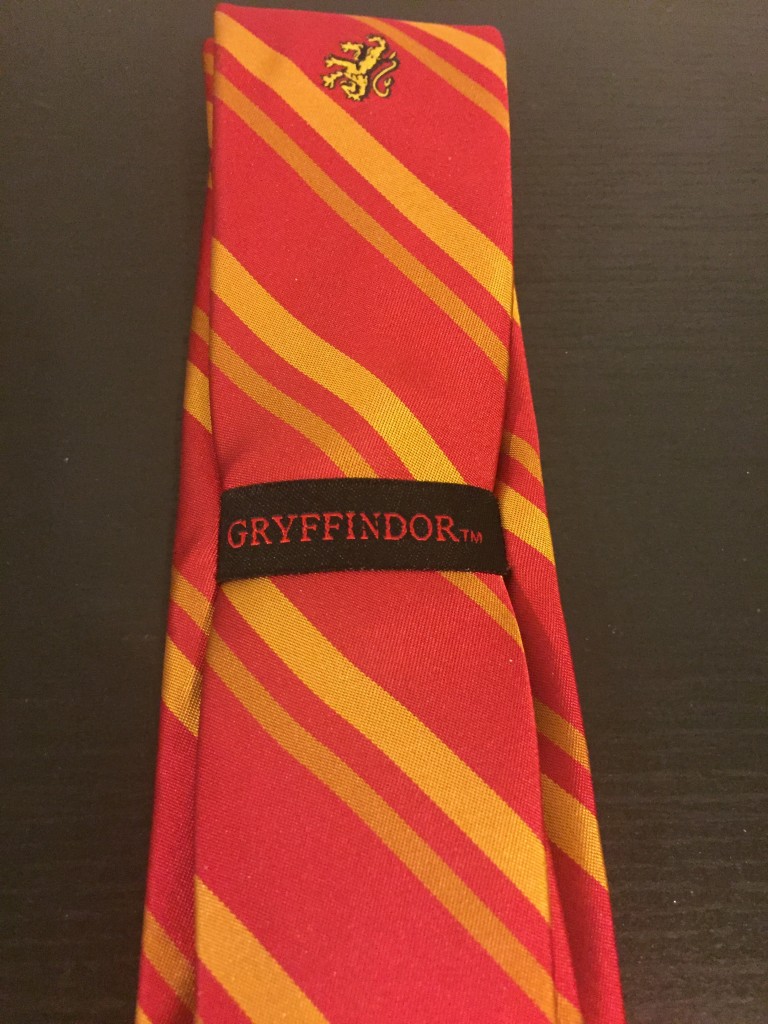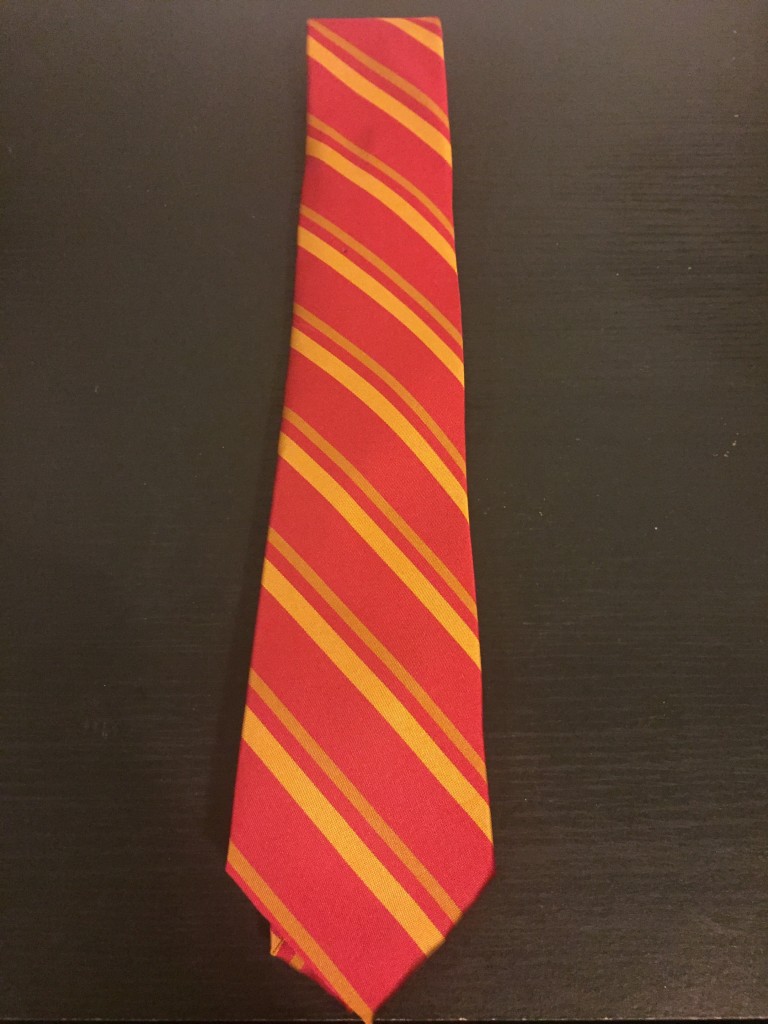 Loot Crate's House merchandise is always super high quality. In a previous box we've reviewed a House scarf, and this tie adds nicely to subscriber's collection. The colours are based on the Warner Bros merch and the Harry Potter films, so Ravenclaws will get – you guessed it – a raven mascot, with the blue and silver theme.
Regardless of the ongoing plight of Ravenclaws, this box had a nice surprise in store, as the collectible horcrux pin gave a nod towards the house of the wise – Rowena Ravenclaw's lost diadem!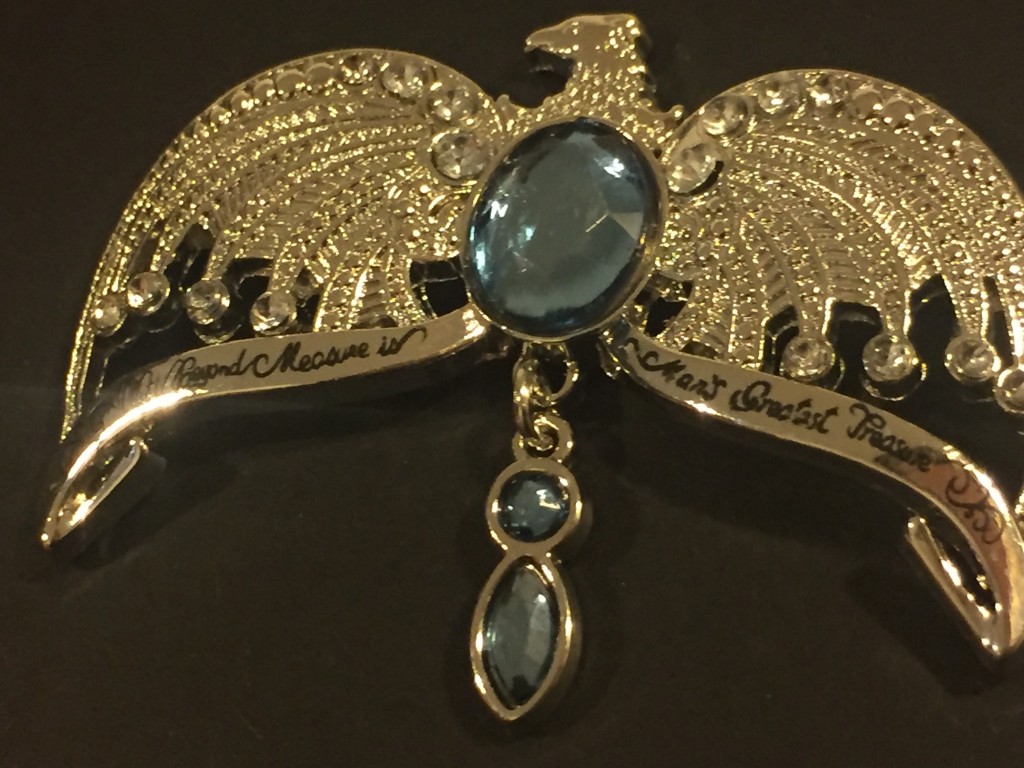 I absolutely love the detailing on these pins. The Slytherin locket medallion was almost as impressive, but the fact that you can see the Ravenclaw motto "Wit Beyond Measure is Man's Greatest Treasure" on this piece makes this a brilliant keepsake for all the Ravenclaw Loot Crate subscribers!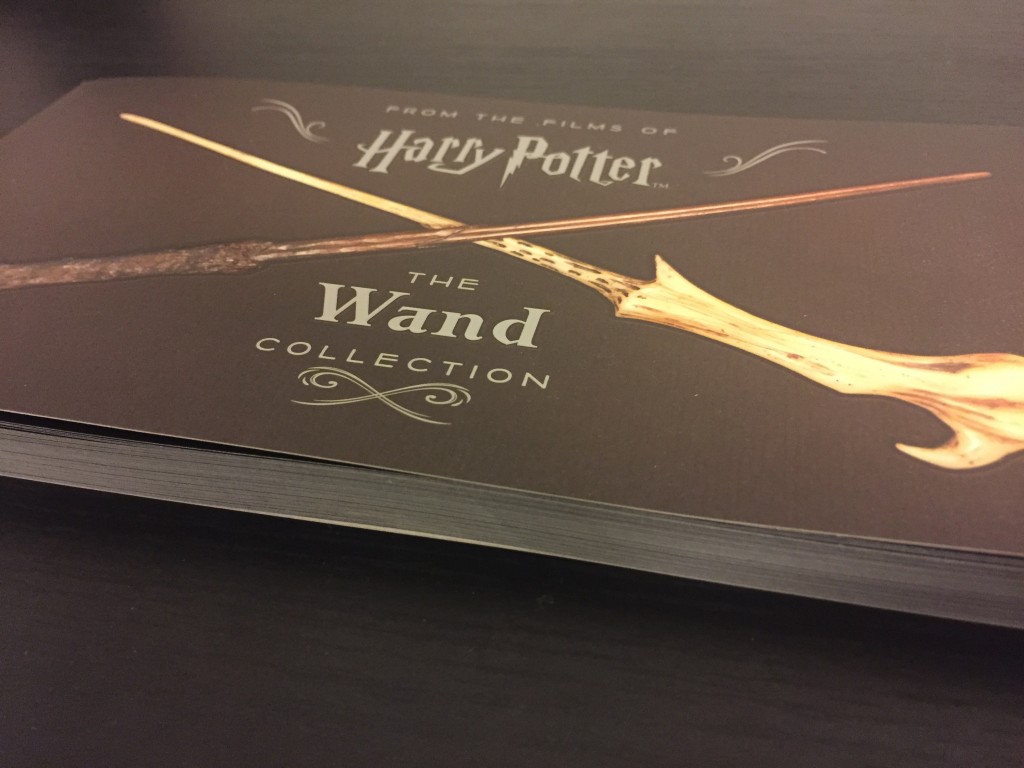 The final item in the latest box was pretty exciting for me, as I hadn't gotten my hands on a copy of The Wand Collection yet. This paperback Loot Crate exclusive copy of the book (by Monique Peterson) gives a brief run-through of wandmaking, wand selection, wand techniques and duelling in the wizarding world, as well as an overview of pretty much every wand from the films. My personal favourite is Luna's first wand, which is hard to come by in stores but pictured in The Wand Collection: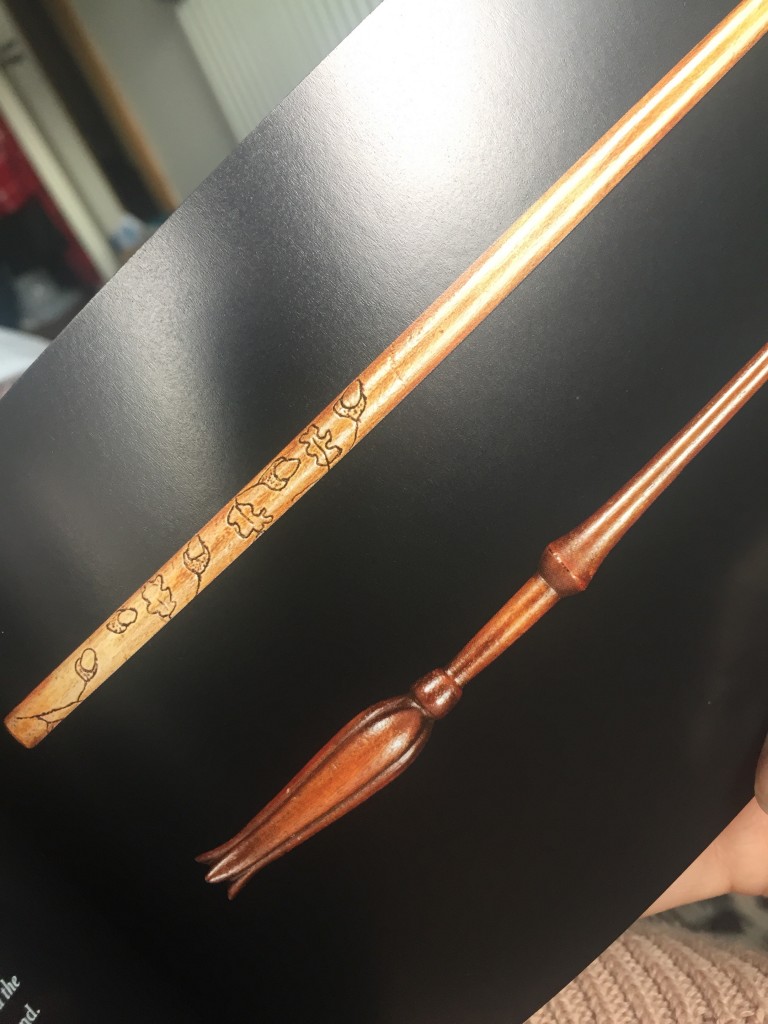 Quotes from filmmakers and actors throughout the collection add to the nostalgia of reading about the magic of wands, and although there's plenty more to be said about wand lore, it's an enjoyable reading experience and the book itself is so great to look at!
David Yates revolutionised wand battles in the wizarding world (of course, being director of the latter films in the series, wand techniques were needed far more as The Battle of Hogwarts approached). The Wand Collection tells how Yates tasked Paul Harris, a choreographer, with coming up with "a set of rules of engagement for the wizards". Harris says:
"David didn't really want it to be a fight, as such […] He wanted it to have the grace and movement quality that perhaps I could bring to it as a choreographer […] Given that many of the spells had already been executed without action, I had to devise a set of movements from which the spells could be delivered. A generic family of positions, of movement-based positions from which the spells could be fired"
Harris also communicates the importance of the actor's understanding of each move: "There's the body behind it-the being, the power of the wizard – that drives every action."
Paul Harris gave demonstrations of these techniques at his panels at this year's A Celebration of Harry Potter, which we were lucky enough to attend. Seen below is an audience battle against Death-Eaters:
The next Wizarding World Loot Crate runs until 3rd April 2018 at 9PM (PT). Order your personalised crate here. Thanks to Lootcrate for providing a box for review! Watch out for our March review, "Enchanting Essentials", coming soon!