Covers Revealed For 'Tales of Beedle The Bard' Illustrated Editions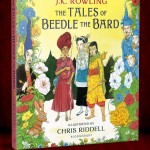 May 17, 2018
As previously reported on Leaky, both Bloomsbury and Scholastic recently announced illustrated editions of The Tales of Beedle The Bard (coming this October), and today revealed the covers for each edition!
Bloomsbury's U.K. edition is illustrated by Chris Riddell, and we recently received a first look at the art within this new edition of J.K. Rowling's wizarding world fairytales. Take a look at the cover below:
ICYMI, here's Chris Riddell's gorgeous cover for our illustrated edition of The Tales of Beedle the Bard, out 2 October 2018. #thetalesofbeedleillustrated https://t.co/vREzjzJAVO pic.twitter.com/6uyc6T98fG

— Bloomsbury Kids UK (@KidsBloomsbury) May 17, 2018
Preorder links can be found on Bloomsbury's website.
Scholastic's edition of The Tales of Beedle the Bard hadn't yet been officially announced (though we spotted the book in an Amazon listing). The U.S. publisher officially revealed today that their edition is illustrated by Hans Christian Andersen Medalist, Lisbeth Zwerger:
Preorder your copy of this edition here.
What do you think of the new covers? How do you think The Tale of The Three Brothers and The Deathly Hallows might make their way into Fantastic Beasts through Grindelwald? Let us know in the comments!