Theater Round-Up: Interviews with Anthony Boyle, Noma Dumezweni, Sam Clemmett and Jamie Parker!
May 21, 2018
Theater news this week is heavy on the personal interviews with Harry Potter and the Cursed Child cast members but, given the still-recent transfer from London's West End to Broadway and its 10 Tony nominations, we're not at all surprised. In fact, the production seems indisputably charmed, and the cast themselves are equally charming.
Enjoy our recaps of interviews with Anthony Boyle (Scorpius Malfoy), Noma Dumezweni (Hermione Granger-Weasley), Sam Clemmett (Albus Potter) and Jamie Parker (Harry Potter) below!
Anthony Boyle Talks Scorpius Malfoy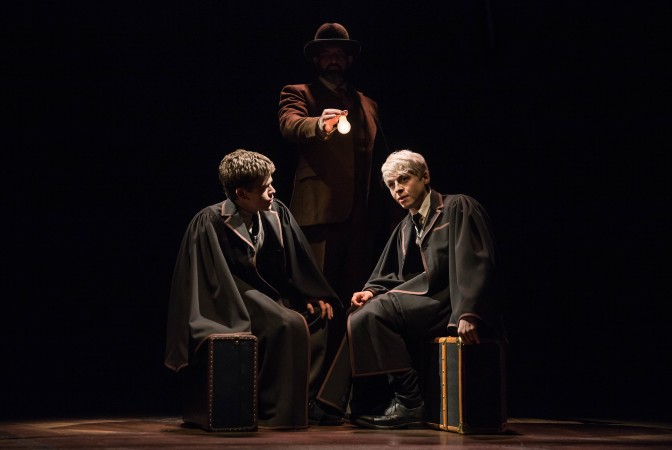 The countdown to the Tony Awards continues and Anthony Boyle, nominated as Featured Actor in a Play for his portrayal of Scorpius Malfoy in Harry Potter and the Cursed Child, is widely considered to be the breakout star of the show. He brings magic to the story that goes beyond wizarding legacy and skill and gets to the heart of what made Rowling's original series so great–spells cast aside, it's about young people coming through deep loss and isolation, not unscarred but, somehow, intact and kind and all the more generous for it, because of the deep friendships they formed along the way. Boyle taps into this beautifully with an intuitive understanding of who Scorpius is and how to make him relatable in that ongoing struggle.
In interview with Mashable, Boyle discussed Harry's loneliness and relates it to the journey which Scorpius, too, must take, saying:
"[Scorpius] just goes on a real classic sort of hero's journey, the loss of his mother…and then, I think there is just so much humor and love in him against all odds. I think he's perfect and it's been an absolute joy being able to play him. I just feel so lucky."
Boyle's performance is so moving that Time Magazine named him one of its Next Generation Leaders. But Boyle pointed to the excellent writing driving the character and his grasp of how to play Scorpius, reiterating:
"But there was something in the way Jack Thorne had written the humor in him to cover up his pain. I just think it's one of the most beautiful characters written in the last 25 years."
Honoured & humbled to be one of TIME magazines next generation leaders 2018 https://t.co/Z8V3zMubDL

— Anthony boyle (@AnthonyBoyle) May 18, 2018
He also pointed to Thorne's script as one of the motivating factors in taking the role after his first read, telling Buzzfeed:
"This just hit me like a ton of bricks…I thought that how he dealt with his mother's death with humor — I just reached that and knew immediately that I had to speak those words that [playwright] Jack [Thorne] had written so beautifully."
Of course, though he neglects to highlight it himself, Boyle brings something unique to the character which does go beyond the writing–specifically, vocal inflections which cause Scorpius' voice to revert to a high-pitched squeak whenever he's anxious or scared. According to Buzzfeed:
"It was Boyle's own idea, inspired by videos of purebred dogs with breathing problems, he explained, while mimicking pug noises. If the Malfoys were pureblood wizards, surely they might experience some of the same genetic abnormalities, like — in Scorpius's case — being barely able to squeak out his words."
But, determined to give further credit where he feels it's due, Boyle told Playbill that this success of the production and his performance rests, in large part, on the chemistry with his costar, noting:
"I play opposite Sam Clemmett, who plays Albus. We sort of became best pals. He's the best actor I've ever worked with in terms of we have such a rapport and it's really interesting because most nights feel different. I think he's a very special performer."
Apart from that, Boyle is very aware that the production itself is quite special. It uses stagecraft to make the magic more real and compelling than it could ever be on film, and it brings hope into the lives of its viewers, hope that the unlikely can make a difference and maybe love can overcome, and that resonates in a way which is desperately needed now more than ever. He observed to Buzzfeed:
"There's so much f***ing hate in the world right now…and I think these shining little moments, the light in the darkness for people — it's just an honor to be in something that gives people a little bit of light."
Noma Dumezweni Talks Hermione Granger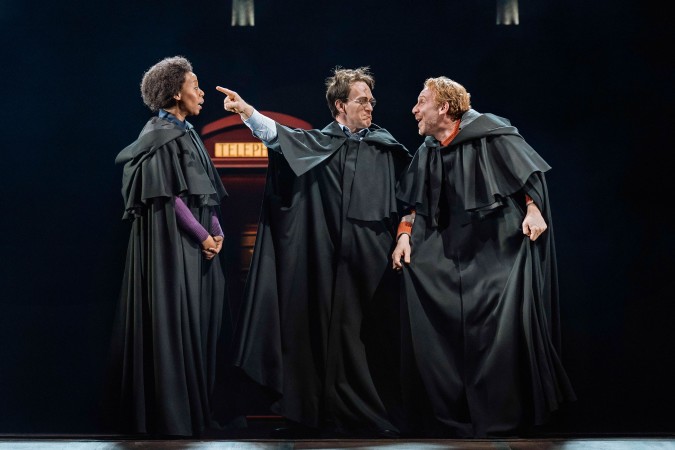 Noma Dumezweni sat down for "On Stage" with Spectrum News NY1 to discuss her casting as Hermione Granger-Weasley. As she's noted before, she was pleasantly surprised by the color-blind choice given most fan's understandable presuppositions about the character after Emma Watson played Hermione so well for so long. Yet producers did choose her, and Dumezweni fell in love with the role–even Watson offered her support!
Watch the video interview here, which includes a behind-the-scenes tour of the transfigured Lyric Theater!
Dumezweni also appeared on Show People with Paul Wontorek to talk more about her role in the magical production, expounding on how it feels to play such a fiercely-loved character:
"I hate to use the phrase 'black Hermione,' but because I'm a black woman, that's the deal. But I am a woman who looks like this who gets to play Hermione, and I'm very, very lucky. Because she's amazing. J.K. Rowling started this story in the form of books, so all of those people reading those stories had their version. And then with the films, that representation of imagery gives you a solid base, so that's what audiences start working with because that's the Hermione that's been put out into the culture. And then the theater form that I'm in, you go, 'OK, we are open to shifting and changing. We're now older. The characters have families.' That's what this play is about: families. There is a sense that you can open up a different way. It's a full circle thing because it goes back to the books and the imagination we had there. So I am very, very proud to be part of that." 
She spoke to the excitement of sticking with Harry Potter and the Cursed Child through its Broadway transfer as well, saying:
"London was great. Broadway is a different level because these audiences applaud at everything, and it's a joyous thing, when the magic tricks happen, when the entrances happen. This is the longest run of a show I have ever done. My pride is that as a company, we've held it together in the sense that we're telling the story, but we're playing. We keep playing. Each night, I can look at Paul Thornley, and there's a twinkle about what's going to happen. There's Jamie [Parker]. There's Poppy [Miller]. There's Alex [Price]. And Byron Jennings, who I've discovered is a god of Broadway. Kathryn Meisle. An amazing group of people. For me as an actor, that's what I cherish. I don't get bored. I like to see what's going to happen tonight. We have the frame of the show. But anything could happen. I always go back to playing."
Watch the full interview with Paul Wontorek below.
Sam Clemmett Talks Albus Potter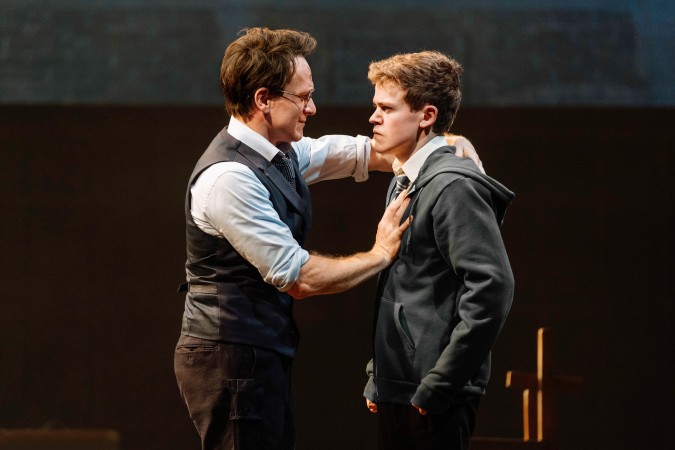 Sam Clemmett is making the rounds as well, speaking to The Last Magazine about his role in Harry Potter and the Cursed Child. And though he ought to be burdened by the weight of carrying on such a popular franchise with a lengthy and rich backstory–and devoted fandom to boot–getting the importance of that and tapping into their fervor seems to help Clemmett. He observed:
"These books and these characters mean an awful lot to the huge fan base…So many people see so much of themselves in these characters and [Anthony Boyle, who plays Albus's best friend Scorpius Malfoy, son of Harry's former enemy Draco] and I are introducing two new characters to this canon so that in itself brought a lot of pressure. But as the play started the first preview in London we realized people wanted it to be good and people wanted to know what happens to these characters and where they've ended up psychologically and emotionally and that helped bring such a good energy into the theater."
And like his costar Boyle, Clemmett understands that beyond the incredible, show-stopping magical illusions, what draws audiences and keeps them at rapt attention is the story itself–and the underlying themes that are relatable within the wizarding world, and without. Clemmett elaborated:
"It is about more than just 'Harry Potter'…It's about all the things that [Rowling's] written about in her canon of novels. There's so much humanity to her stories and her characters. It's about love and grief and isolation and friendship and growing up, all these universal themes we all have to deal with on a day-to-day basis. Yes, there's the magic and physically it's a beautiful thing to watch, but you kind of get all that for free because people are clinging onto the story and these characters."
In addition to the skillfully crafted ties that bind the story arcs together, Clemmett knows fans want more time with the characters, and the benefit of embodying one of the relatively newer ones is that he has some creative freedom that the other actors don't necessarily have. He explained:
"One of the nice things for me and Anto [Boyle] is we don't have seven books to go on like the other guys do…John Tiffany said to us at the beginning, 'You've got a blank canvas,' and over the first two or three weeks, we had endless discussions about these families and what happened leading up to the day they're on Platform 9 ¾ and just started to add flesh to the bones."
Oh, to be a transfigured beetle on the wall during those discussions–but we'll settle for what revelations we can get. Read the full account of Clemmett's interview with The Last Magazine here, and tune in to BUILDSeriesNYC at 1 p.m. today for more!
This was a lot of fun… Thank you @TheLastMagazine ⚡️🍕😁 https://t.co/2ahbklyo2W pic.twitter.com/rVDMSuOC64

— Sam Clemmett (@sam_clemmett) May 18, 2018
.@sam_clemmett will be joining @BUILDseriesNYC on Monday 21st May at 1pm ET, to discuss all things @HPPlayNYC. Make sure you tune in here! https://t.co/sxS1ytFWVI #CursedChildNYC pic.twitter.com/gtvJ45FBKa

— Prosper PR (@prosper_p_r) May 17, 2018
Jamie Parker Talks Harry Potter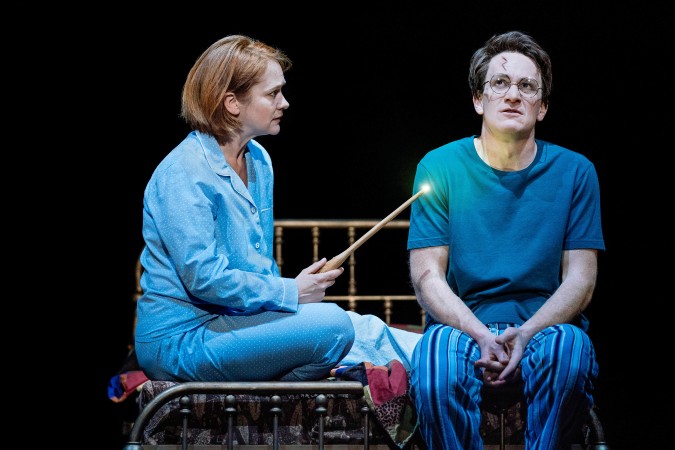 Jamie Parker also joined "On Stage" on Spectrum News NY1 to talk about bringing Harry Potter into adulthood through Jack Thorne's Harry Potter and the Cursed Child story.
When Parker first heard about the possibility of being considered for the role, he admitted that he was skeptical–until he heard that Sonia Friedman and Colin Callender were involved. And when he finally got to read the first draft of the script and reached the end, he acknowledged, "Oh no, now I really want to do it!"
Parker also made the lovely observation about how Rowling's stories help parents engage with their children as a medium that provides an entertaining way to reveal real truths about life–adults making mistakes, institutions being flawed and darkness in the world. And, as one enthused fan commented, everyone needs a little magic in their life!
Watch the full video here, which includes details on snagging your own tickets to the Broadway production–according to Neil Patrick Harris, it is a must-see!
Just saw both parts of Harry Potter and the Cursed Child on B'way (@HPPlayNYC) and…wow. It is to plays what Hamilton is to musicals. Stop what you're doing and see this magical show. Poetic, dramatic, respectful, exciting. The cast is sublime. Must. See. #gobsmacked pic.twitter.com/OCgz32fCC3

— Neil Patrick Harris (@ActuallyNPH) May 17, 2018
Cursed Child Awards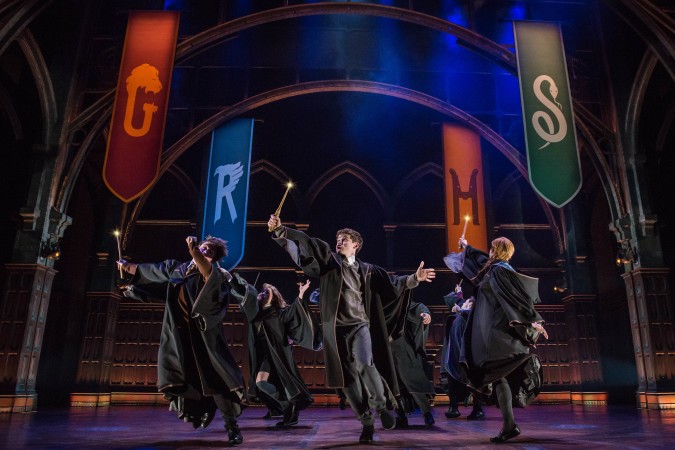 Broadway World reported that the winners of the 2018 Drama League Awards have been announced, and Harry Potter and the Cursed Child picked up the award for Outstanding Production of a Broadway or Off-Broadway Play!
Cursed Child was also been voted Favorite New Play in the Broadway.com Audience Choice Awards. Congratulations to all involved!