Rupert Grint to Star in Agatha Christie's 'The ABC Murders'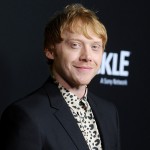 May 24, 2018
Rupert Grint, best known to fans as Ron Weasley in the eight-film adaptation of J.K. Rowling's Harry Potter series, joins the cast of BBC One's next made-for-television installment of Agatha Christie's classic murder mysteries, The ABC Murders. Grint will play Inspector Crome alongside renowned character actor John Malkovich, cast as the famous Belgian detective Hercule Poirot.
Deadline posted the following official plot synopsis:
"Set in the 1930s, a time when Britain is dangerously divided and suspicion and hatred are on the rise, the story sees Poirot face a serial killer known only as A.B.C. As the body count rises, the only clue is a copy of The ABC Railway Guide at each crime scene. Poirot's investigations are continuously thwarted by an enemy determined to outsmart him. If Poirot is to match his nemesis, then everything about him will be called into question: his authority, his integrity, his past and his identity."
John Malkovich takes on the role of Hercule Poirot as part of a stellar cast including Rupert Grint in @PhelpsieSarah adaptation of @AgathaChristie's #TheABCMurders for @BBCOne: https://t.co/Fc97pPRxs7 pic.twitter.com/SEx36EmnpV

— BBC Press Office (@bbcpress) May 23, 2018
Not only will Malkovich's Poirot have to contend with the devious genius of the murderer, but he will also have to conduct his investigation plagued by the doubt of the police team around him, including Grint's Crome, who remains skeptical of the detective's abilities.
James Prichard, executive producer and CEO of BBC One's collaborative partner Agatha Christie Limited, noted:
"The ABC Murders is one of my great grandmother's most unsettling and intense stories and Hercule Poirot one of her most intriguing characters. I am humbled by the quality of cast we have lined up for the show and I am most excited to experience the unique approach John Malkovich will bring to the role in this thrilling one-off television adaptation."
The three-part dramatic series is set to begin filming in June under the direction of Alex Gabassi. Other notable cast members include Andrew Buchan as Franklin Clarke, Eamon Farren as Cust, Tara Fitzgerald as Lady Hermione Clarke, Bronwyn James as Megan and Freya Mavor as Thora Grey.
Poirot was last played by Harry Potter alum Kenneth Branagh in the recent Murder on the Orient Express, so it will be interesting to see how Malkovich's interpretation of the iconic sleuth compares–and how Grint plays both aide and foil!
Read Deadline's full coverage of the exciting news here. Featured image courtesy of Getty Images.