Chris Rankin Wears House-Elf Ears to Support 'Transfiguring Adoption'!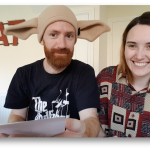 Jun 21, 2018
Chris Rankin (Harry Potter's Percy Weasley) has previously opened up on his experience with being an adoptive child, and his personal thoughts on foster families and adoption via his personal blog (reported by Leaky here). Now, Chris is supporting Transfiguring Adoption's mission to support foster-adoptive families worldwide – by unveiling their latest Elf Squad Kits!
Beginning as a small group of Harry Potter activists hoping to benefit foster-adoptive families, Transfiguring Adoption now runs regular projects and campaigns to make real-world change. They use the power of J.K. Rowling's stories to spread the word, and resources include a discussion guide which utilizes The Sorcerer's Stone to assist caregivers in beginning healthy conversations about past trauma with foster and adopted children. The program's grassroots Elf Squad group aims to help foster/adoptive parents nurture children from traumatic backgrounds.
Their Elf Squad kits are reminiscent of Hermione's own House-Elf activist group, S.P.E.W., and full of merchandise for supporters to show their appreciation for all the support they've received thus far. Check out the video below of Chris, joined by his girlfriend, Vanessa, showing off the items included in the box. During the video, Chris says:
"I'm very proud to be a part of Transfiguring Adoption. Adoption as been a big part of my life – I've blogged about it. I was adopted when I was a little baby…"
They stress the importance of getting involved with the organisation, and helping to spread the word:
"If you haven't heard of Transfiguring Adoption before, you have now. They are amazing people doing amazing things and I'm sure you are able to help them in some shape, way, or form. Become a member of the Elf Squad, it is a great cause to be a part of…"

"Or if you can't do that, share their social media… make it go viral," Vanessa interjects during the video.
These guys are amazing. So lucky to be working with them to help foster / adoptive families ❤️ click the link to see what you get in your self Squad goodie bag xx https://t.co/SikrjBV8XC

— Chris Rankin (@chrisrankin) June 20, 2018
Last year, one of the Elf Squad's projects involved teaching children Lumos by donating night lights to foster agencies to help children with night-time terrors. Darren Fink, co-founder of the non-profit program, explains the impact of their projects:  
"Transfiguring Adoption actually received an E-mail shortly following the night light drive. A foster mom explained that she just had a teenage boy move into her home. He was embarrassed close to bedtime to tell his new foster mom that he was afraid of the dark. Because of the nightlight donation she received, she was able to quickly assure him not to be embarrassed and that a group of people who cared about him wanted his room to have a night light to help him feel safe in a new home. Our Elf Squad made that boy feel 'normal,' that night and helped him to sleep during the first night, a rough situation. That's powerful."
To help further Transfiguring Adoption's mission, you could begin your own local Elf Squad chapter in your hometown! Darren explains:
"In a nutshell they are half social club, usually filled with Potter fans, and half activist group striving to help families. There is an application on our website for anyone interested under the "Elf Squad," section."
Check out the application form here.
Support Transfiguring Adoption and purchase your own Elf Squad kit on their official website, here, and be sure to follow the program on Facebook, Instagram, Twitter, and YouTube.