Hogwarts Mystery Introduces Multiplayer Dueling Club Event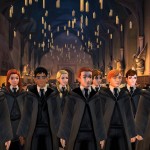 Jul 12, 2018
Attention all Hogwarts wizards in training! After all your hard work in class and hours of fun playing Hogwarts Mystery since its release last spring, developer Jam City announced today that the Harry Potter mobile game has added a multiplayer component for a limited time!
Players have been excited about all of the features introduced in Year 4, including new locations to explore like the Forbidden Forest, attending new classes like Care of Magical Creatures, access to free energy, and a new way to interact with friends. Even with the most magical addition of pets to to this latest installment, fans have been anxious to interact with their fellow Hogwarts students from the start. Those wizards at Jam City must have been using Extendable Ears because beginning July 12-15, players can put the spells they've learned in Years 1-4 to use by competing against other players from all over the world who are Facebook connected in the first Hogwarts Mystery Dueling Club event. According to Jam City, this is how the matchup will work,
"During this first event, players will receive three tickets, each granting them admission to participate in a duel. A worthy opponent will be randomly selected from other Facebook Connect users. The defeated player will forfeit one of their tickets, while the victor retains their ticket—and reaps a special reward after each and every win."
Welcome to Duelling Club! Time to face opponents and test your skills in #HogwartsMystery pic.twitter.com/BfilSiiRJ9

— Harry Potter: Hogwarts Mystery (@HogwartsMystery) July 12, 2018
Three days may not seem like a lot of time to join in on the action but no need for a Time Turner if you miss this one; it sounds like more Dueling Club events will be announced later this summer.
For more details on Harry Potter: Hogwarts Mystery and to connect with other fans, visit www.facebook.com/HPHogwartsMystery/, www.twitter.com/HogwartsMystery, and for more information visit www.HarryPotterHogwartsMystery.com/.