New York Historical Society announces events to accompany "Harry Potter: A History of Magic" exhibition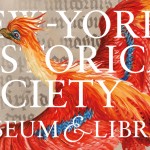 Aug 02, 2018
As Leaky has reported previously, the exhibition Harry Potter: A History of Magic that premiered last year at the British Library to mark the 20th anniversary of the publication of Harry Potter and the Philosopher's Stone in the UK, will travel to the New York Historical Society in the fall to commemorate the 20th anniversary of the publication of Harry Potter and the Sorcerer's Stone in the United States.
The New York Historical Society has announced a series of events that will accompany the exhibit.  We are excited about all of these events and we want to share them so you can plan your attendance.  There are over 30 events scheduled so far, including:
—British Library curators Tanya Kirk and Alexander Lock explain how they put the exhibit together
—Trivia nights led by Pottermore with prizes from Audible, Scholastic, the BBC, and the NYHistory Store
—Painting nights with themes chosen from the Hogwarts curriculum (e.g. paint some fantastic beasts at the Care of Magical Creatures themed painting night)
—A 5-session art-making course where you can create your own illustrations for the series for your personal collection
—Owl walk in Central Park
—Special adults-only Saturday night viewings of the exhibition, with cash bar and food available for purchase whilst you socialise with other adult fans
—A 3-session bagel brunch book club for first time readers of the Harry Potter series (which probably doesn't apply to you but tell your friends)
—Another 3-session bagel brunch book club, this one for experienced fans
—A 6-session course on the history of magic throughout various time periods and human cultures
—Leaky's own Melissa Anelli leads a wide-ranging exploration of the wizarding world
—Plant walk in Central Park (maybe you'll find some gillyweed?)
—Illustrators Mary GrandPré and Brian Selznick, and Scholastic Creative Director David Saylor, talk about the process of creating and selecting art for literature
—A 6-session course on how to create fiction from folklore
—A special pre-Halloween evening viewing of the exhibition for adults only
—A talk on the history of alchemy led by science historian Donna Bilak, which may provide some insights into the real Nicolas Flamel
—A 2-session course on drawing heroes and another on drawing villains
—History of folklore with Kay Turner, former president of the American Folklore Society
—A talk by translators on how Harry Potter was translated into 80 languages, including from British to American English
—A talk about monsters in Latin American by Persephone Braham
—A 2-session course on oral storytelling
—An open mic night on the theme of growing up with Harry Potter
—A talk by audiobook narrator Jim Dale
—A behind the scenes tour of the NYHS Library's ephemera
—A talk on the history of children's literature
—A panel of journalists, editors, and booksellers discusses how the Harry Potter books have changed children's literature and how they affect our everyday lives
Some of the foregoing events are for ages 21 and up—check individual listings.  Below are some family events:
—A workshop on the history of Hogwarts houses, with opportunity to colour your own house badge
—A Harry Potter family book club with giveaways from Scholastic
—Writopia Lab historical fantasy writing workshop
—Family days at the exhibition with activities and crafts for children
—Harry Potter trivia for families, with questions by Pottermore, and prizes
—This year's annual Halloween party at the DiMenna Children's History Museum includes admission to the exhibit
—You can also schedule a magical birthday party experience at the exhibit
Most events have a separate fee in addition to admission to the exhibition—check individual listings for details.
For more info on what is included in this amazing display of Potter-related artefacts, see this Leaky piece and this one.  We're looking forward to seeing Nicolas Flamel's tombstone and original drawings and manuscript pages from J.K. Rowling.
Are you going?  What events interest you?  Tell us in the comments.