'Hogwarts After Dark' returns to Warner Bros. Studio Tour this Halloween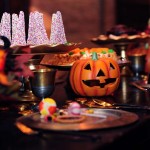 Aug 21, 2018
Reflecting its success last year, Warner Bros. Studio Tour London is again offering an evening of Halloween-themed events on the set of the Hogwarts Great Hall.
The event begins with smoking dry ice cocktails and canapés before you proceed into a Great Hall magically decorated for Halloween with floating pumpkins and tables groaning with sweets reminiscent of the Harry Potter and the Sorcerer's Stone film.
A two-course dinner and drinks will be served on the actual film set, surrounded by props and costumes, followed by a trip by lantern light into the Forbidden Forest for dessert in the presence of Aragog, Buckbeak, and other magical creatures.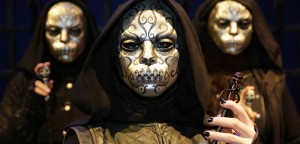 Throughout the evening, you'll have to watch out for Death Eaters, as they will be roaming around wearing the actual costumes from the films, giving you an up-close look (if you dare) at the intricate details of embroidered robes and painted masks.
After the meal, you'll have a chance to explore the Studio Tour after-hours, and learn some secrets from the Prop Making Department, including how those pumpkins float (wait, it isn't really magic?).
You might not have to worry so much about those Death Eaters after you get some wand combat lessons from Paul Harris, the Wand Choreographer.  (What a job title, eh?  I totally want that on my CV now.)  You'll have an opportunity to refresh yourself with a glass of pumpkin juice after duelling with Death Eaters, only to encounter more of them when you proceed to a dark and spooky Diagon Alley.
Before you depart (assuming you won all those duels with Death Eaters), you'll receive a Souvenir Guidebook.
The Studio Tour's 'Hogwarts after Dark' event will take place on 26th, 27th and 28th October from 7:30pm-midnight.  It is open to all witches and wizards and Muggles over 18.  Tickets cost £240 per person. Tickets will go on sale on Tuesday 28th August at 10am and will be available to purchase at www.wbstudiotour.co.uk/after-dark or by calling the attraction's Visitor Services Team on 0345 084 0900.  A shuttle will run from Watford Junction for those who lack an apparition license.
To recap, tickets for this event include:
– Welcome drinks and canapés on arrival
– Exclusive after-hours access to the Studio Tour
– A two-course dinner in the iconic Great Hall set with drinks (special dietary alternatives are available)
– A selection of dessert bowls served in the Forbidden Forest
– A taster of Butterbeer in the backlot café
– Pumpkin-making demonstrations by the Prop Making Department
– Wand Choreography interactive with Paul Harris
– Souvenir green screen photograph and Forbidden Forest edition souvenir guidebook
If you go, tell us about your experience in the comments. And for those who want to start celebrating Halloween a bit earlier, Warner Bros. Studio Tour is also offering an all-new "Celebration of Costume" event over the weekend of Oct. 6-7. Read more about that here!