Daniel Radcliffe Talks 'The Lifespan of a Fact' on 'The Tonight Show' and the 'Today Show'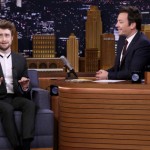 Sep 14, 2018
Daniel Radcliffe takes the stage at Studio 54 on Broadway next Thursday to debut The Lifespan of a Fact. Leaky reported on Radcliffe and his co-stars' Meet-the-Press event earlier this week as they started making the rounds to promote the upcoming opening, and the Potter star can be seen in multiple interviews ranging from the humorous to the instructive.
Radcliffe spoke to TheaterMania alongside co-stars Bobby Canavale, who plays writer John D'Agata, and Cherry Jones, who plays editor Emily. Director Leigh Silverman kicked off the interview by explaining that the play is an adaptation of a book based on an essay. Radcliffe, in particular, discussed how his character, fact-checker Jim Fingal, picks that essay apart, acknowledging:
"I kind of go way further than anyone expected me to in terms of the level of detail that I go into and really start pulling at threads until I've, sort of, almost unraveled the whole article."
He went on:
"So it's basically about me coming in and making Bobby's life hell, and Cherry coming in to try and stop us killing each other."
Radcliffe also discussed one of his favorite memories of attending the theater when he was younger. He enthused:
"One of the best things about seeing a play for me, when I was a kid, was the drive home when me and my mom and dad would, like, dissect it and discuss it and see what we thought. And I really–like, that's my hope for this play, that some really good, cool conversations come out of it."
The wizard turned fact-checker also appeared on The Tonight Show, where host Jimmy Fallon began with a requisite Harry Potter gag. Fallon showed Radcliffe a series of Potter-related memes and gauged his reaction. Radcliffe was game, joking, "I don't seek them out…I feel like I should be educated."
Radcliffe also shared a hilarious story from last year's production of Rosencrantz and Guildenstern Are Dead, recalling the night a gentleman in the audience settled into the front row with a ruck sack and a foot long, proceeding to enjoy half the meal before napping through the entire first act. Watch him recount the story for himself below!
Radcliffe followed up the interview with Fallon by appearing on the Today Show the next morning. He even offered some advice on balancing the stage and screen to Al Roker, set to appear in the upcoming musical Waitress.
Daniel Radcliffe shares some words of advice for balancing a TV show and Broadway with our @WaitressMusical star @alroker! pic.twitter.com/EkO7Q4Zn8c

— TODAY (@TODAYshow) September 13, 2018
Buzzfeed is lining up to be one of the next media outlets to interview the star and is asking fans to submit their "burning" questions. Of course, it's a once-in-a-lifetime opportunity for fans to pose long-harbored Harry Potter queries and air pet observations and theories, but Radcliffe's critically-acclaimed career also provides plenty of other material for discussion! 
Follow Buzzfeed's instructions here to submit your questions and stay tuned for our follow-up coverage. And while you're at it, enter to win two tickets from Playbill ClubSEATS to see Daniel Radcliffe perform in The Lifespan of a Fact. Read all the details here!