Evanna Lynch Talks 'Dancing With the Stars' & Dance Partner Keo Motsepe's Sorting Ceremony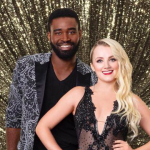 Sep 15, 2018
Potter fans are rallying around Evanna Lynch ahead of her debut on Dancing With the Stars, starting September 24th, and along with discussing Luna's signature dance move, Evanna made sure dance partner Keo Motsepe had been sorted by Pottemore in recent updates with the new duo!
Let's welcome @Evy_Lynch & @KeoDancer to the #DWTS dance floor!

Retweet if you're rooting for this team 🌟 pic.twitter.com/aol8VLwZZP

— DWTS Fanpage (@ABCSDancing) September 12, 2018
Speaking to E! News, Evanna said her role in the latest series of DWTS was "a dream job", seeing as she already wanted to learn to dance! She's super serious (that's her Gryffindor spirit showing) and is hoping people won't go easy on her, having told Keo not to be afraid to go hard on her: "When you have that kind of pressure on you, that's when the most growth happens."
Noting her fiery spirit as something that will hopefully help the duo stay long into the competition (something everybody's counting on!), Evanna says: "I am very stubborn, and I am very determined […] I am very fiery." Watch the full interview below:
Speaking of Luna and her father's signature move at Bill and Fleur's wedding, Keo says he's sure to take inspiration from the Lovegoods: "I'm going to turn it into an amazing move."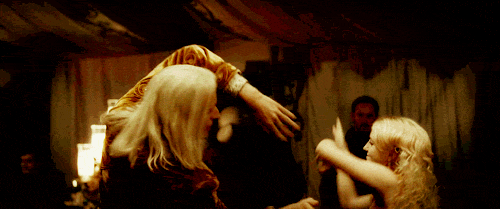 We all know there are 'dream teams'  of Hogwarts houses in certain situations: put a Ravenclaw and a Slytherin together for a quiz and you've got no hope in beating them, put a Hufflepuff and a Gryffindor together for a bake sale and you'll set street fundraising records. But what's the dream team for a dancing duo?
In a live video on her Instagram page, Evanna made sure Keo was sorted – after being sorted into Gryffindor in her own video on Pottermore (below), it turns out Keo is a… Slytherin!
Match a stubborn, determined and fiery Gryffindor with a cunning, knows-no-bounds professional dancer Slytherin and we're pretty sure you get a winning combo – and Pottermore agrees:
Great work, Evanna 👏 A Slytherin-Gryffindor partnership sounds like a winning combo to us!

— Pottermore (@pottermore) September 15, 2018
Look out for the first episode of Dancing With the Stars Season 27 on Monday, Sept. 24 at 8 p.m. on ABC.