GIVEAWAY: Cinereplicas Hogwarts Hair Sets & Newt Scamander Bow Tie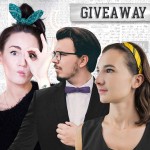 Sep 15, 2018
It's giveaway time!
Recently we reviewed some classy Hogwarts hair sets and a newly released Newt Scamander bow tie from Cinereplicas, and now we're offering you the chance to win these magical prizes in our latest giveaway!
We'll be choosing not one, not two, but SIX winners in total, for your choice of 2 of these products:
Here's what you need to do:
Please note:
Cinereplicas ships worldwide, so this is open to ALL witches and wizards
The Leaky Cauldron STRICTLY FORBIDS AND DISCOURAGES the use of Time Turners and Felix Felicis
This contest ends 11:59pm (BST) on September 23rd – best of luck, Potterheads!