'Harry Potter and the Cursed Child' Soundtrack Releasing November 2nd!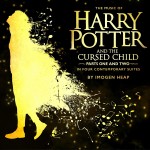 Sep 20, 2018
After the play's expansion to countries worldwide, composer Imogen Heap's award-winning Cursed Child score will be made available publicly for the very first time on November 2nd, 2018!
The new album, titled The Music of Harry Potter and the Cursed Child will comprise of the music heard throughout the play – in chronological order and magically reworked to "transport listeners on a sonic journey through the world of Harry Potter and the Cursed Child". The score is  written, composed, performed and recorded by the incredible Grammy and Ivor Novello Award winner Imogen Heap.
Releasing via Sony Music Masterworks on November 2nd, the album is available to order NOW on Amazon for £9.99.
Imogen Heap explains more about her creation of the score in her comments on the release of this unique album:
""This album is like nothing I've ever attempted before. It's four suites containing music from each of the four acts of the play, Harry Potter and the Cursed Child. With over 100 moments of music in the play, the challenge was how to weave them together, and I think it has manifested into a really enjoyable listen, with memories for those who've seen the play, musical accompaniment to those with the script of the play or simply just to enjoy the music as a stand-alone album. It is crafted to be listened to in its entirety, taking the listener through different worlds within each suite. I don't know another album like it. I hope others enjoy listening to it as much as I've enjoyed making it."
Sound on! The Music of Harry Potter and the Cursed Child, composed by award-winning @imogenheap, will be released on 2 November: https://t.co/BYkN2f7hY9 pic.twitter.com/Wmg4OAOwKf

— Pottermore (@pottermore) September 20, 2018
Have you seen Cursed Child yet? What did you think of the colorful score? Are you planning on seeing the production in Australia, Hamburg or San Francisco? Just as a heads up for those looking to attend performances in New York and London, 100,000 tickets will be released at 11:00 AM ET next Thursday, September 27 for performances through to June 9, 2019 on Broadway, and earlier this week, 120,000 tickets were released for sale for the West End production, for performances at the Palace Theatre through to July 28, 2019! Find ticket details at the Cursed Child official website.