9 New 'Crimes of Grindelwald' Posters Debut; Final Trailer Tomorrow!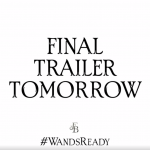 Sep 24, 2018
It's an exciting week for Potterheads! As you may have heard, tomorrow will bring us the final trailer for Fantastic Beasts: The Crimes of Grindelwald on the TODAY Show! J.K. Rowling stopped by and told us "there's a name [we're]  going to want to hear" in the final trailer:
"When you see the trailer, don't speak to each other until the end because there's a name you're going to want to hear", @jk_rowling told us at the #FantasticBeasts fan event in NYC today – we've got chills! 😍 #WandsReady

— The Leaky Cauldron (@leaky) September 24, 2018
Keep a look out on Leaky's Facebook page for exclusive content from today's event, including an interview with Ezra Miller!
In other news, nine new character posters have been released for the film, and they give away some interesting plot clues! Below are the new posters, with some exciting subtitles: Grindelwald is a "Dark Wizard at Large."
Theseus Scamander, Newt's brother, is "under Ministry orders" – could he be sent by the Ministry to take down Grindelwald? Or perhaps watch over Newt and/or Dumbledore?

We are particularly interested in Leta's poster, which states she is "implicated by prophecy." Just what prophecy, exactly? Is it similar to the most famous prophecy of all? (You know the one!)

Next up is Credence Barebone's poster, back from the last movie. Apparently he is "searching for identity", which David Heyman and Ezra Miller both echoed in our set visit interviews. Perhaps he will find it with Claudia Kim's character, the Maledictus?
Of course, none other than Albus Dumbledore is next! According to the poster, Dumbledore is "under surveillance." But by whom? Could it be the Ministry? Grindelwald's forces? Both? We'll have to wait and see…
Everybody's favorite No-Maj is up next, and according to the poster, Jacob is a "No-Maj of interest." This isn't surprising; at the end of the first film, he was called out by the President of MACUSA herself for being involved in Newt's magical business.
One of the most mysterious in the set is Queenie's poster, which says that her whereabouts are "unknown." The cast has been very secretive about Queenie's role in the film; we can't wait to see what she's up to! Read more about her desperate attempt to escape the laws forbidding her relationship with Jacob in Crimes of Grindelwald in our reports on official character profiles, here.
Queenie' sister, Tina, is apparently "on foreign assignment", and we know from character profiles that this is "wholly unauthorized" – she's already risking that Auror status after just getting it back! She knows Credence survived MACUSA's attempt to destroy him in New York, and searching for him puts her "in a collision course with other powerful forces hunting him".
And finally we have Newt Scamander, who is ominously "wanted for questioning." We aren't sure why, but we're guessing it has something to do with those creatures of his and his mysterious connection to Dumbledore, Credence, and his takedown of Grindelwald in the last film. We know there's a Hearing at the Ministry of Magic for Newt, which Theseus attends – perhaps this is his questioning scene?
So what do you think of the new posters? Let us know, and get your wands ready for the final trailer tomorrow! We'll share it with you as soon as it airs, so stay posted!