'Fantastic Beasts: The Crimes of Grindelwald' Set Report #5: Interview with Producer David Heyman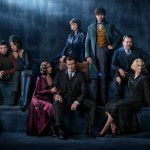 Aug 23, 2018
David Heyman is beyond familiar with J.K. Rowling's Wizarding World. After convincing J.K. Rowling to trust film production companies with her stories, working closely with her as producer on every single Potter film and then continuing the series with Fantastic Beasts, it's clear to anybody speaking to David about Potter that he has an intimate knowledge of not just the plot, or the characters, but also how J.K. Rowling sees this world. We were fortunate enough to sit down with David once again, this time on the set of Fantastic Beasts: The Crimes of Grindelwald to discuss his thoughts on taking the series further, the changes we'll see in this instalment, details on key characters and new characters alike, and the future of the wizarding world.
Fantastic Beasts: The Crimes of Grindelwald Set Report Links
Art Department & Plot Run-Through with Martin Foley   |  Walking the French Wizarding World: French Diagon Alley & the French Ministry   |   Props Department with Pierre Bohanna    |    Interview with Director David Yates    |    Interview with Producer David Heyman    |     Interview with Eddie Redmayne (Newt Scamander)    | Interview with Callum Turner (Theseus Scamander)    |    Interview with Ezra Miller (Credence Barebone)    |    Interview with Costume Designer Colleen Atwood    |     The Magical Creatures of Crimes of Grindelwald    |    Character Profiles: Trouble in Paris
~~~SPOILER WARNING~~~
This set report will disclose firsthand exclusive details about Fantastic Beasts: The Crimes of Grindelwald not seen in the trailers!
---
Heyman begins by sharing the vision for Crimes, which is consciously distinct from Fantastic Beasts and Where to Find Them. We know from our interview with David Yates that Crimes will be more of a political thriller, and Heyman discusses the political undertones of the film series, given Grindelwald's pursuit of wizard dominion over muggles in the context of today's world, and what this story might offer viewers in addition to a journey back to the wizarding world:
"I would say there is elements of love playing through each of the stories. It's a thriller, but with a real beating heart of love. I think that what you can really clearly see emerging – and again, it's a central theme of Jo's work – is the danger of absolutism. It is the belief that your way is the only way. It feels rather current, in some ways, but it's timeless, you know? It's history repeating itself, and similar to what we're going through now. So I think that will be a central part of this story. And you'll see. You know, beyond that, love and family juxtaposed against them."
Heyman explains that they're aiming to 'up the ante' (so to speak) in this film:
"Talking to- to David, one of the things he's really intent on is making this film feel quite different to the last. This film is more in the spirit of a 1930's thriller. But at the same time, in a very contemporary way, David is shooting this film in a completely different way to the last one. The last one was quite proscenium and quite classic. This one's very immersive and distinct. It feels very contemporary in the camera moves and in the spirit. Dumbledore's in this film. There are little points of connection to the original stories, or to the Harry Potter stories – that's quite exciting.
"When you make any film, there's, "Yes, I believe in the vision." I believe strongly in that. I believe in Jo's script and Jo's imagination. I believe in that. I believe we've got a great group of people in front of and behind the camera. But the work is not done there, what's great is, you know, we've gone through it, and we sat down, looking at the last film, looking at things we want to improve […] we're gonna do everything we can to make this one feel distinct, but also better than last."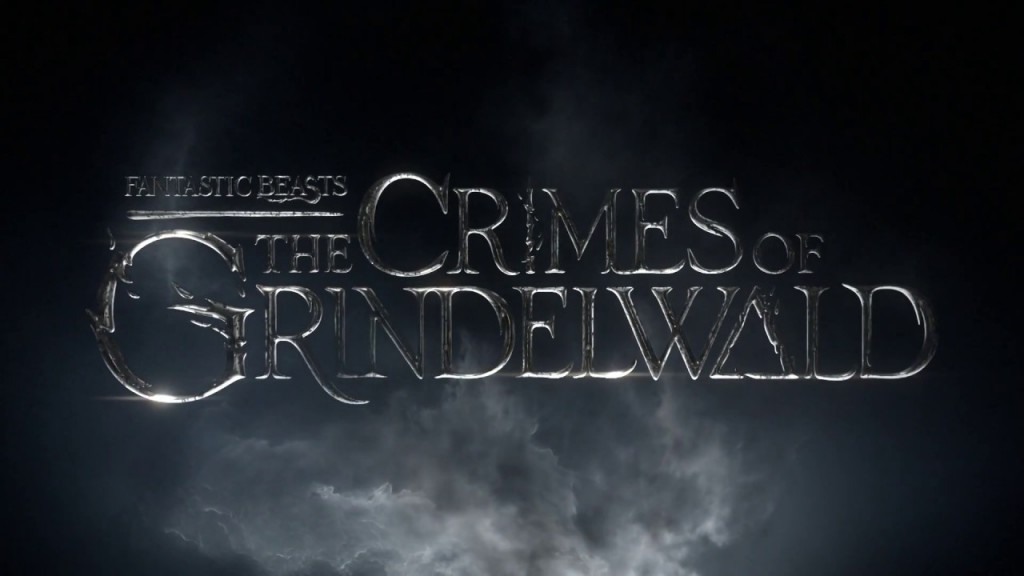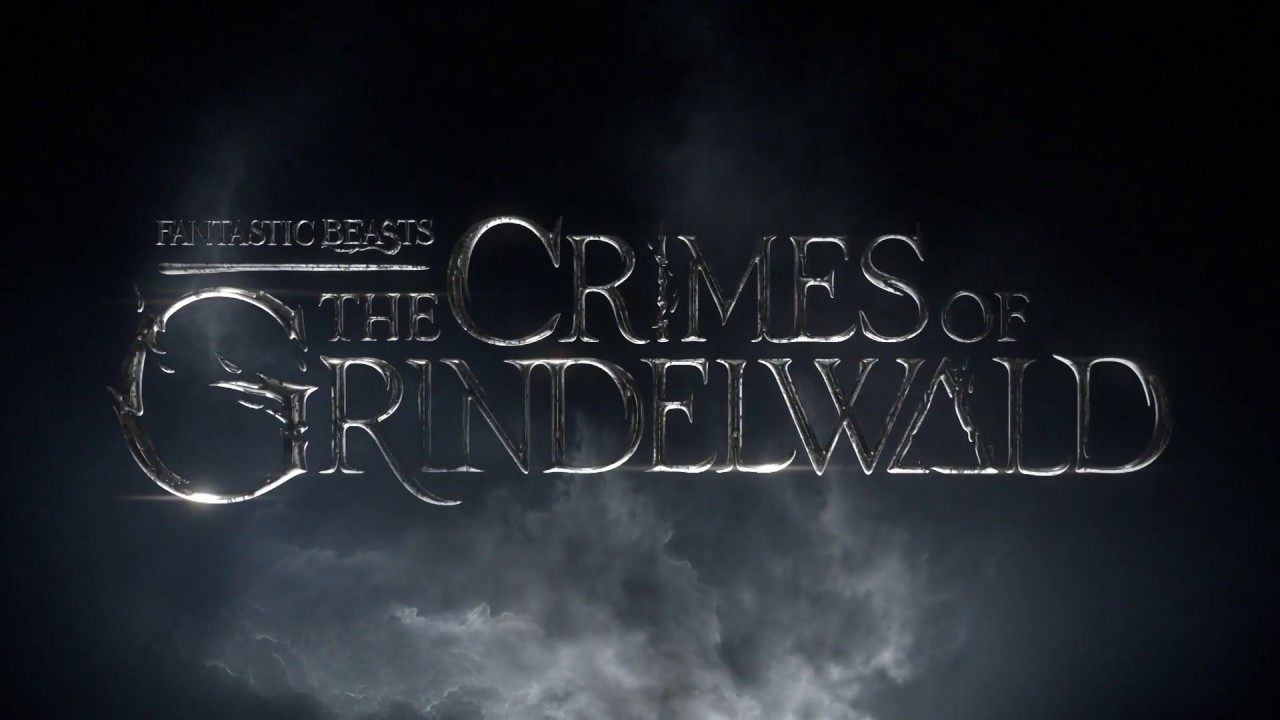 Now that we're into film, rather than book territory, anticipation for more wizarding world stories comes not in the form of "Will X scene/character be included in the adaptation?" when waiting to see a novel brought to life on screen. Instead, fans are wondering "How will X scene/character come into the story? How will this story progress?". It's a new terrain for Potter fans, and also for J.K. Rowling as screenplay writer, and the filmmakers working to bring her visions to life. How will planning for the five-film arc pan out on set, and how will distinctiveness be created in each film?
"In a way, it's organic. You know, Jo's work, Jo's writing leads you in that direction. She's conceived of this five-episode story. So, you know, parceling out information and all that, that comes fairly organically, and it's responding, largely, to the script. There are things that we talk about, as they relate to this film, as a standalone. Because the film's going to work on its own terms, making sure the characters are serviced in the right way. But as for the Potter films, she'd say, "Uhm.. I'm not sure you can do that because it'll mess up film <claps> five." On Potter we had one time there was a scene where we wanted to cut Kreacher from, I think, the fifth film. I can't remember which one. We were thinking about cutting Kreacher from Grimmauld Place and she's, like, "I wouldn't do that if I were you, because he has a part to play in a later film.""
Heyman tells us that Crimes will draw together parts of the 'larger picture' of the saga, and will begin to get into the broader story Rowling is telling in Fantastic Beasts:
"I mean, it's a part of the whole. You know, we're aware of where the story goes. We're aware, Jo is aware of it all. We're aware of significant portions of it, and it's about filling in, you know, pieces."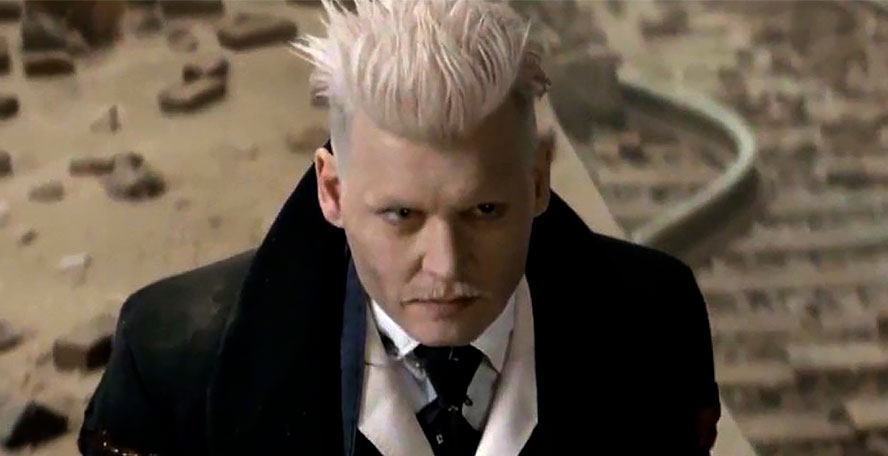 On whether there's a pressure to include a twist, as with the Graves-Grindelwald twist at the end of the first movie, David explains that it's more about being authentic to Jo's vision, and making the best films possible from that, rather than focusing purely on audience gratification:
"Ultimately, we have Joe, Steve, Clovis, Lionel, myself, David Yates, and a host of other people, who know this world very, very, very well, and we have Jo Rowling. You know, nobody knows the world– who's creating and building a new universe, or a connected universe or a connected narrative. We have to have faith in that and our own ambition and belief and confidence, to a degree, to tell these stories well. But no, we don't feel pressure of having to do something a certain way. This film, as I said before, will feel quite different to the last one. Therein lies a certain pleasure. It's not a sequel, where we're giving people the same thing, again and again. It'll be the universe, Jo's universe, the Wizarding World will be further enriched in this, and I think audiences will really, really, really enjoy them. So it's not about fitting a scene for a twist or that. But wait and see."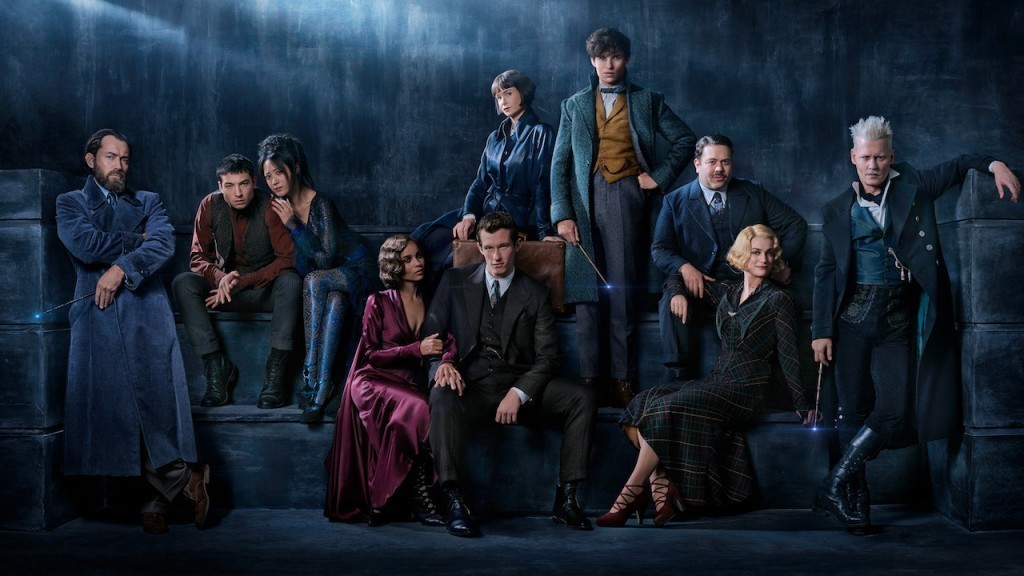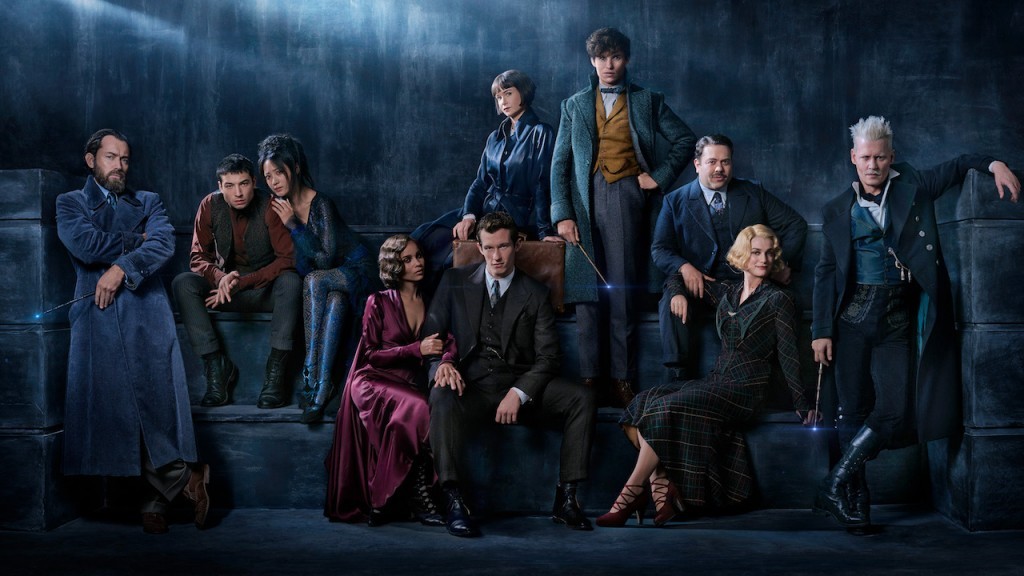 CHARACTERS
Fantastic Beasts is, of course, Newt's story, but it's also the backstory of Dumbledore and Grindelwald, the story of Queenie and Jacob, the story of Credence and Leta's pursuit of their identity. It's this 'rich tapestry' of characters which will help to define the rest of the series, as scenes begin to investigate the stories of other significant characters:
"It's quite novelistic in the sense it's a very rich tapestry and we're exploring all of these characters, and you'll get to know them all. There's multiple elements. All these characters are not together in every scene. Many of them have their separate parts, and we follow them all. Newt is central, but the other characters are significant– are really significant."
We're all in agreement with Heyman when he says that seeing Jude Law as Dumbledore will be one of the most exciting moments for Potter fans. Heyman asserts that Law is 'the one' to play Dumbledore, thanks to his ability to capture Dumbledore's complexity and charisma:
"Seeing a younger Dumbledore and seeing he and Newt's first meeting, I think, will be a thing that the fans will really love. Because here is this character who we have such connection to, who is such a central part of the Harry Potter stories, and to see him earlier on, as it were, very much, related to the Dumbledore of– I'd say, "of old," but of future.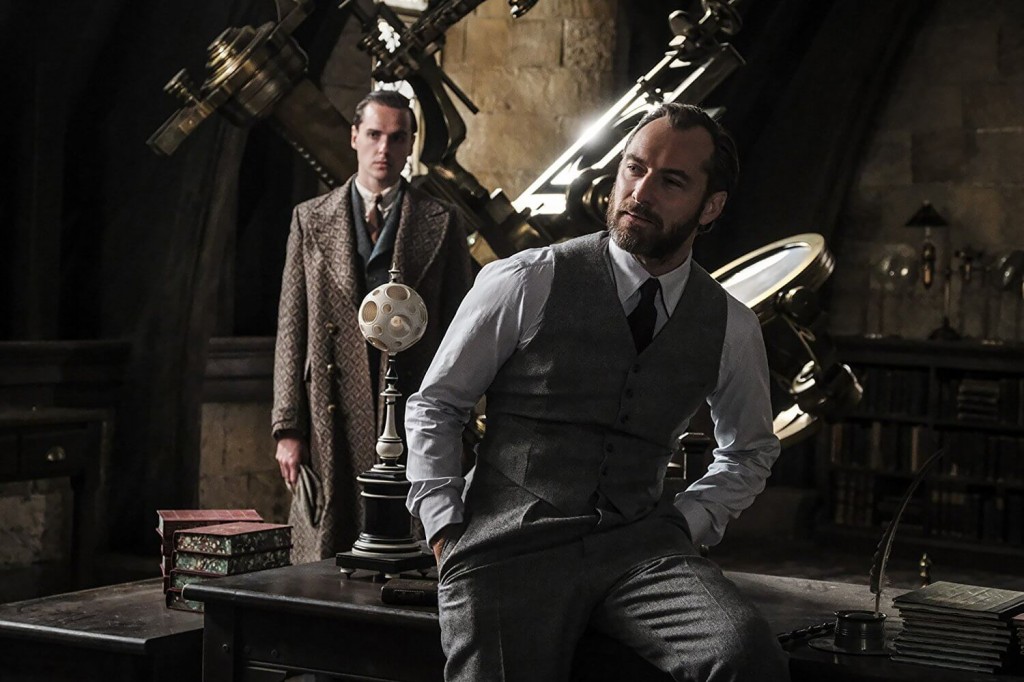 "But at the same time, you know, you realize in the Potter films that he was working things to his own end. You know, he knew the path. He knew what was happening. He understood the backstories, and he was working Harry– I mean, in some ways, you could say, responsibly putting Harry into great danger, at times. But he had faith in- in Harry and his ability. While here, you see Dumbledore and there are remnants of that and you see echoes of that. But he's also wonderful and colorful, and magical, and wise and the character that we know, but younger, and we see slightly different shades."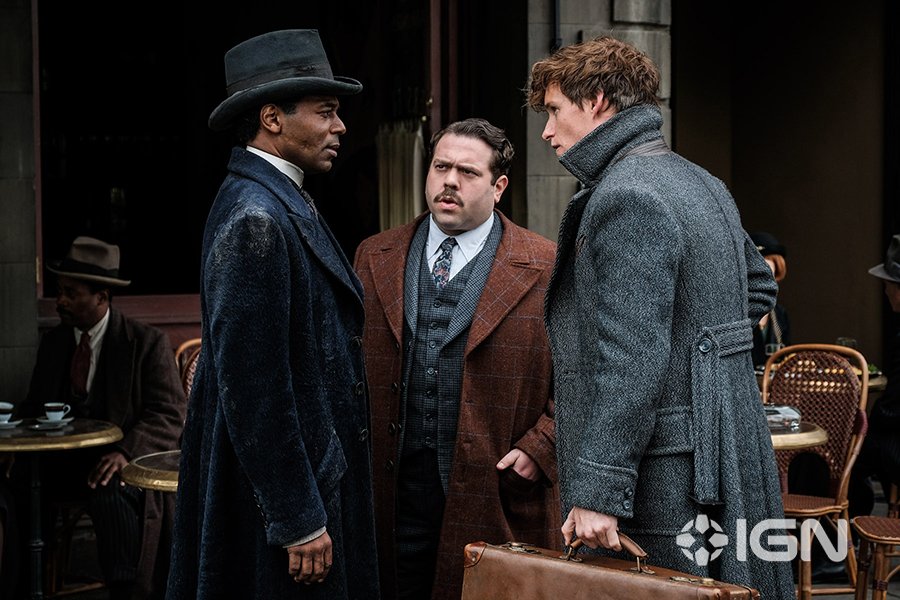 Adding to what we know from our interview with David Yates, Heyman tells us more about the ever-mysterious character of Yusuf Kama (portrayed by William Nadylam), who is possibly related to Credence Barebone. He appears to be related to Leta Lestrange's mother, Laurena Lestrange, and we know from our visit to the Art Department that he's been hiding out in the Parisian sewers, and will end up speaking to Newt and Jacob:
"Kama, a great character. He's someone who's come in search of answers. I can't tell you what those answers are, or what the questions are. But he is a person with a wound, an emotional wound that he is trying to find answers for."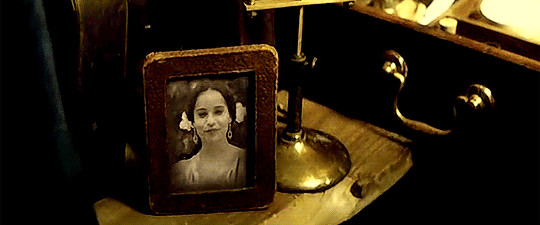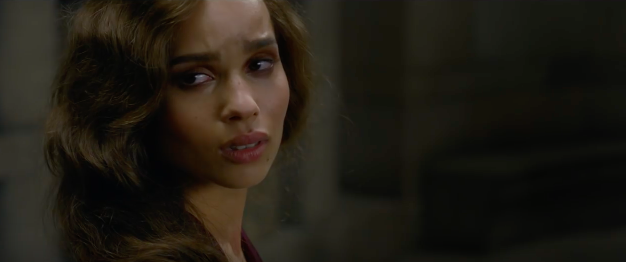 On Leta Lestrange, who we know has a complex history of involvement with Newt Scamander (from Queenie's insights into his mind after asking about a photo of her on his work bench), and is engaged to Theseus Scamnder, Newt's brother, in Crimes of Grindelwald:
"Leta is a fantastic character. I think she's complex and rich and charismatic, and Zoe [Kravitz] is bringing color and shade to the part that, I think, elevates it even further. I think that she is a wonderful character, who is, like so many of Jo's characters, is trying to come to terms with who they are."
"Leta's someone who Newt had a very close relationship, way back when. And I think that at Hogwarts one of the things I think we will enjoy is Newt was always– you know, just like his love of beasts, he always saw the the good in people. And Leta is someone who, I think, wrestles with that a little bit. She's from a pureblood family, and that whole thing of what you're born and who you are is an element of her character. She's a wonderful character, so in terms of family, I think it's a part of who she is. How much — we'll see."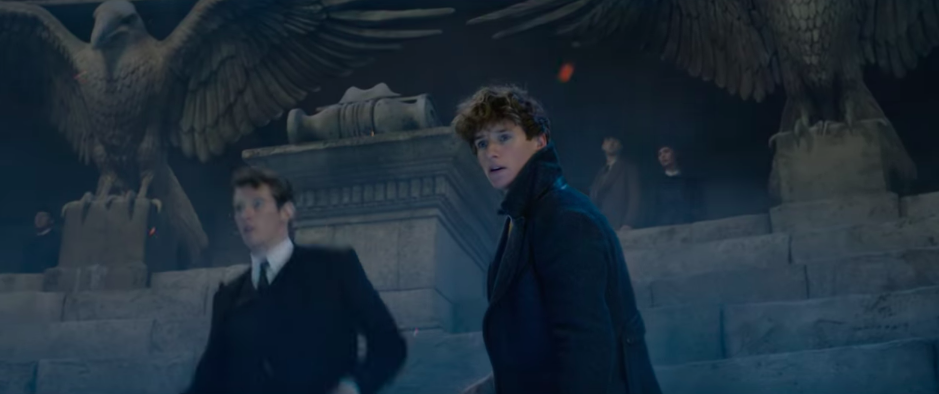 On whether family will play a big role in the films, Heyman talks more about the dynamic between Newt and Theseus, and how characters 'finding' who they are will be central to these stories:
"Family is a big part of it, and, you know, throughout Jo's [stories], it's both the family you have, or the family you're born with and the family you make. That's one of the themes of Jo's work. Family is a part of [the series], including the relationship between Newt and Theseus. That's another character I'm really looking forward to seeing, because I think seeing Eddie and Callum next to each other, they really do feel like brothers. Theseus is a Ministry man, but Newt is still his brother, and that relationship is really beautiful and strong. Yes, family is very much a part of [the series], where you come from, who you are."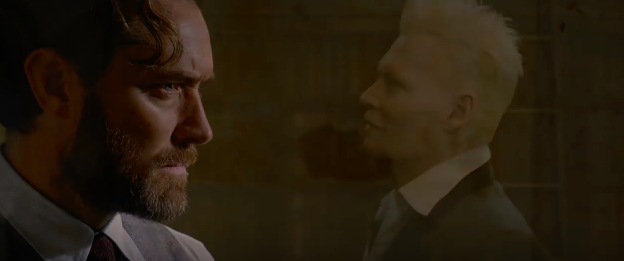 Speaking on Grindelwald, Heyman said his power as a villain comes from the realistic nature of his amorality. In response to the question "What type of villain is Grindelwald?", Heyman says:
"A really scary one. Because he has the power of persuasion. He's very seductive. He can make people follow him because he is as persuasive as he is. He's incredibly charismatic, and he is wonderfully amoral. Or awfully amoral, depending on which way you look at it. Wonderful for a delicious villain. Awful, in terms of an individual. He's an absolutist. He sees only one path. He believes in superiority of wizardkind over humankind, and makes a very persuasive case for that. Not one that I am prepared to follow. Not one I suspect you're prepared to follow. But you can understand why some people do, and that's really, really scary."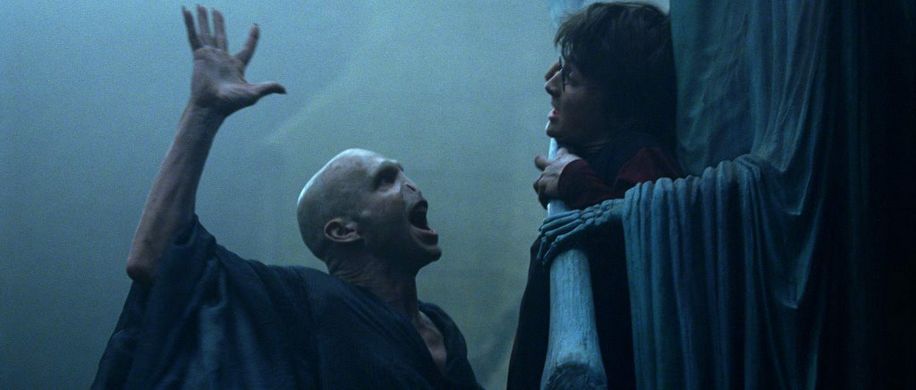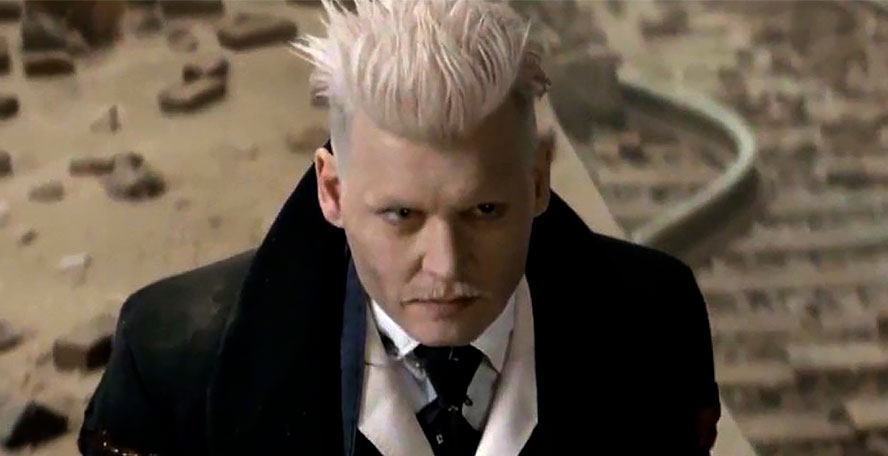 Casting Depp as Grindelwald – which caused a controversy relating to Amber Heard's domestic abuse allegations against Depp, which Heyman, David Yates and J.K. Rowling responded to – was an easy choice for the casting team. Echoing what David Yates told us in our previous interview with him, Heyman says the process was 'quite straightforward':
"We had one choice. <laughs> We went to him and he said yes. We wanted someone who had– who was extraordinary. Who was a little bit off center, who had the charisma and a wonderful adversary in Ralph Fiennes. Voldemort was someone who was pure– you know, he knew no love, and he only knew hate. Grindelwald is a different beast… no pun intended.
"I think that is what makes him even scarier. We know very few people who've never felt love, unless they have certain strong issues. There's something about Grindelwald that he's a seducer, and yet, he has no problem wielding his wand, as it were. Again, no pun– uhm…"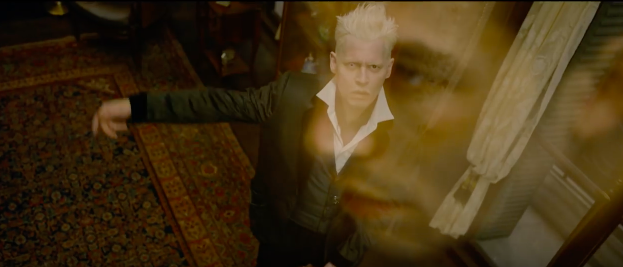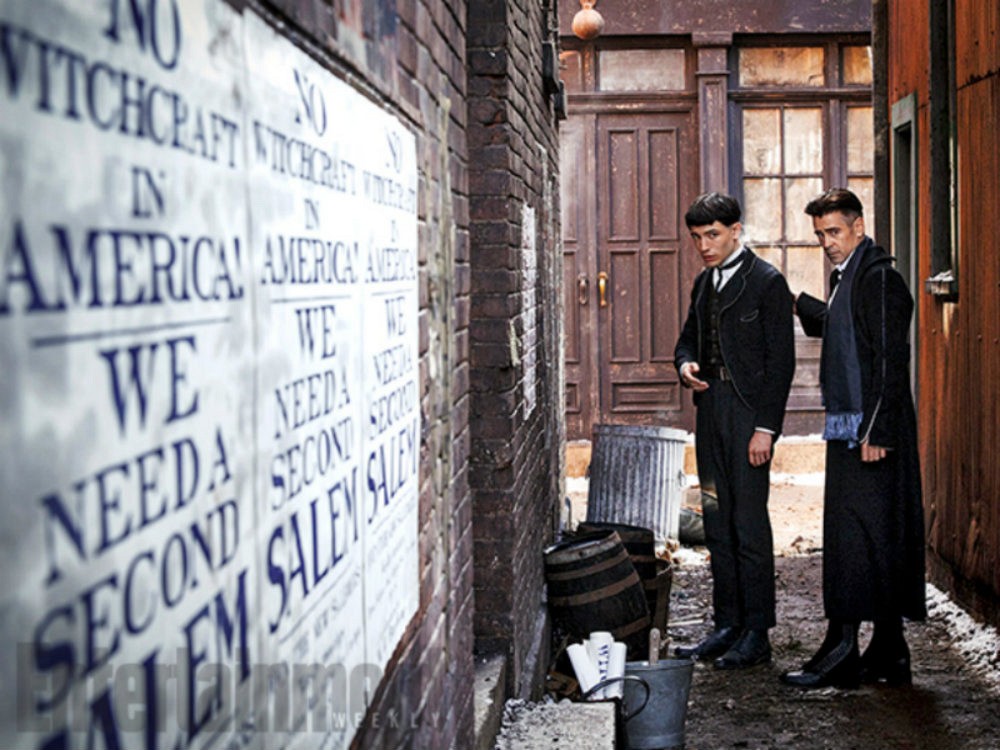 And now for one of the big questions: Why is Credence so important to Grindelwald?
"Credence is clearly an important character for Grindelwald. [Grindelwald] believes [Credence] is a key to his power, so Credence remains a significant figure for him."
Finally, answering how long they see David Yates in the directors chair, Heyman says he hopes he'll be able to stick it through to the end of the five movies:
"I think that it would be great to have David go all the way. You know what? Actually, Chris Columbus was so tired, couldn't do anymore, and that's why we went to Alfonso [Cuaron]. We like how Alfonso had done the fourth, but he was spent.
"So then we went to Mike Newell, who was spent on five. It's only David Yates who seems to have this boundless– In fact, he was in the middle of finishing one film while he was doing the first. So the possibilities for this one, where he's only working on one film are endless. Let's see how he feels and, actually, let's see where the story goes. If we're lucky enough to make more of these films, and the audience keeps coming, then, we'll see. Maybe, it will be David."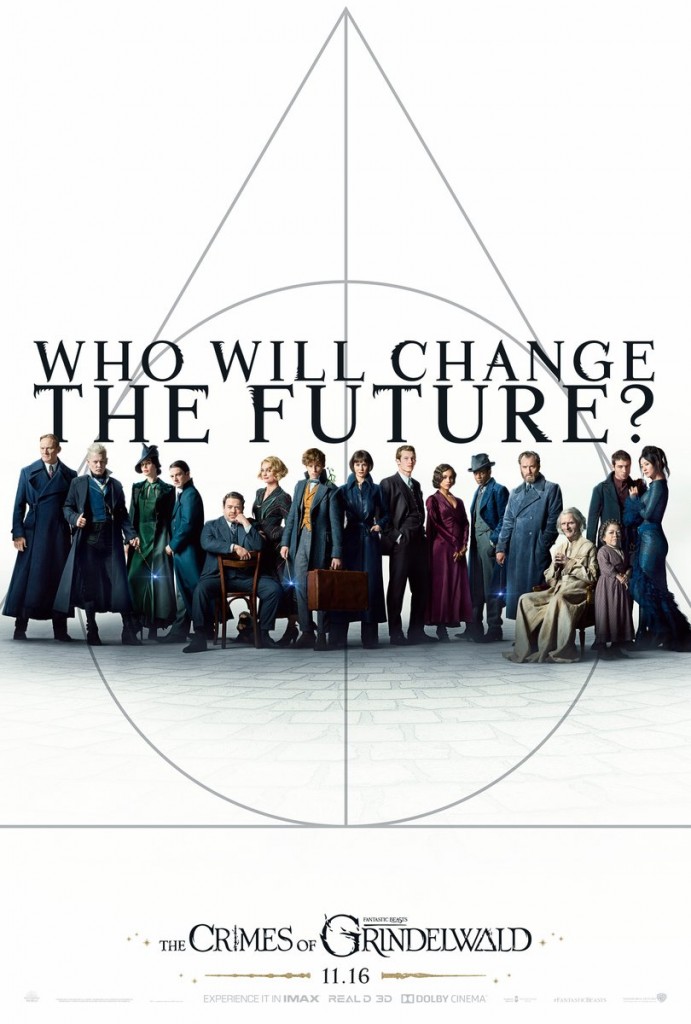 David Heyman never fails to charm us with his descriptions of the wizarding world! Are you excited to see each character's story continue in Crimes of Grindelwald?  Catch our report from the Art Department with Martin Foley here, interviews with the Prop Department's Pierre Bohanna and director David Yates, and stay posted for coverage of  interviews with Eddie Redmayne (Newt Scamander), Callum Turner (Theseus Scamander), Ezra Miller (Credence Barebone), and costume designer Colleen Atwood!
Leaky would like to thank Warner Bros for this exclusive coverage of yet another instalment in J.K. Rowling's Wizarding World, and David Heyman for generously giving his time to talk to us more about 'Crimes of Grindelwald'!