'Fantastic Beasts: The Crimes Of Grindelwald' Set Report #2: The French Wizarding World: French Diagon Alley, Ministry of Magic & Circus Arcanus!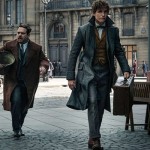 Aug 23, 2018
Our introduction to the wizarding world in Paris will come mainly through exploring through magical Parisian high streets (much like Diagon Alley), the French Ministry of Magic, and Circus Arcanus, all of which we received more details on when exploring the sets of Fantastic Beasts: The Crimes Of Grindelwald. Art Director Martin Foley walked us through the process of designing each set, and then we were lucky enough to visit the French equivalent of Diagon Alley, see advertisements for Circus Arcanus, and step inside the French Ministry of Magic!
Fantastic Beasts: The Crimes of Grindelwald Set Report Links
Art Department & Plot Run-Through with Martin Foley   |  Walking the French Wizarding World: French Diagon Alley & the French Ministry   |   Props Department with Pierre Bohanna    |    Interview with Director David Yates    |    Interview with Producer David Heyman    |     Interview with Eddie Redmayne (Newt Scamander)    | Interview with Callum Turner (Theseus Scamander)    |    Interview with Ezra Miller (Credence Barebone)    |    Interview with Costume Designer Colleen Atwood    |     The Magical Creatures of Crimes of Grindelwald    |    Character Profiles: Trouble in Paris
~~~SPOILER WARNING~~~
This set report will disclose firsthand exclusive details about the settings (wizarding Paris, the French Ministry of Magic, Circus Arcanus) and plot of Fantastic Beasts: The Crimes of Grindelwald, as well as exciting details about the manner of entry to wizarding Paris and the French Ministry.
---
We see Circus Arcanus arrive in Paris during the film, which Martin Foley says boasts a variety of 'human oddities' which are considered 'underbeings' in the wizarding world, such as "squibs, mutations, and untrained outcasts". Other important and mysterious beings include the huge and mysterious Oni-Oni, and, of course, the Maledictus character, portrayed by Claudia Kim. Credence, as we know, joins the circus as it prepares to move from New York to Paris, as part of his mission to travel to Europe to find out more about his identity (more on this in later interviews with David Heyman, David Yates and Ezra Miller).
We see a performance of their show after it arrives in a sooty, dark Paris in 1927. Martin Foley clarifies that they didn't film in Paris, because it's too clean and modern, and they needed an old, dirty and dark atmosphere. Instead, they repurposed the New York set, changing the scale of its details. For example, for every one window in New York, they exchanged this for three smaller windows in the Paris set, and placing Circus Arcanus at its centre – it's far more detailed, as we were about to see firsthand!
During Crimes, Foley tells us we'll see no-maj (or 'non-magique') Paris, and then Credence will creep through a female statue – the portal into the wizarding world in Paris, much like the brick wall behind The Leaky Cauldron in London! We see Tina looking shady in the trailer, and if you look carefully, you'll see a female statue behind moving her leg and gown, which is the same statue that will take Credence through to 'wizard Paris':
"He goes through a statue and it's a bit like the wall at the, you know, Leaky- by the Leaky Cauldron and the wall inside Diagon Alley or the telephone box inside the ministry. It's that kind of magical or platform 9 3/4. 
So there's this beautiful statue in the street and she– it's a bronze statue and is you approach as a wizard she moves her leg and you pass through underneath the base. And, you know, we had that hand carved and built here. And you'll see it out there on the top of the steps. And uhm.. and when you go through the statue you're in wizarding- a wizarding part of Paris"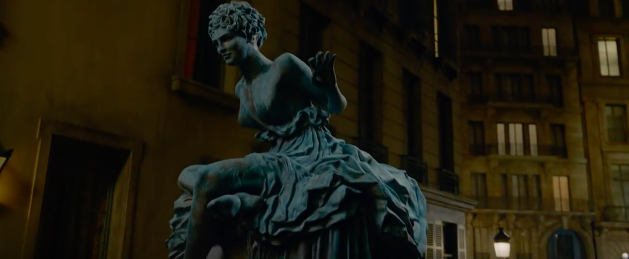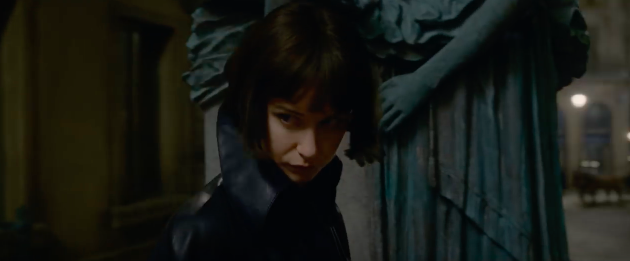 Walking the Outdoor Sets: French Diagon Alley & Circus Arcanus
We had the absolute delight of walking through the outdoor 'French Diagon Alley' set, and it was exactly like being at the Wizarding World of Harry Potter theme park! MinaLima's influences and designs were EVERYWHERE, from the elegant curls of the Parisian typography, to the immaculate detail on everything from window frames to street lights. Walking past 'muggle Paris' – cafés, an 'Epicerie et fruiterie' (grocery shop), a 'boulangerie' (bakery), 'Commerse de vins' (liquor store) and more – we pass the 'Apothicaire', an apothecary filled with jars complete with runes on the labels, hanging ingredients and more – we've arrived in wizarding Paris. The store fronts are dark greens, blues, purples and reds – rich, earthy and royal colors that add to the presence of magic on set – we can't wait to see what these sets look like filled with wizards and witches dressed for the 1920s!
Trying to keep the film's presence in Paris 'grounded and real', Foley says they won't be throwing shots of the Eiffel Tower around, nor will they be adding in too much magic – they wanted to create a space that felt 'real' and believable:
"This is something that Stuart has always tried to do with all of the films is the more reality and authenticity we put into the films, when someone pulls a wand out and does a spell you just kind of accept it because you've accepted everything else. If everything is fantastical you just switch off. You just think oh it's just all fantasy or all CGI. So we try and give as much authenticity to everything as possible."
Littering the streets, stuck on every lamp post and every spare wall are adverts for for Cirque Arcanus, or 'Musée des curiosités vivantes' (museum of living curiosities). These adverts give more details as to the beings we can expect to see, as the posters boast "Bizarres Sous-ètres Magiques" or "Bizarre Magical Sub-Human Beings.":
– The Maledictus: from the 'venudes profondeurs de la jungle indonesienne' (the depths of the Indonesian jungle)
– L'homnide velu aux Piedsretourrés (the hairy homnid), called "Abarimon."
– "Le Demon de L'Eau Japonais" or "The Demon of the Japanese Water," named "Kappa."
We arrive at a brightly colored store, 'CONFISERIE ENCHANTÉE': a sweet shop (basically French Honeydukes) selling candy skulls, frogs, owls, mice,  – even 'eyeball pops'!
There's another store selling bronze cauldrons (or 'chauldrons'), and then an elegant 1920s clothes boutique ('Maison Capenoir' – House Capenor?), and a Quidditch store ('Gaston McAaron') with colorful flags, and 1920s brooms outside – you see this two in the background of the shot of Newt in the trailer, below: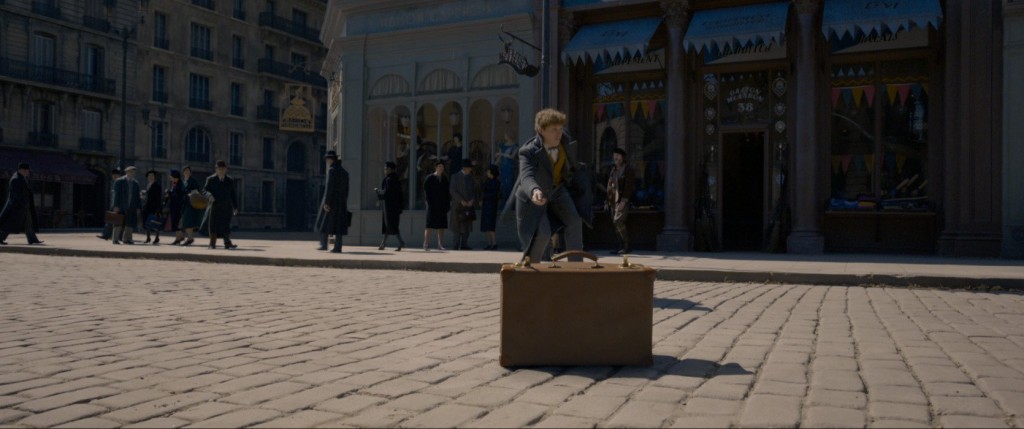 We walk past an 'Animalerie', selling various pets, including owls in cages, we pass a dark green wizarding bookstore ( 'Magillard'), and arrive at the most magical of stores – a French wand shop! This store, from 1614, was selling 'Baguettes Maqiques', and like those in Ollivanders, the boxes had labels at the front, but were slightly smaller triangular prism shaped boxes, all orange and dark blue.  The name of the store was something similar to 'Cosme Acajou Paris'.
'Cafe Abringer' and 'Hotel De Ginestou' are names associated with a wizard restaurant which appeared to be the set of an unknown scene in the film. Set designers had managed to create an old bar atmosphere – even down to the smell! Plate were set out on the tables with fake food which looked half-eaten, the room was adorned with old-fashioned lights, complete with 1920s stye table tops and menus with curly Parisian fonts. Better yet, the silvery cash register was super old fashioned – it looked like clockwork!
Outside were huge green screens, the beginning of Circus Arcanus in the middle of the street, an old alley that looked like Knockturn Alley, and in the middle of a city square, a Wallace water fountain. Inconspicuous as it may be, it's actually an entry point to the French Ministry of Magic, officially known as 'Le Ministère des Affaires Magiques de la France'! Here's what a Wallace fountain in Paris looks like to get an idea of what to expect: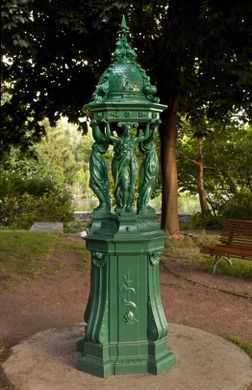 During our time at the Art Department (which you can read in full here), Supervising Art Director Martin Foley spoke specifically about these intricate drinking fountains which are so famous in Paris, and a specific little square which will feature as a magical device in the films used to get into the Départemente Magique:
"There's one little thing like in the Ministry of Magic in London, you know, the red telephone box and you go down in Whitehall and so if you're ever near a red telephone box in London you think, oh you know, is that? And– and the French ministry has something similar. So I'm hoping that that will translate, you know, into like there's a little square, a- a little square in Paris. And we've put that in and re-created that." 
We'll also see Place de la Concorde, and a roof next to the Eiffel Tower which acts as Credence's hideout, which we see in the trailer as Credence appears to show Claudia Kim's character his ability to control his Obscurus:
"This is Place de la Concorde. So, again, we couldn't really go to Place de la Concorde. It's one of the busiest road junctions in France. So we've built this middle bit and it will be all with green."
Later, Foley explains:
"We didn't go for the iconic parts, you know, because it's too obvious. It's like, oh, we're in Paris. It's all where, you know, you eat baguettes and sit in front of the Eiffel Tower. We just happened to be in Paris in 1927. Place de la Concorde, that's a very famous part of Paris. So you can go and sit on the wall and imagine, you know, they're all there."
Inside the French Ministry of Magic
At the Art Department, we were shown the concept 3D design for the insides of the nouveau-style Le Ministère des Affaires Magiques de la France, the large greenish atrium structure we saw in the trailer. Its glassy dome is enchanted, and shows different constellations of magical creatures, including a Phoenix, Niffler, Augery and Hippogriff. Statues surrounding the ministry are all female, meant to draw on the Liberty symbol of France. The design – which Martin Foley tells us is taken from J.K. Rowling's descriptions – blends wizard and muggle architecture with subtlety and elegance:
"All Jo said in the script was that it was this kind of nouveau building and underground. And the problem with being underground is there's no light. And nouveau is all about light and nature and, you know, this beautiful kind of organic shapes. And when you're underground it's just like a big cave, you know. And all of the ministries– and so Stuart was really– he decided to ignore pretty much the fact it was underground. He's put it underground but it has a glass roof and it's kind of a magical glass roof. And in– there's all these domes and it's very similar to the gardens. There's a- there's a building in- in Paris it's quite similar to"
" […] . So this kind of parallels with the world above but below. So they go down into their and there's– there's various chase sequences and action that happens down here. And there's intrigue and different departments, but all in this kind of beautiful French style."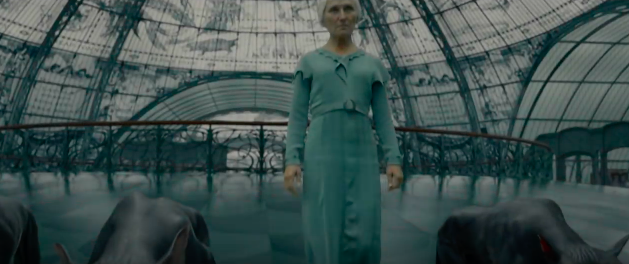 We can't wait to see what chase scenes and departments Foley is referring to!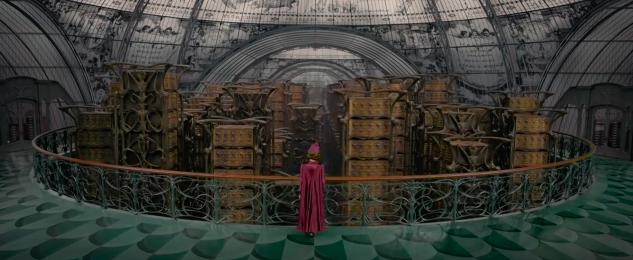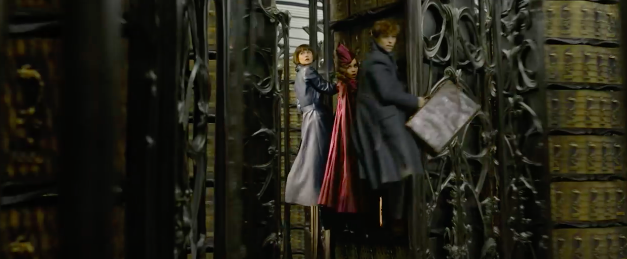 Inside the French Ministry set was remarkably like the Ministry of Magic in London, the green sloped tunnels created an eery underground feel, and seeing as the glass domed ceiling was being created by CGI, the set itself had none of the magically open atmosphere we'll see in the film! In the centre of the two-level set were rows upon rows of what looked like intricate filing cabinets (like the prophecy room), each box numbered, which we see in the shots of Leta and Newt and Tina above, and in the shot of Newt and Tina from below: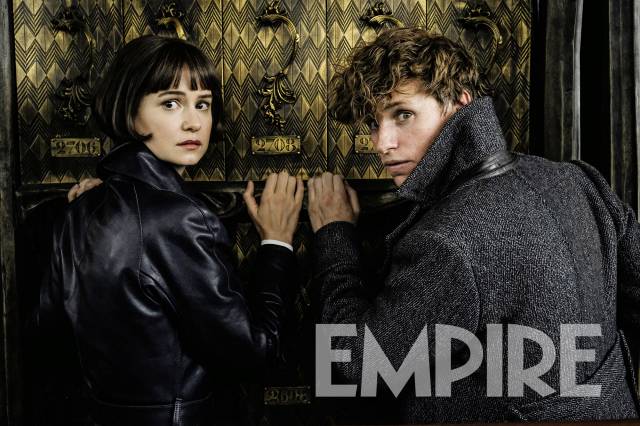 We enter a room on the top level which looks like an office with glass walls, like an atrium (it looks like it's based on the Louvre). There are runes on the desk drawers, and documents stamped CONFIDENTIAL are scattered over the desks, all complete with the French ministry insignia, seen in the MinaLima designed poster (along with a representation of the Ministry):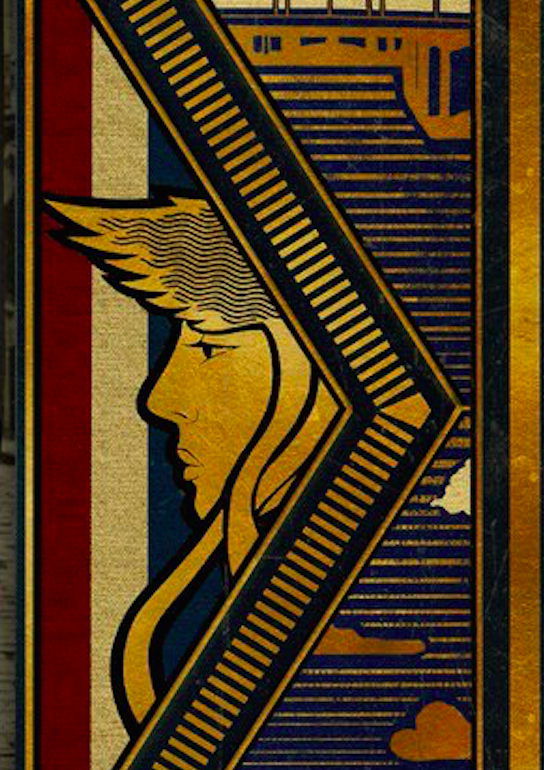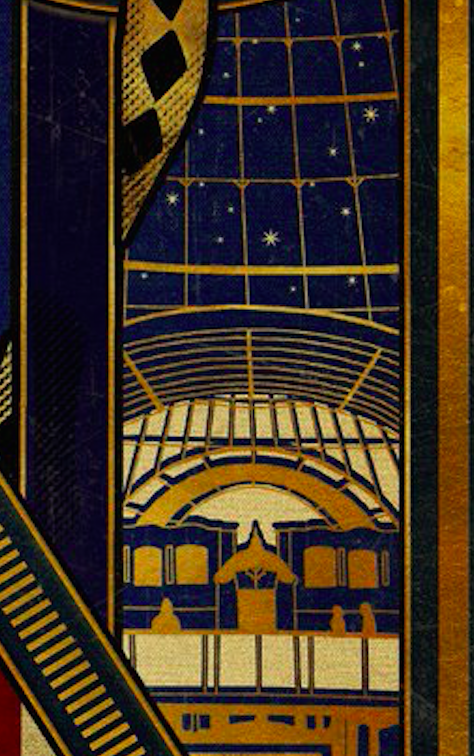 We can't wait to share more secrets from the Crimes of Grindelwald set! Next up, our report from the props department with Lead Prop Maker, Pierre Bohanna, where you can find out more about the French Ministry of Magic, wands in Crimes of Grindelwald, and a very special, very magical and very familiar prop from Harry Potter which will make its way into the Fantastic Beasts series…
Catch our report from the Art Department with Martin Foley here, interviews with the Prop Department's Pierre Bohanna, director David Yates and producer David Heyman, and stay tuned for more! and stay posted for coverage of  interviews with Eddie Redmayne (Newt Scamander), Callum Turner (Theseus Scamander), Ezra Miller (Credence Barebone), and costume designer Colleen Atwood!
Leaky would like to thank Warner Bros for this exclusive coverage of yet another instalment in J.K. Rowling's Wizarding World, and also Martin Foley for generously giving up his time to talk to us more about 'Crimes of Grindelwald'!