'Fantastic Beasts: The Crimes of Grindelwald' Set Report #3: Props With Pierre Bohanna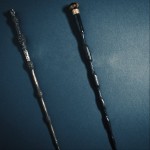 Aug 23, 2018
Walking into the props department on set of Fantastic Beasts: The Crimes of Grindelwald was like walking into a store full of Wizarding World merchandise. Head Prop Maker Pierre Bohanna greeted us amongst shelves of textbooks, bottles, wands, bags, papers and odd parts for various scenes in the film. In front of him was a table of never-before-seen wands, some Hogwarts textbooks, Newt's briefcase, a strange dictaphone, a crystal ball, a strange vacuum, and two objects very familiar to Potter fans! Read on to find out more about the wands of Theseus, Flamel and Newt's assistant, Bunty, some props from various new settings in Crimes of Grindelwald, and a few props taken from Warner Bros Studio Tour London for use in Crimes!
Fantastic Beasts: The Crimes of Grindelwald Set Report Links
Art Department & Plot Run-Through with Martin Foley   |  Walking the French Wizarding World: French Diagon Alley & the French Ministry   |   Props Department with Pierre Bohanna    |    Interview with Director David Yates    |    Interview with Producer David Heyman    |     Interview with Eddie Redmayne (Newt Scamander)    | Interview with Callum Turner (Theseus Scamander)    |    Interview with Ezra Miller (Credence Barebone)    |    Interview with Costume Designer Colleen Atwood    |     The Magical Creatures of Crimes of Grindelwald    |    Character Profiles: Trouble in Paris
~~~SPOILER WARNING~~~
This set report will disclose firsthand exclusive details about the props in Fantastic Beasts: The Crimes of Grindelwald, connections to Harry Potter, as well as details on settings and characters not in the trailer.
---
Bohanna began by discussing his role on the first Fantastic Beasts film, and worked with visual effects, and team of puppeteers to help create the animated props for the movie (graphic designers MinaLima shared a similar account of the collaborations on set in their V&A talk). Things are fast paced in this department, but modern methods of design and replication are simplifying this process:
"Sometimes those things are, "Could we do it in five minutes?" Sometimes it's, "Can you do it the next day?" Or, "Can you do it next week?"
[…] "It's empowering… and sort of liberating, the kind of capacity of what we're able to do so it's great."
Everybody works together to facilitate the shoot, meaning hundreds or thousands of replicas can be achieved – it's no small feat!
"Our wonderful, talented painters as well, the fantastic Ruth, and her team, just amazing. They make it convincing, really, so old skills and new skills. But you've got to understand how pieces work and how they have to perform and actually have to work with in a film as well.
"For these archives for the Ministry of Magique, we had over 1200 of these to make very quickly. So that allowed us to computer design the front, then the machine tools were made very quickly … There's been about 40 of us manufacturing things for about 7, 8 months, so there's a lot."
WANDS
Gesturing to the wands on the table in front of him, Bohanna says that the personal nature of the wands in these films offer the department a way of getting involved in helping to tell as story for each character, and working with the actor to help get to know their character:
"[The wands are] great because they're character-based. Every character has a wand. So it's a great opportunity really of kind of interpreting  into the prop that person's character, or really at least trying to give them some type of expression. It also gives the actors, you know, that something to lean onto. It gives them a little bit extra."
Theseus's wand is a sleek, black wand with a golden orange, glimmering marble handle and silver detail. It's a wand that definitely says "Head Auror", and Bohanna agrees:
"It's a lovely wand… that sort of  marble handle – it's the wand of a confident person. It's not complicated, but  you can see it's a mature kind of powerful wand, really, I think. The perfect wand for an Auror."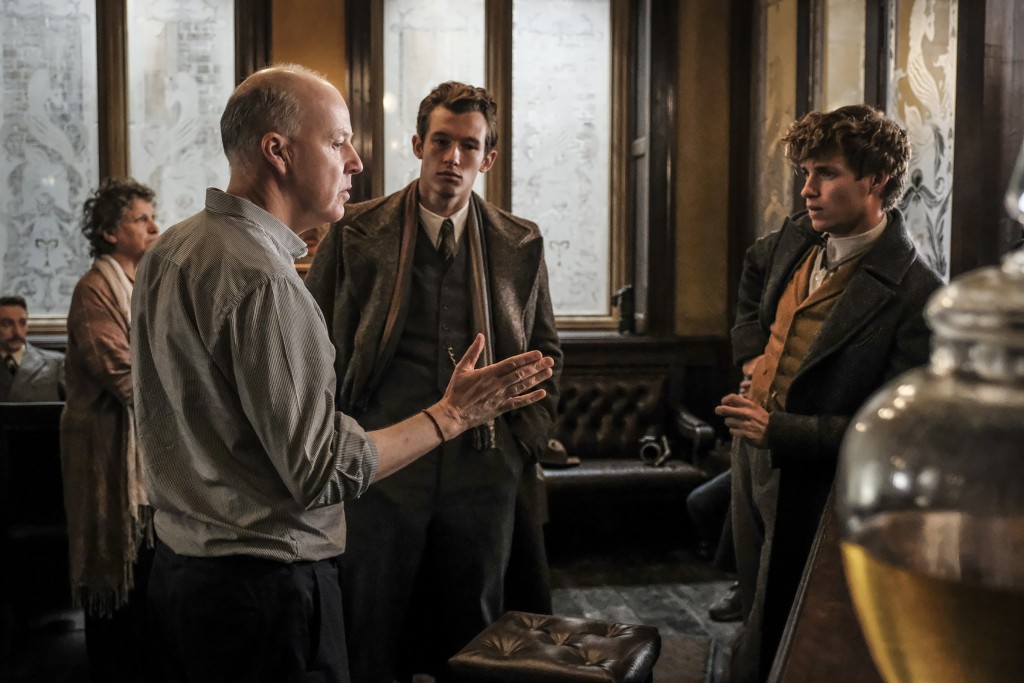 (Photo: Exclusive new 'behind the scenes' image of Callum Turner (Theseus) and Eddie Redmayne (Newt) with director David Yates. By Jaap Buitendijk)
Leta's, a black wand with a handle that looks like it's been twisted – very elegant! Flamel's wand has what looks like a hooked piece of flint on the end – it looks old, weathered and certainly unique. Bohanna gives a great explanation of the influence of period on wands, saying that the 20's offer an opportunity to explore exciting artistic movements:
"Someone who's obviously very old, and got a very classic art feel… There's a horn section there, so something sort of quite individual. The interesting thing as far as wand design's concerned is an application of period as well. It's a great period in time where in an artistic sense there is a lot of liberation and a sort of rethinking of styles, et cetera, and it really kind of shows.
"Queenie's is always lovely because I think it's just such a– it could only have come from one period, really. And I think it's such a lovely deco piece.
"Wands are really interesting for something that's in the sense of things so straightforward, but in a creative sense, can go down so many different channels, and so it can be reinterpreted a million times."
We also see a wand with an acorn on the end, and a leaf carved into the handle – a delicate, intricate wand with a "nice class" shape and wooden finish,  we're told that this belongs to Newt's assistant, Bunty!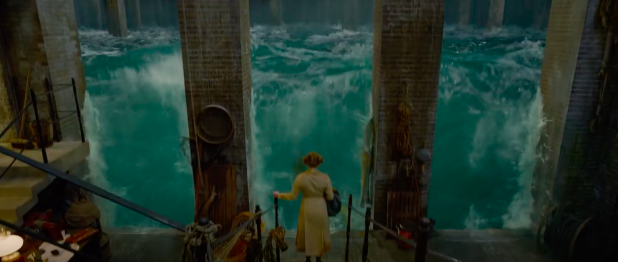 Callum Turner confessed to us in his interview (coming soon) that Theseus's wand got broken on his first shoot, and when asked about other breakages on set, Bohanna says they're used to seeing their creations be worn down or broken:
"It's wear and tear, you know, everything gets very heavily used and so we try– everything we make is always made in mind of the practical aspects of how it's gonna get used. Inevitably things get used… it's only a matter of time things break, so, yeah. But especially with wands, I don't like the idea of them breaking […] Over the years, we've just developed materials and processes to try and make them as strong as they possibly can."
"I try and avoid making many. Good is better than numbers. [Callum Turner] wouldn't be using them as much as the action actors, really. There's always a standard set of six and probably more for Newt and people like that, and obviously for Daniel Radcliffe who's a famous fiddler who used to wear things out just by sitting."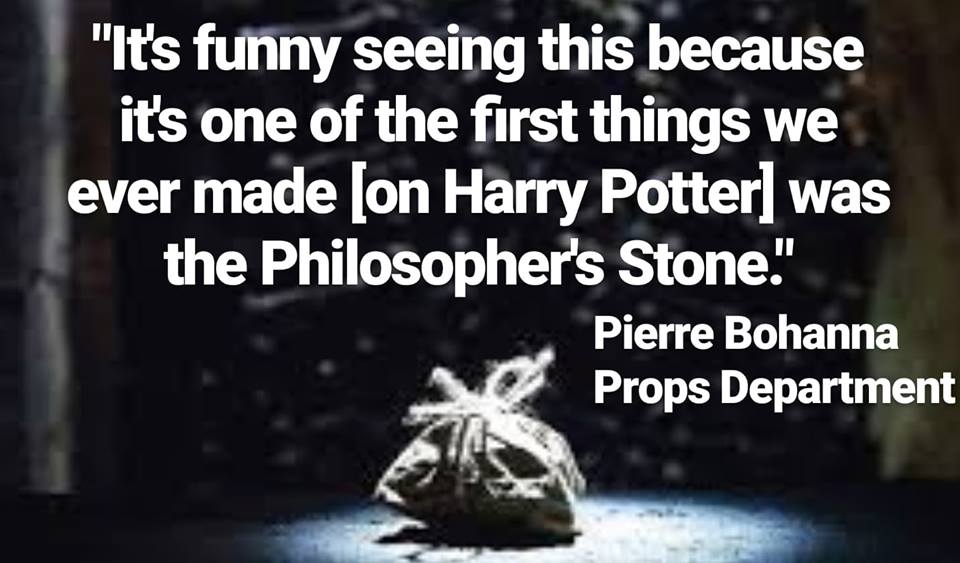 THE PHILOSOPHER'S STONE
In what appears to be 'the Flamel section' of the table, we're shown a crystal ball of his (apparently alchemists aren't averse to bit of divination, Trelawney would be pleased!), and then Bohanna draws our attention to THE Philosopher's Stone, on a stand holding it in the air. Flamel's reputation as the immortal maker of the Philosopher's Stone and the Elixir of Life is well known to Potter fans, so the role of the Philosopher's Stone in Crimes of Grindelwald is certainly intriguing. We previously theorised that Grindelwald could be looking for the stone (here), but truly, we're in the dark!
"I think you'll recognize this, won't you? It's lovely seeing it–I mean, it's funny seeing these because it's one of the first things we ever made [on Harry Potter] was the Philosopher's Stone. To see that come back in again, and produce a stand [for it]. The stand is– It's interesting, we've got, you know, something that looks so classic but that's actually designed on a computer ."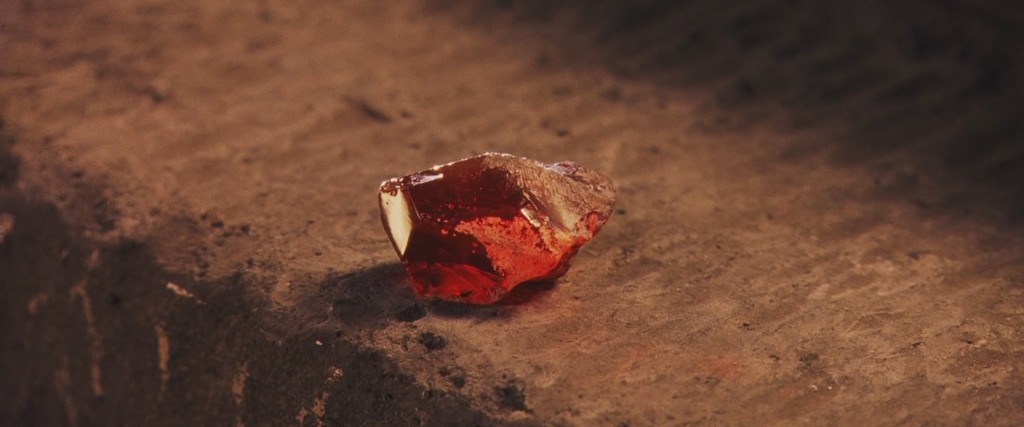 When asked how they manage to take the Philosopher's Stone from the Warner Bros Studio Tour in London, Bohanna was hesitant to 'ruin the magic', so to speak, but gave a great Behind the Scenes explanation:
"Well, I have to say, there was– there was more than one."
"First of all, when they originally filmed them, because of the nature of the light and because the translucent red is actually very difficult to light. It's very reactive. So we ended up making a set of them, about five or six of them, different densities of reds. All the same tone, but just different strengths, because if it's in the hand it tends to get darker and it gets very deep, deep blood red, whereas if you're holding it up and the light's going through it it gets very light.
"There was a whole range of them […] but when we came to do them this time, we remoulded and built [it] again because the distressing around this area here [points to a rugged area on the Stone]. And actually, you can see, it's actually been worn and you can now,  when it gets handled, it gets warm and really, the originals had lost their vibrancy, if that's the best way to put it. So we had to refresh them. But it was all from the original shape."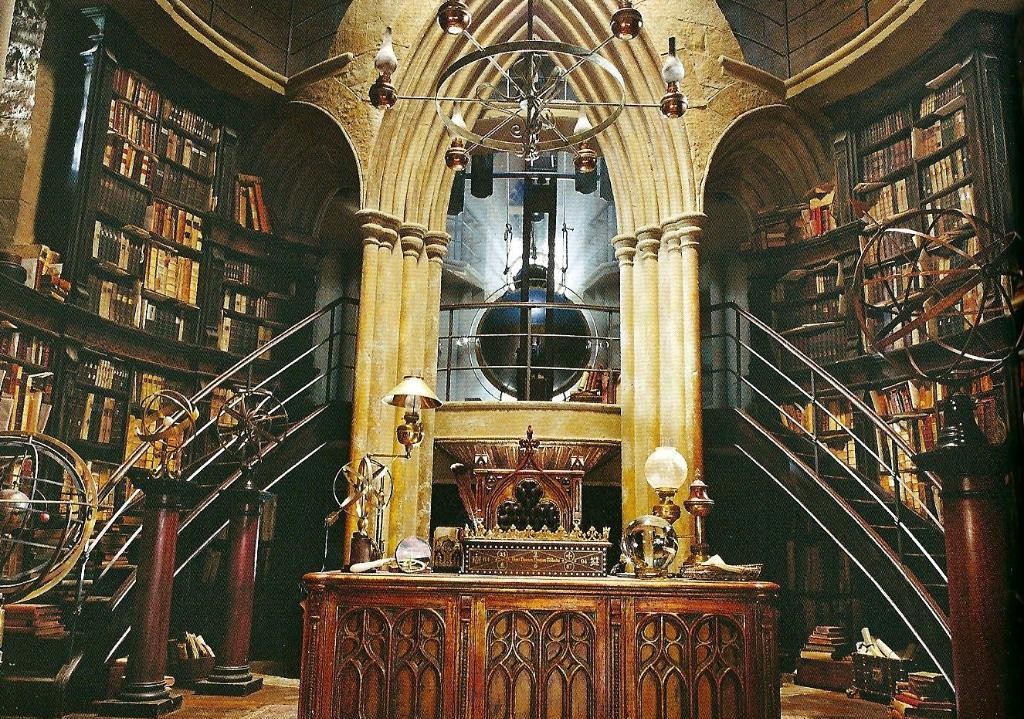 Wands and odd parts from the first Fantastic Beasts movie were used in Crimes, Bohanna tells us, but also pieces from the Harry Potter films. One of these was Dumbledore's Orrery – mechanical astrological model in his office, which we'll see in his classroom:
"There's two, three pieces from the Potter series, which was lovely to see. Some pieces we made on Chamber… There's an astronomy [model]– it's a very weird piece. It was in Dumbledore's office. It's three tiers of marble, almost like a miniature or like an architectural model. [The globes] counter rotate and they're these beautiful pieces covered in… I'm not sure what it's called. It's all graphics, et cetera. So, yeah, we got those two out. Oh, and a skeleton as well -that hung from the ceiling [in the Dark Arts classroom]… It was nice to blow the dust off and grab [the Philosopher's Stone] out of the [Warner Bros Studio] tour actually, and bring them back in and use them again."
We're also shown some new (or… old) 1920s Hogwarts satchels, which are brown and have the Hogwarts emblem on them: "They're periods. Remember, this is in the 1920s, so it's a different time… Isn't it nice? Nice little touches."
Le Ministère des Affaires Magiques de la France & The Ministry of Magic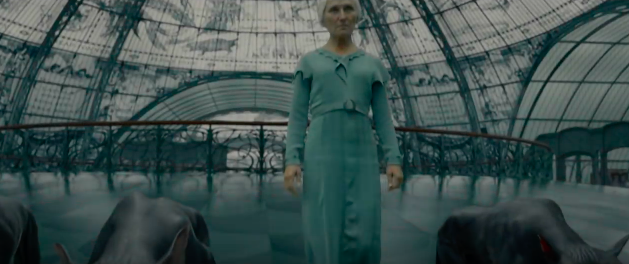 Bohanna tells us more about the French Ministry of Magic ('Le Ministère des Affaires Magiques de la France'), and some of the props they've designed for this set, inspired by some of the props seen in the Ministry of Magic in London:
"We have a- a French Ministry or the Ministry of Magique and there's some lovely large dressing pieces, multiple pieces and big officescapes. And so we've produced these ticker tape typewriters, so that each desk has these wonderful keyboards which are actually our interpretation of an original ticker tape keyboard. We've enlarged them and changed them slightly but they're a lovely idea.
"If you remember in the Ministry of Magic, the memos are paper planes that are flying around. Well, this one we've sort of played around and used the ticker tapes, they're just like little snakes that are flying around in the air, like swimming snakes. "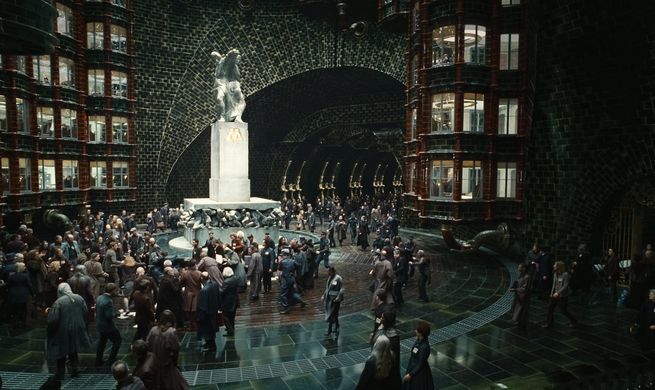 Discussing his work on Harry Potter further, Bohanna says that for Half Blood Prince, one of the very first things they came up with to include in the Ministry of Magic was a magical hoover and duster, which didn't make it into the film, but will make it into this:
"When you get properly introduced into the Ministry, the introduction shot was originally when it was empty and there was a hoover chugging way behind and it never made the final cut because of the usual, you know, time constraints.
"There's some dusters on this and as it's going along, it's dusting. It stretches out and it's dusting people or anything – it's busying itself in almost like a Mrs. Weasley kind of nature of busyness."
He tells us about a hearing room with a Dictaphone (seen on the table) which we'll see in Fantastic Beasts, and post-production will add a little magic to:
"This is a Dictaphone that we built for the scene, and the magical element of this is that there's actually a quill – in post-production they'll put in there … And there's a big pile of paper behind it and things like that."
There are papers coming out of the dictaphone, giving details on the hearing, listing Newt, Travers and Theseus as being among the attendants – who knows what trouble they're in for in Crimes!
NEWT'S CASE:
In Fantastic Beasts and Where to Find Them we were shown inside Newt's case, and on the table in front of Bohanna we see a couple of replicas of the case, including one with a person-shaped hole, which is soon explained:
"Obviously there's prop ones and the effects ones … There was stunt ones, rubberized ones. There's a standard one there. This is an effects one where in the previous film where Jacob goes into for the first time and they had a false floor and this wonderful rig that he jumps into and he gets stuck because he's quite chunky.
"And so we made this one, that- that kind of flicks him and he pops through the other side. Great bit of a performance with him. So, yeah, you know, a thousand ways of doing a case."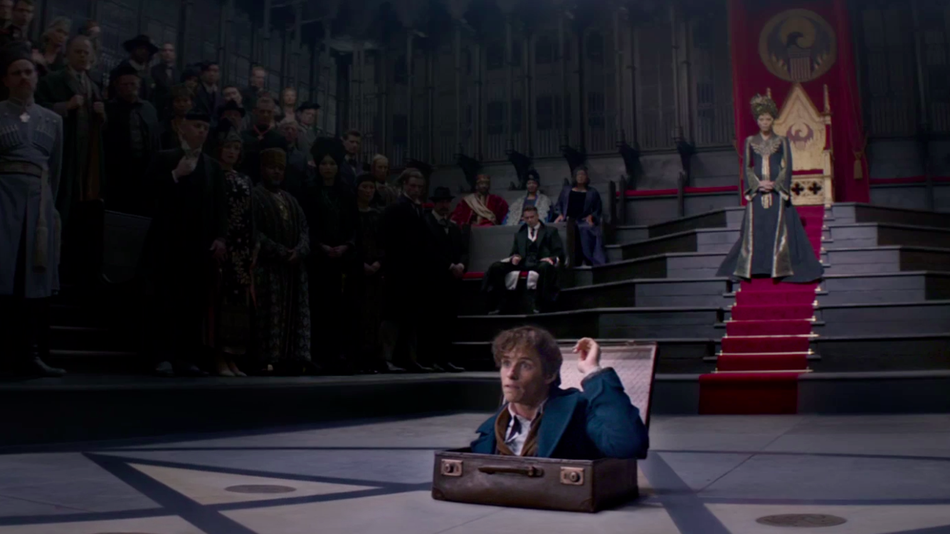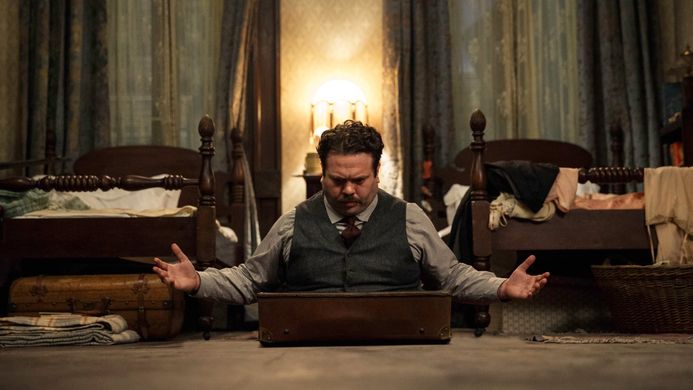 We also see a 1920s copy of Newt's book, Fantastic Beasts and Where to Find Them, featuring gold and blue (no reds) – we kind of want to own that copy, as well as all the other editions out there!
As we know from our talk with Martin Foley in the Art Department, we'll see inside Newt's home, specifically his basement, which is a magical creature hospital, of sorts. Bohanna speaks about one of the props we'll see in the basement, facilitating Pickett's character as the clingiest Bowtruckle around!
"We have Newt's menagerie this time, so we go into his basement where he's got like an animal hospital. And there's a desk and everything, and then he has this little tree, and he's able to put Pickett into this, so he's just in like his own little Bowtruckle tree and he's able to go and rest and take it easy for a little bit and watch Newt do a bit of paperwork, so that was a lovely little thing to make.
"It's almost like a– it's not a bonsai tree, but it's like a cutting, although it looks like a bonsai tree."
Decorating a 1920s Wizarding World
Finally, Bohanna talks about creating props for the 1920s, and the opportunities they've found in the creative departments behind the scenes to explore some new styles:
"The period is really interesting.It's funny, when we started on the last film… I didn't really get or understand how clever Jo was in choosing that time. It's New York, mid-twenties, you know, mid- to late-twenties, it was booming. It was the most confident, you know, brash, big, booming — it's a very recognizable period even subliminally. We all know the kind of Jazz period and all the gangsters and all that wonderful imagery that comes from it."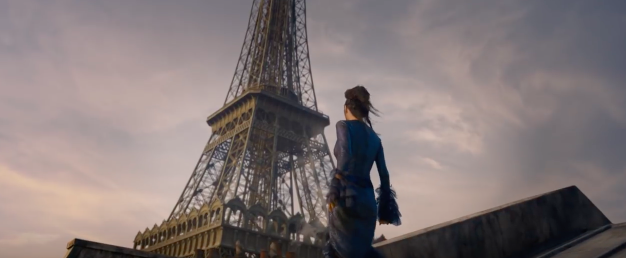 "Brash" and "booming" are not words we'd associate with Newt Scamander's ideal environment, and Bohanna feels similarly, saying this mix is what makes the film so unique. You'll hear more on this in our interview with David Heyman on set, but Fantastic Beasts is an opportunity to revel in historical zeitgeists, and use those to fuel atmospheres and characters in the wizarding world, which Bohanna says is fascinating to him:
"So taking all of that and then throwing an eccentric, shy Englishman into the middle of that is just brilliant. It's just fantastic. It mixes it up so well and it's so novel, really. So I loved that, and then the nice thing about this film is that that carries on.
"France at that time… there's all that Post-War boom and that enthusiasm and especially in Paris we come to the end of a great period of great creativity and great change in that, you know, with the Nouveau period, and liberated thinking, et cetera. It's a great revelling of history, of early history and maybe stuff that we're not as exposed to as we often are in a fantasy way, in a way that you can interpret and expand from it rather than purely being historical."
What are you most hoping to see in wizarding Paris? We can't wait to see how the Philosopher's Stone features, and for replicas of Theseus, Flamel and Bunty's wands to be released!
Next up, our interview with director David Yates, who stopped in the middle of wizarding Paris set to chat about the directions this series is taking, and a few key characters! Catch our report from the Art Department with Martin Foley here, interviews with theProp Department's Pierre Bohanna, producer David Heyman, and stay tuned for more! and stay posted for coverage of  interviews with Eddie Redmayne (Newt Scamander), Callum Turner (Theseus Scamander), Ezra Miller (Credence Barebone), and costume designer Colleen Atwood!
Leaky would like to thank Warner Bros for this exclusive coverage of yet another instalment in J.K. Rowling's Wizarding World, and also Pierre Bohanna, for generously giving up his time to talk to us more about 'Crimes of Grindelwald' and giving us a tour of the props department!