'Fantastic Beasts: The Crimes of Grindelwald' Set Report #7: Interview with Callum Turner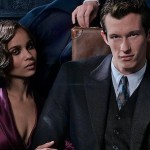 Aug 24, 2018
Callum Turner is a fan of Harry Potter, so when we got to speak to him on the set of Fantastic Beasts: The Crimes of Grindelwald, we were thrilled to hear all about his love of the series, his excitement at meeting J.K. Rowling, and the deep understanding of Theseus he'd developed whilst preparing for his role!
This interview contains very minor spoilers (just as Theseus is a Ministry man, Callum is a loyal Secret Keeper!), so be sure to check out what Callum had to say about Theseus's relationship with his brother, and what it was like for Callum to join such a huge cast…
Fantastic Beasts: The Crimes of Grindelwald Set Report Links
Art Department & Plot Run-Through with Martin Foley   |  Walking the French Wizarding World: French Diagon Alley & the French Ministry   |   Props Department with Pierre Bohanna    |    Interview with Director David Yates    |    Interview with Producer David Heyman    |     Interview with Eddie Redmayne (Newt Scamander)    | Interview with Callum Turner (Theseus Scamander)    |    Interview with Ezra Miller (Credence Barebone)    |    Interview with Costume Designer Colleen Atwood    |     The Magical Creatures of Crimes of Grindelwald    |    Character Profiles: Trouble in Paris
---
Callum first introduces us to Theseus Scamander:
"I play Theseus, who is Newt's older brother, even though I'm younger than Eddie, which is interesting uhm.. and he's kind of the opposite of Newt. He's gone through the same schooling obviously, but once he got out he decided that the establishment was the way to fight the good fight. Theseus is or may be quite more rigid or just part of the establishment. You know, he's the head Auror at the Ministry."
Discussing the casting process, Callum tells us about how much he admires Eddie Redmayne, followed by a story about an impromptu 'big brother' moment where the familial love got super-real:
"I was really, really excited about workshopping it with David and Eddie, 'cause obviously David's like one of the best directors we've got in England, and I think Eddie's the same as an actor, and I followed his career upwards basically and kind of in a sense not tried to model but have been lucky to be able to go and do American indies like Eddie has, and I was very impressed and inspired by the choices that he makes. So I was over the moon to just go and meet him.
"Actually I did this weird thing, on the first take there's this scene, and I just kissed [Eddie] on the head. We weren't even recording and it's not in the movie. There's no reason for me to have done it, but yeah, I think that's probably why I got the part."
We saw Theseus Scamander's wand in the prop department with Pierre Bohanna, and Callum told us how he made his choice, and how he managed to break it in a camera test on one of his first days!
"The guys who do the props- the Art Department just basically came up to me with like, three different wands, and they were like "Which one do you want?" "That one." I broke it on the first day when we were doing camera tests. Yeah, not smooth at all. You're not meant to do anything on the camera test. You're meant to just stand there, basically, and I managed to break the wand. It just flew out of my hand."
Speaking about meeting J.K. Rowling, he says it was a nerve-wracking moment for him, being a longtime Potter fan (Callum's a Hufflepuff, just like Newt!):
"I have met her, and it was quite a big moment. I was quite nervous actually, one, because it was the read-through, so there's like 60, 70 people in the room, and two, because I guess she's like a hero of mine. I read her books when I was nine years old, 10 years old, and on top of that she's an extraordinary woman, and she's really nice, man. She made me feel so welcome. You know, she really made an effort to welcome me into the circle."
He used to read the books before bed, and had a dream familiar to all Potter fans:
"I remember like, reading one of the books just before going to bed and then like hoping an owl would bring a letter through my window."
Eddie Redmayne told us Callum actually inspired some of Jo's vision of Theseus by sharing his thoughts on his character, so Callum is being modest, by the sounds of it!
How difference is Theseus to Newt? He sounds a lot like Percy, in many ways, but perhaps a bit less of a 'pompous prat', as Fred and George might have said!
"I guess he's more rigid, and he's conformed to the way that people want you to– he's become one of 'them' I guess, and he went to Hogwarts. He was taught by Dumbledore. He from that school, and he became this."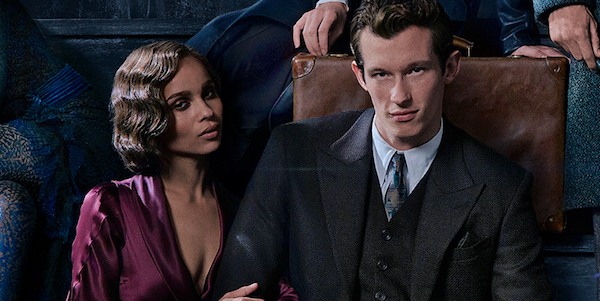 Theseus cares for his brother, and when asked what Theseus thinks of Newt's success as an author and magizoologist, he says:
"I think there's a sort of a relief there… Theseus is really successful. He's a very determined man to reach the top, and I think that having his younger brother sort of float around in this obscurity in a sense was quite worrying for him."
On how he feels about his role:
"I haven't been asked to play a character like this before and finding him and getting into him has been the most enjoyable part, 'cause it's been a challenge for me, and these movies are emotionally driven, or they're character-driven and so having that challenge has been the most enjoyable part."
We wanted to know how Callum prepared for Theseus, and other than researching the Greek mythology behind his name, it was actually something a lot more fundamental to his character and the story that Callum needed to research more:
"The main thing for me was that I have a half-brother and a half-sister, but they grew up in Australia, so I was raised as a single child, an only child, and the main thing for me was finding out what it was like to be an older brother actually, so I did a lot of asking about and listening to stories and stuff like that."
On whether the transition to a big budget film has been daunting, Callum says meeting some of his heroes has been 'pretty scary' (he's been a fan of Ezra for a long time, he says!), but everybody on set has made settling in much easier for him:
"Do you know what? I thought it was gonna be this like crazy, daunting thing, but actually it's quite a smooth process. I mean, these guys are at the top of their game, and you don't even really realize that you're acting it essentially […] I had no idea what it was gonna be, but actually it's… it's just acting, which is great."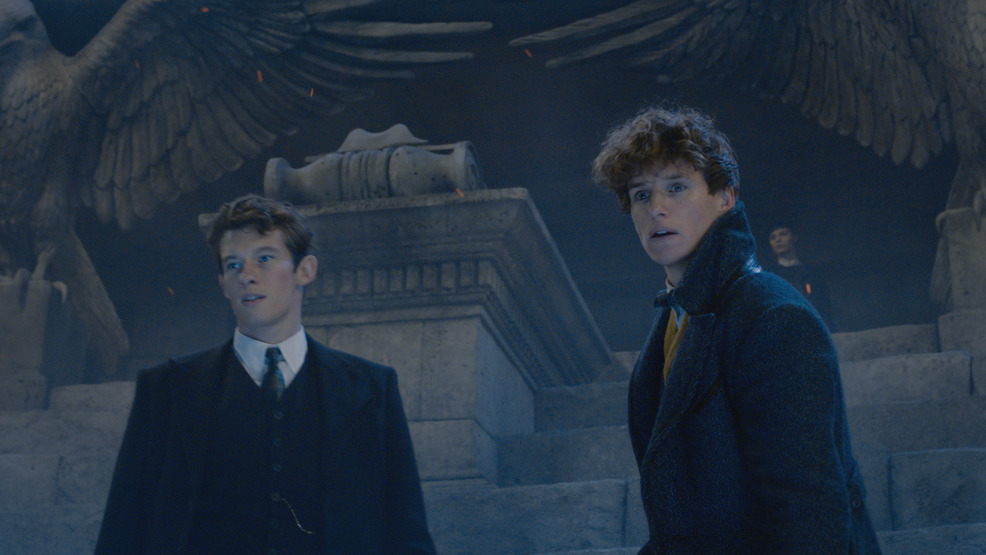 He attended wand school to find his style of spell casting, with Alex Jones, movement coach:
"There's this like wand school type thing – my thinking behind holding my wand was [that] I did a movie a few years ago where I played a punk, and I learned a little bit how to play drums, not very well, but the way that they hold the sticks is quite interesting, drummers. I wanted to incor[porate that] for some reason.
"The idea of [Theseus] being a punk or a rebel of sorts, being true to who he was, when he was younger – having that in him even though he's part of the establishment now, so the way that I hold the wand is I have it sort of through here, and it's- it's a tiny, tiny little thing, but uhm.. that's something that Alex and I worked on."
Keeping up with the theme of travelling to Latin America in future films (see our interview with David Yates, and J.K. Rowling's tweet), Callum says he thinks it would be cool to see Amazon tribes from the wizarding world in one of the films – here's hoping!
Fantastic Beasts: The Crimes of Grindelwald releases in theatres on November 16th. Catch our report from the Art Department with Martin Foley here, our walk through the French Wizarding World sets here, plus interviews with the Prop Department's Pierre Bohanna, director David Yates, producer David Heyman, Eddie Redmayne (Newt Scamander), Ezra Miller (Credence Barebone), and costume designer Colleen Atwood.
Leaky would like to thank Warner Bros for this exclusive coverage of yet another instalment in J.K. Rowling's Wizarding World, and Callum Turner for generously giving his time to talk to us more about 'Crimes of Grindelwald'!