'Fantastic Beasts: The Crimes of Grindelwald' Set Report #4: Interview with Director David Yates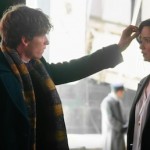 Aug 23, 2018
The Leaky Cauldron were lucky enough to visit the Leavesden set of Fantastic Beasts: The Crimes of Grindelwald last year, and came across David Yates whilst walking the outdoor sets and exploring the French equivalent of Diagon Alley. It was a magical moment, as we weren't expecting to catch him between shoots, let along in a small corner of the French wizarding world! Learning more about the genres we see in Crimes, the characters (new and old alike!), the inclusion of Hogwarts in the film, and his thoughts on Jude Law as Albus Dumbledore, Yates provides us with an exclusive whirlwind tour of the next Fantastic Beasts film…
Fantastic Beasts: The Crimes of Grindelwald Set Report Links
Art Department & Plot Run-Through with Martin Foley   |  Walking the French Wizarding World: French Diagon Alley & the French Ministry   |   Props Department with Pierre Bohanna    |    Interview with Director David Yates    |    Interview with Producer David Heyman    |     Interview with Eddie Redmayne (Newt Scamander)    | Interview with Callum Turner (Theseus Scamander)    |    Interview with Ezra Miller (Credence Barebone)    |    Interview with Costume Designer Colleen Atwood    |     The Magical Creatures of Crimes of Grindelwald    |    Character Profiles: Trouble in Paris
---
Yates begins by exploring the complex narrative they're telling in this series. In Crimes, we're expecting to see not only how Jacob and Queenie, and Tina and Newt are faring after Fantastic Beasts and Where to Find Them, but also gain more of an insight into Grindelwald's rise to power, and how Dumbledore uses Newt to achieve these means (more on Dumbledore as chess master in our visit to the Art Department with Supervising Art Director, here). Bringing these stories together, according to David Yates, will result in a different tone in Crimes to what we've seen before in J.K. Rowling's wizarding world:
"The script is a very interesting synthesis between a sort of political thriller and love story. So it's a sort of fusion of genres, if you like, which I think makes it quite unique in this series of films that we've been making based on her work. You know, certainly beyond the Potter books, now she's writing these screenplays, if you like, from scratch, originally for the theater, for the cinema. So she's come out with this very original kind of melody, which is- fundamentally, it's a kind of love story, but it has a really interesting thriller-esque sort of vibe to it as well."
You may remember that Yates previously described Rowling's work on Fantastic Beasts as a 'melody' of sorts in our interview with him for the first Fantastic Beasts film, and it's this comparison which makes us all the more intrigued. We're given more of an idea of the natural ability Rowling has to weave not just a novel, not just a script, but a story in his vivid description of the underlying themes of her Wizarding World stories:
"The thing about her books and the thing about the movies, they're always very generous. You know, they combined a number of genres. In one way, they're funny, they're emotional, they have a fantastical element, obviously. They can be quite dramatic. This movie is no exception. It's a really rich meal. It's full of different textures and tones and the challenge always is to combine all of those textures into one. Jo starts up brilliantly with the way she lays out the script."
Speaking on the political undertones in Crimes, and (bearing in mind that these films are set in the 1920s), its subtle connections to the modern world, Yates says that whilst the themes and world are 'timeless', there's a celebration of tolerance and diversity in Jo's work that runs through these films, as well as agendas playing on people's fears, which tie into the world of today:
"If you're making a movie, ultimately, you can't help but be sensitive to the world in which you create it. It influences you every single day, influenced Jo when she was writing the script, influences us as we put the whole story together. We're alive to what's happening in the bigger world, but the themes, I think, are kind of universal and archetypal and timeless, which is ultimately, rather than a direct political sort of counterpoint or context, it's really about the values of tolerance and understanding, and a celebration of diversity.
"They're the ideas, I think, that run right through a lot of Jo's work, and the values that we explore in this film and the things that challenge those values and undermine those values, the promotion of fear, and the promotion of persecution of Otherness, you know, but those things go through history. They're not just relevant to now. What's slightly scary is they're becoming more relevant now.
"What's wonderful is that, you know, we're making a movie that will be seen by millions of people and millions of young people, and we're making a story that celebrates tolerance, acceptance of the other, and sort of be cynical when people pretend they have all the answers at a simplistic level, because they probably don't."
Through his answer, we start to get more of an idea of the kinds of messages Grindelwald will be sending at his rallies. Given his promotion of committing horrific acts for 'The Greater Good', and Johnny Depp's creepy in-character speech as Gellert Grindelwald at San Diego Comic Con (which you can find below), we're not surprised!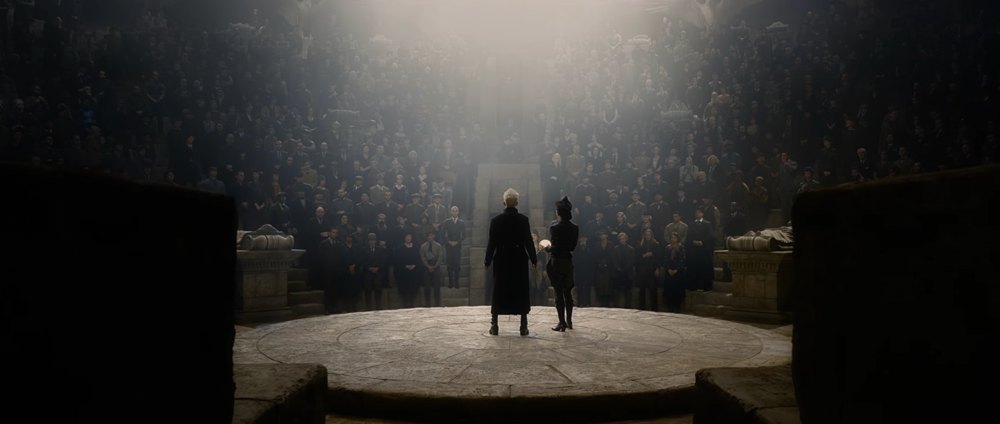 "The time has come for us to rise up and take our rightful place in the world"
We'll head back to familiar settings such as Hogwarts in this movie, and once again visit MACUSA, and meet familiar characters such as Flamel, but J.K. Rowling will not, Yates says, be moving backwards. Echoes of past (or… future?) storylines and characters will ultimately serve the story, rather than be for pure audience reaction:
"That's what really excites [Jo], is not looking backwards, is actually realizing that you thought this world went this far and, no, it goes this far and this far and this far. And so I don't think she's really interested in repeating herself or leaning too much on the past. There is no desire to go backwards. Uh.. unless it really serves function, the function of the story and character.
These stories, ultimately, are about "striking something new" rather than being a pure nostalgia trip, and Yates shares some of Jo's thoughts on this from her set visit, which – sadly for us – occurred just a couple of weeks prior to our set visit:
"Honestly, fundamentally, it's always about striking something new, and those things that are familiar, they're a part of what we're doing, but it's not really where I think Jo's or my or any of our interests really lie, ultimately. I mean, going back to Hogwarts is a very important function of this story, not a sort of way of appeasing the nostalgia factor of the series. Jo, when she was here a couple of weeks ago, said it constantly surprises her as she writes how she feels like she's knocking down the walls of this world to break into new territory."
On whether the return to Hogwarts was planned from the initial concept of Fantastic Beasts, Yates said this decision actually came as a result of wanting to give 1920s Dumbledore a proper introduction, and more of an idea of what to expect from the Hogwarts flashback scenes:
"It was something that evolved in the developing process. Because we were introducing Dumbledore, it felt right to bring that world back into this one. We're there very briefly. You know, right in the middle of the movie, we go back for about 10 minutes to Hogwarts, and see it in 1927. It was a very organic natural part of the development process that took us back there."
Breaking new grounds in the wizarding world cinematic universe, and as a director, Yates once again stress that Crimes of Grindelwald will be a love story, and more 'grown up' and 'sensual' than the Potter stories. A 'multi-character' narrative will follow 'a series of couplets'… and suddenly Dan Fogler's comparison of J.K. Rowling to Shakespeare at LeakyCon makes even more sense!
"In terms of the context of Jo's universe, this is a much more sensual film. We didn't really have sensuality or sexuality in any of the Potters or even the first Fantastic Beasts. We had these grown-ups, but ultimately, these grown-ups are really like big kids in a grown-up world. This is a slightly more sensual film, because it is a love story. There's a sense of sensuality between the characters, which is lovely, actually. It feels like everything's growing up and getting a bit more sophisticated."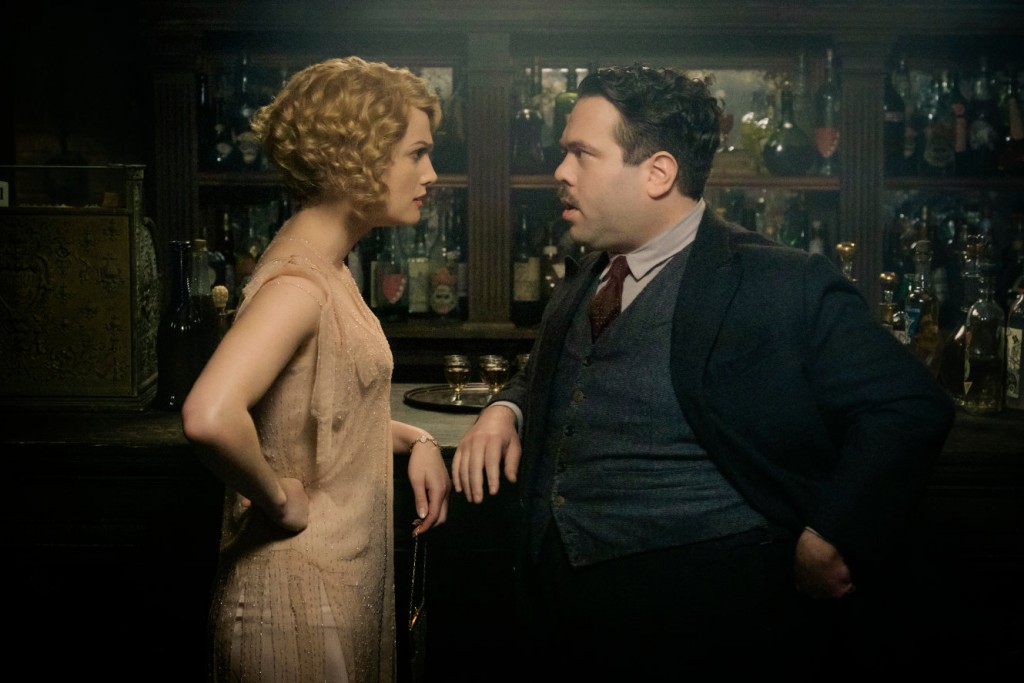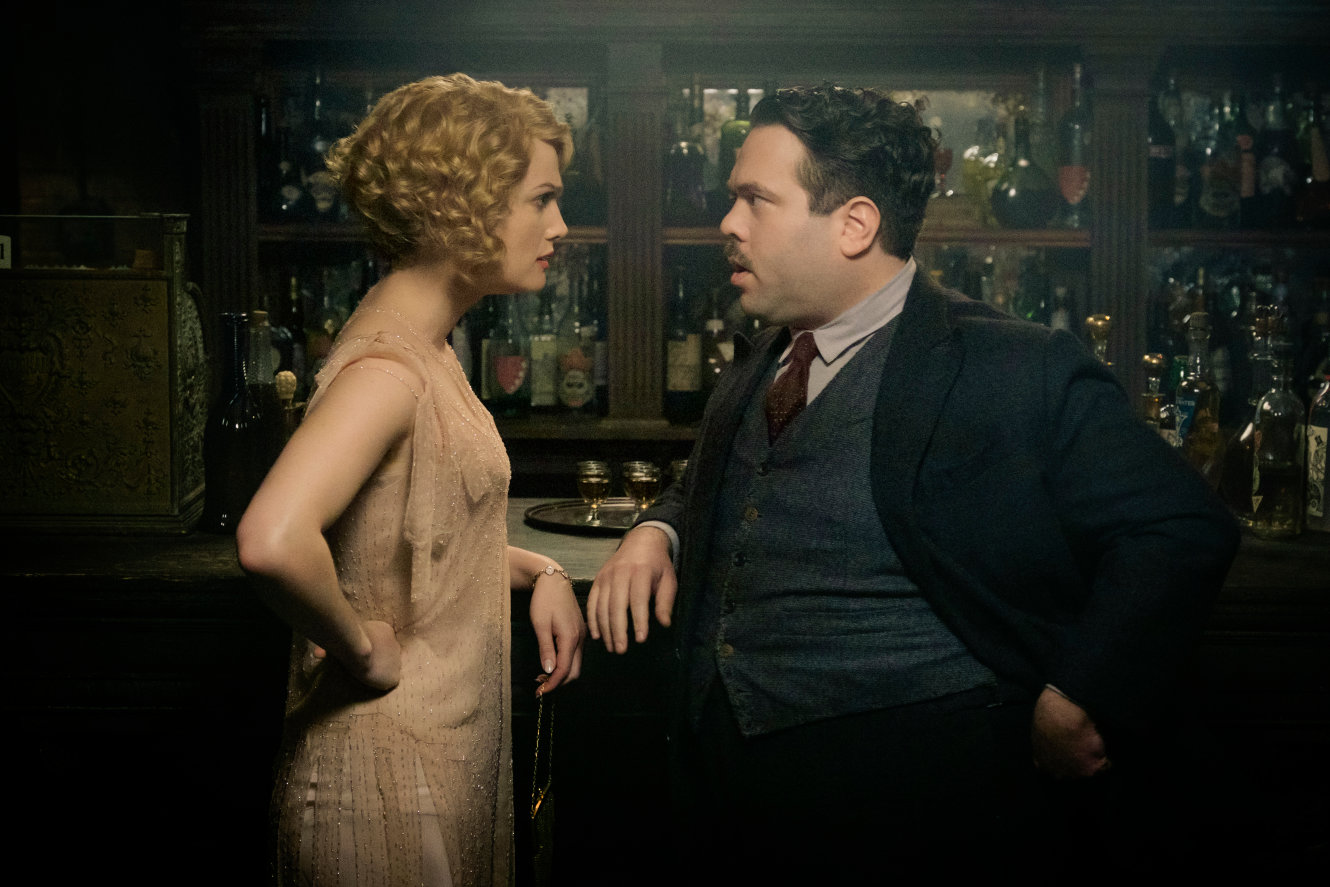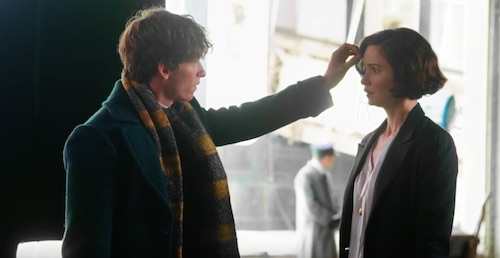 "This is a little bit more political with a small p than perhaps the others. What we've done more than any of the others is this is very much a multi-character narrative. We're following a lot of characters all at the same time, it's a series of couplets. It's a series of love stories, really. It's a series of people– and really, the central theme is, you know, falling in love, falling out of love, falling in love with an ideology, being drawn into love, being corrupted by love. It's really– it all circles around that central premise of love, I think."
Now onto a character we all want to know more about (and thankfully, this film will begin to tell his tale more thoroughly!): Albus Dumbledore. On how Jude Law's presence as such a core character from the Potter series shifted the dynamic between the main characters, and how that's changed the feel of the second movie compared to the first, it appears we'll be seeing more of that twinkle in Dumbledore's eye in these films: Jude Law's Dumbledore is "quite a rebel", and also quite the manipulator – a sentiment we repeatedly heard on this visit. All those times Dumbledore manipulated Harry into playing his role as "The Chosen One" appear to be repeats of Dumbledore's use of Newt in his fight against Grindelwald:
"We're seeing Dumbledore as a young man and Dumbledore as a young man's quite a rebel. He's quite complicated. He's far from perfect. He's a inspiring teacher – all the pupils love him. But as ever, being Dumbledore, he's a wonderful manipulator and he has this incredible ability to sort of maneuver people into situations that they may not want to be maneuvered into.
"Jude brings this amazing freshness and sexiness and sensuality and sort of wit and charisma to the role. It's actually really wonderful to see this character as a young man and with Jude playing him. He's doing a really wonderful job."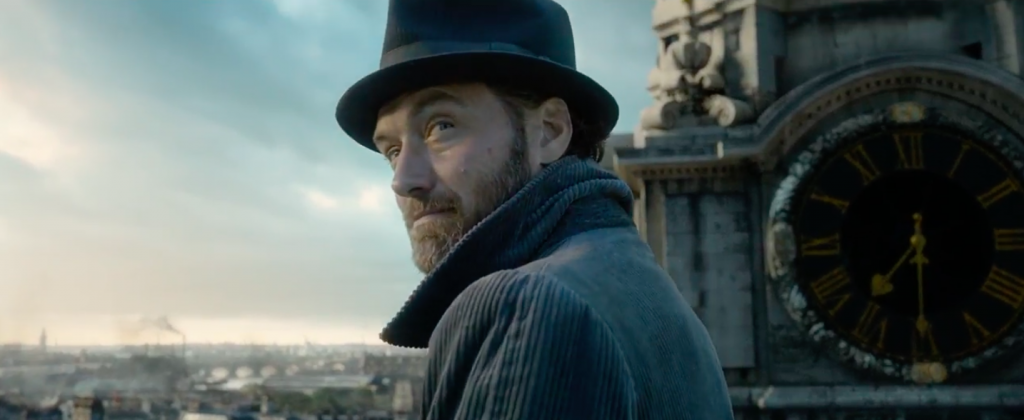 We're particularly interested to see how this scene with the Mirror of Erised ties into what we know about Dumbledore's love and admiration for Grindelwald, and how this influences Dumbledore throughout his mission, leading eventually to his duel with him in 1945.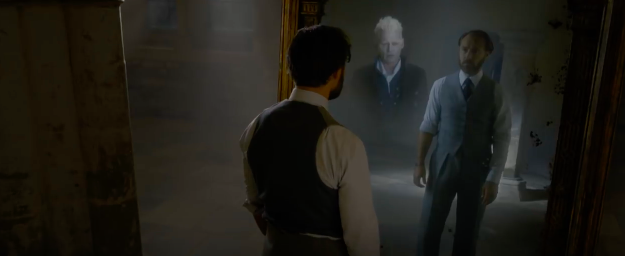 We'd been hearing a lot about Yusuf Kama (part of Circus Arcanus, somehow related to Leta Lestrange's mother, Laurena Kama, and also, that means, to Credence – see more in our previous report here) throughout the day. Yates told us more about his character when questioned:
"Yes. Who is Kama? Kama's a wizard who has a mission and he needs to fulfill that mission within this story. He has a kind of tragic past and a wonderful actor we've got playing him called William Nadylam."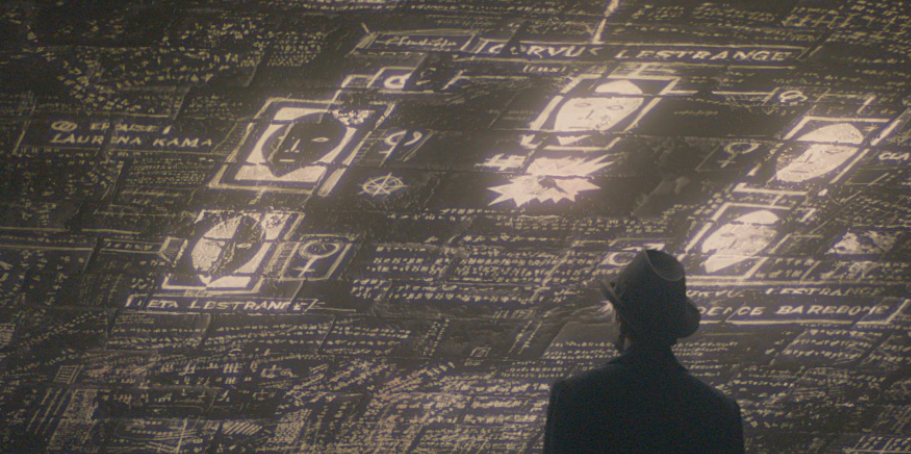 As for locations in Fantastic Beasts, Brazilian fansite Potterish wanted to know if there was any chance we can see Brazil or Latin America in the series – Yates didn't answer directly, but did give us the exciting answer that the movies will 'probably go all over the world':
"Do you know, at some point the movies are going to probably go all over the world. I know for a fact where the third movie's going and it's– it was spreading wider than– so we started in America. We came back to England. We're in Paris."
Given that J.K. Rowling just recently tweeted, suggesting that Newt could get there soon enough, if we 'give him time', we're rooting for a journey to Latin America – surely Newt could at least find reason to visit the Amazon Rainforest!
Newt's still got three movies after this one… give him time. #FantasticBeasts https://t.co/BzRBlEXtwM

— J.K. Rowling (@jk_rowling) August 16, 2018
We learned some exciting tidbits about Crimes in this interview with Yates, and continued to delve deeper into learning about Crimes of Grindelwald – catch our report from the Art Department with Martin Foley here, interviews with the Prop Department's Pierre Bohanna and producer David Heyman, and stay posted for coverage of  interviews with Eddie Redmayne (Newt Scamander), Callum Turner (Theseus Scamander), Ezra Miller (Credence Barebone), and costume designer Colleen Atwood!
Leaky would like to thank Warner Bros for this exclusive coverage of yet another instalment in J.K. Rowling's Wizarding World, and also David Yates for taking a break from shooting to talk to us more about 'Crimes of Grindelwald'!