Magical moving wizard photos are here!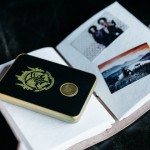 Oct 02, 2018
In June, Leaky announced that wizard photos were now a real thing, and would be available in the fall.  THEY'RE HERE!!!
Sorry for shouting, but we are VERY excited about this magic.  The Lifeprint Harry Potter Magic Photo and Video Printer is available to purchase today and it enables everyone—wizard, witch, and Muggle—to print moving wizard photos without the special developing solution that Colin Creevey learned about at Hogwarts.  Perhaps your potion skills were never your greatest talent, or maybe it's just not practical for you to get to Diagon Alley to buy the potion ingredients, whatever the reason, you can now print magic moving photos with a handy portable printer that is Harry Potter-branded and no bigger than an external hard drive.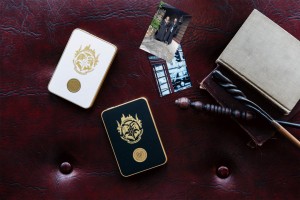 This magic came out of a collaboration between Warner Bros. Consumer Products and Lifeprint Products, Inc., creator of the Augmented Reality Hyperphoto.  Leaky explained how the technology works in our teaser post back in June:
1) You download the free Potter-themed app from Lifeprint on your phone.
2) You shoot a video via the app.
3) You print a photo (it looks like a still from your video) on the magic printer.
4) You look at your photo through the app on your phone.
5) The phone plays the video so it looks like the picture is moving.
And it totally does!  You can view a sample here: Hogwarts Express.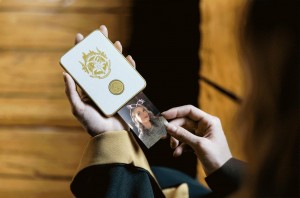 The printer can print videos from Snapchat, Facebook, Instagram, Apple Live Photos, and even Animated GIFs. The app is compatible with both iPhone and Android.
You can add Potteresque facial filters to your photos, see how you look in a pair of Luna's Spectraspecs, a Death Eater mask, sporting Mad-Eye Moody's magic eye or Harry's scar, or show your Hogwarts spirit by donning your house scarf.
There are also stickers.  These are so fun!   You can decorate your photos with a Golden Snitch, an owl, or even a Dark Mark, if you are so inclined.
The photo itself prints on 2″ x 3″ sticky-backed paper so you can affix it to any surface without having to remember a sticking charm.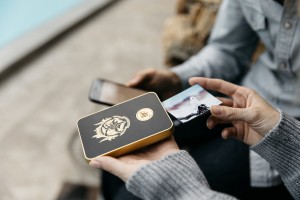 The printer comes with a supply of printing paper and you'll be able to buy more wherever the printer is sold. There is no ink to hassle with, thank goodness, and the printer is guaranteed for at least 2,000 photos. It's available in both black and white with elegant gold detail.  It would not look out of place in Dumbledore's office.
Hogwarts House medallions are included so you can customize your printer to identify as Gryffindor, Hufflepuff, Ravenclaw, or Slytherin, or just use the HP logo.
When you download the Harry Potter-themed Lifeprint app, you will get to identify your Hogwarts house.  Each of the four houses has its own virtual common room where you can browse, connect, and share photos with other house members from around the world.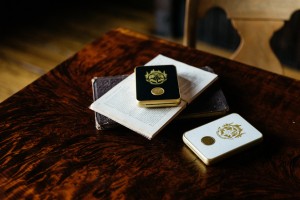 The Lifeprint Harry Potter Photo and Video Printer is available for pre-order on Amazon.com now. Priced at $149.99, the printer will become available from select retailers in store and online nationwide beginning October 15th.
Share your moving wizard photos with Leaky using hashtag #WizardPhotos