The Protego Foundation Announce New Fantastic Beasts Themed 'Find Dougal' Campaign with Accio! Subscription Box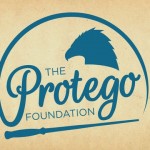 Oct 07, 2018
Harry Potter inspired animal rights non-profit  The Protego Foundation recently announced a new campaign supporting Save The Chimps, and an exciting collaboration with Accio! subscription box coming this November. The Find Dougal campaign will raise funds for a sanctuary in Florida working to rescue chimpanzees – listed as an endangered species by the IUCN. Accio! subscription box are contributing to this campaign by offering Harry Potter fans the chance to get involved, get their hands on some exclusive items, and possibly even win a signed photo of Luna Lovegood herself, Evanna Lynch!
Dougal is, of course, one of the magical creatures living in Newt Scamander's suitcase – an intelligent Demiguise rescued by Newt (with a particular soft spot for Jacob – he was Dan Fogler's favorite creature in the first film!). The Protego Foundation is using Dougal as the focus of their next campaign to help raise awareness of the plight of chimpanzees, often taken from the wild and sold as pets, forced to undergo experimentation or exploited for human entertainment. It doesn't take Dougal the Demiguise's magical powers of foresight to see the harmful effects of animal exploitation, or how real the danger of extinction is if we don't take action to save the chimps. We share 98.8% DNA with chimpanzees, and it's up to us to keep them safe.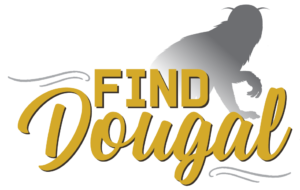 One such organisation helping to rescue chimpanzees from exploitative practices is Save The Chimps, the focus of The Protego Foundation's latest campaign. Their mission is summarised as follows:
"When Newt Scamander came to New York, he had to find and rescue the magical creatures who escaped from his suitcase-sanctuary before they were hurt by humans—both magic and no-maj. One of the beasts Newt had to find was his Demiguise companion, Dougal. The Protego Foundation's "Find Dougal" campaign, launching at the beginning of November, highlights the plight that chimpanzees face at the hands of humans. The Protego Foundation is working to educate the Wizarding World fandom on how they can use Newt's rescue of Dougal to help chimpanzees in our world. Through a partnership with Save the Chimps, a sanctuary in Florida that rescues chimpanzees from the biomedical, "pet", and entertainment industries, Protego is looking to support the sanctuary by raising money that will go towards lifesaving support for these rescued chimps."
Accio! subscription box were inspired by The Protego Foundation's co-founder, Tylor Starr – cohost of Evanna Lynch's vegan podcast, The Chickpeeps – to make their boxes one hundred percent vegan. To support Protego's latest campaign, Accio! will be donating $2 of their November box, themed 'Magical Creatures and How to Spot Them' to Save the Chimps. Subscribers will receive an exclusive, specially designed campaign item, a collectible item, AND a mystery item:
"In partnership with Protego, $2 from every Magical Creatures box we sell will be donated to Save the Chimps to help them with the cost of caring for the nearly 250 chimps in their charge. If we sell out (and we anticipate that we will!), that will mean a $1000 donation to Save the Chimps!
Each box will contain an exclusive campaign item designed in collaboration with the Protego Foundation, which you won't be able to get anywhere else! You'll also find another collectible item with a unique variant that you can only get in this box, and a third mystery item that will be one of four exclusive designs created just for us!"
A few lucky subscribers will be selected (at random, of course) to receive a signed photograph with vegan activist, Harry Potter's Evanna Lynch!
We've partnered with @TheAccioBox to raise money for @SaveTheChimps with our #FindDougal campaign coming in November! Every #HarryPotter-inspired box sold will have $2 donated to Save The Chimps, & you might get a signed photo from @Evy_Lynch!

ACCIO!: https://t.co/bRSF3yiclt pic.twitter.com/TyTuZpI3pt

— Protego Foundation (@ProtegoFDN) October 5, 2018
Each Accio! box is priced at $39.99 month-to-month or up to 20% cheaper with a multiple-month package deal. Currently Accio! only ship to the U.S. and Canada, but there are still a few days left to get some perks from The Protego Foundation's fundraiser, which ships worldwide. Be quick, and you could get a signed wand, t-shirts, a Fwooper cat toy, or other great perks!
To support the campaign and receive these exclusive items, subscribe to Accio – and be sure to share your support for this campaign with Accio! and The Protego Foundation!
More information on the campaign is expected to be announced nearer to the November launch, so stay posted!