Win tickets to UK premiere of "Fantastic Beasts: The Crimes of Grindelwald"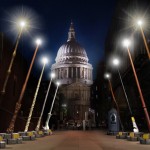 Oct 14, 2018
Are you a morning wizard? Do you believe the early witch gets the wand? If you can get yourself to the walkway between Millennium Bridge and St. Paul's Cathedral in London on Thursday, October 18, at 6am (yeah, you read that right) via apparition, floo powder, broom, thestrals, flying carpet, or traveling incognito on various forms of Muggle transport, you could win a pair of tickets to the UK premiere of Fantastic Beasts: The Crimes of Grindelwald.
Leaky has already written about the forthcoming installation of nine 15-foot character wands that will illuminate the walkway from October 18 – November 13 to raise awareness of J.K. Rowling's international children's charity Lumos.  Fantastic Beasts: Wizarding World Wands supporting Lumos will set Peter's Hill aglow every night from 6:45pm – 10:45pm, with a musical display every 30 minutes. (Did you catch Leaky's piece on the release of some tracks from the Crimes of Grindelwald soundtrack?)
When the installation officially launches at 6am on Thursday, October 18, the Grenadier Guards will perform a live rendition of music from the Harry Potter and Fantastic Beasts films.
Lumos has just released a limited edition Newt Scamander pin badge that will be on sale at the installation.  Once you've bought your pin, you can fill out a form to enter a drawing to win tickets to the premiere.
Bring your own wand with you as well:  There will be wand training sessions for you to participate in.
The launch of the installation will also kick-off a series of fan events leading up to the release of Fantastic Beasts: The Crimes of Grindelwald dubbed "Wizarding Wednesdays" (even though this first event is on a Thursday).  Check here for details of upcoming events.