New 'Fantastic Beasts: Crimes of Grindelwald' Tracks Debut!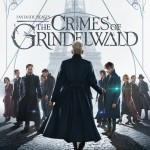 Oct 12, 2018
Salamander's Eyes and Fantastic Beasts: The Crimes of Grindelwald, new music from the Crimes of Grindelwald soundtrack by James Newton Howard, made their debut today, and it's got us super excited for next month. The track list is also circulating online, but BE WARNED – it contains some hefty spoilers!
**UPDATE: Tracks are now available on YouTube, and the full setlist has been posted by Pottermore! Links at the end of this piece!**
The tracks can be listened to via spotify, below (and downloaded via Amazon). Unfortunately it appears they're only available in the U.S. currently:
Look out for more updates, coming soon!
Previously Tessa Netting posted a preview of the music at an exclusive listening event:
Here's another lil snippet ✨ For more behind the scenes from this incredible day check out me and @BrizzyVoices's Instagram stories! #FantasticBeasts #CrimesOfGrindelwald #wbsponsored pic.twitter.com/mUXg7QT84C

— SkeleTESSA (@tessanetting) August 29, 2018
A compilation of tracks from the film also released back in August:
The tracks sound just as epic and nostalgic as the first film (but definitely more dramatic and way darker!), and we're super excited to see what this means for the story! Read more about the cast's thoughts on the plot in our set visit reports, and in Entertainment Weekly's latest special issue.
The wand installation by St Paul's Cathedral in London between October 18th and November 12th will also see some of the soundtrack performed live by a marching band (as well as tracks from the Harry Potter films, and from Fantastic Beasts and Where to Find Them) as part of a range of Wizarding Wednesday events.
The list of 25 tracks on the album also made its debut online, but BE WARNED, the list is pretty indicative of the plot! If you'd like to see it, visit Film Music Reporter here (thanks to @FBFilmSeries on Twitter for catching this – !). Notable titles involve a character named Irma (who we saw mentioned in a Parisian set model in the art department on our set visit), a track named 'Blood Pact', and many other tracks which are possibly too spoilerific to discuss – we're particularly excited for Nagini and Dumbledore to get their own tracks!
**UPDATE: Pottermore have now released the final soundtrack details** 
The complete soundtrack – by WaterTower Music, the in-house Warner Bros label – will be available to purchase on November 9th (with the CD releasing on 30th November and vinyl releasing January 2019), and both new tracks are now available to stream on YouTube below:
Three solo piano pieces in the soundtrack aren't heard in the film, which includes the aforementioned 'Dumbledore's Theme', as well as 'Fantastic Beasts Theme' and 'Leta's Theme'. They'll be releasing earlier than the other tracks, on October 26th!
Pottermore also confirmes that "The tracks are currently only available in some formats for US audiences". Visit their piece here for more info, and a quote from composer James Newton Howard!
Stay posted for more updates on the soundtrack, AND the upcoming album The Music of Harry Potter and the Cursed Child by Imogen Heap, which Leaky will be lucky enough to preview at The Palace Theatre in the coming weeks!