Can't wait for "Crimes of Grindelwald" to be released? Grab a Ginger Newt and watch these cast interviews in the meantime.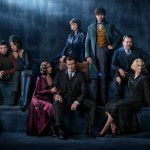 Nov 08, 2018
The Fantastic Beasts: The Crimes of Grindelwald cast has been busy promoting the film in the run-up to its release next week.  Below is a round-up of some of the latest interviews.  What nuggets of interesting info can you mine from them?  They're not giving away any spoilers (and neither are we!) but they're all so excited about the franchise that their enthusiasm does bubble over on occasion when answering questions from interviewers like Ellen or Stephen Colbert.  Tell us what you learned in the comments!
Jude Law on Live with Kelly and Ryan
Did you note that, as Jude Law was walking in past the studio audience, he said "Congratulations!" to a man wearing an NYC Marathon finisher's medal?  The Marathon was held the day before this interview, so lots of proud finishers walking around showing off their medals.  I'm sure the guy was pretty chuffed that he noticed.
Watch Jude Law talk to Kelly and Ryan about jet lag, running up hill, and his meeting with J.K. Rowling over a cup of tea to get Dumbledore backstory—and future story.
New tidbit of info:  Apparently, Dumbledore found out that Credence had survived the attempt to kill in in New York and that he was now in Paris.  We don't yet know how Dumbledore acquired this information, but it doesn't surprise us, does it?  I mean, he's a pretty resourceful and investigative wizard.  He also finds out that Grindelwald is in Paris.  Since, for reasons as yet unknown, Dumbledore can't move against Grindelwald himself, he sends Newt, newly famous due to his book, to Paris to re-capture him.  We knew most of that but the word "re-capture" leaps out.  We knew that Newt was meant to stop Grindelwald but "re-capture" is very specific.

Eddie Redmayne on The Ellen Show
So, Eddie doesn't say much about Newt in this segment, but he does lick some odd things:
In this clip, he wishes for a sleeping spell for his infant son, or at least some gin.
Jude Law on The Late Show with Stephen Colbert
"Yumbledore" sits down in a spiffy Albus-esque velvet suit with Stephen Colbert to snicker about nicknames, and gush that J.K. Rowling is a "phenomenal, formidable, smart, fun woman", which we already knew, describe Dumbledore's relationship with Grindelwald as "intense, intimate, extraordinary and explosive," which we also already knew.  He doesn't give any secrets away.

Alison Sudol and Dan Fogler with ExtraTV at the Fan First Screening at Universal Hollywood
Dan attempts to purloin a wand for his No-Maj self, and Allison talks learning wand technique and her hopes for the future of Jacob and Queenie's forbidden romance.

Eddie Redmayne and Katherine Waterston on Flaawsome Talk
"We are not making streudel anymore."  The battle against dark wizards makes this film darker than the first.  This interview features flashbacks to Redmayne and Waterston promoting the first Fantastic Beasts film, with a bit of disorienting comparison.  Both actors express a lack of enthusiasm for attempting the nausea-inducing rides at the Wizarding World amusement park at Universal Hollywood, which seems apropos with the disjointed interview footage.  They also talk about the pitfalls of social media.  Note that there are links to additional cast interviews; we can't list all of them here or the next film would be out before we get this posted.

Callum Turner, Zoe Kravitz and Claudia Kim with ExtraTV at the Fans First Screening at Universal Hollywood
"When you join this world, you become a part of history.  Jo is a living icon.  It's an honour."  Zoe Kravitz on getting a role in Fantastic Beasts.  Claudia Kim talks working with a contortionist to pull off Nagini's transformations and the perils of walking on the edge of a roof in high heels.  Callum Turner geeks out on Johnny Depp and discusses his resemblance to on-screen brother Eddie Redmayne.
Jude Law on the  Today Show
Playing young Dumbledore, a character we'd already seen in his later years, gave Jude Law an opportunity to play with the layers of his character, exploring his inner turmoil before he had achieved some semblance of serenity.

Eddie Redmayne on the Today Show
Eddie says that "we all turn into schoolchildren" when J.K. Rowling visits the set.  He maintains that he love the Nifflers, despite how mischievous they are, and tells how he had to learn to hold his breath for "hours" for Newt's diving scenes.   Hours?  We suspect some gillyweed may have been involved there.

Jude Law, Katherine Waterston and Eddie Redmayne with ExtraTV at Universal Hollywood
All three actors explain that they feel privileged to have been told inside information from J.K. Rowling about their characters and that, whilst never explicitly sworn to secrecy, they err on the side of caution by not revealing any of this information.  Eddie, however, does let slip a tantalising hint about the film when he tells the story of how he sprained his ankle tripping on set—ironically, he tripped on the mats meant to protect actors from injuries.  As he described the accident, he noted in passing that his face was frostbitten and covered in blood.  Hmmm, why could that be?

Jude Law, Katherine Waterston, Eddie Redmayne with Fox 5 DC
Another little nugget: Dumbledore spent part of his childhood in Ireland, so Jude Law lets a bit of an Irish accent creep into his voice.  Everyone was curious to know how Newt gets in and out of his suitcase, so Eddie Redmayne explained the magic behind that special effect.  Ezra learns that there is a Lego figure of Credence, and Zoe brings her work home with her.

That's it for our video round-up.  There are more interviews out there; if you find them, feel free to share them with and we might put together another collection.
Tomorrow is the world premiere in Paris.  Leaky's senior editor will be there and we'll have live coverage from 11:30am Paris time.