EXCLUSIVE: Interview With Evanna Lynch Ahead of 'Dancing With the Stars' Finale!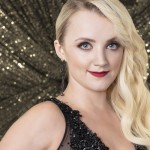 Nov 19, 2018
Evanna Lynch and partner Keo Motsepe are set to compete in the finale of Dancing with the Stars tonight after a whirlwind season of breathtaking dances and incredible scores! Lynch, who is best known to Potter fans for her portrayal of Luna Lovegood in the film adaptations, has long had a close relationship with Leaky and graciously granted an exclusive interview in the lead-up to the final performance.
First, we wanted to know if she plans to continue dancing after the show. She replied:
"Yes, I definitely do. I actually feel I've really rediscovered my love of dance and the joy I get when I'm dancing and how it helps me grow as a person and just, like, really connect to myself in a positive way and my body in a positive way. I feel kind of, I feel somewhat disappointed that I gave it up 10 years ago when I didn't get into dance school and that I let that change my relationship to dance, and now I've gotten confidence back, and I want to reclaim it. Yes, I am also sad that Keo and I will not be dancing together again, but who knows, they sometimes get past contestants back to help out on certain things, and–who knows? I'm sure, he said he'll always help me if I need to learn a dance, so you never know."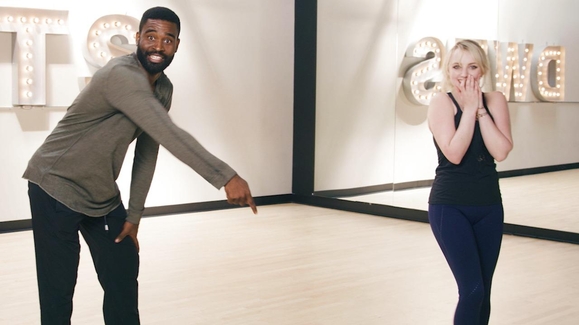 Second, we wanted to know if she's seen "dancing Hermione?" Evanna answered:
"No, I'm afraid I have not, and I would google it right now, but I feel like this will lead me down a terrible YouTube-Potterhead hole that I don't need to go down right now because we have the finale tomorrow. But I will google it as soon as this is over. Sounds like something I would be down with."
Third, we asked if she had plans to have anyone from Dancing with the Stars on Chickpeeps, and she said:
"Yes, actually, I very much do! Nikki Glaser–she, the comedian–amazing woman. She's such a fascinating, funny, kind, lovely person, and she is a vegan as well, and I told her about the podcast, and she's a very passionate vegan, if you follow her on Instagram, her story, she's always talking about this stuff. And I remember one of the first days when we were doing an interview together–well, during the interview on GMA–and somebody said, 'Oh, Nikki's a vegan, too, aren't you?' and she goes, 'Yep, and proud!' And it's like, it was very cool to hear somebody say that and be really outspoken about it. So, yah, she's gonna be on the podcast.

"Who else? Bobby Bones is not vegan, be he agrees with everything we do, he says. I don't know, he went on, he wanted to start a little, one of those debates about plants and what about them having feelings, so I feel like he'd be game to have a vegan debate, but I don't know. That's not–we've never had non-vegans on the show, so anyways, Nikki definitely gonna be on it."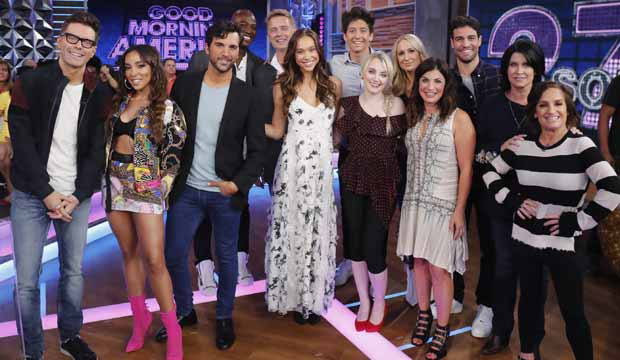 Next, we had to know if anybody at Dancing with the Stars is a big Potter fan! She revealed:
"Yes, actually! Tenoshi, the singer–amazing popstar–she is a big Harry Potter fan, and was actually quite, apparently she was like nervous or, like, excited to meet me, and I was so floored by that because I like her. I discovered her a few years ago and really like her vibe and was kind of star struck about meeting her. So, yah, apparently she is a really big Potter fan. 

"I'm trying to think who else…Keo, not really, but he embraces the Slytherin badge. He loves it. Even though he doesn't really know what Slytherin is, but he kind of, just, understands the Slytherin essence. I think that's it of the cast, the major ones. Everyone else is like, you know, they appreciate it.

"Oh! And also, Bruno is a Harry Potter fan, and it was really funny when I first met him at GMA as well, he was like, he was so friendly and so excited about me being on the show, and he said something like, 'And you got the guy in the end!' And I was like, 'Huh? Oh, he's talking about Neville!' Yah, he was really into that. And I also thought, I remember saying to Keo, 'Oh, Bruno's a Harry Potter fan. We've got this.' And then when we met him again for getting our scores the first day, he was like–poker face. They really, really take their judging role very seriously, but I look forward to being friends and talking Fantastic Beasts things with him after the show maybe."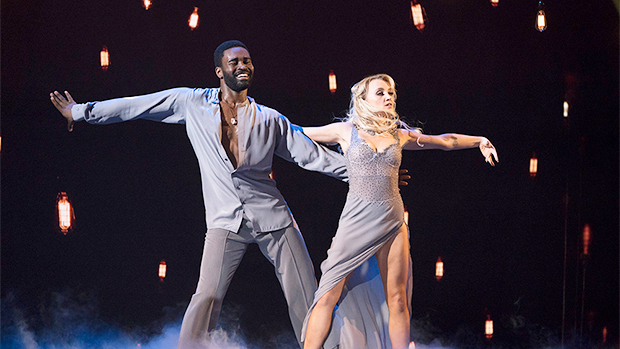 Then we asked Evanna to think about what her time on Dancing with the Stars has taught her about herself. She thoughtfully replied:
"It's taught me–let's see–I think it's taught me that I have a lot of potential that I don't often tap into because I often get caught up in my critical thinking and negative thoughts, and being around Keo, having a partner who's so positive and who works so hard and who has so much confidence–he has bags of confidence–being around him, it made me really change my way of thinking. Of, rather than focusing on anything negative or on what I wasn't doing, he made us focus on the things that we were great at and what was great about our partnership and what was great about our journey, and it made me grow. It made me realize that I have more talents that I haven't nurtured because I was in quite a negative place.

"And then it's also taught me that I am a true introvert because being around people on the show, it's quite stressful being around all the hype and craziness, and I need to go and have quiet time and recharge. And I think, you know, I suppose being on the show and being confronted with that when there's lots of big personalities, big extroverted personalities, I did feel a little bit out of sorts, a fish out of water, and I felt like, 'Oh, I'm never gonna fit in here. What am I gonna do?' Somehow, we're still in the finale! We haven't really had to contort myself into someone different.

"So, yah, I think it taught me that I hadn't accepted myself as fully as I previously thought and that now I've reached another level of being more comfortable, which is interesting because, like, people always tell me, because of having played Luna, that I gave them the confidence to be themselves or to embrace themselves, and I love that, but it's also a continuous journey for me, something that I'm always working on. Yah, this Dancing with the Stars journey showed me that, like, okay, I really need to do what Keo says and be myself and embrace myself and love myself and don't try to be anything else. Those are the things I've learned. Some of them, anyway."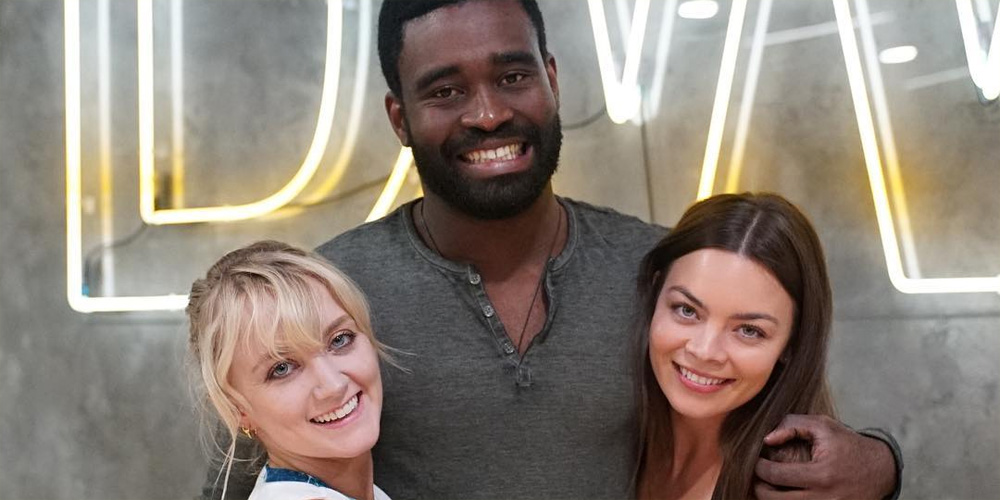 Finally, about Scarlett Byrne. We wanted to know why she chose to bring Scarlett on the show and if she gave her any advice, and Evanna answered:
"I mean, I chose to bring Scarlett because I love her so much. She's one of my best, best friends. She's different to me in many ways. She's very confident, sassy and like, yah, she just doesn't question or second-guess herself, and I love that about her. I love being around her for that reason–and other reasons, of course. But I knew she could handle it, because the thing is, it's not just about the dancing. It's a lot of pressure, the whole show element and being around people all day and the nerves–the nerves!–they get you right before the show. You have no idea. Nobody really shows it but it's a thing. And I knew a lot of my friends would be up for it and find it fun, but they maybe wouldn't be so confident and wouldn't handle the nerves as well. I just had every faith that Scarlett would do a great job, and she's such a kind, generous person that she wouldn't complain about it. I knew she would be happy to support me and Keo, and she did. She totally delivered. She learned the steps super quickly. She worked hard all the time, even though she actually had an injury during rehearsals which wasn't covered on the show, but she, like, soldiered on, and she didn't want to focus on it. Yah, she was absolutely amazing.

"And, yah, I know also that our followers like when we reference Harry Potter when we talk about that stuff so I knew that they would appreciate seeing Scarlett and getting to know her a bit better and seeing what she was like as a dancer. And Keo was all about it. He was like, 'Yes! Ladies! Girl power!' And he really wanted to play up that whole 'girl power' vibe, which we were, like, all about, so, yah, that's how that happened." 
Lynch closed by thanking us for doing the interview and promising to do a video for us on set later today!
Heading into tonight's live finale, remember that the winner of Season 27 will be determined by online-only voting. The live vote will open at the beginning of the broadcast in the ET|CT time zones. (That is, 8 p.m. ET) Voting will remain open until about five minutes after the last dance. Fans can vote at dwtslivevote.com, but you MUST have an ABC account to vote, so register now!