Behind The Magic of 'Fantastic Beasts: The Crimes of Grindelwald' With Graphic Design Duo MinaLima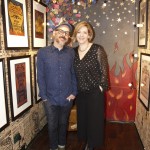 Nov 21, 2018
Being careful not to be seen by muggles, Leaky's reporters ventured through the crowded streets of London and – with the help of a Confundus Charm or two – slipped into the alley behind the Palace Theatre, home to Harry Potter and the Cursed Child. Once again we found ourselves at the colorful and quirky House of MinaLima, the graphic design duo of number twenty-six, Greek Street, who we're proud to say are not perfectly normal, because they've been bringing the wizarding world to life on our screens for almost twenty years!
The House just opened up a brand new gallery unveiling the graphic art of Fantastic Beasts: The Crimes of Grindelwald, and we were lucky enough to attend its press preview event, and had a chat with Miraphora Mina herself about her and Eduardo Lima's work on the latest instalment in J.K. Rowling's cinematic universe. From deleted scenes to their next illustrated classics – we got all the latest from the duo.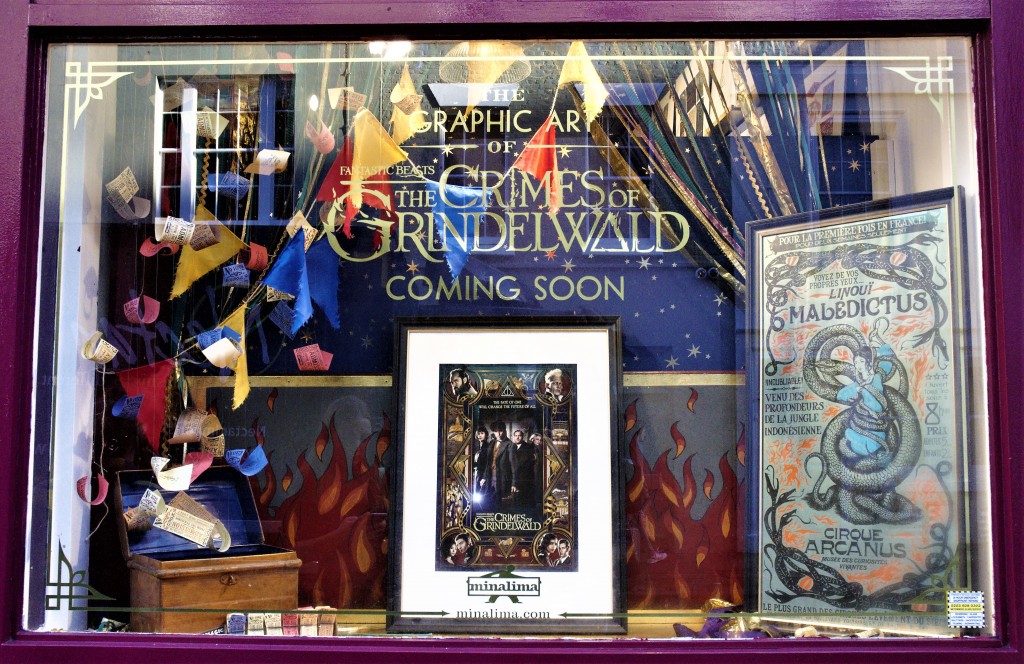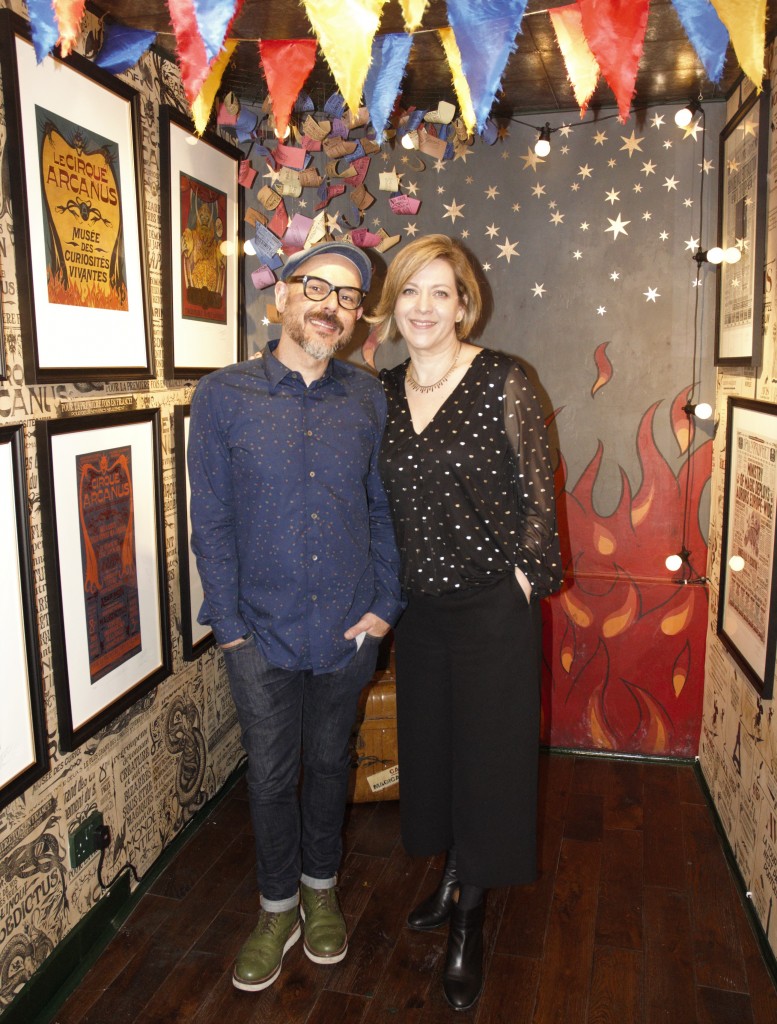 The Gallery

Photo: House of MinaLima
Artwork literally covers the walls in the new Crimes Of Grindelwald gallery – from the gold wallpaper to the Circus Arcanus inspired wallpaper, every inch of the gallery is wonderfully immersive and enchanting: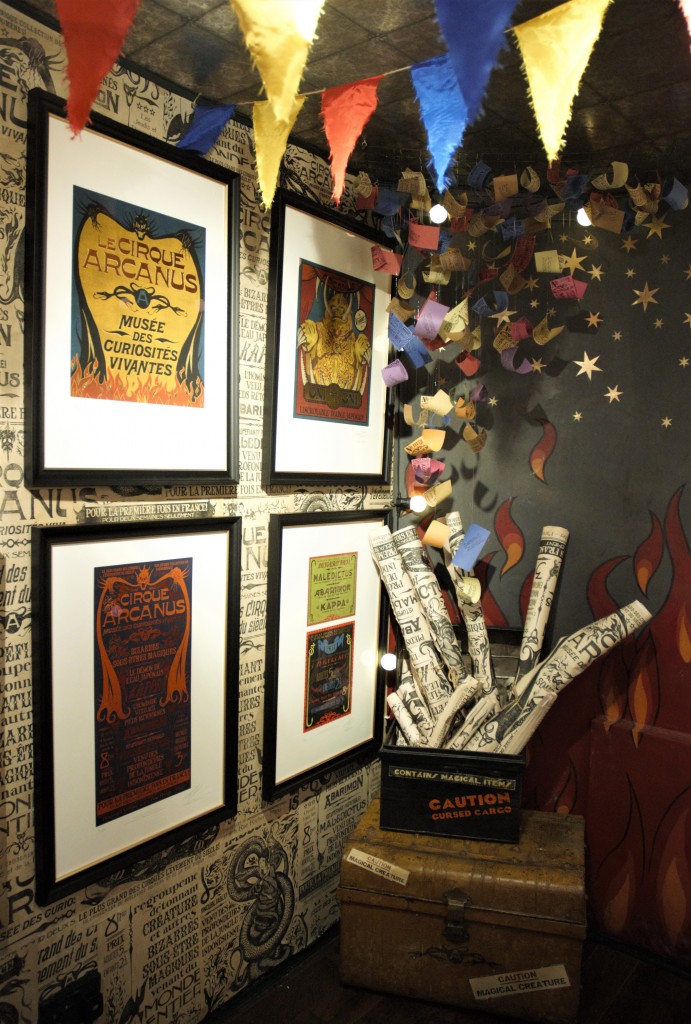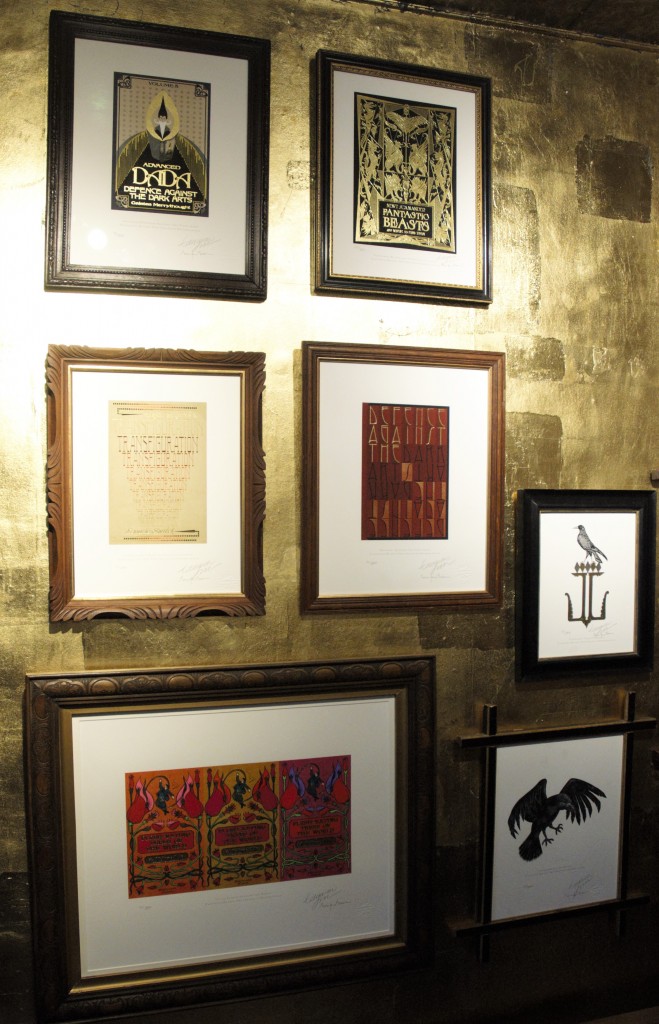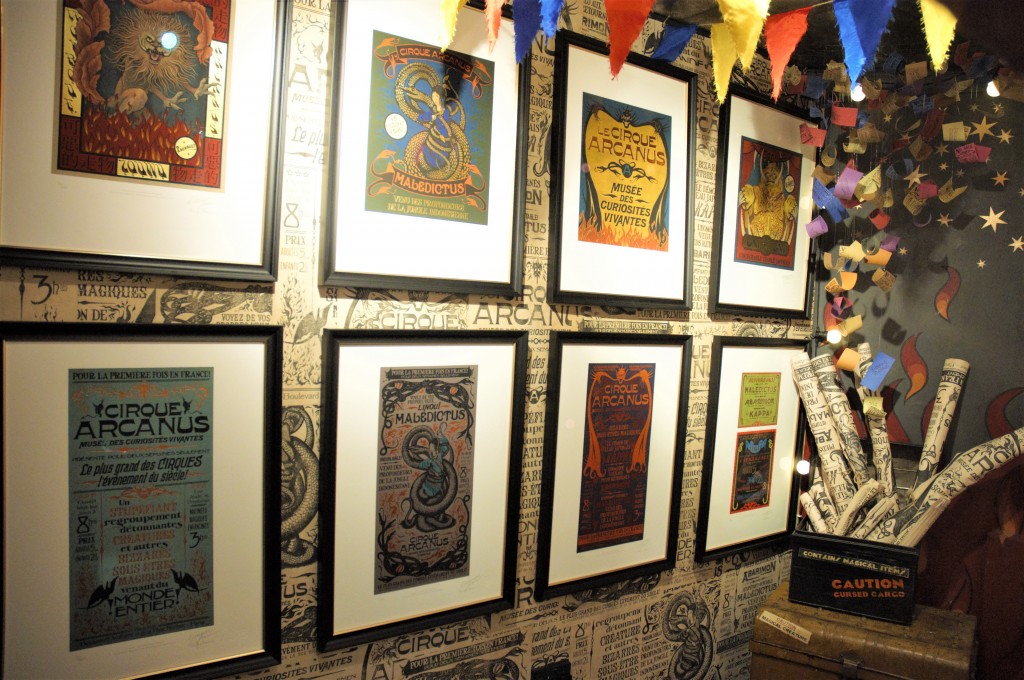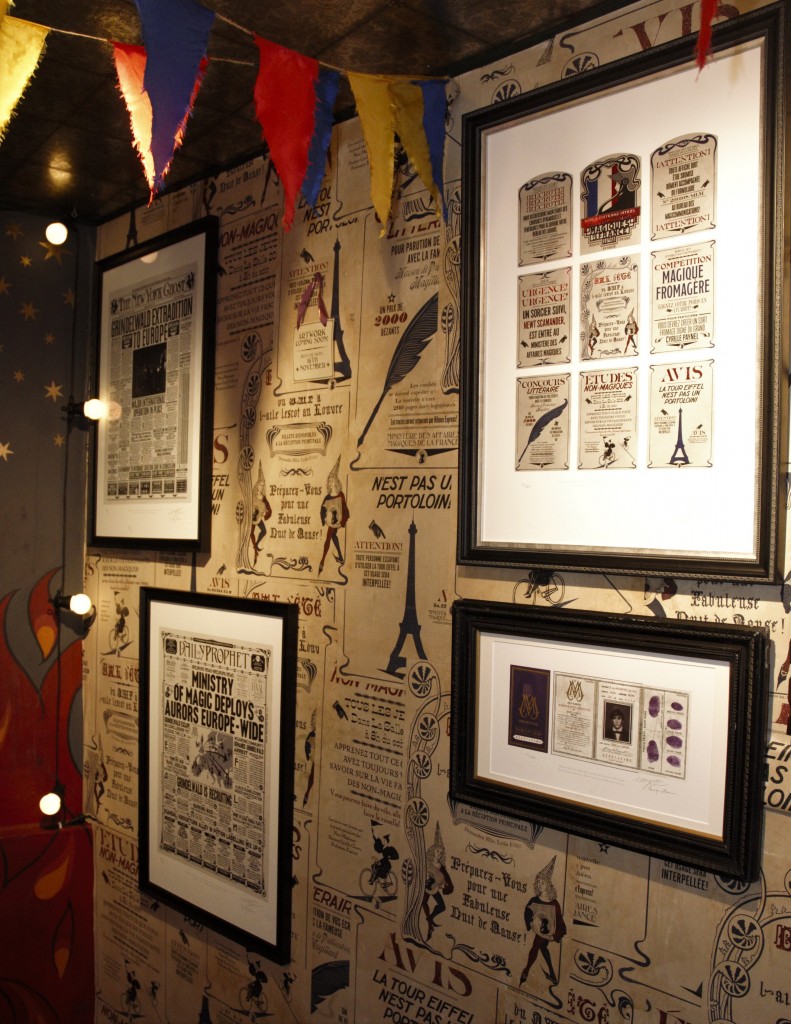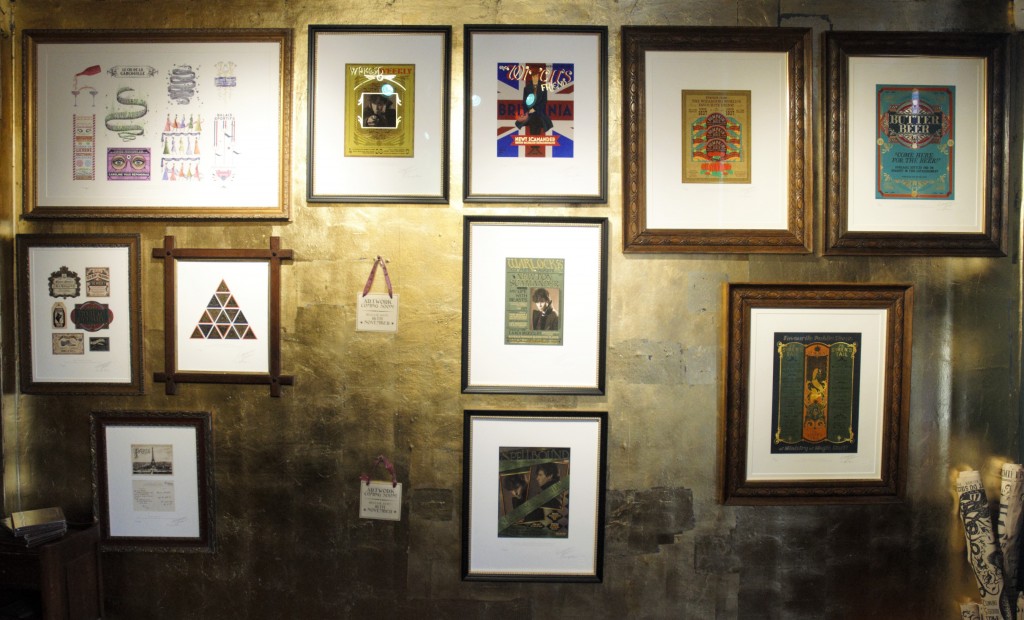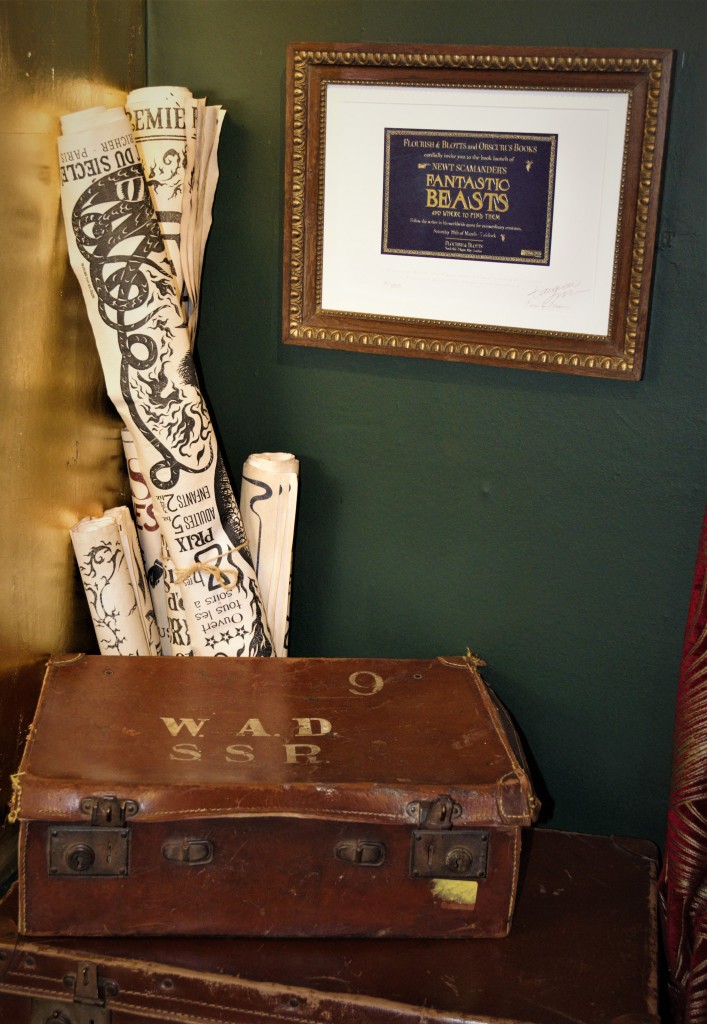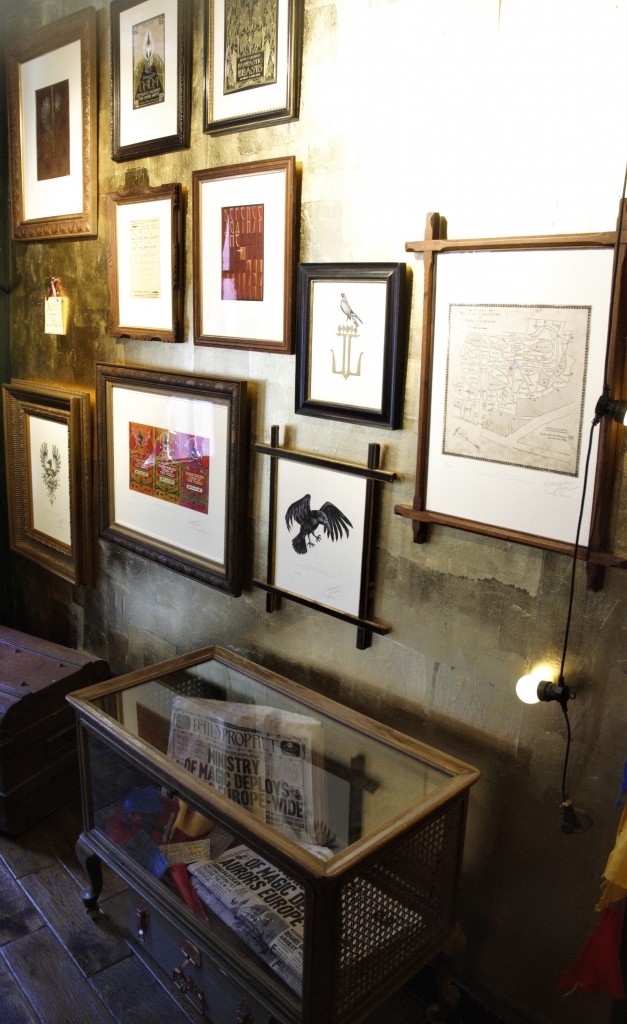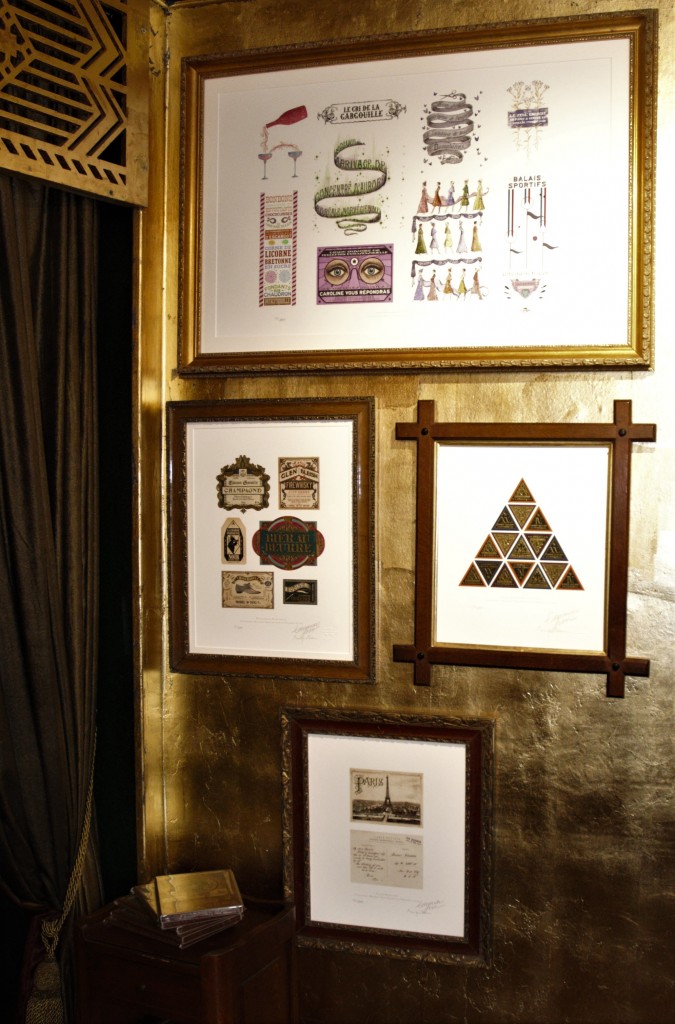 Photos: Jessica Underdown
Set Details and Deleted Scenes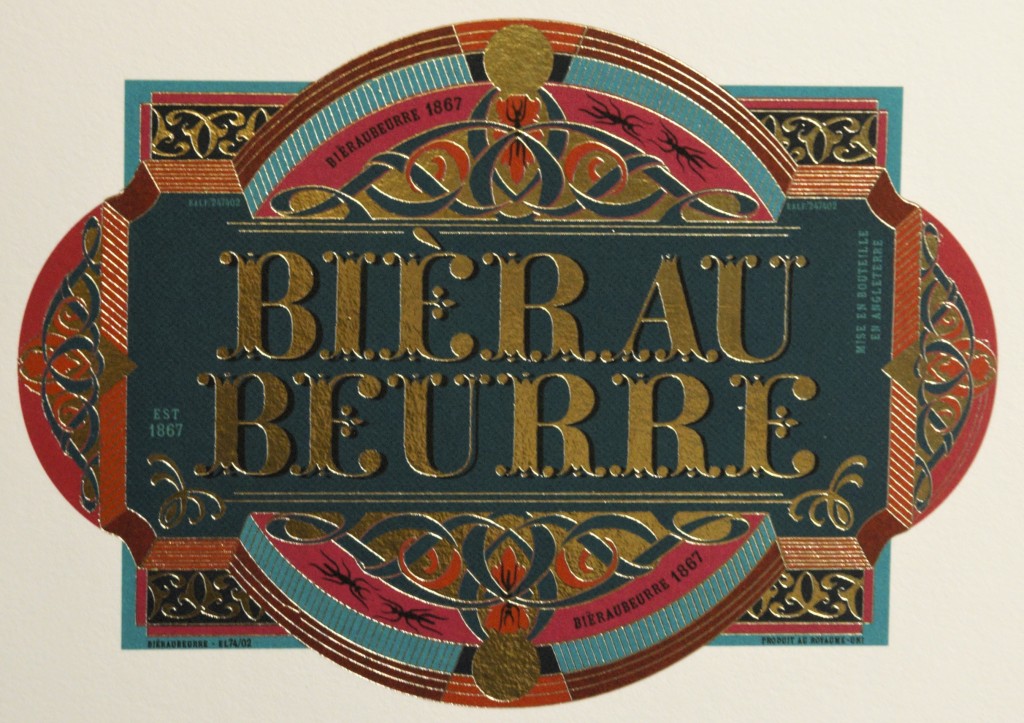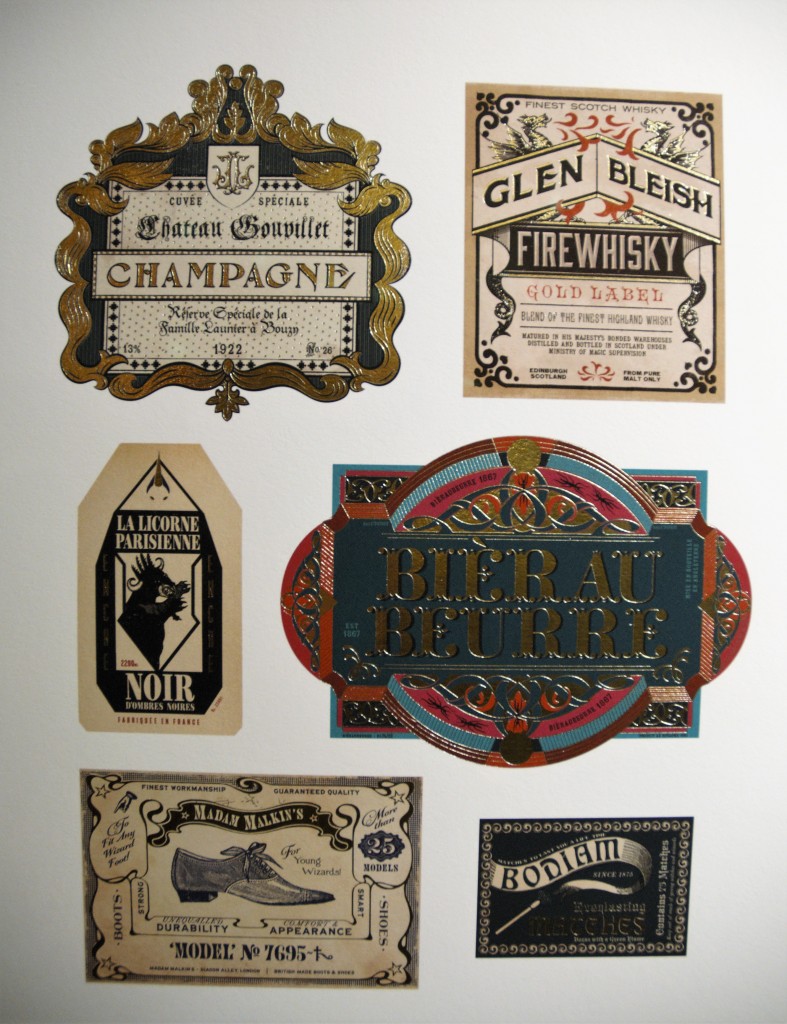 Of course, there were plenty of small details in the film one might miss if you're not looking close enough – the 'Maison Emmelle' (House of Em-Elle, meaning M.L., for MinaLima) seen in one scene with Queenie, for instance, is an Easter Egg they let us in on during our interview with them at the U.K. premiere of the film. This gallery lets you browse advertisements for the Beauxbaton's uniform makers, labels for Pumpkin Juice (The Leaky Cauldron gets a mention!), French Butterbeer, English Butterbeer which we see in Newt's house, and even French wand boxes (from French wand shop, Cosme Acajor)! The details we described in our set visit, where we walked the streets of the French wizarding world, are all seen here, and we're so grateful to get the opportunity to savour each and every piece of work that went into these films.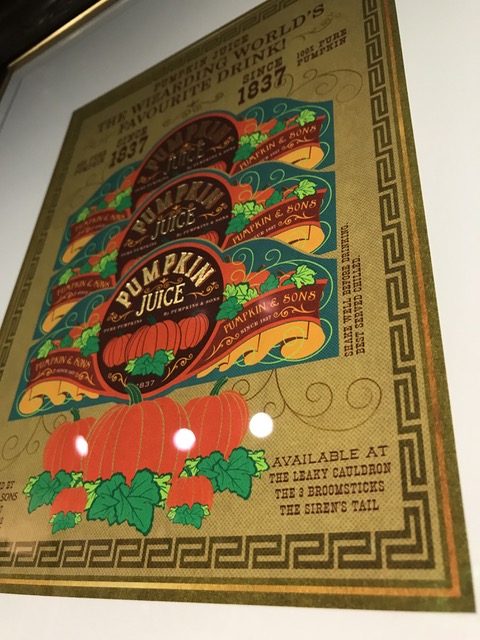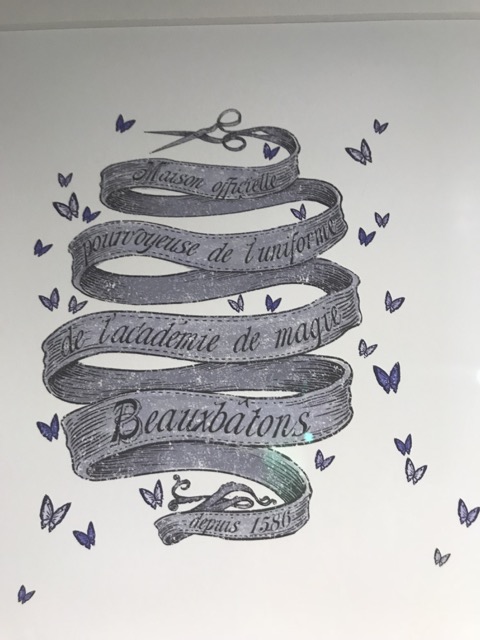 Two prints in particular which didn't make it into the film were actually a part of a set featured in Leaky's set visit. Both are used in a pub called The Siren's Tail, which, after some detective-style scouring, we discovered to be the setting of the scene shown in our exclusive 'behind the scenes' image of David Yates speaking to Eddie Redmayne (Newt Scamander) and Callum Turner (Newt's brother, Theseus). We described the pub in our 'French wizarding world' piece as follows:
"Set designers had managed to create an old bar atmosphere – even down to the smell! Plate were set out on the tables with fake food which looked half-eaten, the room was adorned with old-fashioned lights, complete with 1920s stye table tops and menus with curly Parisian fonts. Better yet, the silvery cash register was super old fashioned – it looked like clockwork!"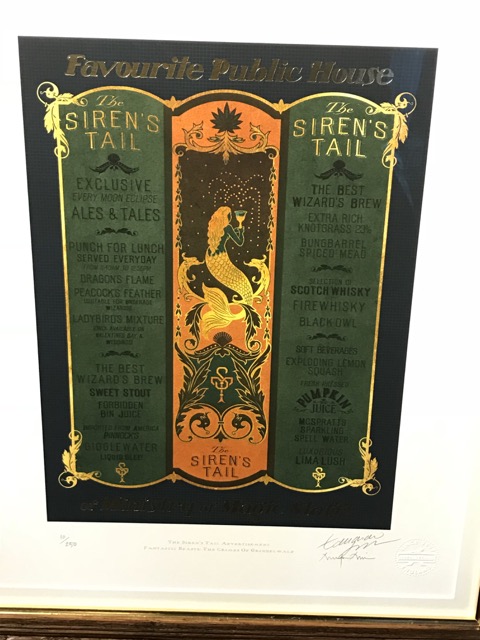 Interestingly, it sounds like the The Siren's Tail was actually supposed to be based in London, as it's the 'favourite public house of Ministry of Magic staff'. Somewhere we know there must have been a scene featuring the brothers in this pub – we hope we get to see it! Take a look below at the image, and at the Siren window print, which you can see in the windows in the background of the image of Yates, Redmayne and Turner: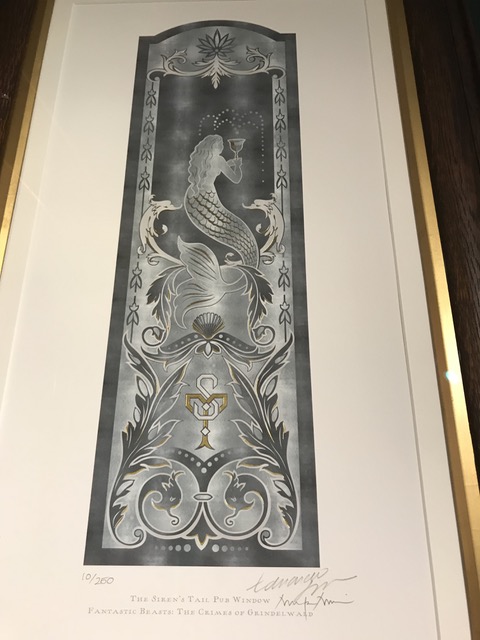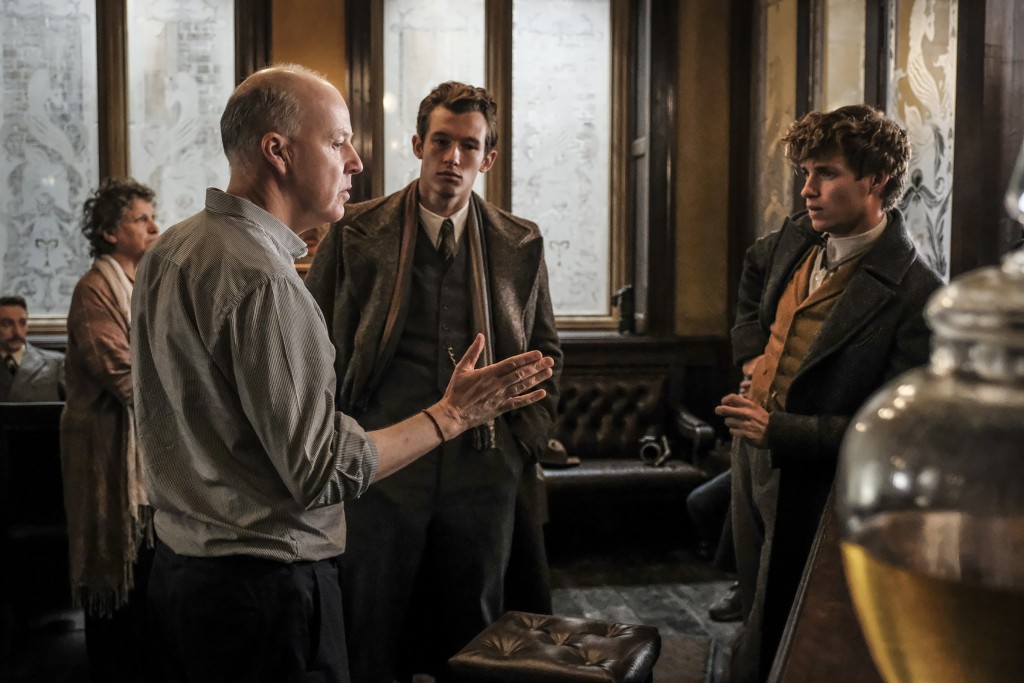 Mira let us into the arduous process of creating this set, specifically the Siren print glass windows, which we suggested would be an amazing addition to the Warner Bros Studio Tour (especially if they add a Fantastic Beasts expansion!). Mira told us that although a lot of their work is cut, they still put in huge amounts of work for each and every piece. The Siren's Tail windows had to be printed and cut onto glass, for instance, and we don't even see them in the films! On who she'd give a shout-out to behind the scenes of the film, Mira says that her and Eduardo both have partners working behind-the-scenes like them, and that the construction crews, costume departments and the entire Art Department all have a huge role to play in bringing us the wizarding world. We agree, though the actors and filmmakers do a wonderful job and giving us great characters and a brilliant story on-screen, it's people like MinaLima behind the scenes who make us feel so at home when watching the films, and it's clear that they're the true wizards!
Publications, Books & Newspapers
Some of the most detailed pieces from MinaLima are their immaculately designed newspapers, which the duo said received a lot of praise from J.K. Rowling herself on the Potter films for their fun headlines and knowledge of the wizarding world. Leaky previously theorised on a couple of these Crimes of Grindelwald newspapers in the past, noting mentions of Hogwarts being on high alert, Gringotts being on lockdown, Grindelwald's arrest, 'How to Identify an Obscurus', mentions of Harry's grandfather, Fleamont Potter, whom we know has the invisibility cloak, and much more – there's even a mention of a three-headed dog on the loose, which may or may not be Fluffy!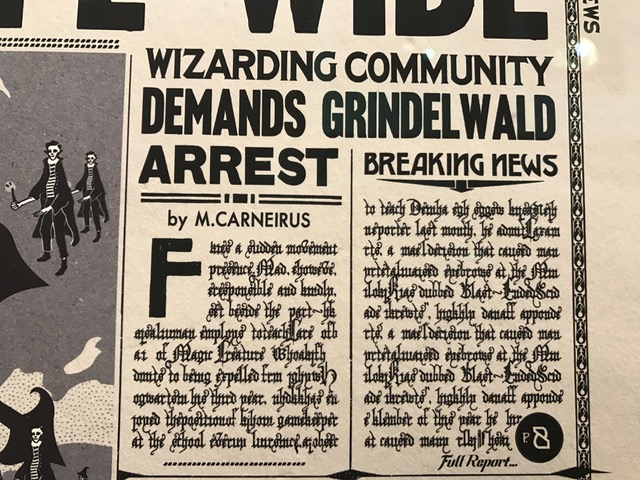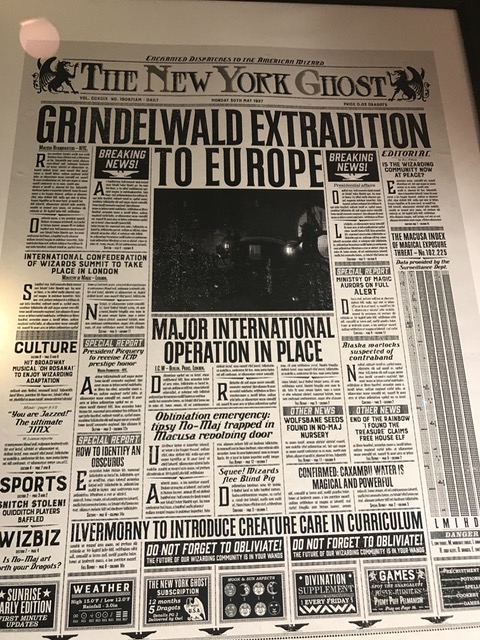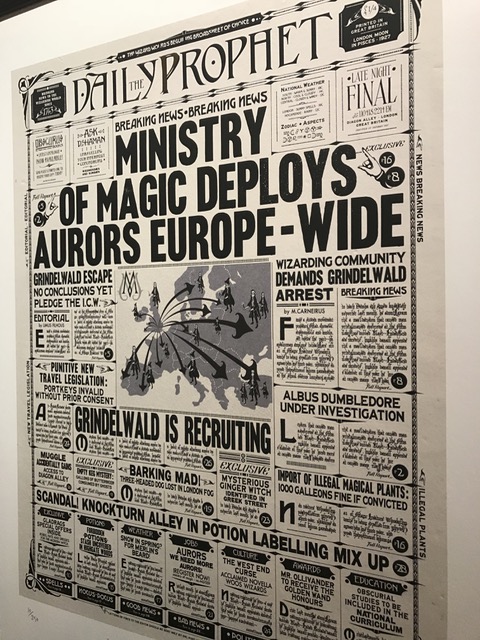 Editions of Witch's Weekly, Warlock's Complete Magazine (which mentions Newt's travels in Brazil and Madagascar), Spellbound, and even first editions of old Hogwarts textbooks lined the walls, and though you can find them all online, it's something else to see them all together in one room! Check out a mention of Fleamont Potter on this Spellbound cover.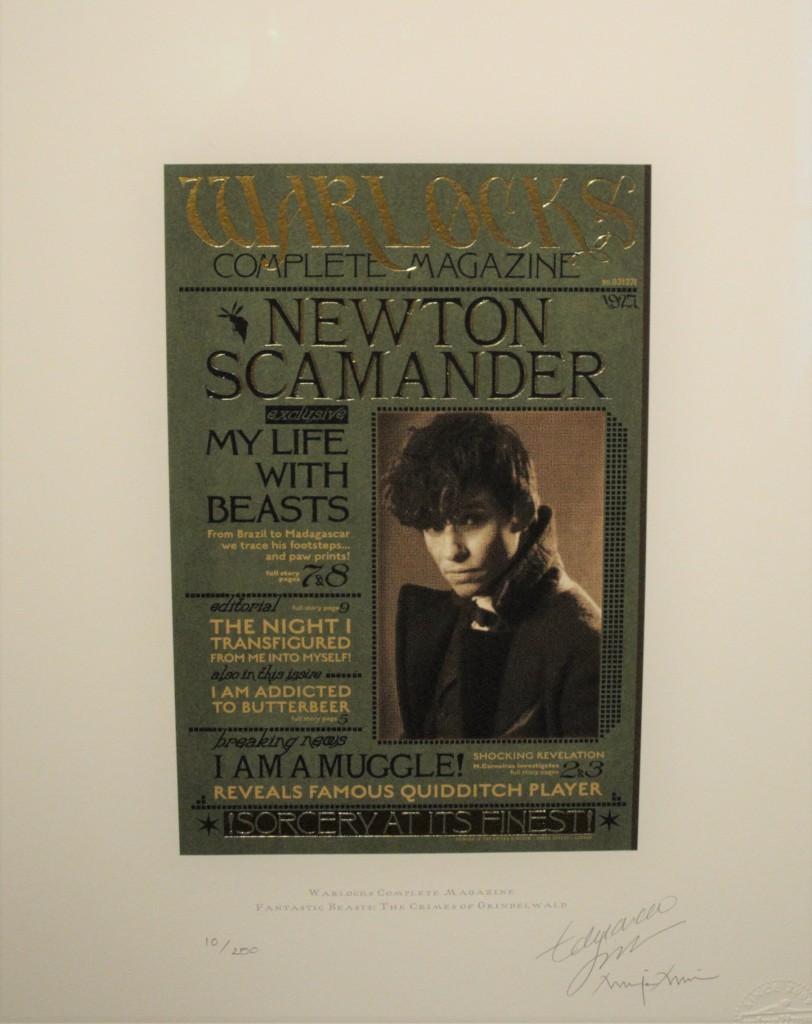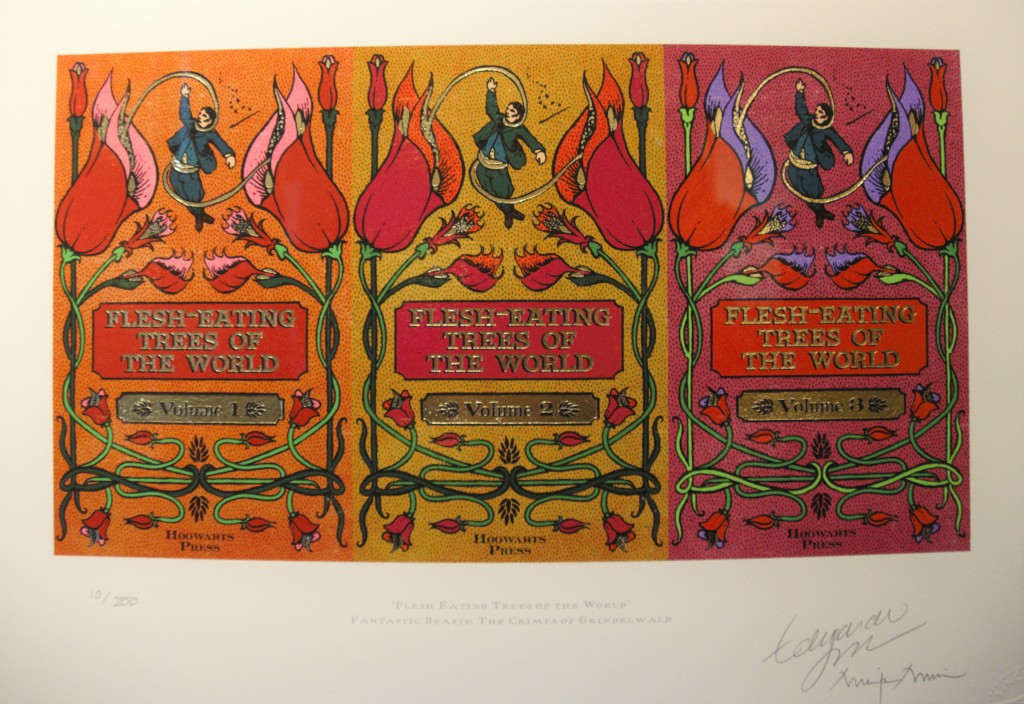 There were also documents and posters from the Ministry of Magic and Le Ministère des Affaires Magiques de la France: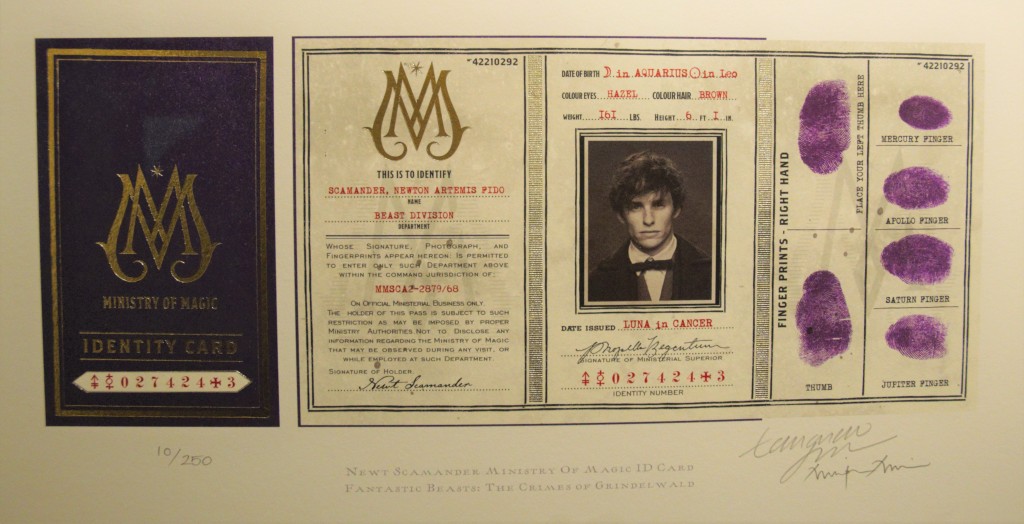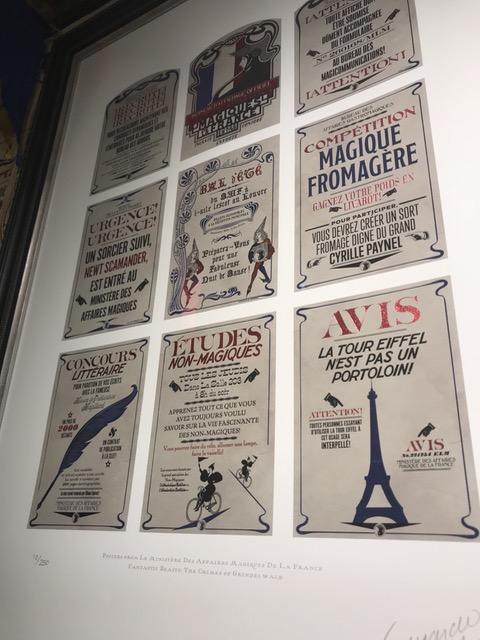 You can also view Credence Barebone's adoption certificate in full, here, the Predictions of Tyco Dodonus (in much closer detail than we ever see in the film) here, and the Lestrange family tree (which we're not including, because *spoilers*) here. Some may also recognise the 'magical book' print on display, also, which makes a mysterious appearance in the film – hopefully we'll get some answers as to how this works pretty soon!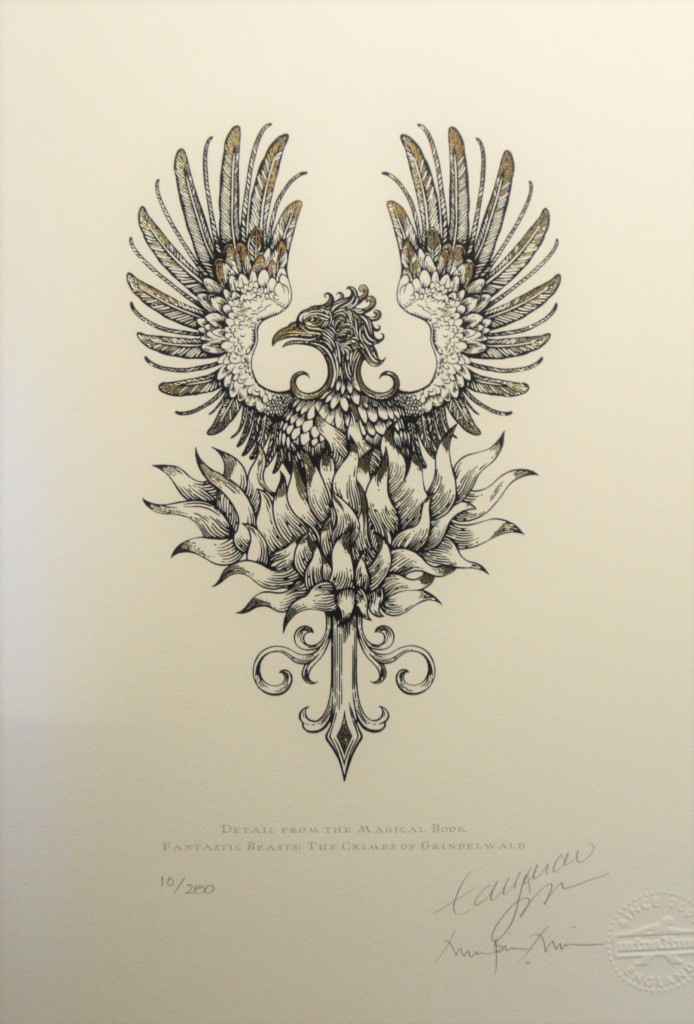 Mira and Eduardo designed the cover for each of the Fantastic Beasts screenplays (Crimes of Grindelwald is officially out now!), as well as the original cover of Newt Scamander's book, Fantastic Beasts and Where to Find Them. Mira explained to us what goes into choosing the 'hidden details' on these sorts of pieces:
"Well the first thing we have to do is understand who the character is, or what the situation is – like, with [Circus Arcanus], it's not a traditional circus, it has a particular personality – to help tell the story. If it's Grindelwald, or if it's his followers, but we have to understand who those characters are. We scavenge as much visual references as we can. In this case, how wonderful to be thrown into Paris in 1927 – it's just a fabulous era for design right across the board, whether it's fashion or wallpaper, or posters, typography. We collate a huge amount of reference material, and then from there we can dip in and find the right pieces to help tell the story in that moment.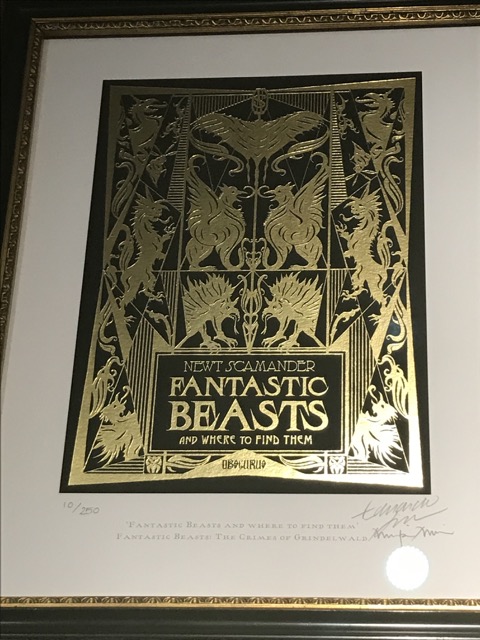 "Obviously the Circus is going to be very definitely from the Fantastic Beasts cover, and that's going to be very different from a historical phoenix book, and so each piece will have its own dynamic. 
"With something like the Fantastic Beasts book, the one we saw in 2001, when Harry was in his First Year, would have been the fifteenth edition or something. So we had to kind of retro-fy it, we had to go back in time and think 'So how would the first one have been?', and of course, the styling is very much on the brink of Art Deco, and obviously we're still trying to include the beasts, but still having some of the elements from the one you're familiar with from Harry Potter. So we kept the gold, and we kept the beasts, but we just tried to make it right for the time."
Circus Arcanus
An entire wall in this gallery is dedicated to Circus Arcanus, displaying various colourful French posters featuring the Maledictus, the Oni-Oni, the Zouwu, and much more. Though we only get a glimpse of the circus, so much work went into its creation!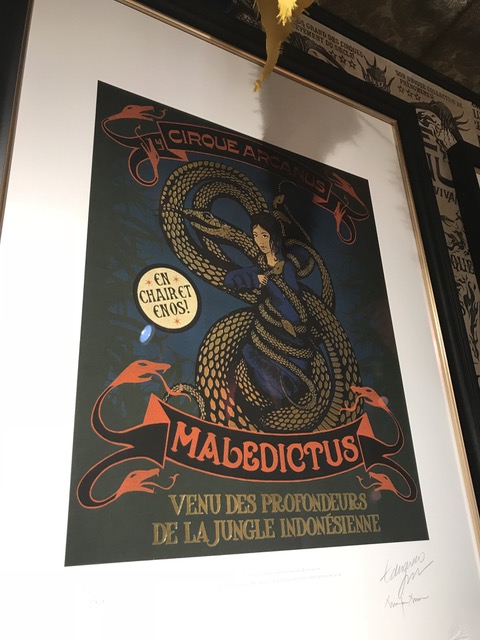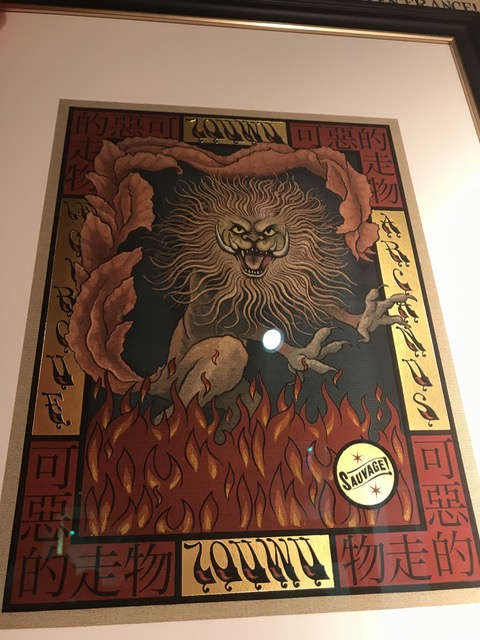 Grindelwald's Rise
From the Pere Lachaise map to Grindelwald's Insignia and calls for action 'For the Greater Good' added a chilling vibe to the gallery. The insignia is certainly reminiscent of the Nazi Swastika (with the clever addition of the Deathly Hallows), highlighting Grindelwald's similarities to Hitler in the film.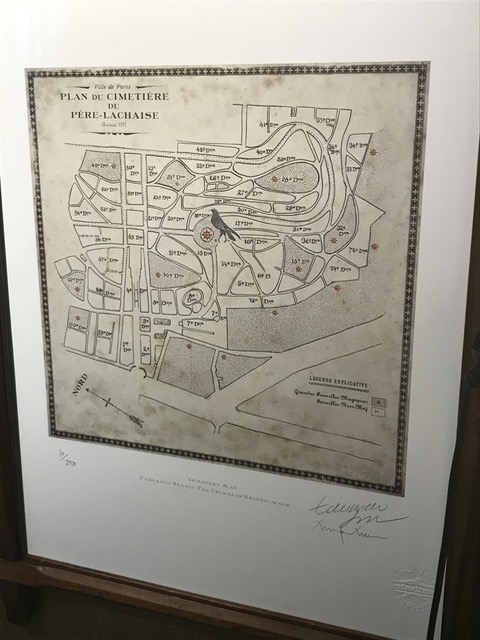 Moving forward, nearer to World War II, Mira says there are some great and interesting eras to explore:
"We always need to create a layer of magic – we've got three more films, we genuinely don't know where we're going but we start in February, so we'll know then! In terms of darkness, in each of these situations in the next three films, it'll be up to us to invent that magical tone for the audience, in spite of what's going on in the real world. So even if there is war, I'm sure there will be opportunities for some fun – I hope so, anyway!"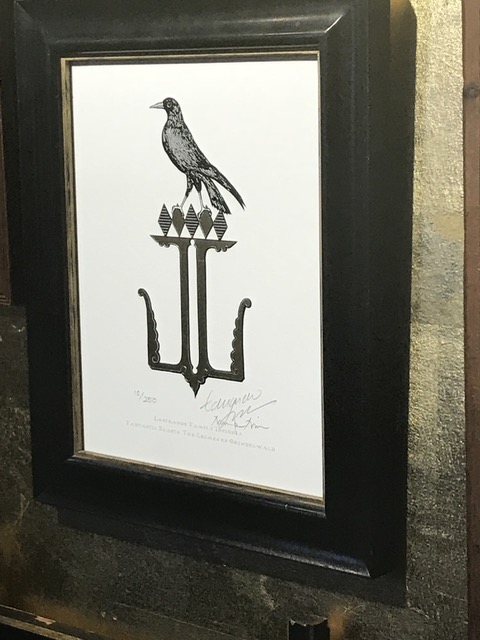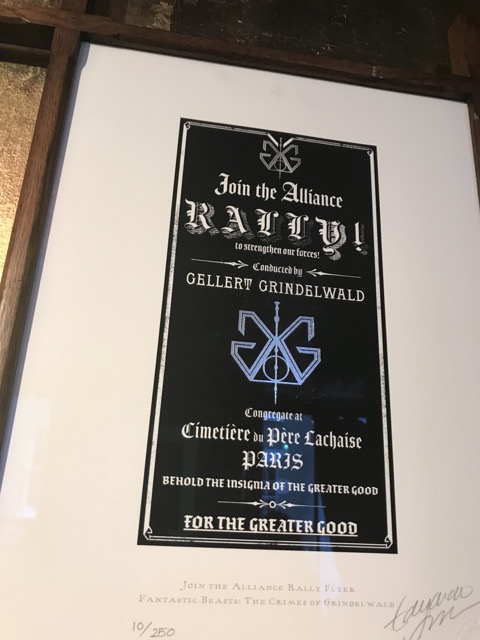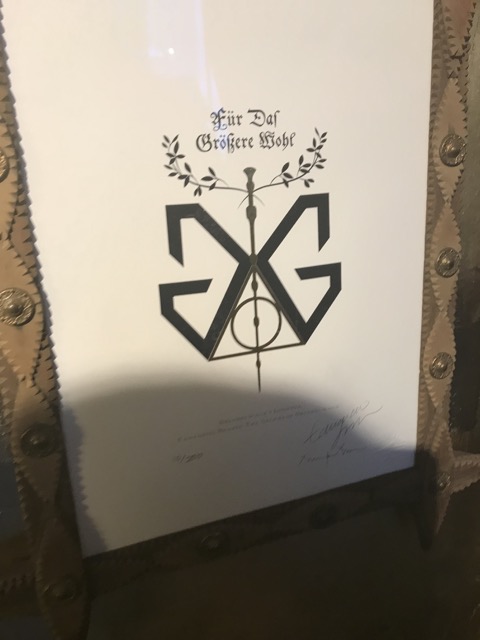 Mira and Eduardo recently visited Osaka, Tokyo, and Mira told us about their amazement at fan dedication across the globe:
"It was the first time we'd been to Japan, and I think we'd kind of underestimated that things could travel. We'd been to America, and obviously speaking the same language connects us to them, but it was such an amazing experience. We had a lovely welcome, and there's this huge passion for Harry Potter there. They seemed to know who we were, so we had an amazing time, and did two different pop-ups, and I think we'll be going back! There's an amazing audience out there."
🇬🇧 to 🇯🇵#London to #Osaka!
Thank you to everyone who came to see us here. Looking forward to meeting lots of friends in #Tokyo on 19 + 20 October!
.#minalima #houseofminalima pic.twitter.com/nvd7ak5BoO

— MinaLima (@minalima) October 14, 2018
And for those waiting for more Illustrated Classics from MinaLima, never fear:
"We're working on two more, right now. Well, they are in the studio! They'll be coming out next year. I can't tell you are, but they're what I've been waiting for! They're popular ones. So by the end of next year we'll have seven, like Harry Potter! 
"It was a bit of a joke when we started off, we were like 'Shall we do twelve?', and now the publishers are like 'Okay, sure, chop chop!' 
It was wonderful to speak to MinaLima at their newest installation! Be sure to visit House of MinaLima (it's free!) if you're in London, and visit their website to see opening times, and to buy any of their brand new and exclusive Crimes of Grindelwald prints and new merchandise, including 1910 Hogwarts House exercise books, notecards and postcards, a Maledictus card holder and poster, and much more. Also, just as a reminder, the Crimes of Grindelwald screenplay is officially out now (with a cover and inside illustrations by MinaLima), and the incredible Archive of Magic, detailing the process of making the film (also designed by MinaLima!). Get signed copies on the MinaLima website.
If you're interested in hearing more about Archive of Magic, be sure to head to Waterstones' website to get tickets for an exclusive event on Monday November 26th, featuring a talk with MinaLima, as well as Pierre Bohanna, HOD prop modeler on the film, concept artist Dermot Power, and Ian Nathan, one of the UK's best known film writers. You'll also get to see the film!
Fans of @jk_rowling's Wizarding World: here's your chance to get tickets to a celebration of #FantasticBeasts, featuring prop modeller Pierre Bohanna, designer @minalima, artist @dermotpower, and writer @IanNathan2, along with a screening of the film: https://t.co/lIAnc74NSa pic.twitter.com/8CWdd8FrYw

— Waterstones (@Waterstones) November 21, 2018
Thanks to Jessica Underdown for providing photography for this piece, and to all at House of MinaLima for hosting a wonderful preview event!