Theater Round-Up: Sonia Friedman Named 'Show Person of the Year,' 'Cursed Child' News and Interviews–and More!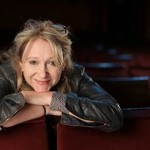 Jan 04, 2019
This week's theater news continues to revolve around the magical juggernaut that is Harry Potter and the Cursed Child. Producer Sonia Friedman received an award from Broadway Briefing while Cursed Child on Broadway broke another industry record and prepares for a new slate of cast members and performances. Alex Price also joined London Calling for its inaugural episode to discuss the production and his experience on the Great White Way.
Not to be overlooked, Daniel Radcliffe has also found success on Broadway with The Lifespan of a Fact, and exciting news about that production was recently announced. (Here's a hint: look for him in select theaters outside New York in the not-too-distant future!)
Read on for more details!
Sonia Friedman Named Broadway Briefing's Show Person of the Year 
Congratulations to our wonderful boss, Sonia, who today receives the accolade of Broadway Briefing's Show Person of the Year.

Read more: https://t.co/3zobFsHQUZ pic.twitter.com/ORxKvogCXA

— Sonia Friedman Productions (@SFP_London) December 17, 2018
Sonia Friedman, producer of the now-iconic, award-winning play Harry Potter and the Cursed Child, has been named the 2018 Broadway Show Person of the Year by Broadway Briefing, newsletter for the theater industry.
Noma Dumezweni, originator of Hermione Granger-Weasley on the West End stage and current Broadway resident, penned a glowing tribute to the Renaissance woman. An excerpt from Dumezweni's contribution reads:
"Sonia Friedman is a true teller of stories. Because she trusts and follows her gut, when the right stories call, she helps and makes them live. It's a feeling she has.
"Thirty years a producer, Sonia is at the top of her game, producing extraordinary work on both sides of the pond. As a little girl, she grew up in a house of feral creativity. Often left to her own devices, along with her brother and two sisters, her creative life began with making songs and stories with the dolls in her bedroom. And…it has never really stopped. These early acts of creativity clearly gave her the confidence to trust her feelings above everything else, and to believe in the possibility of what storytelling in theater can achieve in this world.
"It is impossible to fully articulate the range and breadth of the work that she produces. I could call her a collector of 'griots.' Most of the best tellers of tales in plays have been and always are in her orbit: Harold Pinter, Tom Stoppard, Jez Butterworth, Jack Thorne, Jules Styne, Polly Stenham, Samuel Beckett, Tina Fey, Henry Krieger, Shakespeare — names that don't often appear alongside each other, artists that span all forms and styles of theater. If the story speaks to Sonia, she will trust it.
"One of those stories, 'Harry Potter and the Cursed Child,' came from that sense of trust. A trust between Sonia and one of the world's most successful writers, J.K. Rowling, that the next chapter of the story of the boy who lived under the stairs could be told on a stage. Who'd have thought there would be a next chapter? Sonia  — perhaps due to her own childhood — understood that growing up is not a balm, but an understanding of one's place in the world. She entered into the project with a desire to create a piece that asked a simple question: how do you act as a parent when you never had parents of your own? With her producing partner on the project, Colin Callender, Sonia set about creating the most magical team they wished to work with. Her determination to tell this story, and her trust that it was the right story to tell, has opened the theater world to new audiences!
"And this, this is where Sonia's true contribution to theater lies. She opens doorways for audiences to discover new kinds of work, and builds wider audiences. From the West End to Broadway, she is in the process of changing the architecture of theater audiences, widening the range of who steps inside these shapeshifting buildings."
Read Dumezweni's full tribute at Broadway News here. 
Harry Potter and the Cursed Child Broadway
As the Cursed Child production on Broadway, which features original cast members of the Olivier award-winning London run, nears the end of its time at the Lyric Theater, it nevertheless continues to smash records and enchant audiences.
Deadline reported that Cursed Child brought in $2,525,850 for the week ending Dec. 30, 2018, breaking the weekly ticket sales record for a play! No doubt the Broadway production will continue to produce magical numbers when the Year Two cast takes over.
The new cast was announced two weeks ago and is now in rehearsals preparing for their entrance into the wizarding world, scheduled to officially begin March 20, 2019.  Hear from the new cast members, including James Snyder as Harry Potter, below!
We're incredibly excited that rehearsals have begun with our Year 2 #CursedChildNYC cast! pic.twitter.com/WRD3TCEtqR

— Cursed Child NYC (@HPPlayNYC) December 20, 2018
Cursed Child's Alex Price on London Calling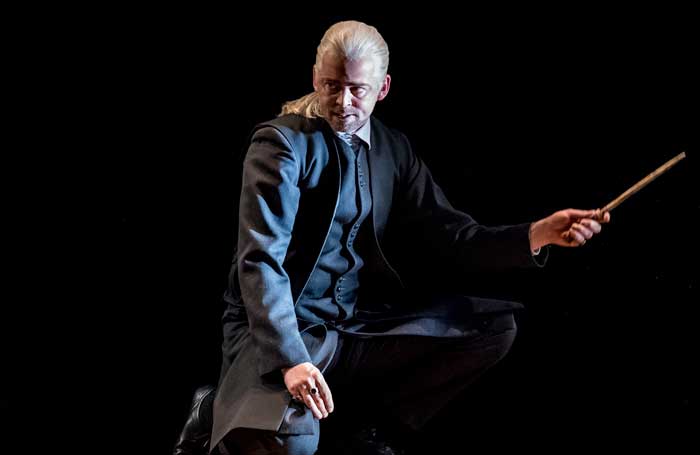 Cursed Child's Alex Price, known for his portrayal of a more empathetic Draco Malfoy, sat down with Imogen Lloyd Webber for the first episode of Broadway.com's London Calling to discuss his experience as the infamous Slytherin and his transfer to the Broadway stage. Webber opened the interview asking Price, who grew up in Manchester, when he first became aware of Broadway–the place. He replied:
"I just knew it as like a really long street in New York City. I didn't even know it had theaters on it."
She followed up by inquiring about his Broadway debut, and Price observed:
"That was mad. I don't really remember much of it–just mostly like, keep your head down and don't screw this up. It's been amazing. The audiences are incredible."
As to how performing, and audience reception, on Broadway differs from the West End, he commented:
"Yah, certain things land–certain things land differently. Probably a little more comedy to be found between Draco and Ron that me and Paul [Thornley] have found here, which is kind of really fun."
And, of course, Webber had to ask Price the big question about taking on the role–how does an actor approach an iconic character such as Malfoy–and he reflected:
"Jack's script was amazing. From the first time I read it…I was involved in the final workshop, of which there were four, so you're talking, like, a good four years ago now. But Draco's journey was always really clear, really clear to me. Really, I was like, I know what I'm gonna do."
Direct fan interaction differs on the U.S. side as well, and Price elaborated:
"There's more fans at the stage door here. I think it's more of a thing here, and actually in London there was a lot of Americans at the door already, but I think a Harry Potter fan is a Harry Potter fan."
Webber was keen to pick up on that point, noting that while Harry Potter fans are certainly known for their enthusiasm, Draco Malfoy has his own very devoted fanbase as well. Price revealed that he had no idea how obsessed fans are with Draco, nor was he aware of the internet culture surrounding the character, saying:
"No, I didn't. I didn't really at all. I'm gonna go straight home and find out!"
They closed out the interview on a more serious note, discussing Draco's progression, without specifics (#keepthesecrets), and the incredible nature of the production and the world Rowling has created, which constantly challenges the actors with its depth and audiences and fans alike with its enduring universal themes of love and relationships. Price observed thoughtfully, "That's why people love the story so well." 
Watch the full episode of London Calling, including the interview with Alex Price, below.
Daniel Radcliffe's The Lifespan of a Fact Recoups Production Costs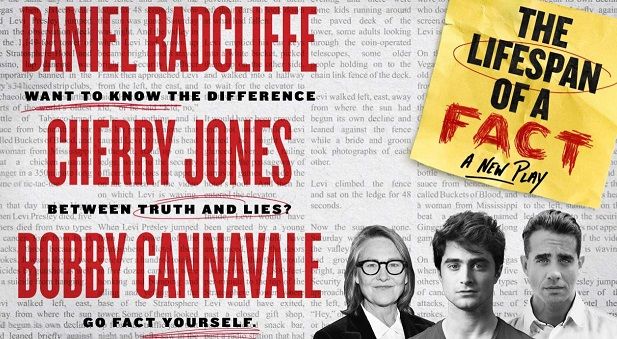 As critics and fans alike continue to praise The Lifespan of a Fact, starring Harry Potter's Daniel Radcliffe as fact checker Jim Fingal, the production has now become a commercial success as well, officially recovering its financial investment.
According to the Broadway Buzz, producers of the certifiable hit are now making plans for a limited national tour and West End run. So if you have been unable to make it to New York City to catch Radcliffe's return to the stage, don't lose hope–he may end up in a city near you much sooner than you think!