"Crimes of Grindelwald" nominated for Best Fantasy Film by Art Directors Guild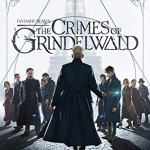 Jan 08, 2019
The holiday season is quickly followed by awards season, something to cheer for and cheer us during the dark winter gloom (at least in the Northern Hemisphere, we know that Leaky's Southern Hemisphere readers are enjoying summertime).  Potter alumni have done well in awards seasons past, and this year looks to be no different.
Last night, Prisoner of Azkaban director Alfonso Cuarón took home two Golden Globe awards for his latest film Roma, which has already received numerous other awards and is a contender for the Oscars.  Harry Potter and the Cursed Child producer Sonia Friedman was named  the 2018 Broadway Show Person of the Year by Broadway Briefing, after Cursed Child won six Tony Awards in 2018.  Check Leaky's weekly round-ups for more award news.
Today the nominees for the Art Directors Guild's Excellence in Production Design Awards were announced and Fantastic Beasts: The Crimes of Grindelwald has been nominated in the Fantasy Film category.  The awards ceremony will take place February 2 in Los Angeles, so keep your wands crossed for our nominee!