Production on Delay for 'Fantastic Beasts 3'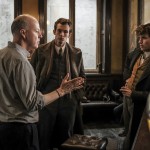 Jan 19, 2019
According to Deadline, the third installment in the Fantastic Beasts film series has delayed production. The film was originally due to begin filming in July; appears the film won't begin filming until the late fall, likely November 2019. Deadline reports that the filmmakers need more time for pre-production.
The film is rumored to take place in Rio de Janeiro, possibly in the 1930s, and according to JK Rowling, answers will be given.
Fantastic Beasts 3 was scheduled for release on November 20, 2020. No word yet on whether the film will still make this original release date, though with only one year of filming and post-production, don't be surprised if the release date is pushed back as well.
Do you think this will affect the film's release date? Let us know what you think!