Daniel Radcliffe: Magician or "Miracle Worker"?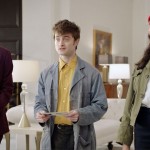 Mar 06, 2019
Daniel Radcliffe, forever immortalized in film, and in our hearts, as the boy wizard Harry Potter, has since had both the means and inclination to experiment with a wide variety of roles and to do it with uncommon grace and good humor. His latest endeavor brings him to television audiences in the U.S., and he's making the media rounds to promote his new show, Miracle Workers.
At first glance, it seems an odd choice for the actor. The premise, based on the book What in God's Name by Simon Rich, who also adapted the work for the small screen, presents a light and entertainingly irreverent take on heaven. The other-worldly venue is depicted as a corporation hanging on by a thread, presided over by a God, played by Steve Buscemi, who is fed up with the mounting problems on Earth. He's ready to end it all in favor of his next business venture, Lazy Susan's, a restaurant featuring a lazy river attraction.
Radcliffe comes in as an angel in the Department of Answered Prayers. He rather cheerfully perseveres through his duties as one of the multitude of lower level workers, until caught up in a scheme to change God's mind and reverse Earth's fate through the seemingly simple act of getting two people to fall in love.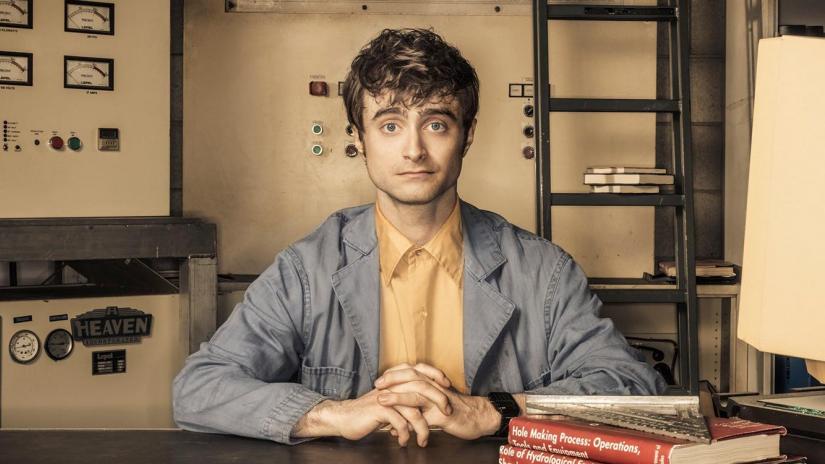 On second glance, this seems a perfect fit for the actor, who, with equal cheerfulness–and a healthy dose of self-avowed pessimism–has taken on the likes of Equus, The Woman in Black, Kill Your Darlings, Horns, Victor Frankenstein, Swiss Army Man, Jungle and Beast of Burden.
Part of the draw of Miracle Workers, then, is that Radcliffe relates to the balance of nihilism and "life-affirming" purposefulness struck by Rich. He told Den of Geek:
"When something that you feel deeply is genuinely being communicated through this show, it's just a really exciting thing. That kind of cheerful pessimism is, I think, very much how I see the world as well…

"When we were talking early on, we talked about the respect and the esteem we hold people in who do get up every morning and say I'm going to change the world…For me, part of my brain goes' that ship has probably sailed, right?' All we can do is make each other's lives better along the way as much as we can."
In fact, Radcliffe revealed to The Daily Beast that he approached Rich for a role in the adaptation, eventually coming on as an executive producer as well. In that interview he continued to describe his attraction to the project, saying:
"If you saw a vision of heaven and it was run perfectly smoothly and everything was going well, you'd be left wondering, well what's happening between that and earth to make everything go so wrong…Simon [Rich] wanted a heaven that was congruent with the way we experience the world."
He does recognize, however, that the show, like other projects he's taken on, may strike fans as odd. He reflected:
"I never think of [Rich's humor] as bizarre…I just think the guy is amazingly funny. It was the same with Swiss Army Man. There comes a point when you spend so long with something that you forget that other people are going to think it's crazy. Then when it comes out and people have that reaction, you're like, oh right, yes, maybe I have a strange taste."
But, if audiences are willing to give it a chance, they may find that Radcliffe's brand of weird is extremely likeable. In his Daily Beast interview, this is notable, as he seemed to have an almost uncanny way of putting the interviewer at ease with his affability, taking all manner of questions in stride. Rich also noticed this in the actor and credits it as one of the positives of casting him:
"'This is the character who in the first five minutes of the first episode basically sentences a dying man to death,' Rich says. A prayer comes into Craig's department from a man begging heaven to stop a pack of wolves from eating him. Craig takes his red stamp and stamps it 'impossible.' Then he smiles, satisfied with a job well done. 'We need to love this character and root for him to succeed. It's a very short list of actors who can stamp that prayer 'impossible' and still get you to like him.'"
Radcliffe's openness and his willingness to engage in lighthearted exchange with the press have occasionally led to his comments being taken out of context or sensationalized, however.
Last month, Radcliffe answered questions about himself for WIRED in a 10-minute video, which featured several geek-out moments for diehard Harry Potter fans with questions such as "Which film is your favorite?", "What is your Hogwarts house?" and "Why did you become an actor?" He also addressed the oft-repeated question about his resemblance to actor Elijah Wood and other standards about tattoos, his residence, his schooling and favorite sports teams.
In the course of this video (watch below!), Radcliffe also commented on the internet rumor that he would take over for Hugh Jackman as the iconic Wolverine. He joked:
"There's going to be a new Wolverine movie, in which it starts off with Hugh Jackman being put into a hot wash and then when he comes out, it's me. So yes, I'm very happy to announce that here."
However, according to Digital Spy, Radcliffe has since been forced to comment on his comment and clear up the ensuing, and unfounded, online chatter, reportedly telling IGN:
"This is what happens when you make jokes…Wouldn't it be great if you could just start casting yourself in things by just saying them in interviews?  

"So I guess people have been asking something about me and Wolverine, and I made a joke about [playing] Wolverine after being in a hot wash, like I'd been shrunk in a hot wash, and the internet seems to think that I was putting that out there on my dream board cosmic ordering system." 
His Miracle Workers co-star Geraldine Viswanathan was on board for the hypothetical reboot, and Radcliffe hilariously quipped:
"A comedy where Wolverine has got tiny? And now I'm not as equipped to fight but I'm still really sharp? That would be great."
Clearly, though Radcliffe has moved on from his wizarding days, his wit and charm are downright magical and, thankfully, he's not beyond humoring fans with a return to those roots every now and then.
In February, Radcliffe appeared on an episode of 2 Dope Queens with hosts Jessica Williams, Fantastic Beasts' Professor Eulalie Hicks, and Phoebe Robinson. In addition to the interview, they got him to participate in a bit of "silly wand-waving," and the result is gold!
(Viewer warning: some strong language used.)
Finally, PopCrush reported that TV Guide persuaded Radcliffe to weigh in on the resilient buzz about re-imagining Harry Potter for television or theater sometime in the future. With characteristic straight-forwardness and good nature, he said:
"I don't know at this point what would be gained by rebooting it for TV, but that's not necessarily the goal, I suppose…I definitely think there will be another version of it within my lifetime. It will be interesting to see. At the moment those films have sort of a sacred varnish on them, but that will be worn away at some point… I'm just intrigued to see when that happens."
We don't see that "sacred varnish" wearing off any time soon, however, and we're thrilled that Radcliffe so kindly, and regularly, reaches back into his wizarding past to give fans, even now, a hint of the magician. When it comes to successfully navigating his career, the press and devoted fans, it seems he may just be a miracle worker.
Watch the full premiere of Miracle Workers, which recently aired its fourth episode on TBS, below.