DEBUNKED: A 'Harry Potter' TV Series Could Be On The Way, After All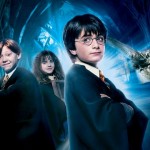 Jul 02, 2019
Harry Potter fans have long speculated over the possibility of a TV series helping to continue the stories, and after we speculated that a series could debut on an upcoming streaming service from WarnerMedia (set to debut this year), We Got This Covered provided an unconfirmed update, which Leaky debunked after reaching out to Warner Bros. directly.
A source close to the site reportedly gave information that a series was in development – a prequel taking place at Hogwarts:
"Apparently, Warner Bros. is in the very early stages of developing a Harry Potter TV show for their upcoming streaming service. From what we understand, this will be a prequel and take place mostly at Hogwarts and around parts of Europe. Plot details are being kept under lock and key, but so far, it's expected to feature all new characters, with the only connections to the property being that it's set in the same universe as the books were.
Unfortunately, that's all we've got to go on for now and given how early on it is in the development process, we don't imagine we'll hear anything concrete for quite some time."
A Marauders series or prequel focused on Tom Riddle has been in high demand for some time, however, if a series was focused on 'all new characters', it could be that a series – if one ever happened – is more likely to follow a storyline similar to that of Hogwarts Mystery. Could a potential series perhaps cover the first Wizarding War?
Daniel Radcliffe commented on the prospect of a Wizarding World TV series earlier this year, specifically saying that a series remaking the film series would likely happen in our lifetimes, but that he was sceptical of the need for such a series.
There's also the question of who the series would be written by, who would star (would the series focus on a student cast, or an older cast?), whether there would be any familiar faces, and the sort of timeline we're looking at if this series were to happen.
Rumors of a series have been flying around for years — Jordan Edwards, Creative Director at Mischief Management (the wizards behind LeakyCon, BroadwayCon, PodX and Mischief Media), even created a poster for a 'dream' Netflix series:
(I realized I haven't posted this here yet.) A fun little #HarryPotter dream project I've been thinking about. I hope it happens some day! pic.twitter.com/YfPYMuYvFa

— Jordan Edwards (@JordanEdwards) November 14, 2017
Well, that dream (or something like it, perhaps… at least set in the same universe!) could be one step closer! Of course, none of this is confirmed, so it's all speculation based on the report from We Got This Covered.
In fact, we reached out to Warner Bros for comment, and a spokesperson replied with the following statement:
"There are no plans to develop the Harry Potter stories into a television series, reports to the contrary are entirely conjecture."
The statement sounds definitive and would seem to settle the matter. In the meantime, lookout for updates on Fantastic Beasts 3, coming November 12 2021!
If a Wizarding World series was ever considered in the future, what would you want it to be about? Let us know!
**Update 07/03/19: Clarification that We Got This Covered provided an unnamed source and have been known to post unsubstantiated/untrue reports previously, thus we're keeping this purely as a rumor – we're using as further food for thought!
**Update 07/03/19: Warner Bros. provided a statement confirming there are NO plans to develop a television series and the rumors are unfounded. The article has been updated accordingly.