The-Leaky-Cauldron.org, 19 Years Later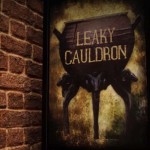 Jul 05, 2019
Happee Birthdae, the-leaky-cauldron.org! It's officially been 19 years to the day that The Leaky Cauldron has been live on the world wide web. Can you believe it? 19 YEARS.
On July 5th, 2000, just before the launch of Harry Potter and the Goblet of Fire, Leaky went online. Leaky was one of the very few sites reporting on all media happenings about Potter, and in 2001 started to report on the franchise ourselves, and we're proud to have been the first and only fans reporting from the Chamber of Secrets press junket and Prisoner of Azkaban film set. As the first fan site to create and maintain relationships with the main companies in charge of producing the Potter films and books, Leaky started a practice which opened doors to allow many fan sites to do the same. Leaky staff have continued to produce original reporting and a lengthy list of exclusive interviews with the people involved in the Harry Potter books and films to this day.
One of our proudest moments to date is still receiving the fan site award from J.K. Rowling on May 13th, 2005! Rowling herself has called Leaky "my favorite fan site" saying that it is about "the worst kept secret on this website that I am a huge fan." (19 Years Later, we're still grinning!).
From the early days of reporting on book publishing and the very first film casting news, to attending premieres and interviews, and even going to have tea with J.K. Rowling in 2005 to chat Half Blood Prince, Webmistress  Melissa Anelli has been present and active throughout the entirety of The Leaky Cauldron's colorful history. She launched PotterCast, our podcast, in 2005, published her book, Harry, A History in 2008, launched the very first LeakyCon in 2009, and opened Mischief Management, an events production company by and for fans, in 2009. Our Creative Director, John Noe, has also been here from the beginning. He continues to co-host PotterCast, he opened Virtual Hogwarts, gave us the days of LeakyLounge, and continues to make sure Leaky is up and running as it should be!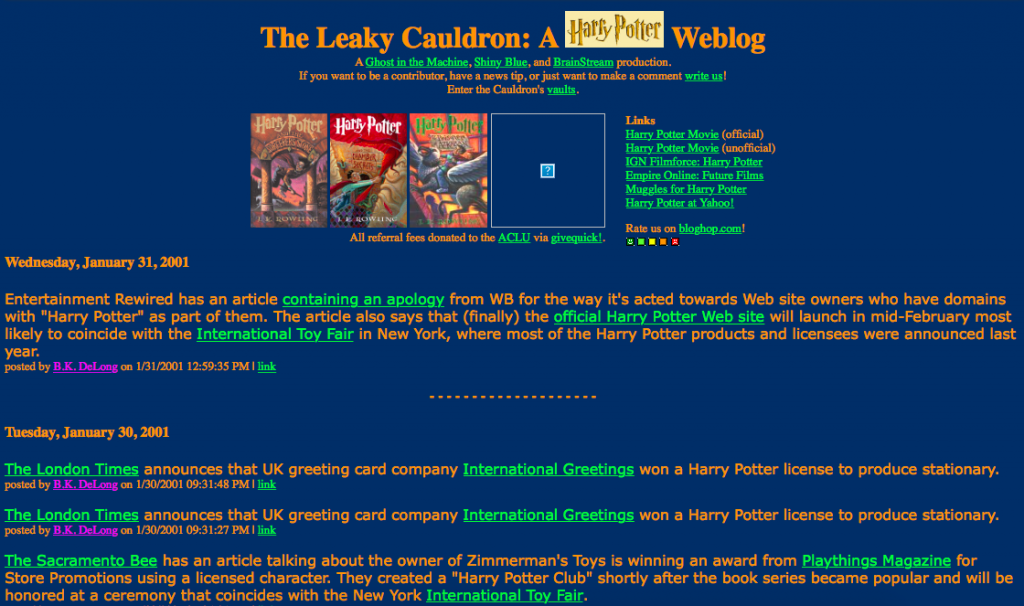 Throughout the years Leaky has seen many talented, passionate fans pass through its servers, contributing to one of the biggest, most comprehensive archives of Potter history. We've come from a rolling page of news with plenty of heart but no design, and grew to one of the leading sites hosting Wizarding World discussion, news and more, helped in no small part by our incredible reporters. We're so proud and glad to have given our readers – old and new – the latest in the wizarding world from the most trusted name in Potter!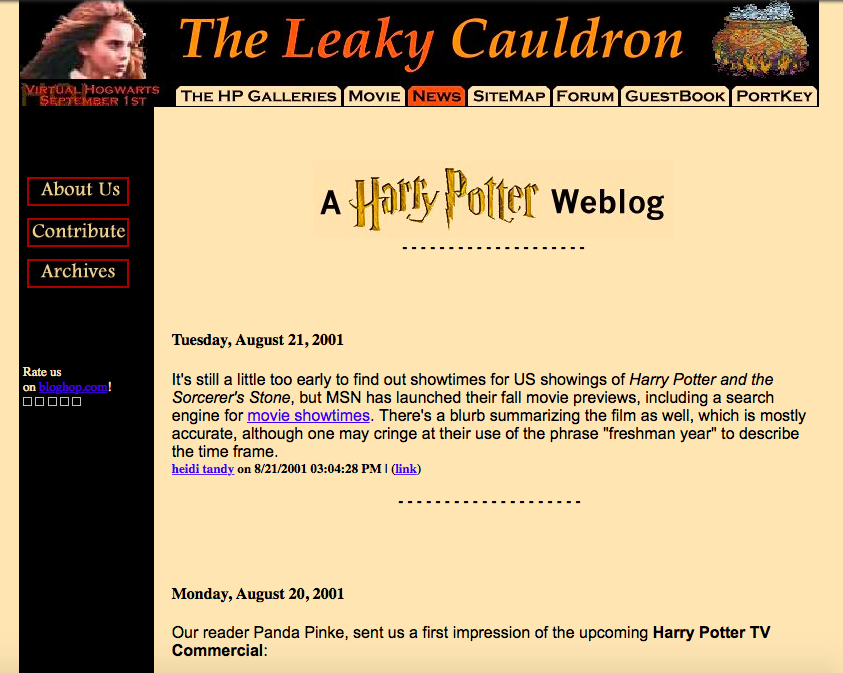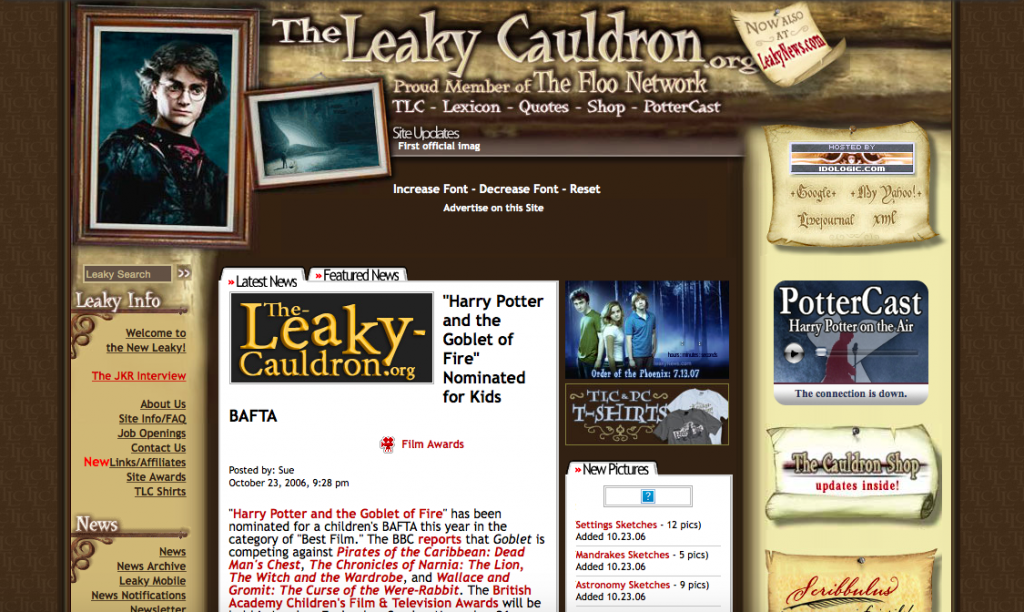 This year we're celebrating TEN years of LeakyCon back where it all began, in Boston! You best believe, too, that Leaky will continue long into the future. 2020 will mark 20 years of Leaky — so look out for our celebrations!
19 years means a lot to Potter fans – and to us! – so the staff of The Leaky Cauldron have come together to share what this site and the online  community means to us, which you can read below:
Melissa Anelli, Webmistress: 
When I joined up at Leaky, the idea of fans doing journalism was laughable – and often laughed at. No one had ever heard of such a thing, so we had to work to build up trust, to show the community and the wider world that stories and reporting that were done by fans, for fans, could be every bit as valuable as those you got from CNN, EW, or what have you. Charting that course has been rewarding and full of enormous highlights, and has created a community we wouldn't trade for the world. 19 Years Later, we are so proud that Leaky is still here, serving fans with passion, pride, and professionalism.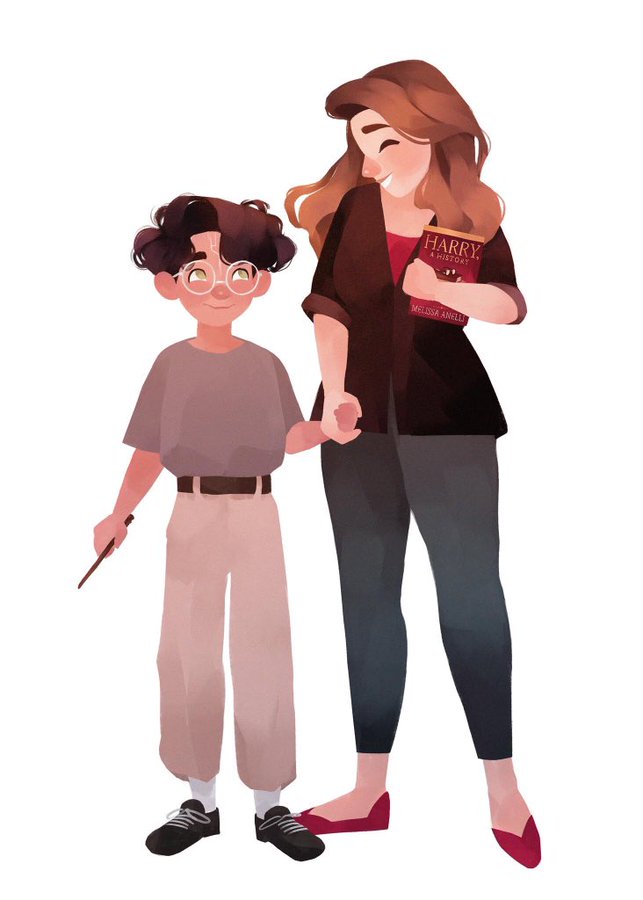 Emma Pocock, Senior Editor:
From my mum reading me the first few books as a child and later seeing the movies with her, to reading the books to my little sister, and years later sharing with her all the stories from my interviews and set visits and even unknowingly taking her to see J.K. Rowling, my journey as a Harry Potter fan has felt anything but typical.
I found The Leaky Cauldron as a teenager, in the wave of Deathly Hallows frenzy. I've always been sad I hadn't been able to find this community sooner, but I suppose I found it just when I needed to! I walked into my local library, and serendipitously presented on a stand was Harry, A History – Melissa's book. I was already frequenting The Leaky Cauldron and listening to PotterCast, but as cliché as it seems, everything really did click into place when I read that book. Here was somebody who was unapologetically passionate about being a fan, putting that energy to good use, and even knew plenty of other people who did the same! Even before I started writing for Leaky, I always told people about that moment, saying my 'Potter radar' found that book for me.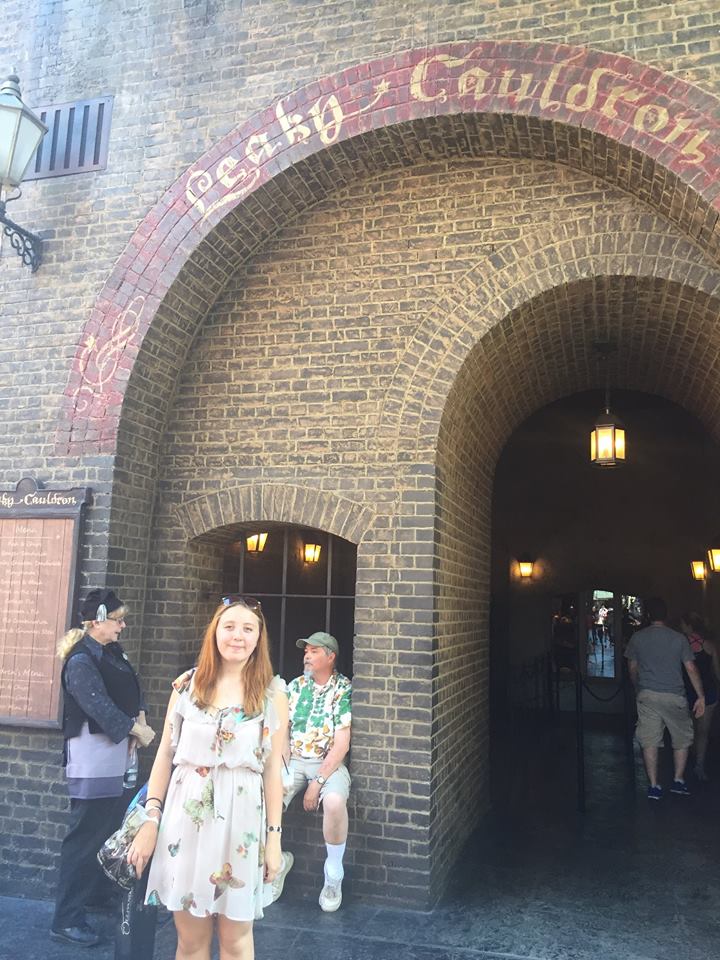 It's nothing short of magical to be surrounded by brilliant people helping me and supporting the website with everything they've got. Kim, Dawn and Amanda are my go-to for everything, and Sydney's art just blows me away! I'm so happy with the team of Editors, Reporters and Writers we have, and I can't wait to have a big ol' party at LeakyCon 10 in Boston. It's been an incredible experience brainstorming and working with Melissa, and recording PotterCast with John and Frak was almost surreal. I feel so lucky to be a part of this, and to see Leaky continue to grow.
To the Leaky staff, to those who came before me, to anybody I've worked with, and to our readers – especially to those who have been with us since the very beginning – thank you for building this community. It's been a wild ride, and such a beautiful place, to be with friends.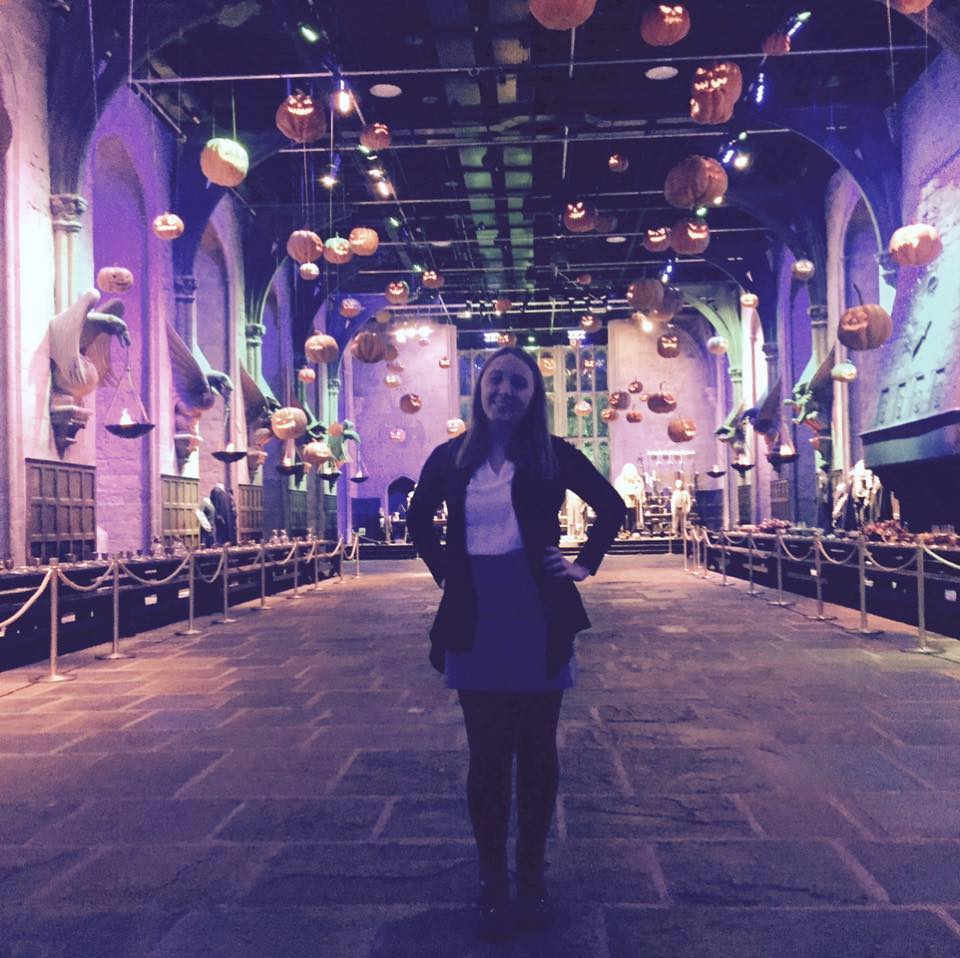 Kim Dwork McChesney, Editor:
Since 2003 when I first fell in love with Potter reading the series to my son, Leaky and later Pottercast have been a part of my Wizarding World journey; in my Pensieve one doesn't exist without the other two. They go hand in hand with J.K. Rowling's story that I continue to come home to (on a daily basis these days!).
In the beginning, Leaky was an attempt in some way to extend the books' powerful themes of love, loyalty, victory vs defeat, good vs. evil, Hallows vs Horcruxes, wrapped up in that color-coordinated Hogwarts packaging, into the real world of my everyday life.
As time went on, and certainly as I've worked on the site, I've begun to value the connections I've made with my fellow Potterheads who "get it" along with me. It's another real life extension of that sense of belonging that somehow the series inherently seems to satisfy.
I consider myself one lucky Muggle to be a part of this remarkably magical community 19 Years Later that Melissa created and Emma continues to nurture. Happy Birthday, Leaky! If I ever find myself needing to cast a Patronus, there's a good chance it may be you I'm thinking of.??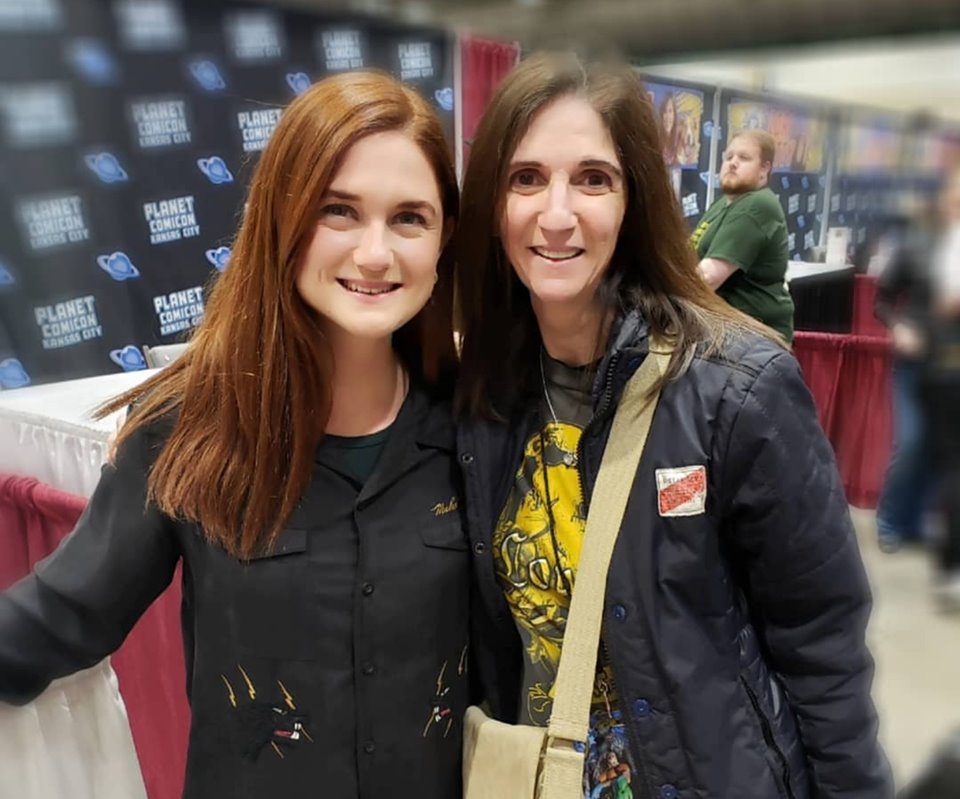 Dawn Johnson, Editor; 
I first picked up the Harry Potter books a few years after the phenomenon began but, late beginning notwithstanding, I immediately knew the books were special; they captured my imagination and, like many others here, I poured over online sources in an effort to extend the magic and the community, early Pottermore and Leaky among them. I loved the thorough, encyclopedic nature of the information provided—and learning I wasn't the only one who wanted to dive into it! It was thrilling and satisfying that Leaky always had both content and quality, simply unmatched elsewhere.
Today, we're seeing the expansion of the story into new times and places, as well as the rebranding of Harry Potter as the "Wizarding World," which is a fitting move because that's what it feels like…it's a full-fledged world you can step into and engage with in a tangible way and yet, somehow, manages to feel like a small, familiar place you're at home in, a place carved out, in large part, by Leaky.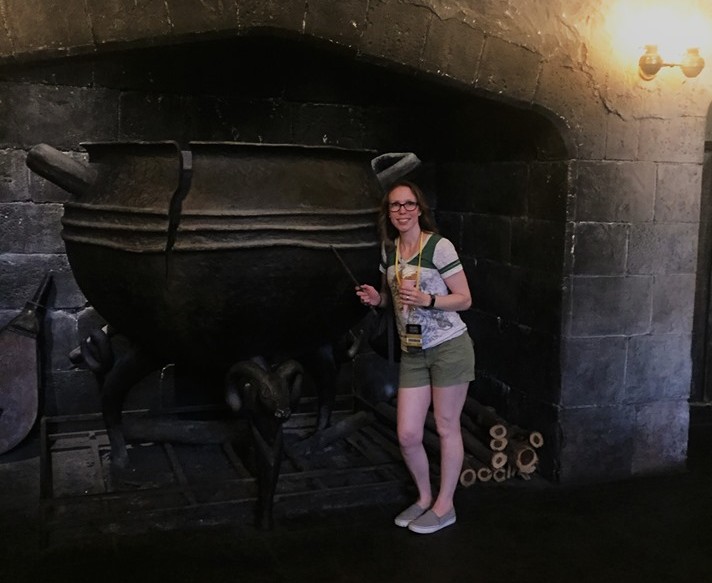 Over the years, this world has provided countless hours of fun for my family and me and untold hours of conversations with friends old and new. It is a means of finding kindred spirits. And what does distance matter when you are one portkey away?Now, as a member of Leaky, I feel privileged to have a hand in helping maintain this portal for other fans, sharing news, hashing out theories and, 19 years later, still coming back to favorite characters and moments from the series that started it all. ?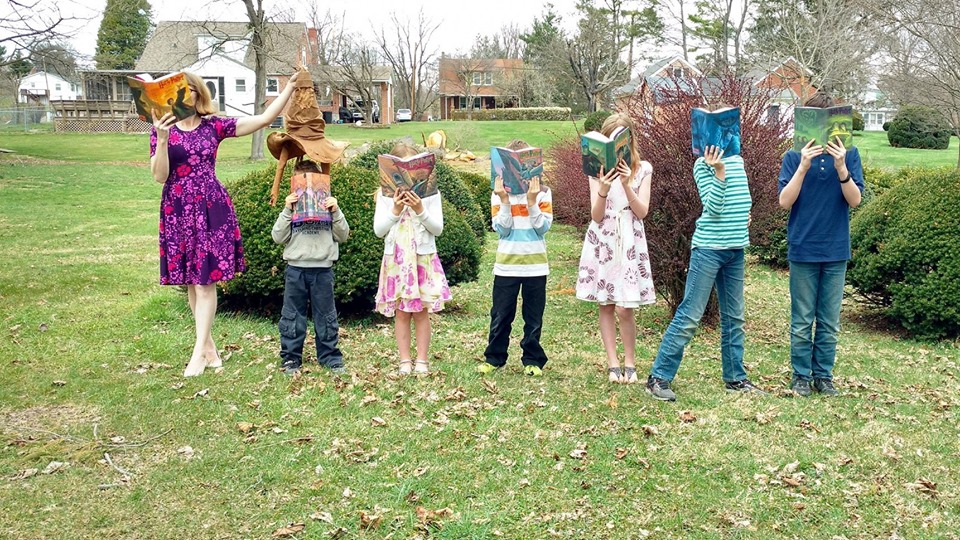 Amanda Kirk, Editor; 
I'd love to write the story of how I came to read the HP books & the lessons I learned from that experience but the only germane part of that tale for the question here is that I found Leaky somewhere between Nov. 2001-January 2002. I can't remember the exact date, but I was delighted to discover other adults who loved HP.
As an academic, I was especially drawn to Scribbulus, as well as to the HP-related crafts, such as knitting patterns & recipes. If you wanted an HP-filled life, Leaky was a one-stop shop. I looked for other HP sites and, for awhile, there were lots of them, but they were all inferior to Leaky, which is THE HP site, as far as I am concerned. I have listened to every episode of PotterCast, and I used to have a username on the forums, although I never participated. As an adult HP fan, I didn't want to watch my language to participate in fora where there might be children. I even wrote some HP fanfic, not something I normally do, but never posted it online anywhere as it is for adults only.
Leaky chose a clever name, and for a while I was unclear if it was an independent fan site because it seemed to have a link to JKR and to inside info and giveaways from Warner Bros. But I realised from listening to the podcast that it was purely a labour of love from some devoted fans, who all had day jobs & didn't earn any money from Leaky but devoted themselves to making it the #1 HP site. Any time I heard a rumour or wanted to find out release dates, I went straight to Leaky, knowing the info would be accurate and reliable, not speculative like in so many other places online.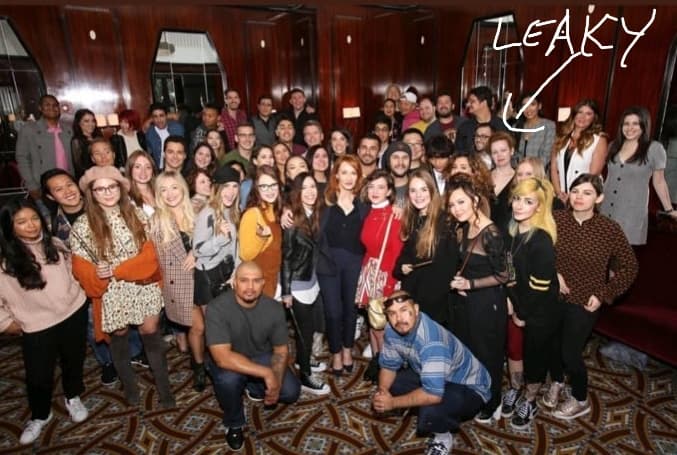 After the final movie was released in 2011, HP fervour died down, people moved on to other fandoms, and, for awhile, I was afraid Leaky would die, too. The forums disappeared, links went dead, PotterCast went for long intervals without a new episode. But I wasn't done with HP; I didn't want the magic to end. The original Pottermore was a delight, with the interactive scenes from the books so beautifully portrayed. It seemed fitting to me that Melissa was asked to be a consultant on it. But, like all good things, Pottermore changed as well. The situation was depressing for awhile until Fantastic Beasts breathed new life into the franchise and Leaky revived, bringing on new staff, including me. I'm still amazed to be part of the best HP fan site, and I want to help make it even better!
Sydney Dean, Artist / Reporter: 
I love The Leaky Cauldron with my whole entire heart, and I owe it more than I could ever put into words here. The site, the community it's built, PotterCast, and LeakyCon are such huge parts of my life. They're the environment where I felt comfortable enough to build some of my absolute strongest friendships and happiest memories. Choosing this community and making art for it always feels like carving out time to be the most myself. It feels like self care, it feels like choosing positivity and joy, championing enthusiasm and unapologetic love for a thing, and turning on a light.
I am so thankful to Melissa for creating and protecting these spaces, she makes me incredibly proud to be a Gryffindor, and it's genuinely hard to picture my life without everything she's made being at the very center. Happy nineteen years of the dash leaky dash cauldron dot org, I can't wait to see what's next!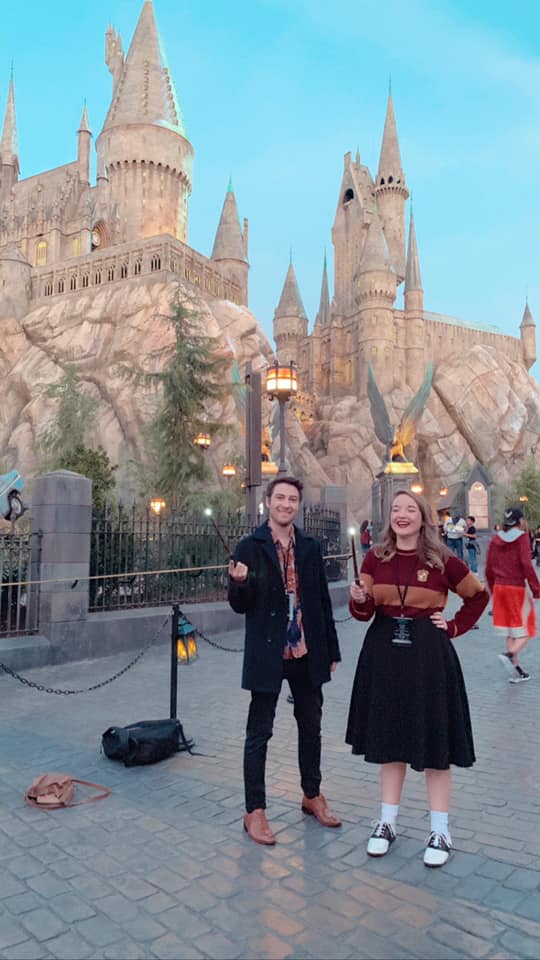 Lauren Osbourne, Reporter:
Leaky to me represents an era, and I feel so lucky to be a part of it in some way. I was sitting in on a panel discussing "Women in Harry Potter" surrounded by fans, young and old, from all areas of the globe, at my first Leakycon in 2016. I realized, sitting there, I felt the magic, the pure unadulterated Harry Potter feeling I hadn't felt since I picked up the books for the first time when I was 8.
I was too young to actively participate in the 2000s Potter phenomenon, but going to Leakycon, being involved with the Leaky community, is like using a time turner to experience the first wave first hand. I love this site, I love writing about Harry Potter, and I love being surrounded by the joy and enthusiasm of fans who feel the same things I do about a bunch of books! Thank you for the last 19 years of The Leaky Cauldron, and here's to many more!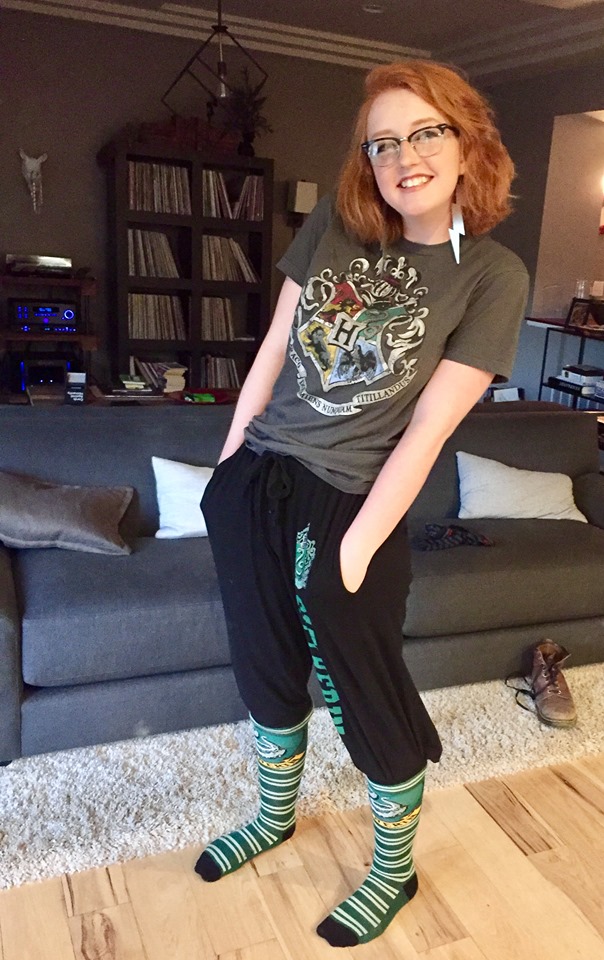 Zack DiGirolamo, Writer/Reporter:
Whenever I think about, write for, or visit The Leaky Cauldron, I think of hot summer days so many years ago, obsessively poring over Harry Potter think pieces and bits of casting news or the release of new footage.
Our awesome webmistress, Melissa, was legendary (still is!). PotterCast was (and is!) a haven of discussion. Those early years gave me friends, and a community I could count on (still does!).
Happy 19th, Leaky <3 Here's a video of my mom and me dancing in my Harry Potter PJs when I was 6!
Victoria Maclean, The Magical Emporium Host & Expert Collector:
The Leaky Cauldron for me personally has always been like The Daily Prophet. It's been the main source of all news Harry Potter from almost the beginning. For me the leaky Caldran has been my go to place to be to feel like I am part of a much larger community and also we are family get together and talk. Leaky has always been there for any reason for any review for any information regarding anything to do with the wizarding world. For me and many fans like myself it is number one.
Thank you Leaky for always remaining true fans and being the voice for us all xx
Gianfranco Lentini, Reporter: 
I grew up feeling often misunderstood and, as a result, alone. So it wasn't uncommon to find me hidden in my room or the local library deeply engrossed in any literature that'd surround me with likeminded people in more welcoming universes. And needless to say, more often than not, that literature was Harry Potter.
Harry Potter was the one constant in my life. A series that taught me about love, sacrifice, and magic. It was my family, my school, my home. It was through reading these books that I found and learned to accept myself, and thus, began to meet those likeminded people in real life I'd only ever met on paper.
Then came the internet, and with it, the most magical community of extraordinary witches and wizards the digital age has ever known – The Leaky Cauldron. A virtual common room of our own, Leaky gave us the ability to gather from every corner of this muggle world to share news, make friends, and build a home. I cannot properly express my gratitude now on how it feels to be contributing to such an iconic pillar of the Potterverse 19 years later except to say from the bottom of my Hufflepuff heart — Thank You and Happy Birthday, Leaky. I promise to share you with a family of my own some day.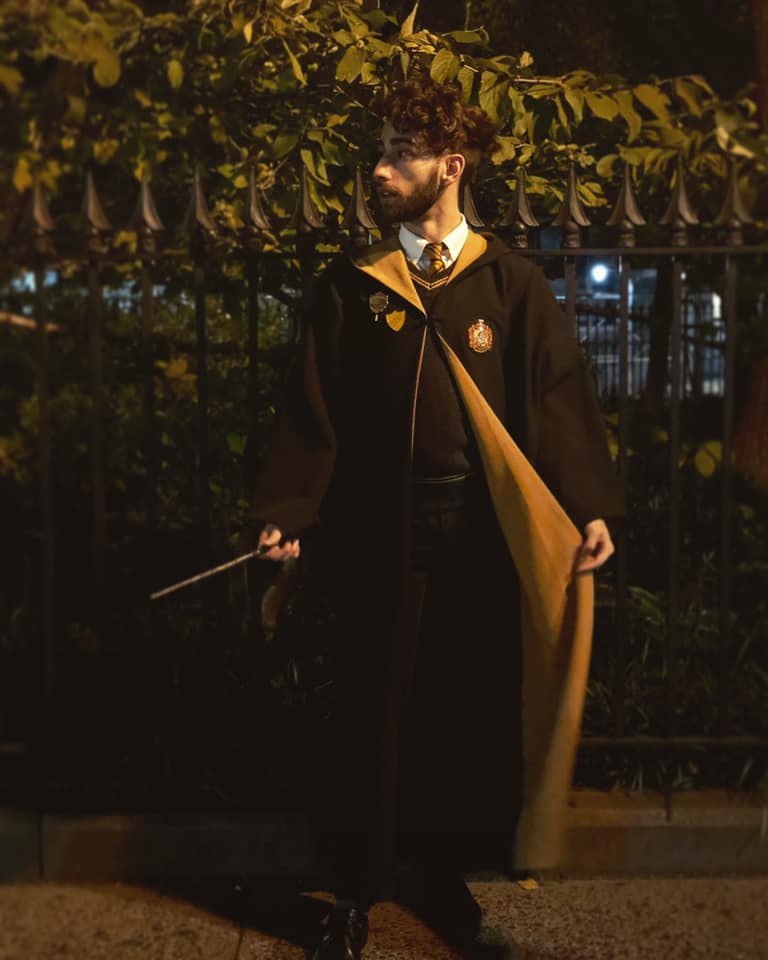 To those still reading the site, still building this corner of the internet that's "hoping to do some good in the world", as Hermione would say (or at the very least highlight the people who are!), stand for truth and share the best parts of being a fan — thank you. To Mischief Management, to Wrockers, to the Potter non-profits, to Lumos, to Warner Bros, to wizarding world 'influencers', to Universal Orlando, to anybody we've worked with – THANK YOU.
We'd love to know when you first started reading Leaky, and your favorite memory in the history of the site. Did you have a My Leaky account? Do you remember the fan mania leading up to the publications of the last three Harry Potter books?
Find out more about Leaky's history here, and find a timeline of the history of Potter and Leaky here.
In the words of J.K. Rowling, all was well.