'Harry Potter' Star Tom Felton & LeakyCon Lit Lineup Announced for LeakyCon Dallas!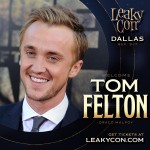 Jul 25, 2019
LeakyCon just announced that Harry Potter alum Tom Felton will be attending LeakyCon 2019 Dallas as a special guest, and we can't contain our excitement! With this magical news and other guest and programming announcements, it looks like fans can expect another huge year following last year's sold-out event.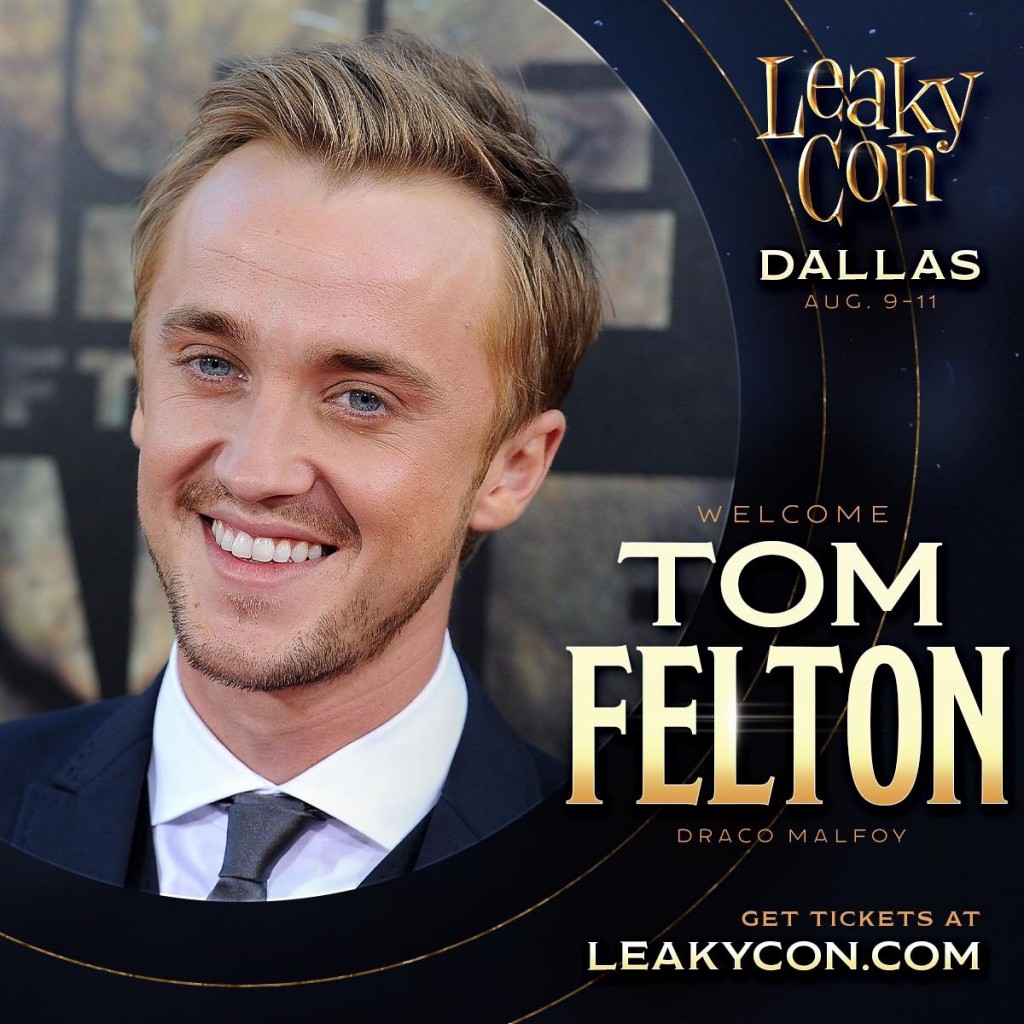 Felton starred as Slytherin Draco Malfoy in all eight installments of the Harry Potter film adaptations. As one of the series' main antagonists, and Harry's childhood enemy, most fans have a strong love/hate relationship with Draco, much like his Head of House Severus Snape. Felton's portrayal of the character was so impressively spot-on throughout the films that fans often feel an empathy for the conflicted young wizard beyond what Rowling may have originally intended!
Since wrapping Harry Potter and the Deathly Hallows Part 2, Felton has continued to work steadily in both television and film, honing the acting prowess which developed as he grew alongside his onscreen counterpart. And though an undisputed success in villainy, he has not been pigeonholed, finding roles that are both light and dark and delightfully in-between, as evidenced by his eclectic filmography.
Felton has starred in Rise of the Planet of the Apes, Labyrinth, Belle, Murder in the First, Risen, A United Kingdom, Megan Leavey, The Flash, Feed, Ophelia, Origin and the upcoming Whaling, among others.
Leaky most recently crossed paths with Felton at the grand opening of Universal Orlando Resorts' new Islands of Adventure theme park attraction, Hagrid's Magical Creatures Motorbike Adventure. He participated in a cast Q&A at the media event and was absolutely charming. We hope to meet up with him again at the London Comic Con event this weekend!
However, if not, we can now look forward to LeakyCon 2019 Dallas, the premiere unofficial Harry Potter fan convention, which returns to the Kay Bailey Hutchison Convention Center Aug. 9-11. Felton joins his previously-announced Harry Potter costars Scarlett Byrnes (Pansy Parkinson), Afshan Azad (Padma Patil), James Payton (Frank Longbottom) and Jim Tavaré (Tom the Innkeeper).
They brought the magic to life, and now they're bringing the party to #LeakyCon! Welcome these special guests ? @scarleybyrne (Pansy Parkinson)@afshan_azad (Padma Patil)@MrJamesPayton (Frank Longbottom)@jimtavare (Tom the Inkeeper) pic.twitter.com/HJNcnaN1yX

— LeakyCon (@LeakyCon) July 9, 2019
LeakyCon also announced the author lineup for LeakyCon Lit, a literary programming track for those interested in Young Adult (YA) literature. LeakyCon Lit runs concurrently with other Dallas programming at the same location, and all tickets provide access to both.
At LeakyCon Lit, fans will have the opportunity to hear from featured authors Angie Thomas (The Hate U Give), Julie Murphy (Dumplin'), Becky Albertalli (Simon vs. the Homo Sapiens Agenda), Hafsah Faizal (We Hunt the Flame), Mackenzi Lee (The Gentleman's Guide to Vice and Virtue), Justin A. Reynolds (Opposite of Always), Mark Oshiro (Anger is a Gift) and Nic Stone (Dear Martin). 
Welcome these 8 incredible authors to #LeakyCon Dallas! ? @themackenzilee, @andthisjustin, @hafsahfaizal, @beckyalbertalli, @angiecthomas, @andimjulie, @getnicced, @markdoesstuff ? pic.twitter.com/NDLeRsSOxf

— LeakyCon (@LeakyCon) July 23, 2019
Highlights of the LeakyCon Lit program schedule are:
Adaptations: Watching Your Story Come to Life On Screen
"The last 18 months have seen movies premiere based on The Hate U Give, Simon vs. the Homo Sapiens Agenda and Dumplin'. Authors Angie Thomas, Becky Albertalli and Julie Murphy will discuss what it's been like to watch their books be adapted and reach wider audiences than ever before."
How Harry Potter Influenced Us
"The 'Harry Potter Generation' has grown up and are creating stories of their own. We'll discuss how our love of Harry Potter inspired our writing and influences us to this day."
Writing Humor
"A line may seem funny in the midst of a deadline-induced writing haze, but will that translate to editors and readers? We'll talk about what makes something funny and the tips we've learned for writing humor."
Clearly, LeakyCon is going all out for its benchmark 10th anniversary this year, and fans will not want to miss out on the chance to participate in all the incredible meetups, panels and events specially geared to celebrate the Harry Potter series and its incomparable fandom.
For more details on event and panel programming, read Leaky's coverage of the LeakyCon Dallas schedule here. Visit the official LeakyCon website for ticket information here!