Universal Orlando Announces Fourth Park: Epic Universe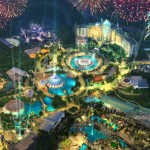 Aug 01, 2019
We previously reported on rumors that Universal Orlando Resort was building a new, fourth, theme park, and today that rumor became reality in an official announcement from the park! The new park will be called Universal's Epic Universe, and will aim to create 'an entirely new level of experience that forever changes theme park entertainment'.
Venturing outside of the Islands of Adventure and the Wizarding World, Epic Universe will add new lands and experiences to Universal Orlando Resort. Universal's Epic Universe will take guests on a journey 'where beloved stories expand into vibrant lands'. Brian L. Roberts, Chairman and Chief Executive Officer of Comcast Corporation said on the expansion:
'Our new park represents the single-largest investment Comcast NBCUniversal has made in its theme park business and in Florida overall. It reflects the tremendous excitement we have for the future of our theme park business and for our entire company's future in Florida.'
But what can we expect from the new park? An initial map – which isn't labelled – appears to show a new hotel, coasters, light shows and five or six new lands: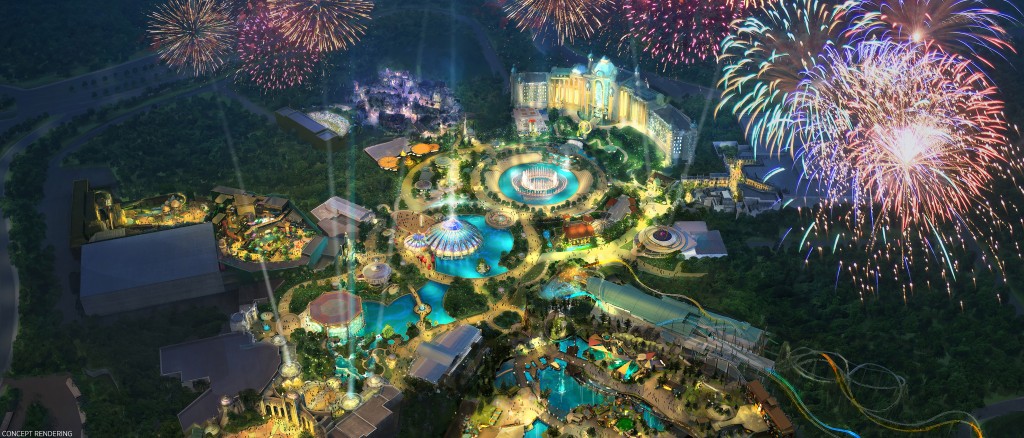 Of course 'Fantastic Worlds' was trademarked by Universal previously, and sparked rumors of a Fantastic Beasts equivalent of The Wizarding World of Harry Potter, fuelled even more by the presence of Globus Mundi, which – to fans like us who enjoy speculation – seemed a nod to the globetrotting Fantastic Beasts series.
Taking a look at this map, it looks like there's a 'land' in the top right, which looks a little like the streets of New York in  Fantastic Beasts and Where to Find Them, or even the wizarding Parisian streets seen in Crimes of Grindelwald. As we know from our set visit, this area is fondly known as 'French Diagon Alley', and was built in full for cast members to wander around, just as the real Diagon Alley set was (as seen in the Studio Tour, and built upon in the Diagon Alley in Universal Studios). Could Epic Universe introduce a new experience for Wizarding World fans?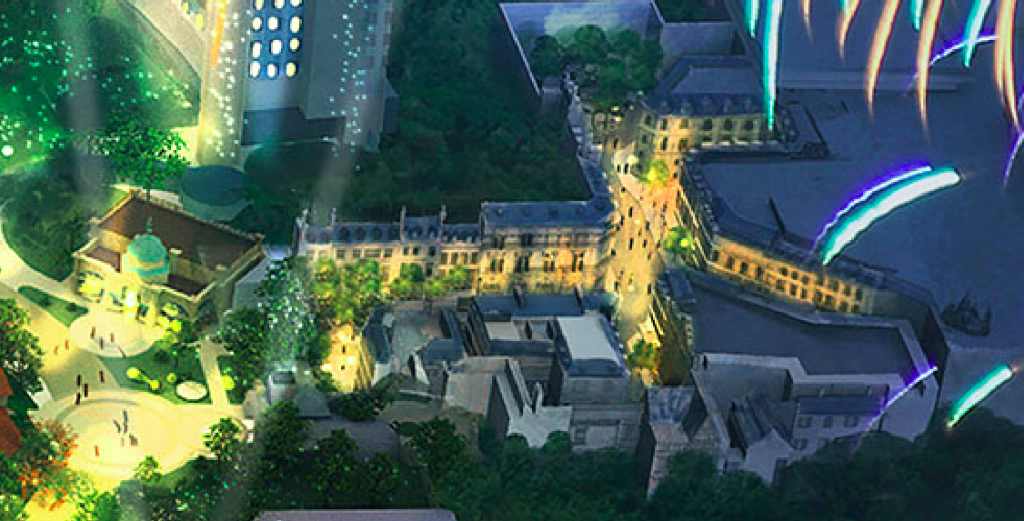 It's also possible that this park will include another rumored land: Nintendo. Take a look at the section of the map below: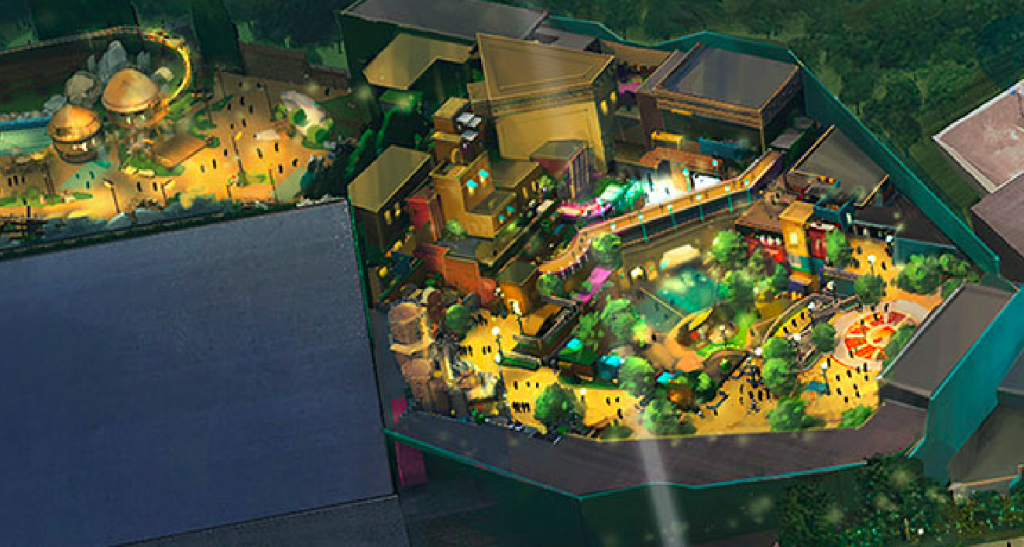 Universal have almost doubled their acreage in Central Florida, with the new park being located within a larger 750-acre site, meaning there's plenty of room to grow! Epic Universe will also feature a new entertainment centre, hotel, shops and restaurants, and will be located east of Universal Boulevard, just a few miles from the existing resort. According to  Tom Williams, Chairman and Chief Executive Officer for Universal Parks & Resorts, Epic Universe will  'become the most immersive and innovative theme park we have ever created.  It is an investment in our business, our industry, our team members and our community.'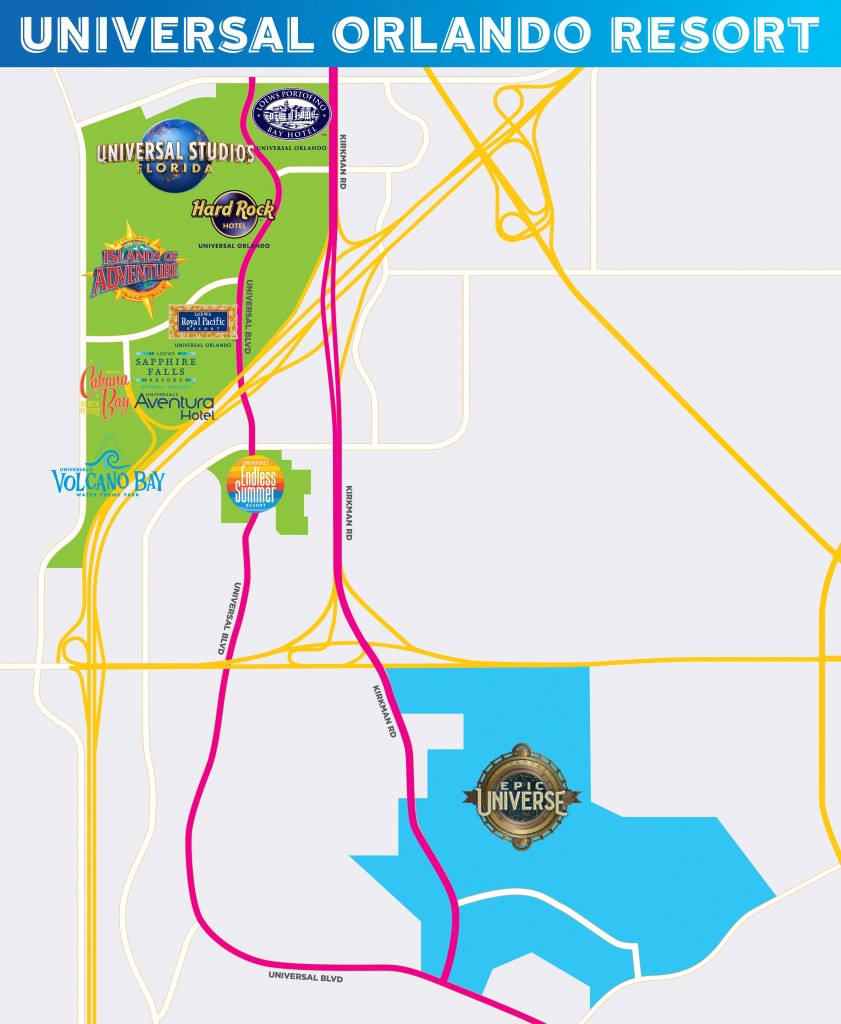 An additional 14,000 team members will be hired as part of Epic Universe, bringing the total employee count up to 39,000.
What are your predictions? Do you think Fantastic Worlds could be a part of Epic Universe? We've not received word on attractions, or an opening date yet, but can't wait to hear more!