LeakyCon Welcomes Back Quidditch Hero, Stanislav Yanevski!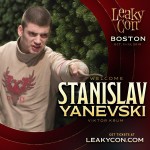 Sep 04, 2019
LeakyCon will welcome back the Harry Potter series' Quidditch Hero, Stanislav Yanevski (Viktor Krum) to the tenth anniversary celebration event in Boston next month, along with a host of other talent from the movies!
He's a Quidditch star and a wizarding heartthrob 😍 Welcome Viktor Krum actor @StanYanevski to #LeakyCon Boston! https://t.co/OffwlkM0C0 ✨ pic.twitter.com/RDLmp1wqhc

— LeakyCon (@LeakyCon) September 4, 2019
LeakyCon Boston will take place October 11 – October 13 at the Seaport Convention Center. Stan Yanevski will appear at the convention on Friday October 11 and Saturday October 12, and will be joined by previously announced actors from the Harry Potter series, Dan Fogler (Jacob Kowalski) and Harry Potter film series actors Chris Rankin (Percy Weasley) and Luke Youngblood (Lee Jordan), as well as fan-favorite podcasts PotterCast, MuggleCast, and Harry Potter and the Sacred Text, and Wizard Rock bands Harry and the Potters, Draco and the Malfoys, Tonks and the Aurors, and Lauren Fairweather.
Explore the real-life history of Salem, MA before #LeakyCon Boston! Join our group day trip.

Tickets are limited, so don't wait ✨ https://t.co/kcLEFs4GOS pic.twitter.com/dp9O3oQ97k

— LeakyCon (@LeakyCon) August 30, 2019
The Leaky Cauldron will also hold a panel at LeakyCon Boston, on Saturday October 12th between 2pm-3pm. Find more details here.
Autograph and photograph experiences with Stan Yanevski are available for purchase now. Autographs are $25 and photographs are $40.
LeakyCon also recently announced a new partnership with Rose City Comic Con in Portland, Oregon to present LeakyCon at Rose City Comic Con between September 7-9, featuring programming, meetups, a Wizarding Alley in the vendor hall, and more.  LeakyCon 2020 will take place in Orlando at the Orange County Convention Center. Tickets are now on sale.
🔊 Have you heard? 📣

LEAKYCON 🕺 ORLANDO 🏃‍♀️ TICKETS 👯 ARE 💃 ON 🤸‍♀️ SALEhttps://t.co/WA9EAcwMgz ✨

— LeakyCon (@LeakyCon) August 30, 2019
For more information, visit the official LeakyCon website.