LeakyCon Boston Day Three: Luke Youngblood and Dan Fogler Panels, the Return of Potter Puppet Pals and PotterCast LIVE!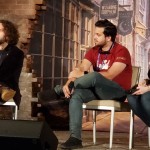 Oct 14, 2019
Wait, we're recapping Day 3 already?  Yep, this LeakyCon 10th anniversary weekend has flown by faster than Harry chasing Neville's Remembrall.  The second day of Leaky Con 2019 Boston continued unhampered by the chilly weather and stubborn rain as fans turned out in droves to celebrate their love for Harry Potter and the Potter fandom community.
The day kicked off at the MainStage with the "Wizarding World Actors" panel, featuring Melissa Anelli, John Noe and Frankie Franco as moderators joined by Chris Rankin (Percy Weasley), Luke Youngblood (Lee Jordan), Stan Yanevski (Viktor Krum), Louis Cordice (Blaise Zabini) and Dan Fogler (Jacob Kowalski). Other highlights from Saturday included a discussion of "How Harry Potter Influenced Us" with authors Claudia Gray, Jackson Bird, Mark Oshiro and Preeta Chhibber, a showdown between MuggleCast and PotterCast, Leaky's own "19 Years Later" panel and the Esther Earl Ball to close out the night.
It was a magical Day Two at LeakyCon and, weary as we were by the time strains of "Total Eclipse of the Heart" carried over the dance floor, anticipation remained high. Fans were ready for the third and final day of LeakyCon to begin mere hours later and, though Sunday did dawn brighter and earlier than a witch or wizard might wish, those gathering for the opening panel, "Spotlight: Luke Youngblood," were clearly excited.
Leaky's senior editor Emma Pocock moderated the panel and jumped in by declaring that Lee Jordan is an underrated character in the series. (Here, here!) Youngblood, who shares Gryffindor house with his onscreen persona, agreed, and went on to share some fascinating behind-the-scenes details about the films and his time on set.
On working with Dame Maggie Smith (Professor McGonagall), Youngblood recounted:
"When we were up in the tower, I was mostly trying to just concentrate on getting my lines right. The original cut of the movie was about four and a half hours long…so the quidditch was completely different the first time, and it was basically 12 pages of monologue of Lee saying everything."
Elaborating on the scope of the filming process, he explained:
"To do the Sorting Hat took us about three weeks…there's one shot of when the first years are walking in…that was three days to get that one shot. I just didn't realize the scale of what it was going to be."
Not only was the scale of the film massive, but the sets themselves were incredibly immersive and detailed. Unfortunately, Youngblood didn't get to work on them all, so he shared a story about sneaking onto the "Chamber of Secrets" set with his sister.
Lee Jordan actor @luke_youngblood on the Chamber of Secrets: "The set was out of this world and I'm so glad I snuck onto it…and then I looked at my watch…and I'm just so glad that I did it because that's something I never would have seen in real life." @LeakyConpic.twitter.com/9GhmGFag8E

— The Leaky Cauldron @ LeakyCon ?? (@leaky) October 13, 2019
That sounds just the sort of behaviour we'd expect from Lee and his best friends, the Weasley twins!  As for sets he wishes he'd been on, Youngblood chose the Weasley Burrow, with all its homey, familial comfort. But more than that, he said he would have enjoyed "seeing how everything works by itself; there were so many tricks."
Pocock also asked Youngblood to share what other Harry Potter character he would like to play, and his response was definitely unexpected. He said:
"I would love to play, and a lot of people are surprised by this, Professor Umbridge. Because she, out of everyone, is the most evil…She is so evil and it's great. I love it. I wouldn't like to interact in real life, but playing that type of character would be so much fun."
We learned other interesting and little-known facts about Youngblood, such as his love for Jurassic Park, his love for traveling, and his self-identification as a foodie. His top three favorite travel destinations are Italy, Japan, and Thailand, and he raved about Boston's lobster tails and Clam Chowder.
This led Pocock to suggest that Youngblood could host an amazing food and travel podcast, especially given all his recent voiceover work. He would be a natural!
Luke on doing his own podcast: "I think maybe travel & food would be quite good subject matter. I actually thought about doing something with James & Oliver, & I think that could be really funny. They are so funny in real life & I think that could be a good trio." @LeakyCon pic.twitter.com/G26aWg8FWP

— The Leaky Cauldron @ LeakyCon ?? (@leaky) October 13, 2019
Other highlights of the panel included Youngblood suggesting that the wizarding world should expand to Africa, "like, a Wakanda kind of moment, " and musing over what spell or potion he would create. 
Luke on creating a spell or potion: "I think it would be to fly as a human being. Cause I know, like, people can apparate, but I want the experience of flying. I guess it would be a spell because I wouldn't want to be over the Atlantic Ocean and the potion's wearing off…" pic.twitter.com/E67AKVgSBz — The Leaky Cauldron @ LeakyCon ?? (@leaky) October 13, 2019
He also revealed that he would want to be an Auror, saying, "I would have liked to have been selected as [MI5 or MI6]…I would want to go on those secret missions, or not so secret missions, and fight for the good of wizard kind."
It was wonderful chat and a wonderful start to the day—a perfect lead-in to the "Potter Puppet Pals" MainStage event, where laughter could be heard echoing throughout the Marketplace.
It's time for the @potterpuppets presentation! (It's literally a PowerPoint presentation ?)! ??? pic.twitter.com/9DHBX3gvTV — The Leaky Cauldron @ LeakyCon ?? (@leaky) October 13, 2019
'Wizard internet would be cool though' – One of 29 principles of magic from @potterpuppets ? #leakycon pic.twitter.com/kKk4TIo2fR

— The Leaky Cauldron @ LeakyCon ?? (@leaky) October 13, 2019
'Collect my tears, Harry' 'Maybe later Snape' ?? @PotterPuppets #leakycon pic.twitter.com/xfTYytwLxJ

— The Leaky Cauldron @ LeakyCon ?? (@leaky) October 13, 2019
Did you know Harry Potter customised his wand to increase its value? ?? #leakycon@PotterPuppetspic.twitter.com/a0As5aItJJ — The Leaky Cauldron @ LeakyCon ?? (@leaky) October 13, 2019
Fans laughed until they cried, and with the "Spotlight: Dan Fogler" panel immediately following, we expected those laughs would keep coming, and we were not disappointed! Melissa Anelli, John Noe and Frankie Franco of Mischief Management and Pottercast renown conducted the interview, and Fogler definitely kept them on their toes with his frenetic energy and ability to run with questions—it's clear why he's so gifted at improvisation.
Thankfully, David Yates has given him quite a bit of flexibility as he's brought Jacob to life, allowing him to improvise his interpretation of the character. As to how much freedom he has, Fogler elaborated:
"At every level, which was so surprising. Physical comedy, improv. They really were very inviting. They were like, 'Please.' Because the first Harry Potter movies, obviously, they had the books. And coming into Fantastic Beasts…[Rowling is] the modern Shakespeare!…but no, they were like, 'We don't know who Jacob is. You're Jacob, so tell us who Jacob is.'
"[The] 'I want to be a wizard' [bit]…that was just an improv!…'My uncle's a house elf.' That was an improv!
"In the scene where the Murtlap comes out and bites me, they said, 'You just look and see where you are seeing motion coming out of the case, you're going to have a Murtlap to contend with, but, we'll follow you, Dan.' But to hear that, for someone who's a physical comedian" that was great.
"At this point, I just throw out, whatever sticks. At this point they trust me. I know the character. And the editing is huge. They know where they're going."
He completed his comedic riff with a hilarious idea for a Saturday Night Live skit—we'll call it "Am I Corvus?" It is just not possible to adequately describe it!
The @pottercast crew interviewing @mrdanfogler riff on the mystery of Corvus if it were an @nbcsnl skit: "Am I Corvus?" "Nobody's Corvus!" "Corvus needs your support. 1-800-Find-Corvus."@LeakyCon#leakycon10pic.twitter.com/vdbUoBst0x — The Leaky Cauldron @ LeakyCon ?? (@leaky) October 13, 2019
On his relationship with Queenie, and all the problems that entails, Dan explained:
"Well, she's a Legilimens. You know that right? I think it's totally impossible…she knows everything that's on this poor man's mind at all times, so, luckily, he's got a heart of gold. But God forbid he thinks she's a little nuts.
"They're both in a huge dilemma. He's in love with her, and she's in love with him, and he's very practical. He's been through a war…he thinks they could live for a long time, very happily, boyfriend, girlfriend, take it slow. And she's all about, 'Do this now!' And how can you blame her?
"If you had magical powers, and you could turn to your lover and put a spell on them because you feel in your heart you know what's best…'Listen, let's just run away, we'll get married, it'll be cool.' And he's, like, 'No, we'll be hunted! It won't be cool…'
"…It's terrible that they can't be together. It's just awful…I think he loves her so much that he forgave [the spell] within the first 30 seconds of talking to her and seeing how upset she was about it."
But Dan believes there's hope for the star-crossed lovers of J.K. Rowling's story!
On Queenie & Jacob: "I have this little glimmer of hope that they eventually get back together. It just seems like they would…I have no idea, but there's this guy, Quintin Kowalski…he's essentially the male version of Queenie. Wouldn't it be cool if he was related to us?" pic.twitter.com/FBRiViCv5i

— The Leaky Cauldron @ LeakyCon ?? (@leaky) October 13, 2019
And not only hope for their relationship, but hope that Queenie won't be too far gone to gain redemption in the wizarding world. He said:
"I have this vision where, this premonition, where she becomes the most powerful person in the movies. She taps into some, like, Professor X sh*t…and I just see this where I'm hunkered down with the wizards, and she's outside making thunder, and they turn around and they're, like, 'You used to date her?!'"
Until that happens (who knows how long Rowling intends that separation, and tragic downfall, to last), Fogler believes Jacob will take it very hard. He observed:
"He has so much loss, he's lost her, he's lost his appetite, maybe he can't even go into the bakery. Every little thing he's made reminds him of her. So maybe psychologically…'I'm going to get really fit. I'm going to be seen with really hot women.' His version of that is getting ready for battle. Maybe he's getting back into boxing or whatever. Maybe he's not. But at some point, they're going to come back, and I'm going to be ready and gonna kick some ass until I get her back."
It's also not impossible that Jacob may prove to have magical abilities himself, abilities which would ease the chasm between them somehow. After all, magic is a deep and mysterious craft. Harry possessed power and magical ability that Voldemort knew not! And love was the essential deciding factor.
Dan on Jacob being able to do magic: "Well, JK says that love is the most powerful magic in the wizarding world. And I'm pretty sure he's got the biggest heart. And baking, that's alchemy. It's just the ingredients." @LeakyCon@mrdanfogler#LeakyCon10pic.twitter.com/hq0x89P3Ca

— The Leaky Cauldron @ LeakyCon ?? (@leaky) October 13, 2019
As the Q&A segment of the panel began, the questions about Jacob kept coming. One audience member wanted to know if Fogler read the Harry Potter books in preparation for filming, and he admitted that while he had watched some of the movies, he did not, in fact, read the books. Shocking though that may sound, Fogler had a very good reason for making that choice at the time of his casting.
Dan on reading #HarryPotter: "I thought, should I go back & read all the books in preparation for Jacob? & I thought, no, I'm a Muggle from the 20's. The less I know the better. I have to go into this like Alice in Wonderland. I have to be in total awe." @LeakyCon@mrdanfoglerpic.twitter.com/mtjUvIpqkg

— The Leaky Cauldron @ LeakyCon ?? (@leaky) October 13, 2019
He explained further, saying:
"I'm supposed to learn when I get there. So when I finished filming the first one, I was like, wow, I love this universe.

"I come from Star Wars. I love Star Wars. So that's the hero's journey…search for the mother, search for the father. When I realized Harry Potter is the hero's journey…[Rowling] accomplished what Lucas couldn't accomplish. She made a hero's journey right here, right now, next door."
And now that his relationship with the wizarding world has been established, Fogler has begun reading Harry Potter and the Sorcerer's Stone with his daughter!
Fogler was then asked to describe his favorite part about playing Jacob.
Q: What has been your favorite thing about playing Jacob?

A: "Jacob is so special to me. Basically saved my career…it was as if the universe was like, here is a perfectly crafted role for you to do. When I read it I just knew it. I understood it." @mrdanfogler@LeakyConpic.twitter.com/7BOnwVfyBo

— The Leaky Cauldron @ LeakyCon ?? (@leaky) October 13, 2019
He also retold the story of his great-grandfather, explaining that he feels like he's stepping into the shoes of his ancestor playing this part. Not only that, Fogler said he's always felt he should have lived during the '20s, like that was "his time."
Next, an audience member asked how Fogler expects Jacob's WWI experiences to affect their lives. He answered with characteristic passion and depth, observing:
"He's horrified. He saw WWI, and Grindelwald gives him that hallucination in the amphitheater where they see what's coming, and they see the Atom bomb and Jacob says, 'Not another war!'…the idea that there would be a second war was horrendous."
Adding more context to his comments, he said:
"My favorite movie is Raiders of the Lost Ark, so when I'm Jacob running from the Erumpent, in my head I'm Indiana Jones running from the boulder. And so the idea that Jacob would get the chance to kick some Nazi ass is very Indiana Jones to me. WWII is very Indiana Jones to me."
"There's supposed to be a huge battle between Grindelwald & Dumbledore. We know it's all leading to that. I just can't wait to be part of the trench warfare…with all the mechanics of war with magic mixed in…Newt riding a Steel-belly dragon, the potential is huge." @LeakyConpic.twitter.com/ScBiBswMJQ

— The Leaky Cauldron @ LeakyCon ?? (@leaky) October 13, 2019
And that question wrapped a fantastic panel with Dan Fogler. All that remained to take LeakyCon out with a bang Fred and George would be proud of was the Pottercast LIVE broadcast from the MainStage.
We're LIVE taping the 300th episode of @pottercast at @LeakyCon w/a surprise special guest. We've got canon conundrums, a round of "Are you smarter than John Noe?" & some thought-provoking audience questions. Watch for the episode out as soon as Melissa, John, & Frak have rested! pic.twitter.com/JerV8FQjZz

— The Leaky Cauldron @ LeakyCon ?? (@leaky) October 13, 2019
With that sign off, LeakyCon officially ended for another year. Have a listen to the podcast to hear the Pottercast crew's Harry Potter and Fantastic Beasts-themed discussions and recap of the event—and tune in to find out which special guest joined in for the episode!  (Hint: He's a really big dill.)
It was a magical end to a magical weekend, and many fans are already counting down to LeakyCon 2020 in Orlando! For a hint of what you can expect if you've never attended, read our recaps of Day One and Day Two here.  Early bird-priced tickets for Orlando on sale here.