Win a copy of "Harry Potter: A Hogwarts Christmas Pop-Up"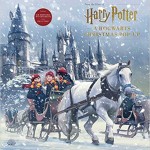 Oct 14, 2019
Leaky recently reviewed Harry Potter: A Hogwarts Christmas Pop-Up. It's forthcoming from Insight Editions on October 22, 2019, priced at $39.99, and you can pre-order it now from Amazon, Barnes & Noble, or IndieBound. If you know your Hogwarts Christmas trivia, you could also win your own copy in our giveaway, sponsored by Insight Editions.
Pop-up books are always fun, but Harry Potter: A Hogwarts Christmas Pop-Up takes the concept to another level. The book features an Advent calendar in the form of a pop-up Christmas tree in the Great Hall.  Each day you open a door to reveal an ornament to hang on the tree.  It's not just a one-off treat either:  You can repack the ornaments behind their doors at the end of the festive season and do it all again next year.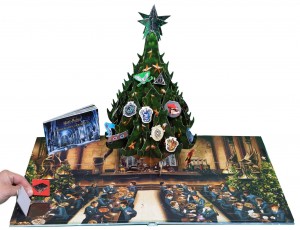 We won't spoil all of the surprises in this large, beautiful hardcover book.  To see for yourself, answer the following trivia question:
What are the words to the song that the Hogwarts ghosts sing as they drift through the castle as it is being decorated for the holidays in the film Harry Potter and the Sorcerer's Stone?
If you know the words to their festive song, send us a message via our Facebook page by 11:59pm EDT on Sunday, October 20, 2019. The winner will be randomly selected on Monday, October 21.  If you are the lucky winner, we will message you back asking for your address.  Insight Editions will post the book to the winner worldwide.  Good luck!