Devon Murray Announced as Special Guest for LeakyCon Orlando 2020!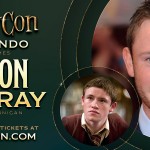 Oct 19, 2019
Mischief Management announced that Devon Murray will be joining the lineup of special guests for LeakyCon 2020 in Orlando, Florida yesterday!
Murray is best known to Potter fans for his portrayal of endearing Gryffindor Seamus Finnegan in the Harry Potter film adaptations of J.K. Rowling's iconic book series. Finnegan is a fan favorite for his proclivity for pyrotechnics and his amusing way with words. Who can forget the matter-of-fact deadpan delivery of Seamus' family situation first year? "I'm half and half. Dad's a muggle, Mam's a witch. Bit of a nasty shock for him when he found out."
We're so excited ? LeakyCon is in Orlando, Devon Murray will be there too. Nothing about this is a nasty shock!

Get your tickets to #LeakyCon Orlando today: https://t.co/WA9EAcwMgz pic.twitter.com/bLcGwxaXqN

— LeakyCon (@LeakyCon) October 18, 2019
Murray last attended LeakyCon in 2018. At the time, he told LeakyCon founder and Leaky Cauldron webmistress Melissa Anelli that he was amazed fans remained so devoted. He marveled:
"Harry Potter's been finished a long time now and people are still just as obsessed with Harry Potter back then as they are now- actually, even more so now! Everybody seems to have grown up watching Harry Potter, so there are kids who might not have been able to afford to come to events like this, and now they're older and got their own jobs and their own families, and they're coming along and bringing their own kids. It's cool to see the next generation coming along to these types of things, too."
Like Lavender Brown's enduring obsession with Won-Won, the fandom's love for Potter shows no sign of waning, and fans will assuredly be as happy to see Murray in 2020 as they were two years ago!
And, hopefully, he'll have another update on upcoming projects for us. He revealed in the Dallas spotlight panel that he planned to remain in Ireland, so its likely future work will be based there. (Although, who knows? We'd love to find out what bucket list project might lure him back to the states in the future!) Murray also discussed his love for horses and horseback riding. He enthused:
"When Harry Potter finished I was like, right, I need some time for myself, back with my family, back with the horses, back with the people I grew up with, and that's what I've done since Harry Potter. I'm riding horses all day every day – we rescue horses, rehabilitate them, find new horses and produce them for the Grand Prix."
It will be interesting to find out if his daily routine and involvement with family and friends has remained unchanged!
Murray's addition to LeakyCon's 2020 programming schedule, joining previously announced costar Evanna Lynch, is exciting news for Potter fans as he will likely feature in an ensemble panel as well as a MainStage spotlight panel.
As reported by Leaky in August, LeakyCon returns to the Orange County Convention Center July 31 through Aug. 2, 2020, which means LeakyCon attendees will be celebrating Harry Potter and J.K. Rowling's birthdays at the convention! Whatever Mischief Management conjures up to mark the event, it is sure to be a magical–maybe even explosive!–weekend.
Anelli issued a warm statement at the announcement of the big Orlando reveal, saying:
"Orlando has been such a wonderful home to us in the past, and we are always being asked to bring LeakyCon back there. Gathering the Harry Potter community together there again for Harry's birthday will mean a magical weekend full of fandom, fun, and family."
LeakyCon is the premiere unofficial Harry Potter fan convention and looks to be the go-to destination for the fandom in 2020! Fans can now purchase tickets, which have been on sale since August. So, mark your calendars and gather your galleons! Don't miss out on the opportunity to attend LeakyCon in Orlando and meet the fabulous Seamus Finnegan. Tickets are bound to go faster than Seamus' flaming eyebrows!