Exclusive Interviews and Footage From the 'Harry Potter and the Cursed Child' San Francisco Premiere!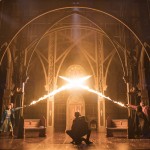 Dec 02, 2019
Leaky writer and correspondent Gianfranco Lentini was on site in California yesterday for the magical opening of the Harry Potter and the Cursed Child San Francisco production.
From red carpet interviews with producers Colin Callender and Sonia Friedman, inside footage of the Curran Theater and the spectacular curtain call to the star-studded after party and cast interviews, Leaky covered the west coast opening as thoroughly as Hermione Granger covering every square inch of parchment for an assignment. That quill would not rest, and neither did Lentini, clad in full Hufflepuff-pride attire, and his camera.
We're here at the @CursedChildSF San Francisco red carpet!???Stay tuned to see who we catch on their way to see the official opening of #CursedChild at San Francisco's Curran Theater! ? #CursedChildSFpic.twitter.com/mYIFAfgfJC

— The Leaky Cauldron (@leaky) December 1, 2019
Callender was first up on the red carpet and enthusiastically explained why the new cast is so unique and the San Francisco debut such an exciting addition to the global Cursed Child phenomenon.
Producer Colin Callender tells us why the @CursedChildSF cast is totally unique, and why the show's opening at the Curran Theater in San Francisco is so exciting!??#CursedChildSF #HarryPotter pic.twitter.com/hlMH6KFCI2

— The Leaky Cauldron (@leaky) December 1, 2019
He pointed out that a number of the primary cast members transferred from New York, former under studies or crew members who grew into their roles. It's an introduction to the wizarding world that Harry would surely be proud of–gradual, and then all at once, a bit like his own unexpected beginning.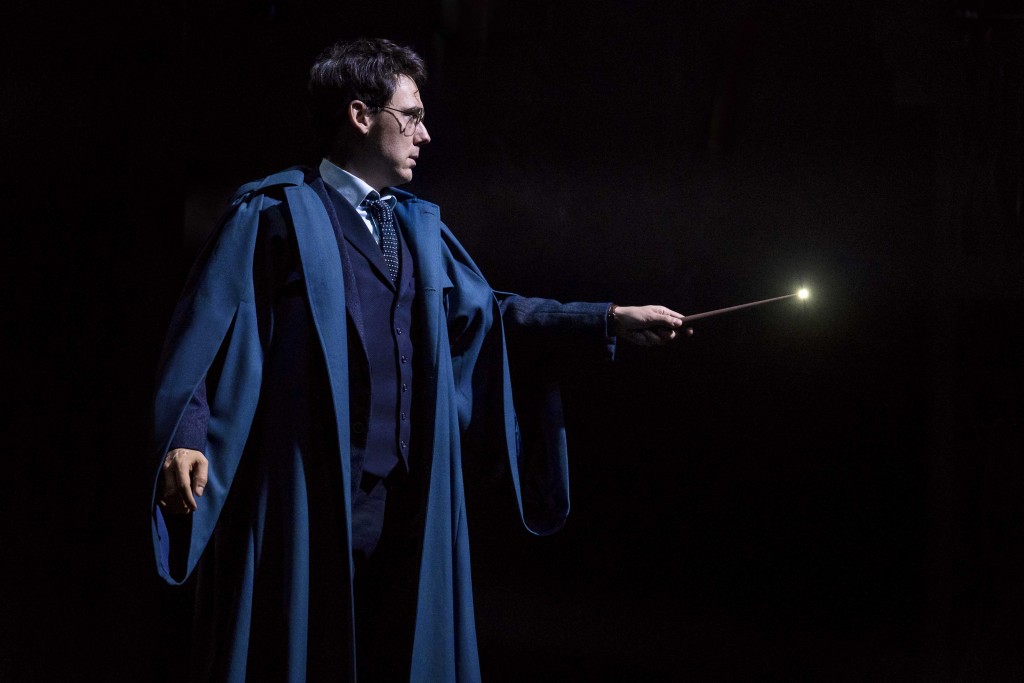 And recognizing the ongoing expansion of that world, particularly in theater, Callender noted: "We want as many fans to see the show as we can. That's the big objective here." 
He closed on a high note, reminding fans of the light to be found throughout the play, and in all of J.K. Rowling's work, of the ties that bind and the friendships that make them.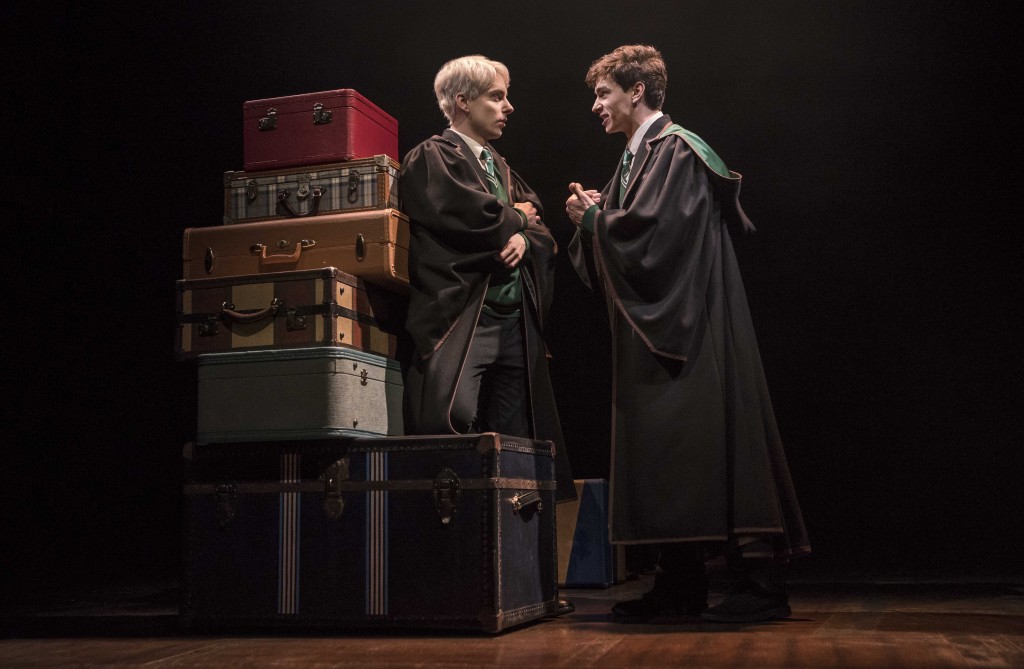 Lentini then passed the torch to producer Sonia Friedman, who immediately spoke of her love for the Leaky Cauldron and her appreciation for the wider context provided to fans through exposure to theatrical and artistic works beyond, though always brought back to, Potter.
She pointed out that Potter feeds other work, like an ecosystem, and observed, "I love that your readers get to see the big breadth of arts and the work going on around the world." 
We were overjoyed to hear the incredible Sonia Friedman (@SFP_London) talk about her love of The Leaky Cauldron!? A surreal moment for us on the @CursedChildSF red carpet at @sf_curran today – thanks to Sonia for such kind words, and for so many brilliant productions!?? pic.twitter.com/ZJpEoWn6jK

— The Leaky Cauldron (@leaky) December 1, 2019
Friedman went on to speak about the message of the play, its heart of "tolerance, acceptance, kindness and the act of friendship." She elaborated:
"It is a story that's so universal, as we know. Jo's themes are always universal. But also, it's a piece of theater. It's magical in the most obvious sense, but it's also magical because it's an opportunity for people to come together, families to come together, friends to come together, to spend the day and commune, really, and talk and think about their relationships."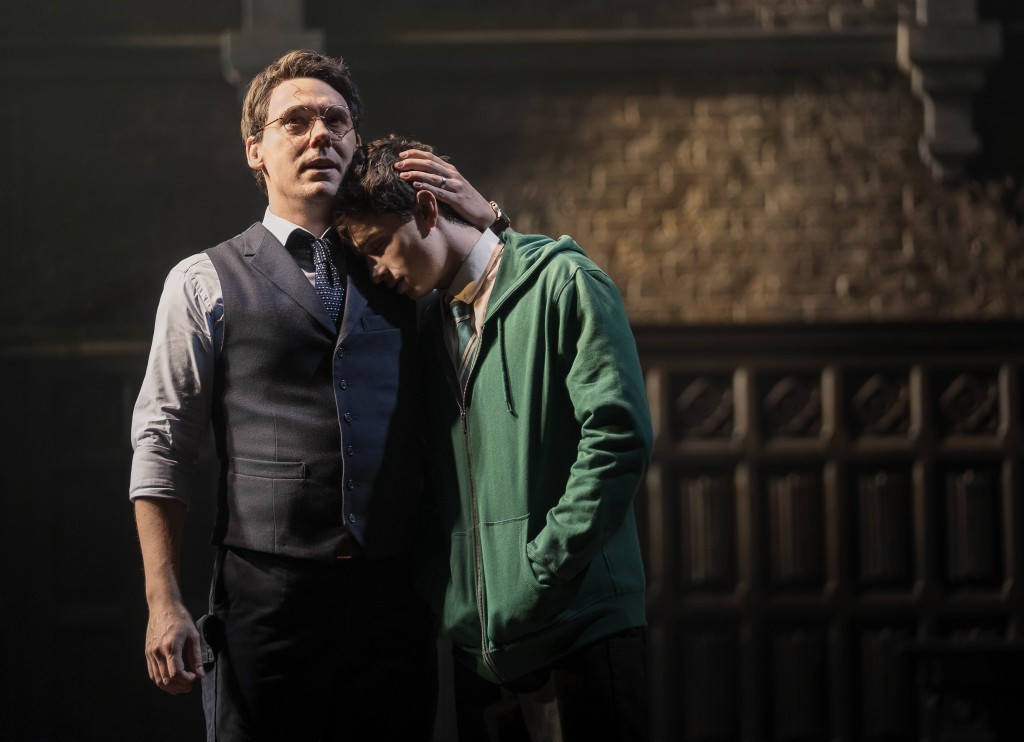 Rowling's story truly is an inspiration, in all senses of the word!
More from Producer Sonia Friedman at the @CursedChildSF premiere on the importance of themes of tolerance, kindness and acceptance, and #CursedChild and theater as a communion of sorts for #HarryPotter fans ??? @SFP_London pic.twitter.com/2P77bb5Es3

— The Leaky Cauldron (@leaky) December 1, 2019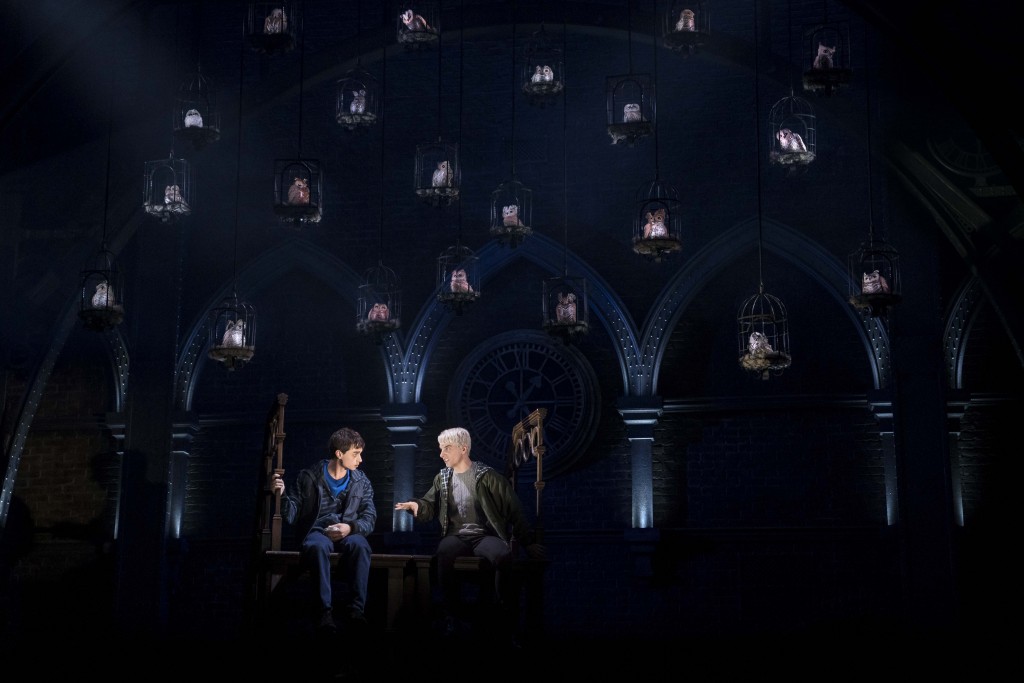 Finally, Lentini and Friedman discussed the duality of themes—how the light in which fans delight is not possible without the contrast of the dark. She reflected:
"You can't have sadness without happiness. Unfortunately, they coexist. And so, the only reason we can be happy at times is because we understand what sadness is. And the only reason why we have to fight the darkness is because we know what it's like when it's light."
Wise words, indeed–and backed unequivocally by the enduring story of Harry Potter begun by Rowling, now continued with the onstage epilogue.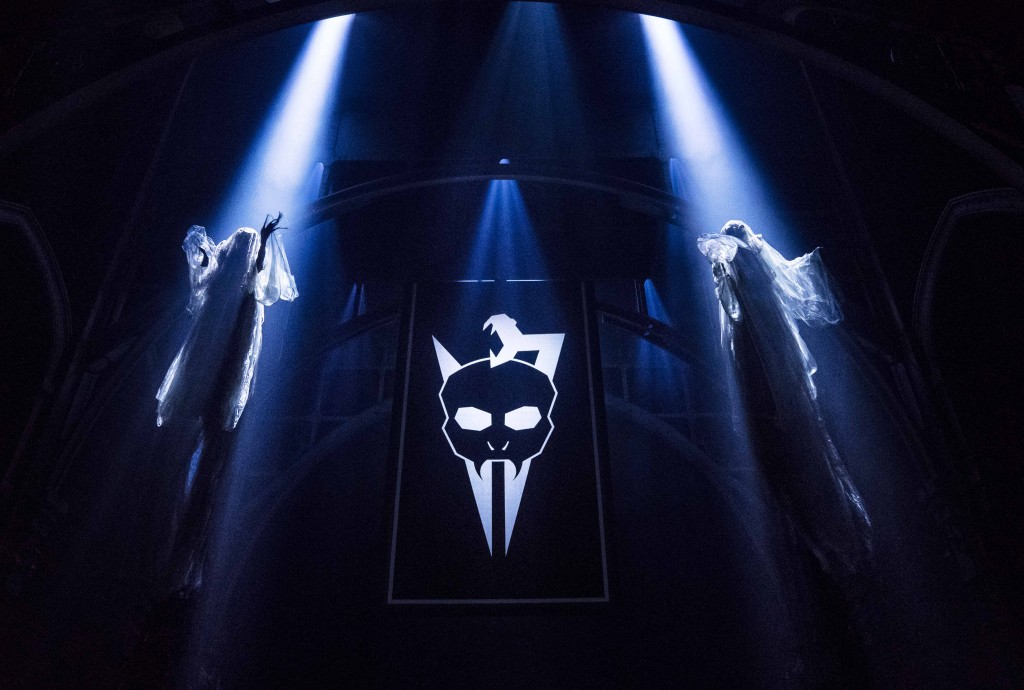 And where does Friedman see that light shining most brightly? She acknowledged that it changes based on mood and circumstance but, typically, she favors the library scene in which Albus and Scorpius work through a falling out in their friendship. She noted that those frustrations and barriers are navigated only because of the boys' willingness to communicate with each other.
#CursedChild is a story of dualistic themes: good/bad, dark/light, but in which scene does the light shine brightest for Producer Sonia Friedman? Find out in our interview from @CursedChildSF's official premiere!?? #CursedChildSF@SFP_Londonpic.twitter.com/sQGkmAeUyt — The Leaky Cauldron (@leaky) December 1, 2019
After those epic interviews, Lentini headed inside the Curran Theater to await the start of the two-part production!
We're in Part One of the official opening performance of @CursedChildSF! ??? Stay tuned for more interviews and scenes from @sf_curran to come! #CursedChildSF pic.twitter.com/Uehd4xWN13 — The Leaky Cauldron (@leaky) December 1, 2019
We're between parts at the premiere of @CursedChildSF ! What an incredible cast!?? We can't wait for Part 2!!?? pic.twitter.com/DrnNoOxOt1 — The Leaky Cauldron (@leaky) December 2, 2019
We've reached the end of the opening performance of @CursedChildSF at @sf_curran, and can't begin to tell you how brilliant the production is! Thanks to all for an amazing show!??? Join us now for the official afterparty! ? #CursedChildSFpic.twitter.com/RMqcZA3mEH — The Leaky Cauldron (@leaky) December 2, 2019
The show was brilliant, and Lentini hardly had a moment to catch his breath and savor the experience before heading to the after-party. (In future, he'll have to borrow the Ministry's Time Turner, since the boys ought to be done with it…enough mischief on their part for one night. Now it's Leaky's turn!)
? Mischief Managed! ? We're at the official afterparty of @CursedChildSF after a brilliant opening day/night, and we solemnly swear that we are up to no good! ??? #CursedChildSF@sf_curranpic.twitter.com/L9GPUlwOHE — The Leaky Cauldron (@leaky) December 2, 2019
Though he swore he was up to no good, Lentini was actually up to some very good things, chatting with cast members in exclusive interviews about their journeys, both as individuals and characters.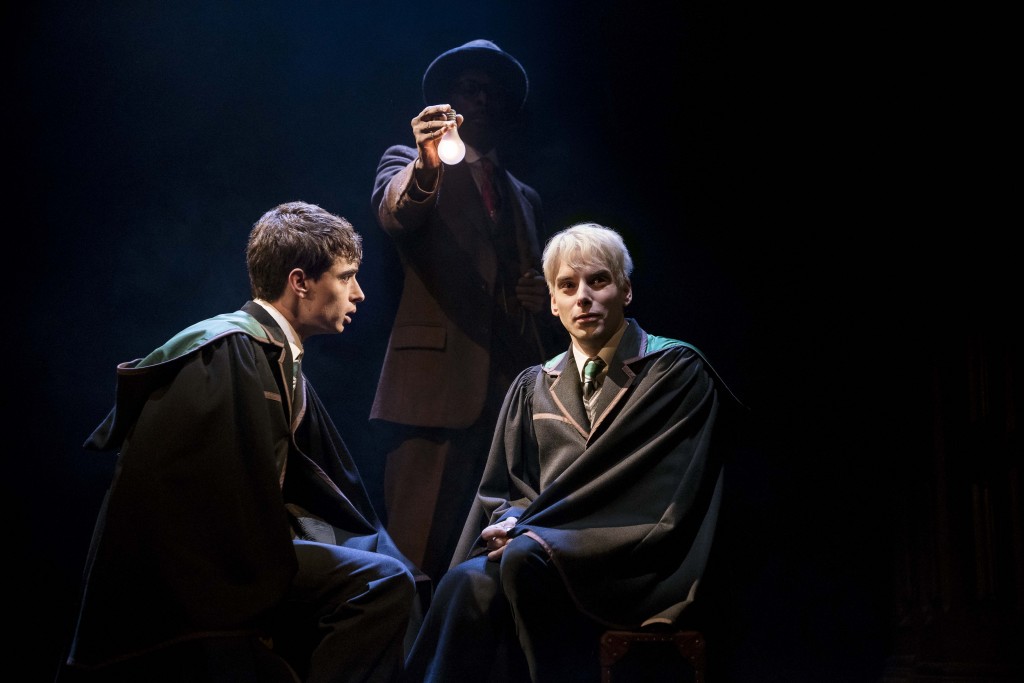 Jon Steiger began by sharing the story of his journey from Lyric Theater usher to playing the part of Scorpius Malfoy in the San Francisco production, an experience he called "indescribable."
We had the chance to chat with much of the cast at the @CursedChildSF Premiere After Party!!? First up #JonSteiger shares his journey from usher at @CursedChildNYC to playing Scorpius Malfoy at the @sf_curran!!?? pic.twitter.com/euKgwVaQPv — The Leaky Cauldron (@leaky) December 2, 2019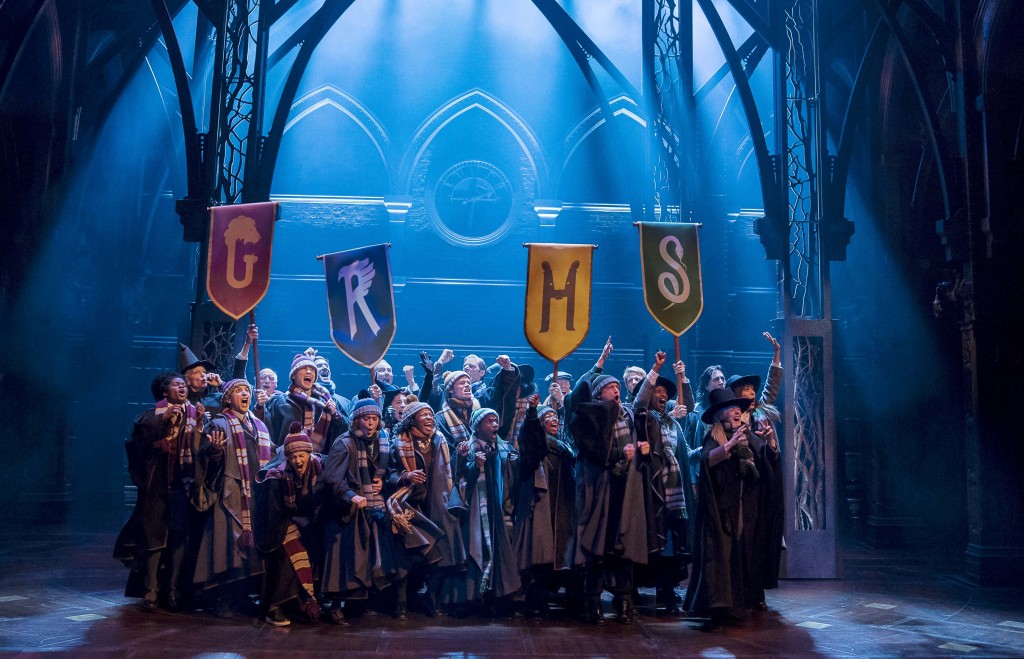 Next up, Lentini spoke with David Abeles, who plays Ron Weasley. Abeles discussed what it's like to be part of the Golden Trio and what he's learned from his character, Ron. Among other things, that "you are as rich as you are surrounded by your friends and family."
Next up at the @CursedChildSF premiere, Leaky's reporter on scene @Gianfrancolent2 talked to @iamdavidabeles who plays Ron Weasley on what it takes to be a part of #TheGoldenTrio and what he's learned from Ron!??#weasleyisourking pic.twitter.com/9geHpKGZYw — The Leaky Cauldron (@leaky) December 2, 2019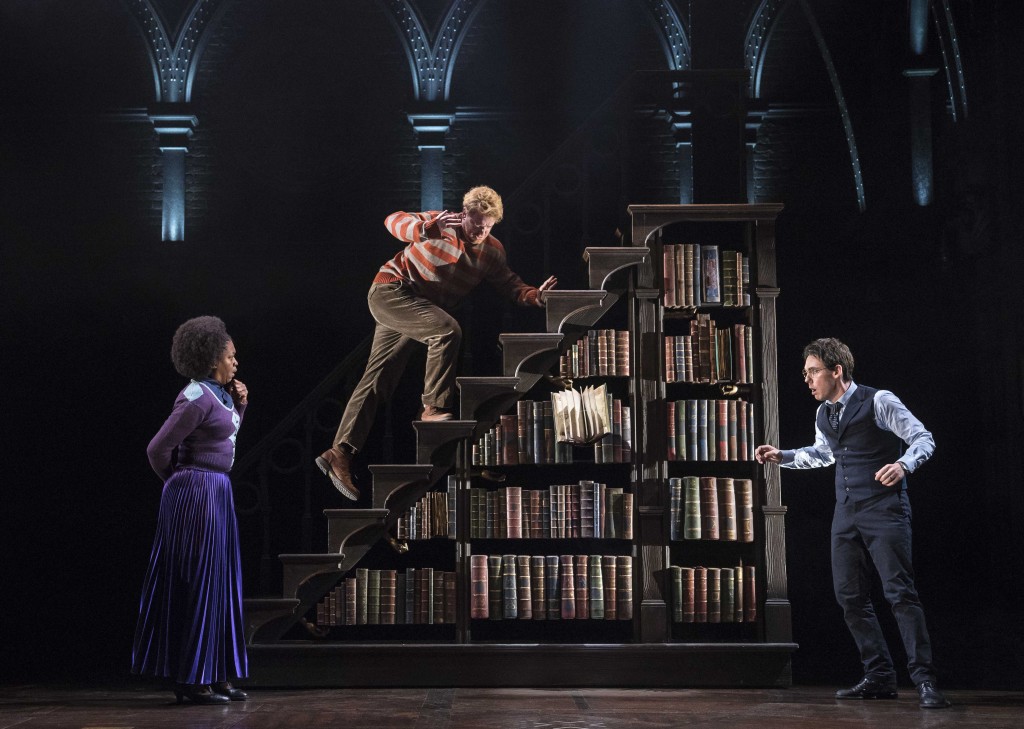 Yanna McIntosh also spoke about what she's learning from her character, Hermione Granger, what Hermione herself still has to learn (keep track of your children!) and what it's like to be a part of the trio and their legacy. McIntosh, who had not read the books before accepting the role, is working her way through them now, having fallen in love with the story.
Seeing the scope of what she's now a part of, she observed that it takes "courage" to step into such a role, saying, "It feels like really big boots to fill because there's so many people out there who have been committed from the first time they cracked open a J.K. Rowling book, and they have their ideas of what that person should be like."
Tonight at the @CursedChildSF Premiere After Party we spoke to #YannaMcIntosh who plays Hermione Granger!? What has she learned from the Brightest Witch of Her Age? "She's the best friend you could ever have."?? pic.twitter.com/oEVzZa8xua

— The Leaky Cauldron (@leaky) December 2, 2019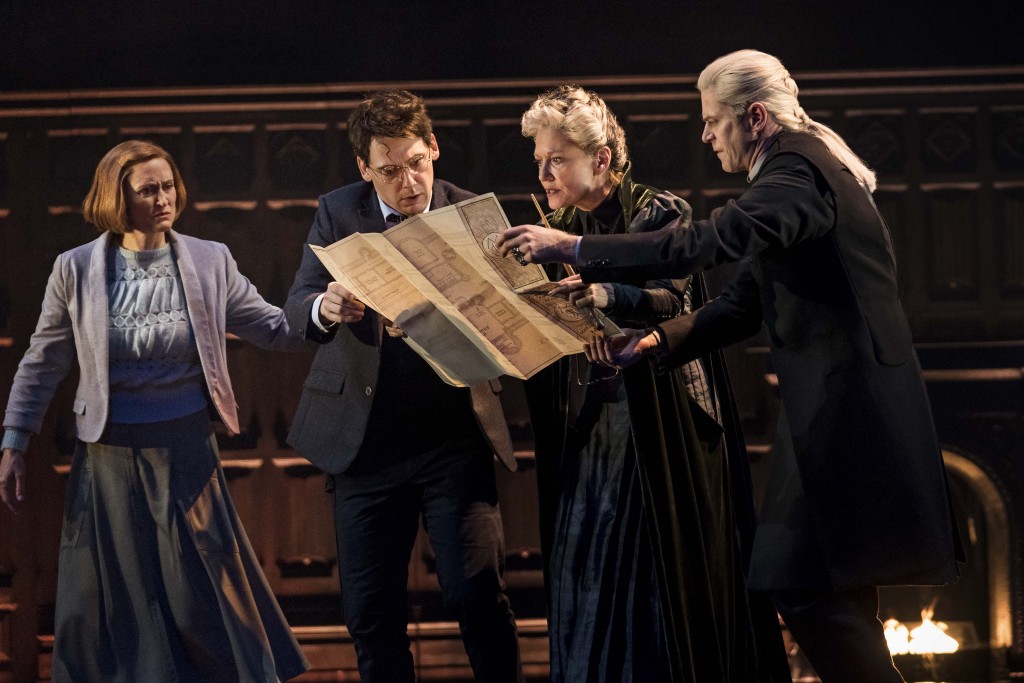 Lentini then met Lucas Hall, who brings Draco Malfoy to the Curran Theater stage. Hall reflected on Tom Felton's inspiring portrayal of the troubled Slytherin and on creating the older version of the character. He understood the importance of not only considering where the character is presently, but also drawing on where he's come from.
Lucas Hall (Draco Malfoy) talks bringing @CursedChildSF to @sf_curran, and being inspired by @TomFelton's Draco in the #HarryPotter films in bringing an older Draco to the stage ??? #CursedChild pic.twitter.com/0rIMQlUB4l — The Leaky Cauldron (@leaky) December 2, 2019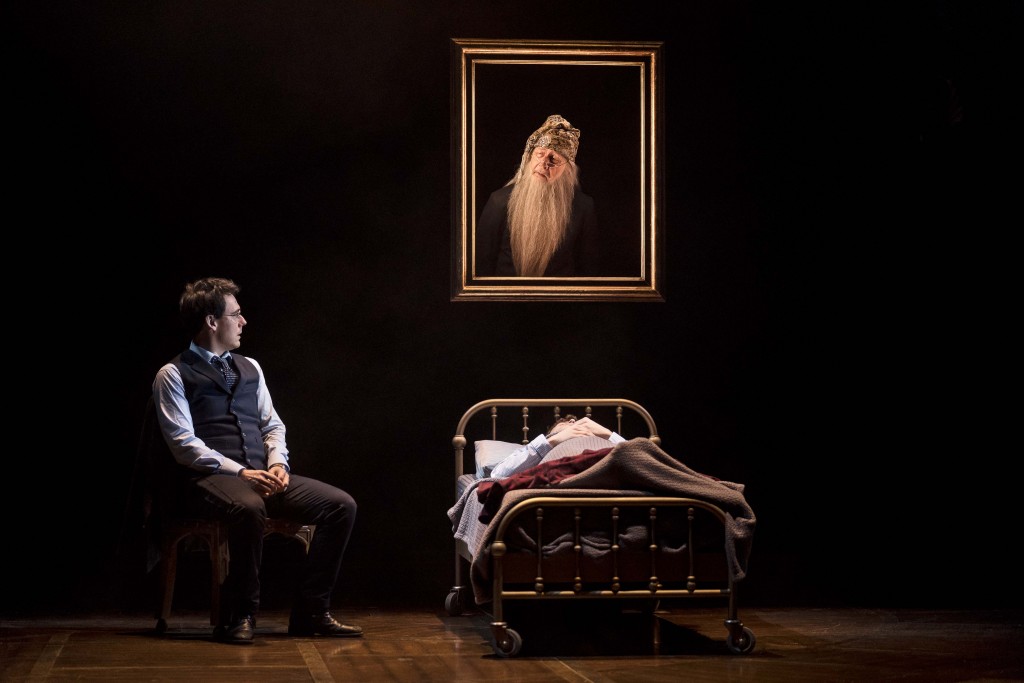 Next, Lentini found Ben Papac, tasked with portraying Albus Severus Potter and the complicated relationship between The Boy Who Lived and the boy who grew up in his shadow.
Papac revealed that he was incredibly emotional when the debut production wrapped and he took the stage for the final bow, calling it an honor and a privilege to be part of a story that teaches you so much about "friendship and about love and about how that changes you."
Here's our interview with the lovely @thebenpapac (@CursedChildSF's Albus Severus Potter), who spoke about his euphoria at the official opening at @sf_curran, time turners, and playing Albus on the West Coast! ?? #CursedChildSF pic.twitter.com/4knaoBSQrQ

— The Leaky Cauldron (@leaky) December 2, 2019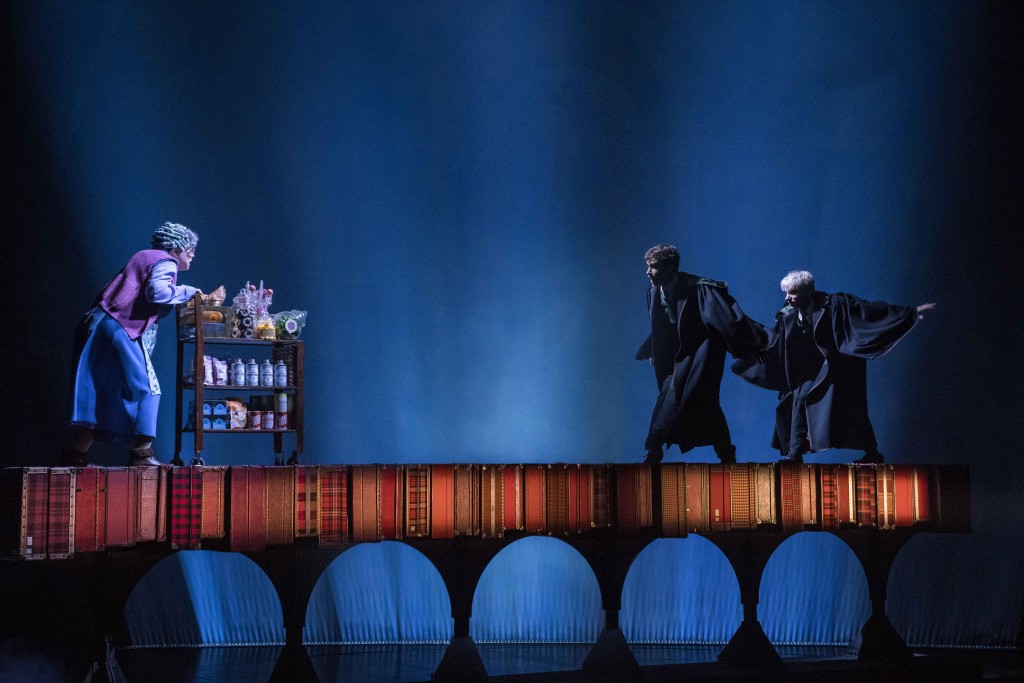 The versatile Katherine Leask stopped by for a chat as well. Leask fills more than one set of robes in the production, playing Dolores Umbridge, Aunt Petunia, the Trolley Witch and more. She must be able to cast some real spells to juggle all those parts so seamlessly!
What's it like playing Umbridge, Aunt Petunia, the Trolley Witch and more at @CursedChildSF? Find out from Katherine Leask at the #CursedChildSF @sf_curran afterparty!? pic.twitter.com/sdW8CtBh2p — The Leaky Cauldron (@leaky) December 2, 2019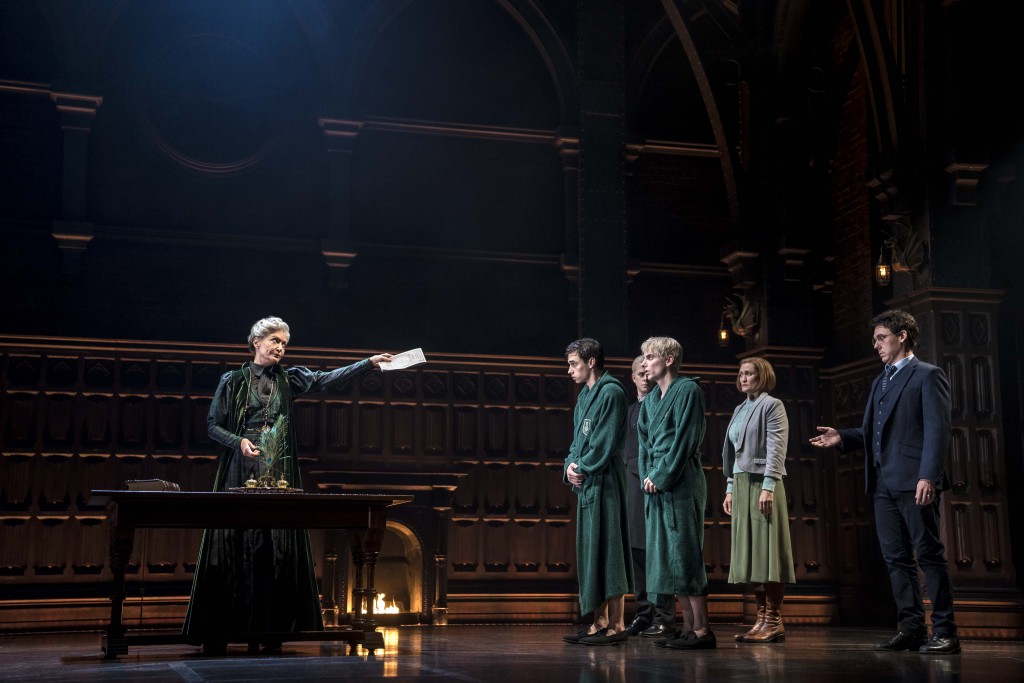 Lentini then interviewed Folami Williams, otherwise known as Rose Granger-Weasley, who thinks Rose, Scorpius, and Albus will definitely be the next "Golden Trio."
We caught up with Folami Williams, who plays Rose Granger-Weasley in @CursedChildSF at @sf_curran!??? #CursedChildSF pic.twitter.com/vUWB1h6Wgo

— The Leaky Cauldron (@leaky) December 2, 2019
Asked what it takes to step into the shoes of the daughter of two "Golden Trio" members, Williams smiled and confidently replied, "A desire to slay." 
She's right on the mark and, while Williams was initially speaking of her own approach to the production, it's clear her fellow cast members rose to the challenge and conjured up a beautiful and brilliant new telling of the magical story.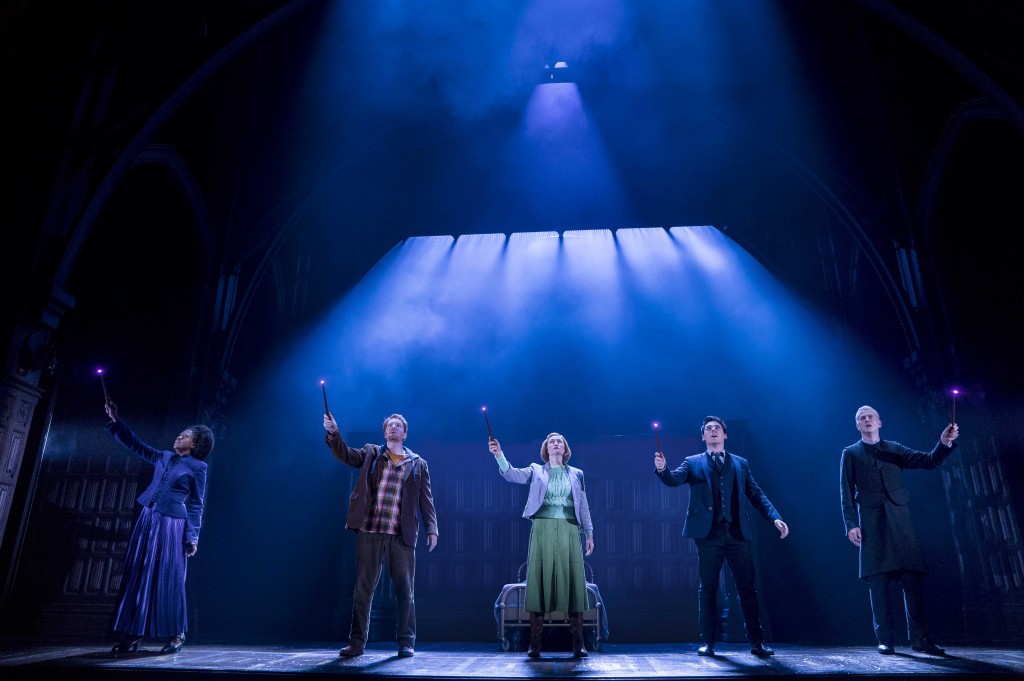 Finally, Lentini closed out the night with the Chosen One himself, played by John Skelley. He, too, spoke about what it takes to be a member of the "Golden Trio" and humbly observed:
"I'm still learning that. You know, I think the thing about them is that they have so much heart. They really fight for what they believe in all the time…it's so rich, the material is so rich. I think that's what I use. I mean, I don't know if that's what it takes, but that's how I try to get there."
And finally, our interview with The Boy Who Lived himself, John Skelley! ?? @CursedChildSF @sf_curran pic.twitter.com/529r5Sg4Ij

— The Leaky Cauldron (@leaky) December 2, 2019
It does all come back to the boy wizard we've come to know and love, and it was an honor for Leaky to cover the beginning of what will hopefully be a long and enchanted run of his continuing story on the west coast.
Like the arc between two joined wands, the San Francisco production will be linked to its east coast predecessor, but it will just as surely bring all of its unique qualities to bear, establishing itself as its own force to be reckoned with—and enjoyed. Photos courtesy of SF Productions and Matthew Murphy.