Pottermore Will Go Mobile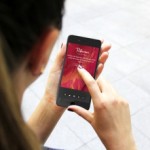 Sep 12, 2015
In a press release dated September 11, 2015, Pottermore officially announced new details about "Part Two," the complete redesign of the website.  The most exciting new element is that it will indeed be compatible with mobile devices, as we suspected.
Also, J.K. Rowling's exclusive post-book writing about Harry Potter and the Wizarding World will be easier to find than before, since accounts will no longer be required.
Pottermore will continue to have at its core new writing by J.K. Rowling, and will feature significantly more original content… Users will find all areas easier to access, due to the elimination of mandatory registration, as well as responsive designs for optimal viewing across a wide range of devices.
There is no word on the specific interactive elements of Pottermore that were integral to the original, such as the House Cup, potions, and the sorting hat.  We do know that the site will have a new logo and be English-language only.  The ebooks and audiobooks will still be available through the Pottermore Shop.
Pottermore will also have official news from the Pottermore Correspondent, who will keep users updated on the Fantastic Beasts film and the Harry Potter and the Cursed Child play.
There is no specific date listed for the unveiling of the changes, but keep checking Pottermore and its Facebook and Twitter pages for the latest announcements.