David Yates's "Tarzan" Releases it's First Trailer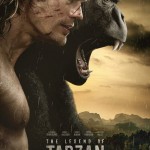 Dec 11, 2015
Harry Potter director, David Yates, has been simultaneously working on the Harry Potter spin-off series, Fantastic Beasts, and Warner Bros adaption of the well-known legend of Tarzan.
Earlier this week, Warner Bros released the first movie poster for the The Legend of Tarzan. Now, the first trailer for the film as been posted on Warner Bros Pictures YouTube channel. It can be seen below:
The Warner Bros. page on the film describes the film, and all who are involved in creating it. David Barren, Harry Potter producer, Stuart Craig, Harry Potter set designer, and Deathly Hallows editor, Mark Day, were apart of the creative team. John Hurt (Ollivander) is credited as apart of the cast, but his role is unknown. Warner Bros describes their take on The Legend of Tarzan:
It has been years since the man once known as Tarzan (Skarsgård) left the jungles of Africa behind for a gentrified life as John Clayton III, Lord Greystoke, with his beloved wife, Jane (Robbie) at his side. Now, he has been invited back to the Congo to serve as a trade emissary of Parliament, unaware that he is a pawn in a deadly convergence of greed and revenge, masterminded by the Belgian, Captain Leon Rom (Waltz). But those behind the murderous plot have no idea what they are about to unleash.