The Wizarding World park in Universal Hollywood Opening this Week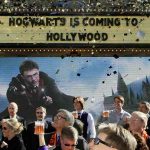 Apr 02, 2016
On April 7, this coming week, Universal Studios Hollywood will be laying down the red carpet for the grand opening of the new Wizarding World of Harry Potter theme park. It is a highly anticipated event with many special guests.
A few Harry Potter alumni have already made their way to the park to enjoy the magic it has to offer before the grand opening unleashes much loved chaos with thousands of adoring fans waiting to be immersed in a world they have grown to love through books and films.
Evanna Lynch loves the wizarding candy from Honeydukes, and posted a picture of her blue tongue on her Instagram:
USA Today showed Tom Felton around the park, and documented their magical day on SnapChat and Twitter:
Draco Malfoy is giving us a tour of #WizardingWorldHollywood! Follow on @Snapchat https://t.co/7uXZl0RDLW pic.twitter.com/g18JxLMDef

— USA TODAY Life (@usatodaylife) March 31, 2016
Want a peek at @UniStudios' #WizardingWorldHollywood from @TomFelton? Follow us on @Snapchathttps://t.co/7uXZl0A2nmpic.twitter.com/dUM8YUfD48

— USA TODAY Life (@usatodaylife) March 31, 2016
Similarly to it's Orland location, Universal Studios theme parks expect to strengthen their financial position with the opening of the Harry Potter park. As Fortune Magazine and many other news sources noted last week, the Potter parks have been a large source of income for Universal Parks. Fortune reported:
From the cobblestone alleyways to the snow-capped roofs, fans of Harry Potter will be able to immerse themselves into a new "Wizarding World" attraction at Universal Studios Hollywood, and the theme park is betting on their purchasing power.
[The] "Wizarding World" is what the theme park is banking on. Comcast CMCSA 0.13% reported a revenue increase of 27% to $3.3 billion from its Orlando, Fla., and Hollywood, Calif. locations in its 2015 year-end report.
The company said revenues were bolstered by Orlando's new Harry Potter world, which features two lands, Hogsmeade and Diagon Alley, connected by the Hogwarts Express train. An additional ticket is required to visit both lands in one day.
The full article may be read here. The grand opening of the park is expected to be as wonderful as the opening for the park in Orlando, and we hope that Universal will not disappoint–with John Williams in attendance, how could they?
Leaky is looking for a devoted fan going to the theme park grand opening, who would like to freely volunteer to be free lance writer for the event! Please contact [email protected] if you are interested. Thank you!