Pottermore Interviews Eddie Redmayne At The MTV Movie Awards!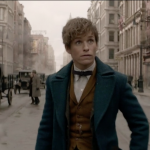 Apr 11, 2016
Following the exciting release of another amazing Fantastic Beasts trailer at the MTV Movie Awards yesterday evening (which you can read about here and watch below), Pottermore caught an exclusive interview with Eddie Redmayne himself – and it's just about the loveliest interview you'll ever read!
As we know, Fantastic Beasts will be dealing with a very different setting to that of the Harry Potter series. Tom Riddle is just being born (in 1926), Albus Dumbledore is still teaching Transfiguration at Hogwarts (and apparently advocating against Newt's expulsion), and we're being wooshed away to New York, to see how the American wizarding (and No-Maj) world of the 1920's differs from the British version of the 1990's-2000's.
Talking about the pressure of adding to the legacy of Potter, and helping to create this entirely new story, Eddie remains humble as ever, showing how much he cares about the series and his character:
"'Each time you put a little thing like that out into the world, it feels nerve-wracking,' he says, in his reverent British half-whisper. 'The weird thing about film-making is that you make films as a team and together, you care about every bit that goes out. You care what people think. I care.' 

Eddie blinks a couple of times, earnestly, and it's clear that he does. He's the kind of actor who keeps a piece of his characters in his heart. He adores Newt Scamander especially, you can tell.

'When I first heard the notion of this film and that it was set in a totally different time period [to Harry Potter] the question for me was, would those worlds ever collide? When I read the script, the delicacy with which J.K. Rowling weaves the names and the characters of a different generation to the one we know and love excited me. It still does.'

As for Newt's expulsion and the reason he's arrived in New York City? 

'I can say nothing further about that,' Eddie says, holding tight onto the secret. "
You can tell Eddie really knows his stuff – we love an actor who gets into the story as much as us (we're looking at you, Evanna Lynch)!
On Newt's love for magi-zoology:
'Newt is much better at communicating with beasts and spending time with his creatures than perhaps he is with human interaction. On the journey of this film, he begins to find connections with people but he's not exactly a people-pleaser. What I love about Newt Scamander is that he's his own person. He's a passionate man and he'll do anything for those beasts.'
Our frame-by-frame analysis of the trailer gives a closer look at one of the more adorable beasts in Newt's intriguing briefcase, and allows us to see that the briefcase holds beastie characters we'll get to know more throughout the film. The mysterious Pottermore Correspondent chooses to focus on this strange (but cute!) little beast: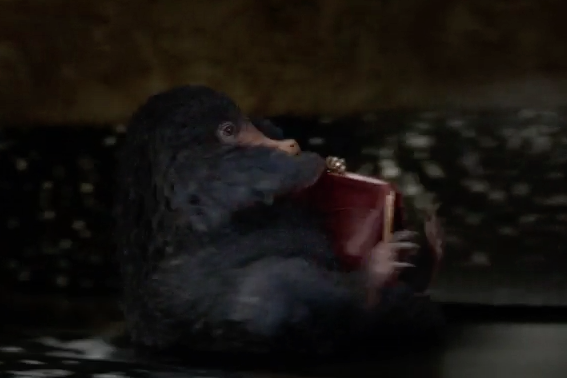 'The Niffler!' says Eddie, with a slight shake of his fist on Newt's behalf. 'As you know, I have a love-hate relationship with that little guy. He gets a little moment in the trailer, the Niffler. He's ravaging a purse. I thought he did pretty immaculately in his debut but there's a lot more Niffler to come. He looked so sweet and adorable just then but don't be fooled.'

Eddie beams with genuine affection for the little beast and sighs with relief that he can finally talk about a few more things that appear in the film. Now that the trailer's out, he's got approximately eight fewer secrets to keep until November. 

'I'm so bad at keeping secrets, so anything being out there that I don't have to hide anymore is good,' he says.
We know that Eddie's a busy man, and we also know that he's expecting a baby with his wife – apparently he's taking a well-deserved break (but probably not for long – the sequel's still to come, and another after that!):
'Do you know, I am actually taking a wee break,' he says. 'My wife is having a baby and we thought we'd travel a little. What was wonderful about Fantastic Beasts is that it was fully immersive but the shoot was long, it was six months and it was rigorous. I put everything I had into it so, yeah, it's time for a wee break.'
But one of the best parts of the interview doesn't even involve any interviewing – the Pottermore Correspondent beautifully sums up Eddie's shining personality with a quick observation, making us even more confident that he's the Newt we never knew we were looking for:
"And with that, Eddie stands, hugs me goodnight, climbs the narrow black stairs down from his trailer, stops to film 11 seconds of fireworks on his phone and jumps into the black car waiting for him outside."
Read the full interview over at Pottermore here!
We can't wait to see/hear more about the film (which hits cinemas November 18th!) – catch the trailer below, and read our frame by frame analysis here!