'Cursed Child' Front of House Revealed, and Wizard Hats!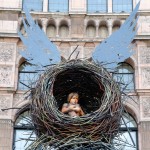 Apr 29, 2016
Earlier today, Pottermore released photos of 'Phase One' of Harry Potter and the Cursed Child's front of house, which has been slowly built up over the past few days.
Built by Tony Award-Winning set designer Christine Jones (who released an exciting photo update via @HPPlayLDN on Twitter the other day), the magnificent snitch has finally been unveiled, holding the same mysterious child (Albus Severus?) as the Cursed Child posters. Take a look below, and read the Pottermore story here!
Liz Crossman also shared a fabulous prop from the set via Twitter – a handmade old-school wizard hat, that took two weeks to make! Wonder who's that is?:
"Felt wizard's hat: hand made, 2 weeks start to finish" – Liz Crossman, milliner #HarryPotterPlay #CursedChild pic.twitter.com/kVke9jcaoB

— Harry Potter Play (@HPPlayLDN) April 28, 2016